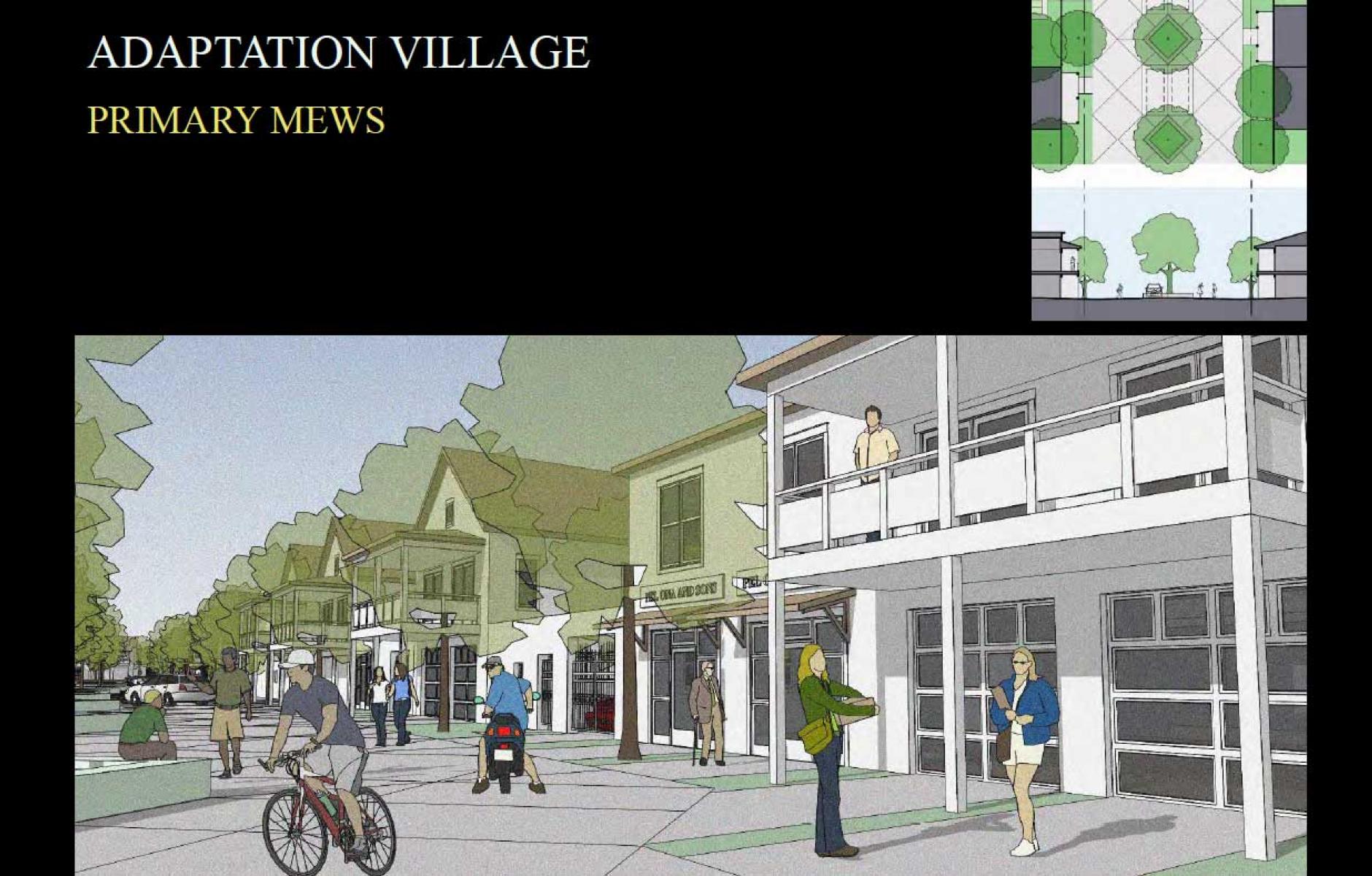 The Main Street—primary mews—of the adaptation village. Source: Korkut Onaran
Receiving zones and adaptation villages: A vision for climate change
Korkut Onaran, author of Urbanism for a Difficult Future, has developed community planning ideas around self-sufficient places that rely on local technology.
"Receiver places" are often conceived as communities in safe regions of the country, less subject to storms, floods, wildfires, and droughts associated with climate change. The name refers to the likelihood that such places will gain migrants from more dangerous regions. 
Korkut Onaran, an architect and academic speaking to On the Park Bench Tuesday, has a more local view of this concept. Onaran, the author of Urbanism for a Difficult Future: Practical Responses to the Climate Crisis, published by Routledge, uses the term "receiving zones:" i.e., relatively safe places in each local region. "Climate migration will not only happen thousands of miles away. Within every given region, there will be safer places or less safe places," explains Onaran. In other words, climate migrants will likely move much shorter distances than many planners assume in order to find a new safe haven.
He lays out his vision for "adaptation villages," walkable places on the neighborhood scale that are designed for resilience and self-sufficiency. These villages, ideally located in relatively safe locations within regions, would be planned with systems for food production, waste processing, energy, and water. Onaran's vision incorporates the rural-to-urban Transect; and, the villages would be nested into larger 15-minute cities. They could be built as new places, or become part of retrofitted cities, towns, or suburbs.
The conventional way that cities and towns are built and organized, especially in the suburbs, makes them vulnerable to the stresses that are coming due to climate change, he notes. Reforming cities will be difficult, but he points out that communities were self-sufficient only a few generations in the past. Because they were self-sufficient then, they may become so again. He encourages communities to go down this path. "Whatever you can do, you should do," he says. "Any self-sufficiency is resilience. Suburbia will be tough, but you need to start somewhere."
Receiving zones function best with a balanced density, he notes. Too much, and technologies will begin to fail at the neighborhood scale. Too little, and you can't support walkability and diversity needed in the adaptation village.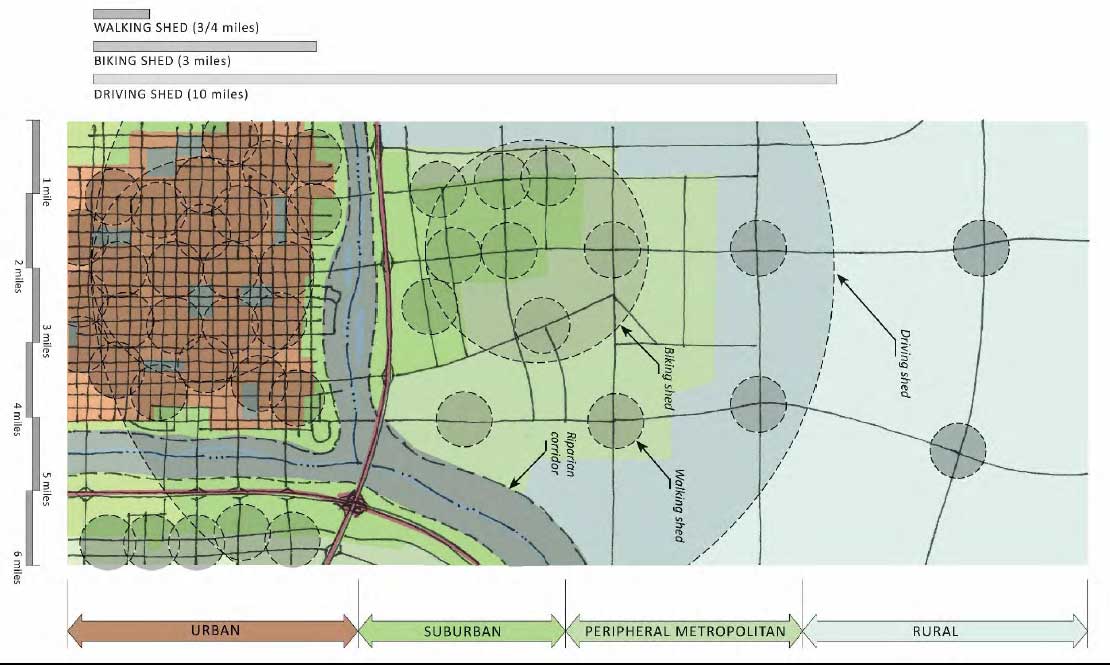 He outlined four policies and strategies that enable relocation:
Productive ownership opportunities (compound/diversifying work)
Preferential tax treatment (opportunity zones)
Tax deduction for rent
Financial support for localized infrastructure (e.g., Homeland Security's Infrastructure Security Program; Hazard Mitigation Grant Program; HUD Community Development Block Grants).
Those four policies may be pursued by governments at various levels, and, in some cases, entities like nonprofits within communities.
In the world of climate change, people will be called on to shift their attitudes toward cooperation and community, Onaran says. "You will not have the luxury of hating your neighbor, if your life depends on your neighbor. The way suburbia, and our lives, are organized, there's no reason to be friends with neighbors. If we share water on the block, I need to be good friends with my neighbors." That seems true enough—and perhaps that's a hopeful aspect of a difficult transition.
In this vision, what kind of technology would the neighbors employ? Some people may debate whether low-tech or high-tech is more resilient and sustainable. Onaran suggests a new paradigm in engineering—Local technology, both high and low. Adaptation villages will need technology that can be created and modified locally, he says.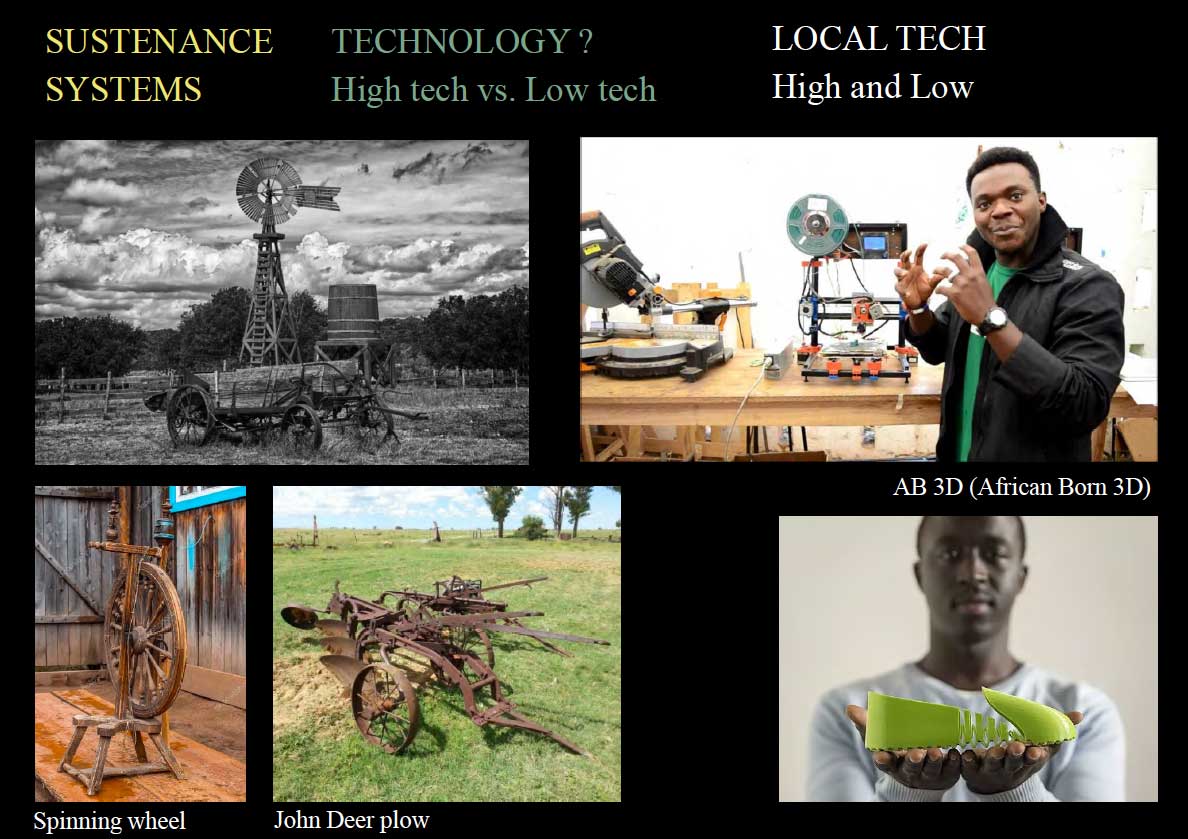 The need for adaptation villages is apparent when considering "Mr. Smith," someone who is living in a typical community of today that is vulnerable to shifts in climate, Onaran says. There should be a provision for that person to move locally—five or 10 miles away, rather than a thousand miles. While some people will want to move far away, others will have too many family and personal ties for distant relocation. That's a good enough reason to establish receiving zones and adaptation villages within regions.