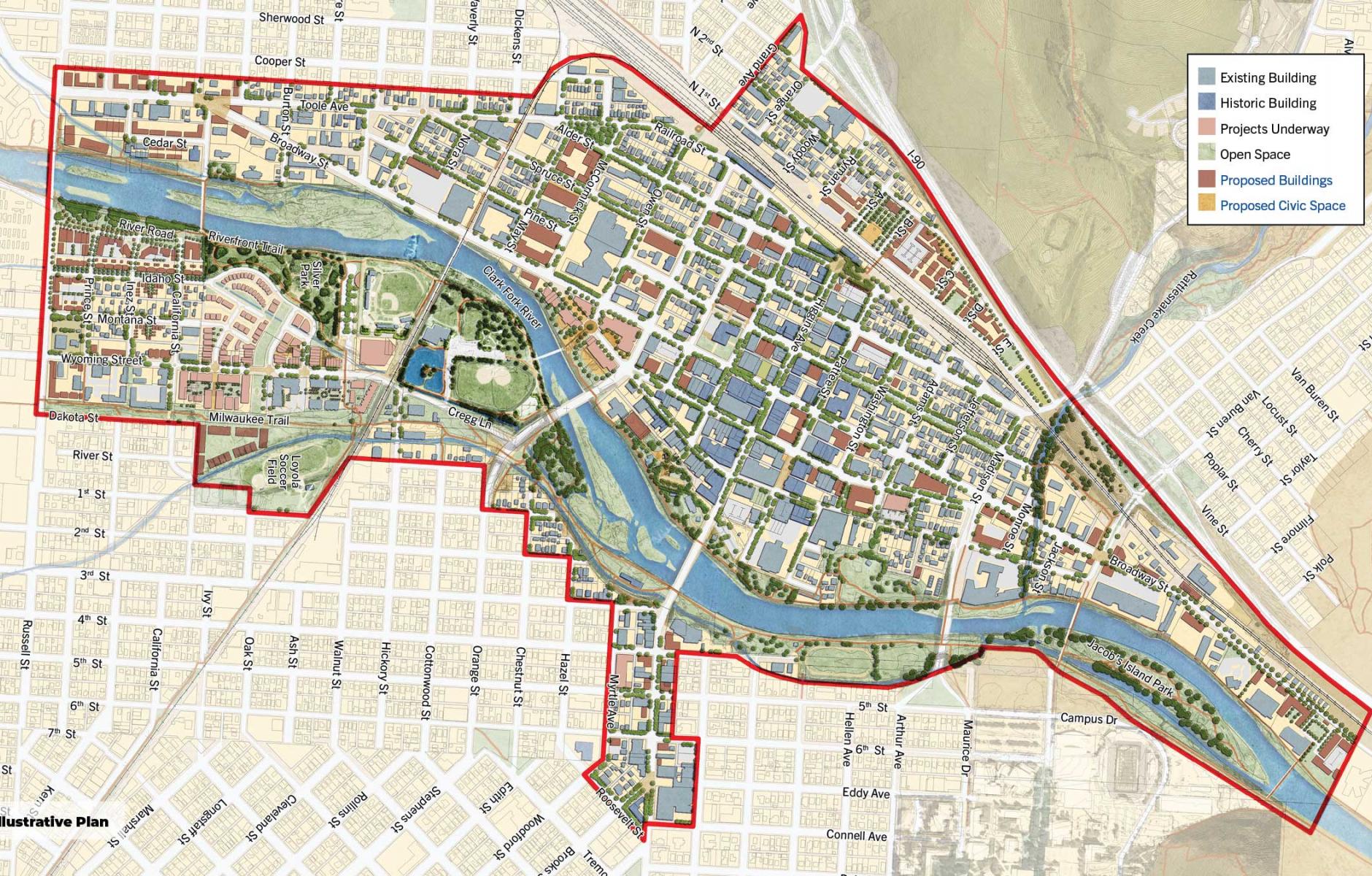 Missoula downtown illustrative plan. Source: Dover, Kohl & Partners
Renewing the heart of a 15-minute city
A Downtown Master Plan supports the urban diversity and access that are the goals of the 15-minute city, including affordable housing.
The largest city in the Rocky Mountains—that's Missoula, Montana—adopted a new downtown plan just prior to the pandemic. The plan directs growth to support downtown and surrounding neighborhoods.
Like many US downtowns, Missoula's went through a period of decline in the 20th Century. More recently, the city's center revived, helped by the elimination of parking requirements. And yet downtown has substantial room to grow, partly because it occupies a large area compared to the size of the overall city of about 75,000 people.
The Downtown Master Plan covers 855 acres, which includes downtown, open space along the river, and some adjacent areas. Missoula has an impressive street grid for a small city, with many neighborhoods that are walkable or bikeable to downtown. The campus of University of Montana is nearby, on the south side of the Clark Fork River.
While the "15-minute city" is not mentioned in the plan—the term only became popular in 2020—the concept applies well to downtown and nearby neighborhoods. The plan, written by Dover, Kohl & Partners, supports the urban diversity and access that are the goals of the 15-minute city. The scale of the place suits that metric, centered on downtown, because historic neighborhoods extend a few miles out in several directions.
"Downtown is the heartbeat of our city. There are so many great ideas in this plan. It makes us a better place in so many ways," said Gwen Jones, City Council president.
The city presents a complex problem, and this master plan deals with contradictions, according to Jason King, project manager for Dover Kohl. "The plan seeks more development, but also more robust protections for tenants, and more services for homeless and low-income residents," he says. It shows how new buildings could be placed in ways that improve streets and public spaces, but also emphasizes preservation of historic assets. "No one is building anything as good as the historic places that still need to be saved," he says.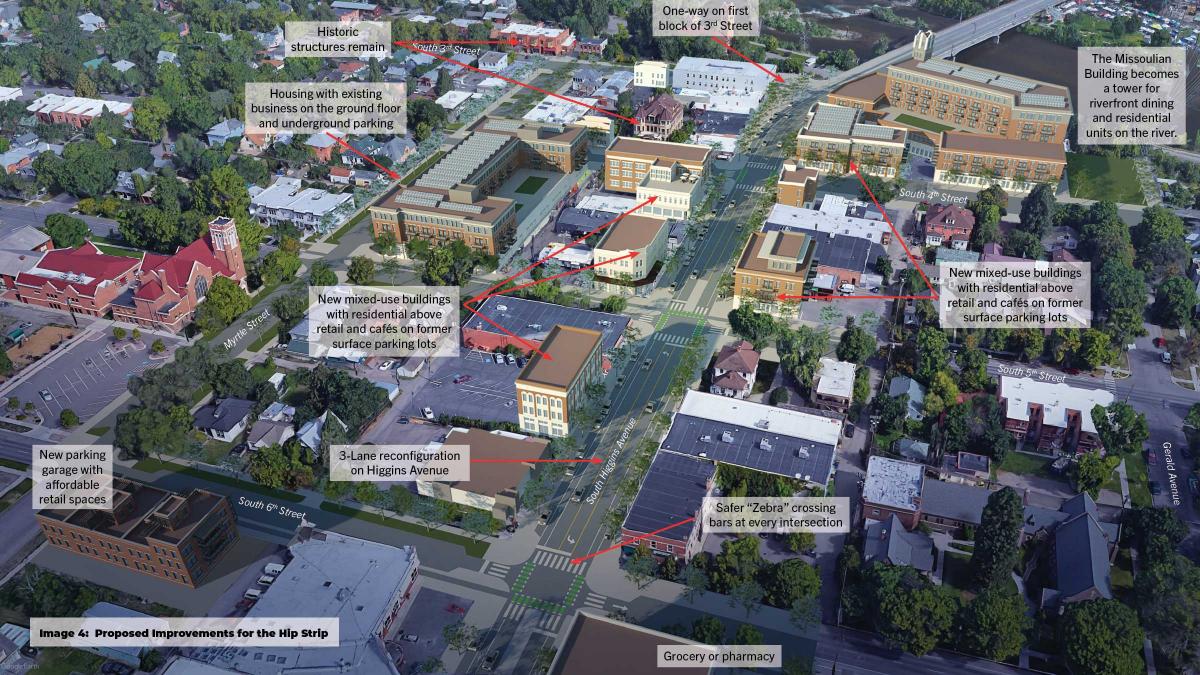 Despite covid casting a shadow over the last two and a half years, the Downtown Master Plan is being implemented in many ways, including the development of affordable housing. 
"Missoula and its non-profit affordable housing partners have steadily planned and constructed new affordable housing in accordance with the plan," notes Dover Kohl. "Multiple projects are on the horizon that would result in 446 units of new affordable housing, including what would be the largest affordable housing project in Montana's history." At the time of the plan's adoption, there were 60 permanently affordable units downtown.
The plan calls for 700 market rate living spaces to be built downtown this decade, in addition to substantial commercial development—120,000 square feet of office space, 900 hotel rooms, and up to 100,000 square feet of retail space. All of this depends on the economy, because so much has happened to throw off the market analyses since 2019. A more predictable bet is to encourage local business.
Missoula has "one of the best main streets in America," Dover Kohl says, referring to the eight-block, north-south Higgins Avenue. The plan includes policies to help local and small businesses and organizations throughout downtown:
A policy of adaptive reuse of vacant buildings was adopted. The 2019 overlay received positive reviews from developers and property owners, as well as from historic preservation advocates. 
The City adopted a policy of Preference to Local Businesses in Purchasing as an economic development tool.
A city-wide Cultural Asset Map identifies culturally significant businesses, organizations, and institutions, and tracks which of those assets may be at risk for displacement. Existing Downtown buildings are classified by redevelopment potential, with recommendations for preserving valued businesses.
A Heritage Interpretive Plan supports cultural assets by investing in marketing, branding, and a network of public spaces and streetscape elements including wayfinding, signage, historical markers, and public art. Special attention is paid to the history and artwork of the native Salish and Kalispel peoples. 
The streets downtown are proposed for a makeover. While pedestrians are accommodated in this traditional downtown, cars are often given priority by street design. A redesign for Higgins Avenue, dubbed the "Hip Strip," flips that priority. Cars are accommodated, but the design gives pedestrians precedence along the city's primary commercial street.
Other downtown streets also feature commercial frontages—including the east-west Front and Main streets, a one-way couplet. The plan calls for returning two-way travel to both streets. That design change would improve the pedestrian experience, while it wouldn't impact through traffic—which travels on the wider, parallel Broadway Avenue. 
Broadway is designated as a Business Loop of Interstate 90 and therefore has characteristics of a four-lane "stroad." It is significantly improved, however, by great buildings, on-street parking, generous sidewalks, and street trees. A lot of emphasis is placed on nonautomotive aspects of streetscapes throughout downtown, especially sidewalks.
A river runs through it
"The Clark Fork River and its adjacent parks are the heart of downtown," note the planners. I recently watched Robert Redford's classic, A River Runs Through It, a historical movie set in Missoula that depicts a fly-fishing family in the early 20th Century. A river running through downtown is common—but this energetic, Rocky Mountain river is special. The Clark Fork became an overlooked asset in the 20th Century, until it was rediscovered and improved by multiuse trails and public access as a natural amenity. Kayaking, river surfing, and tubing are popular activities.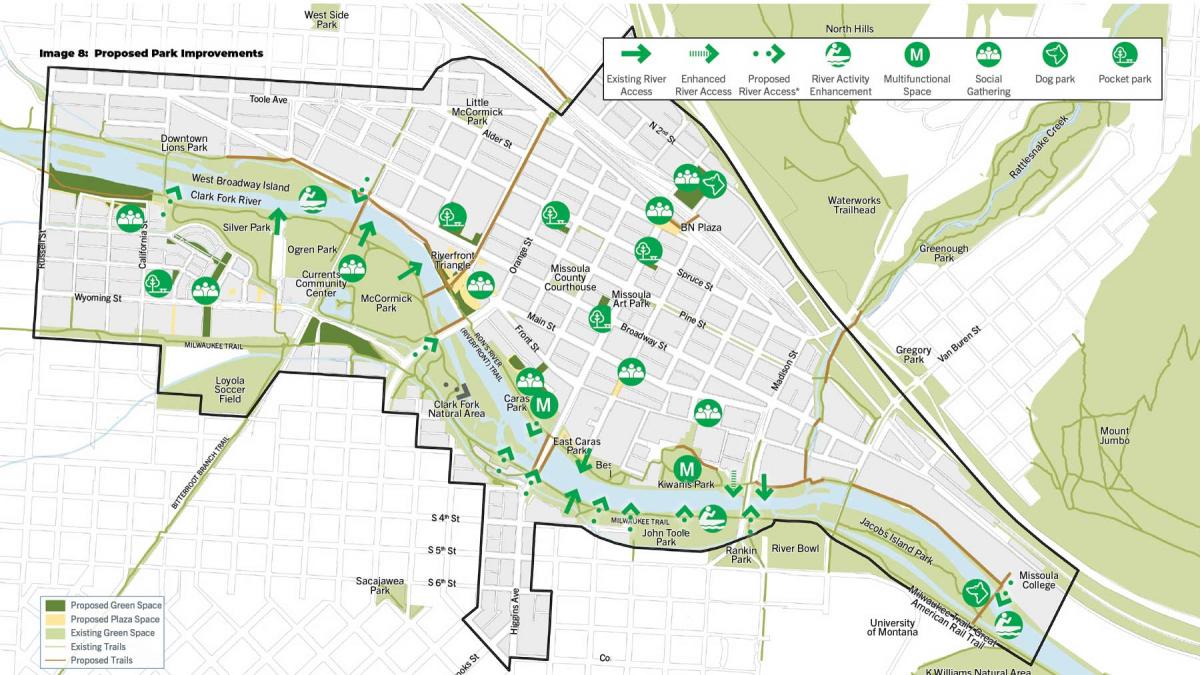 "The plan continues to build upon these efforts, proposing new parkland to be created within the flood zone, fronting development towards the river with an engaging frontage, and formalizing river access points to limit erosion," Dover Kohl reports.
The many bridges that cross the river also span the multiuse trails, but this creates uninviting, leftover places. The plan looks at creative use of these spaces through art, lighting, and activities. 
Other aspects to this plan are aimed at creating a wide-range of diverse uses, including a proposal to convert a former city library to a museum that displays art that is in storage by the University of Montana. Strengthening regional cultural assets is important to the 15-minute city.
As a bonus, the planning process also had a salutary effect on suburban growth, thanks to a suggestion made by the planners and city officials who acted on a good idea. Growth to the west of the city on a major tract is being reorganized as walkable, mixed-use neighborhoods. "The plan identified a 1,500-acre area outside of Downtown that was contiguous to the boundary of urban development, and recommended that the city annex the land and build 'downtown neighborhoods' connected to downtown by transit." That idea was planned, coded, and is under development now.