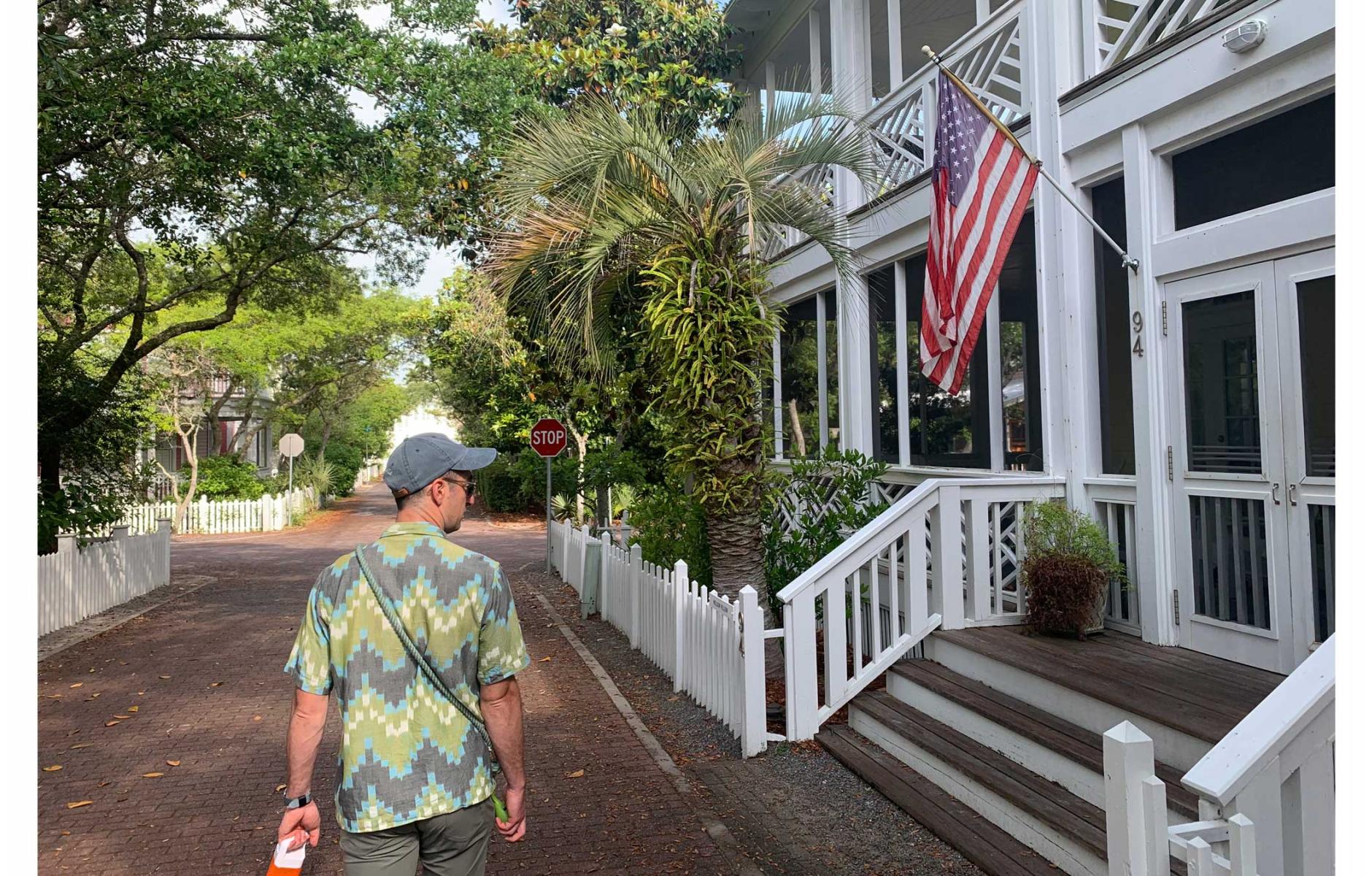 Micah Davis of the Seaside Community Development Corp. walking down a street in Seaside. Photo by Rick Cole.
An everyday town of extraordinary impact
As a Southern beach town, Seaside is neither utopia nor stage set. Its great achievement is in demonstrating an alternative to two generations of American sprawl.
What more can anybody say about Seaside?
Last year, Rizzoli published Dhiru Thadani's magisterial Reflections on Seaside with essays by 90 contributors, including the Prince of Wales. It runs 846 pages and weighs in at nearly 12 pounds. It surely stands as the definitive account of a place that—whether we like it or not—serves as the ultimate poster child of New Urbanism.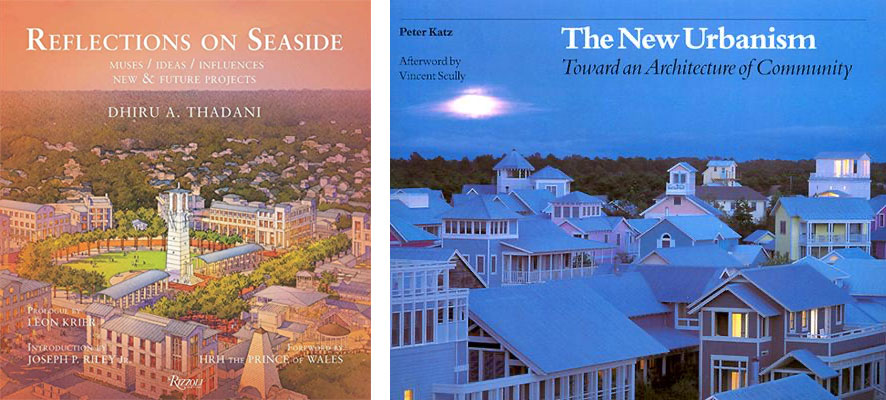 You can't escape it—the Seaside Post Office is the first photo in New Urbanism's Wikipedia entry. There's the gorgeous nighttime shot of Seaside towers and rooftops that fills the cover of Peter Katz's landmark coffee table book The New Urbanism: Toward an Architecture of Community. TIME magazine called Seaside "the most astonishing design achievement of its era, and one might hope, the most influential" and rival Newsweek claimed it was "probably the most influential resort community since Versailles." Seaside has earned countless architectural and planning awards—as well as a tsunami of snarky derision from New Urbanism's critics. 
And then there's "The Truman Show."
That 1998 movie reverses the usual Hollywood formula of using a movie set to portray a real place. Instead, Seaside is cast as "Seahaven"—a real place portrayed as a fictional background set for a dystopian reality show.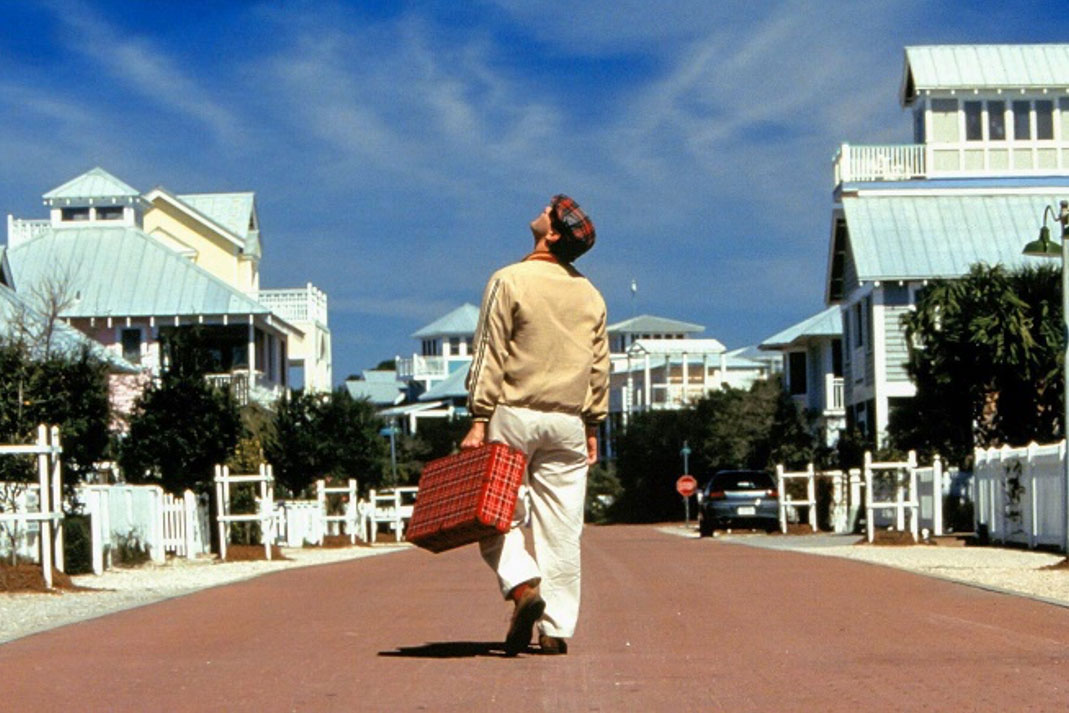 Ever since, critics of Seaside have seized on that celluloid conceit to dismiss New Urbanism as little more than an idealized movie set version of suburbia. The critics agree: It's fake. It's creepy. It's unaffordable.
Yet every year, this tiny beach community of 350 homes with a town square of shops and restaurants draws literally millions of visitors seeking to spend a few hours or days in an authentic place that feels worth the trip.
I'm not an architect or a planner. But I've spent the last 30 years immersed in the governance and development of cities. Having never been to the Florida panhandle, I was eager to take the measure of this iconic embodiment of New Urbanism, especially now that I'm the Executive Director of the Congress for the New Urbanism.
So here is my take: what's so special about Seaside is that it isn't that special. It's not utopia and it's certainly not Disneyland. Seaside has the feel of a quaint Southern beach town swarmed by too many tourists.  
Sure, most old-fashioned Southern beach towns don't have an oversize mural of architectural historian Vincent Scully on a shop wall facing the highway. Obviously the town square is far more elegan­­t than you'd expect in a traditional town. Yes, there are public buildings and a few homes designed by brand-name architects (although many of them weren't brand names when they contributed to Seaside's distinctive skyline). But walk along the residential streets and the place feels . . . cozy. Where Seaside's tidy streets fade into the adjoining Seagrove neighborhood, there's a subtle shift—but no stark contrast. The most noticeable difference is that in next-door Seagrove, older cottages are giving way to the construction of grotesque three-story "homes" with twenty bedrooms and baths that function as mini-hotels. You don't see those in Seaside. What you see are some very nice homes and some pretty modest ones—and a few carriage houses tucked behind those homes—or over garages.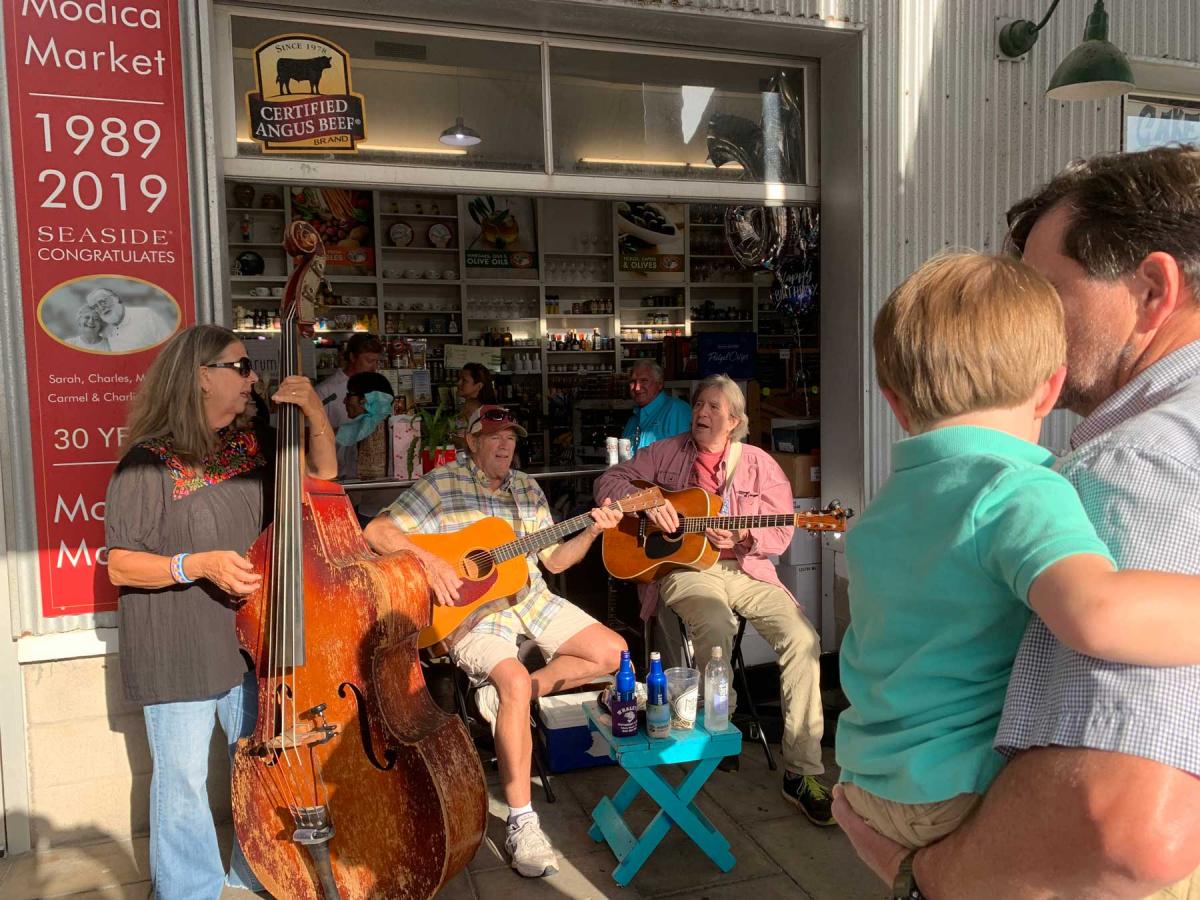 There's good coffee and a great bookstore. Cars have been banished from the town square, but Airstream food venders have been introduced. I attended a 60th birthday party for the proprietor of the Modica Market. His parents opened the business three decades ago. The festivities (which spilled out into the square) featured a three-piece blue grass band and a kaleidoscope of families who live in or regularly visit Seaside. They all seem to love their grocer. Everyone seemed to be enjoying a normal good time. 
If Seaside is a work of genius, it is a work of understated genius. On the other hand, if (as the Harvard Design Magazine warned) its pleasant streets harbor an "insidious" and "dangerous" dark side of community that is "oppressive to the human spirit and otiose as a form of sociopolitical organization," I missed it.
Of course, what makes Seaside truly extraordinary is that it is neither gated (like the nearby Watersound mega-development), nor soul-crushingly ugly and dysfunctional (like the haphazard sprawl that has sprouted along Florida's coastal Route 30A from Destin to Panama City Beach), nor stunningly exquisite and even more stunningly pricey (like Alys Beach which has racked up a cool billion dollars in land sales for a 158 acre development). It is simply a well-planned, well-executed place that feels like it has grown organically over the past forty years—precisely because it has.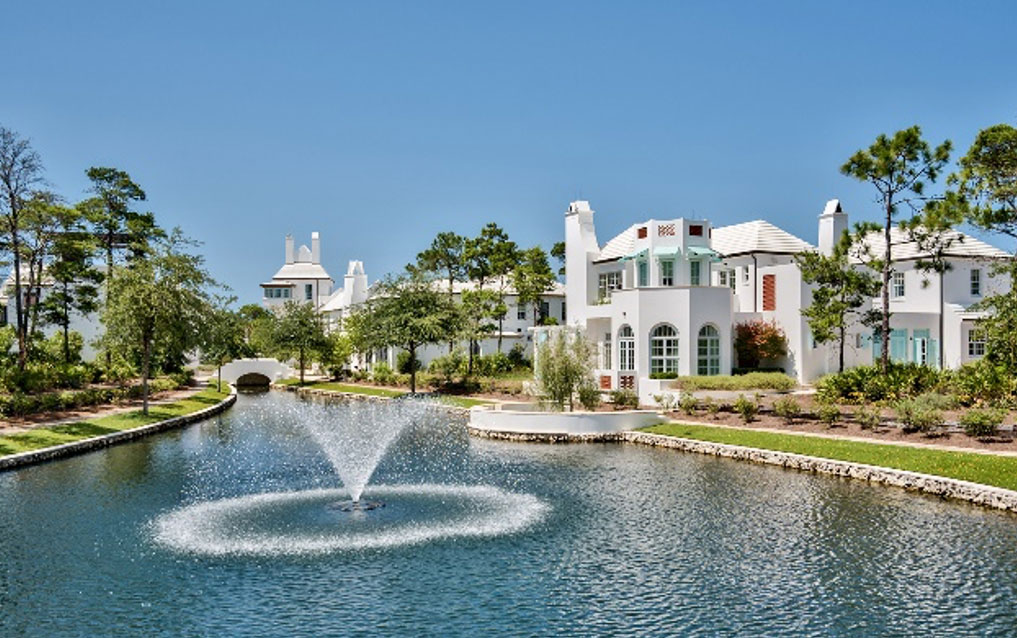 The original conception of building a great place to both grow up and grow old in has been eroded by Seaside's runaway success. The expected balance between residents and vacationers has been scuppered by Seaside's magnetic appeal to visitors. Prosperity and maturity have brought intractable challenges. The entire 100-mile stretch of Florida's "Emerald Coast" long ago ceased to be affordable. Traffic can be hellish. The workers that Seaside and its neighbors rely on are condemned to long commutes. The threat of climate change looms. Local and regional governance are overwhelmed by growth pressures.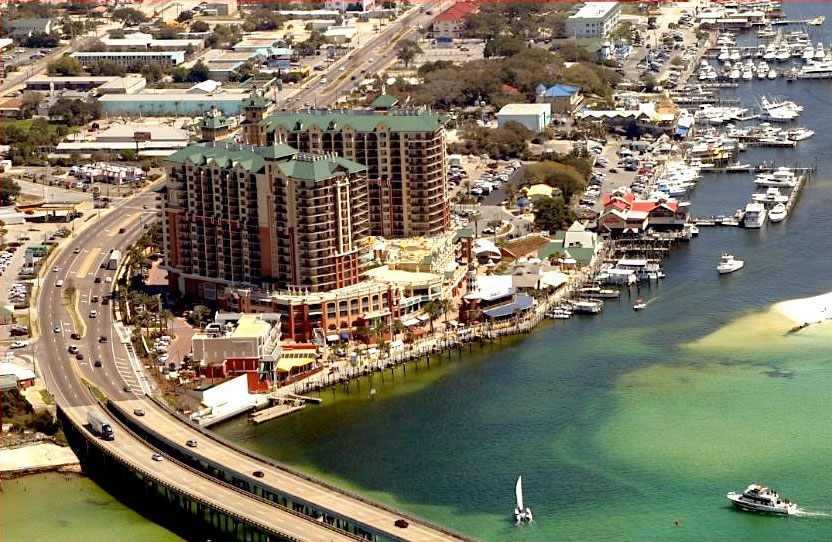 None of this is to diminish the significance of Seaside. In fact, in all of America, it had been two full generations since anybody thought to build like this— following countless generations in which nearly everyone built like this. That it took such extraordinary vision, courage, and tenacity to pull it off is a tribute to the founders Robert and Daryl Davis and designers Andres Duany and Lizz Plater-Zyberk. Seaside also stands as a condemnation of the willful blindness, greed, and fecklessness of the titans of American building and development who churned out America's sprawling crudscape instead.
Truly, the worst you can say about Seaside is that there aren't enough places like it. What a failure of the imagination that we can't all have nice things. My takeaway from visiting Seaside is that it is neither an unattainable ideal community nor an unaffordable bastion of nostalgic fakery. Instead, it's the kind of inspiring place that we can all learn from. After all, if Seaside is such a nice place to visit, why can't the millions who do take those lessons and apply them at home?