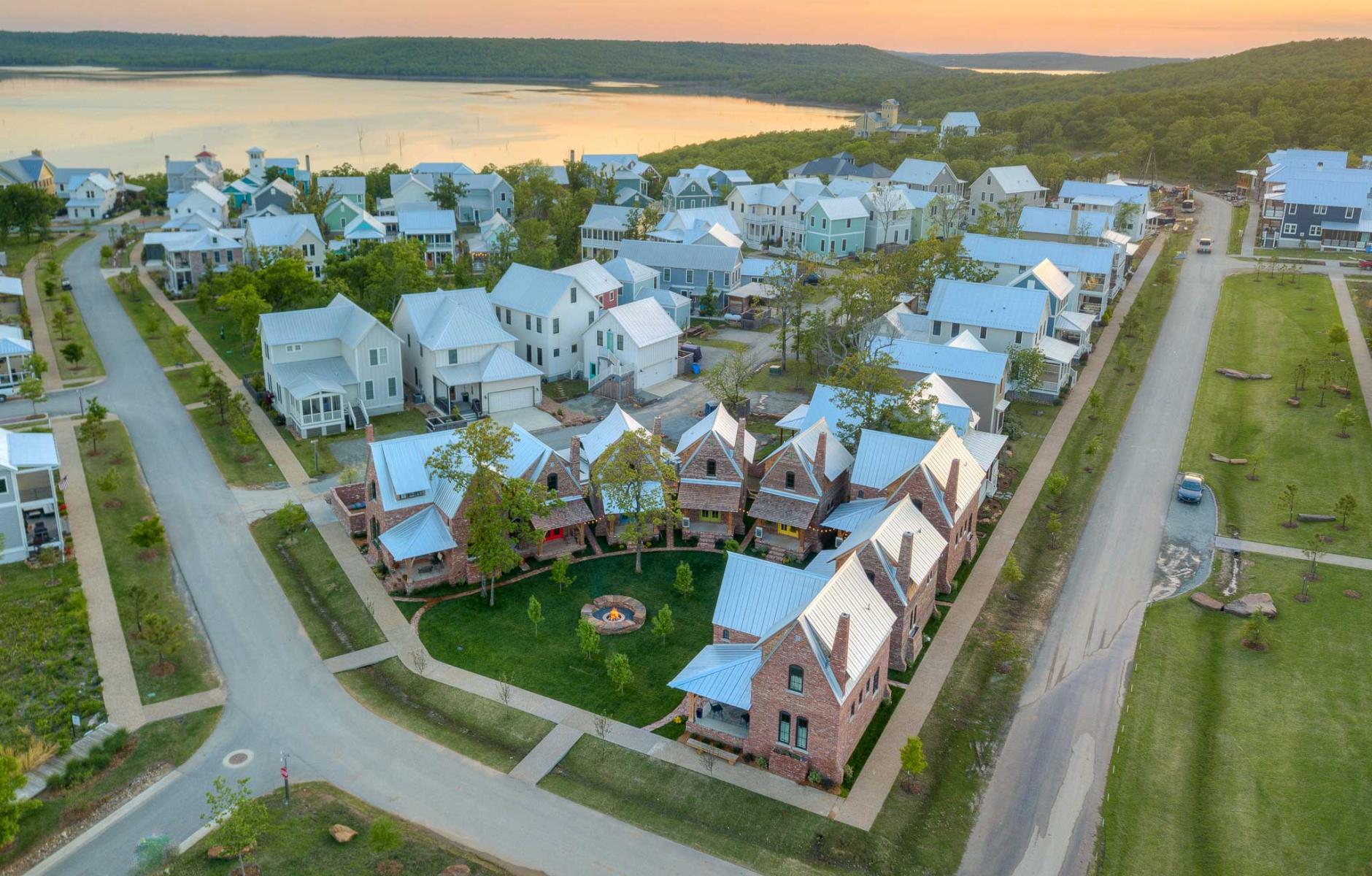 Endearing and enduring, cottage court is designed to last a millennium
The Borough is a strikingly beautiful group of houses that brings an abandoned, resilient construction technique back to life. Clay Chapman won a Charter Award in the Block, Street, and Building category of CNU's 2022 Charter Awards.
Many traditional neighborhood developments are laboratories of ideas, and one of the more radical experiments today can be found in simple brick houses in Carlton Landing, Oklahoma. 
Clay Chapman has built 18 of these strikingly beautiful homes, with foot-thick brick-and-mortar walls, in the new town on Lake Eufaula, competing against modern wood-frame construction. Among Chapman's Carlton Landing projects is The Borough, eight structural brick cottages grouped around a common court. Chapman believes that the exterior walls and foundation of these houses could last 30 generations, giving new meaning to sustainability.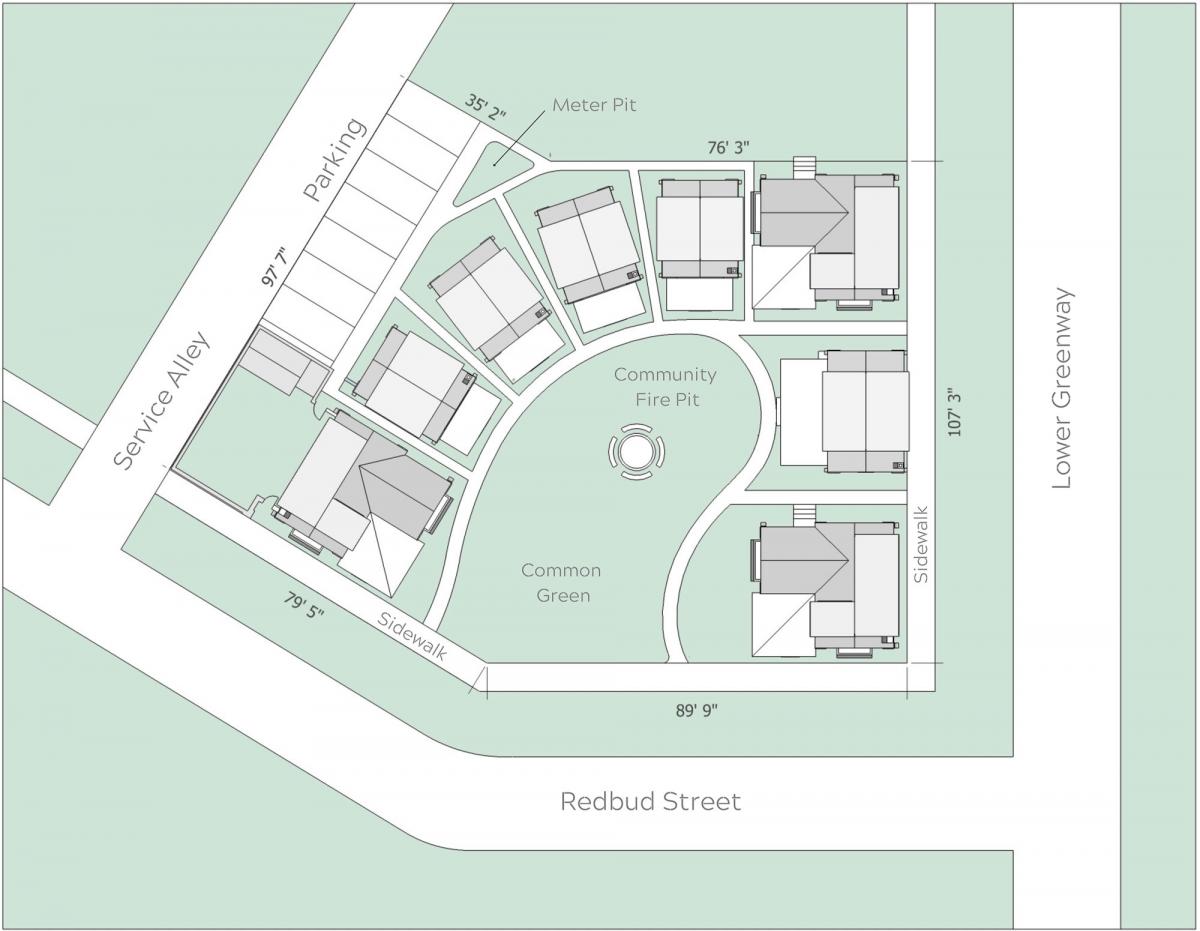 "When we say this is most likely the largest collection of new structural clay brick buildings in the world, we are talking specifically pre-War, common-bond, structural, load-bearing, triple-wide clay brick masonry," says Chapman, who is a builder, house designer, and mason.
"This work happening in The Borough elevates the entire New Urbanism community to a much higher level and quality of life," notes one architect and urban designer familiar with the project. "Now that others are being trained to expand this renewed tradition of structural masonry, a growing legacy for generations to come has been established."
Chapman found his career path when, studying art at college, he worked as a builder of horse stables. Seeing the wear-and-tear that a horse puts on a wood-frame building convinced him to build one stables out of brick. This building led to a commission for a brick house, which won awards.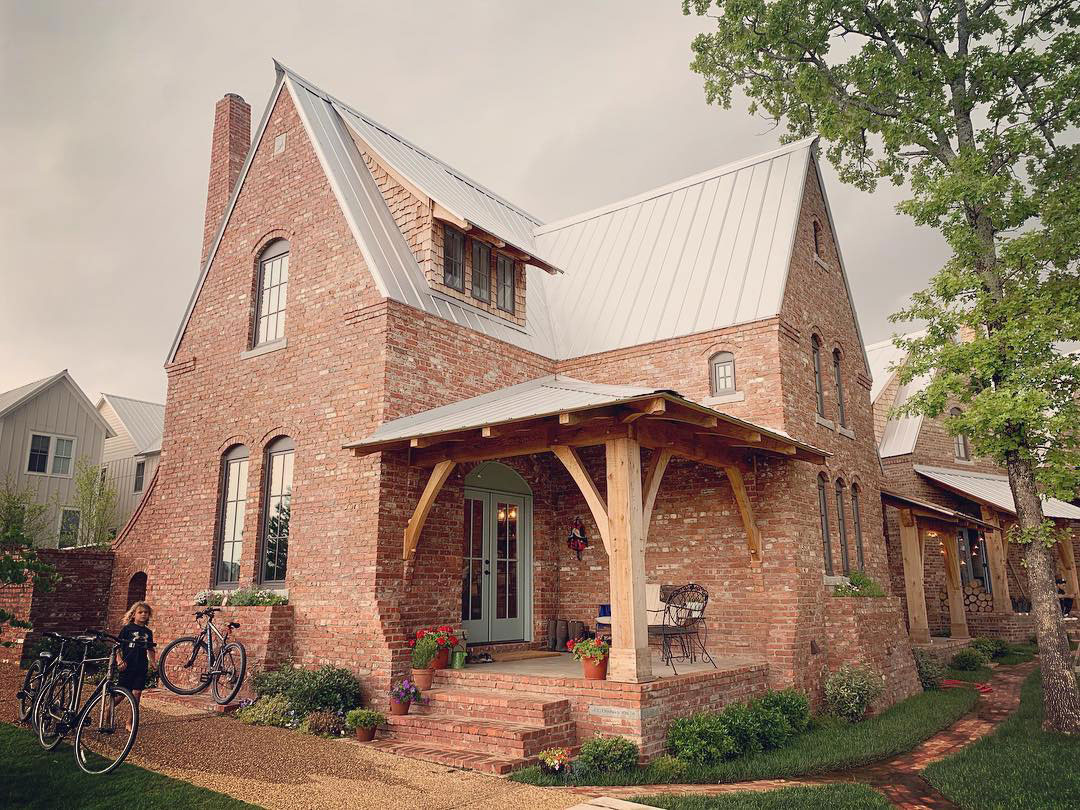 Chapman believed he could economically bring back traditional brick construction, which was used throughout the US before World War II, but has almost completely died out. He began in 2012 with a house in Columbus, Georgia, and then built a few more for research-and-development. He was introduced to the New Urbanism and met, online, Grant Humphreys, developer of Carlton Landing, who invited him to see the project. 
Getting brick mass-wall houses approved through conservative building departments is a hassle, so Carlton Landing, the first new urban town that is its own municipality, was attractive. Chapman and his family relocated there in 2014. In addition to the homebuilding business, he runs Hope for Architecture, an organization that trains builders and designers through apprenticeships and internships on the construction technique.
Two-part construction
Chapman is not a traditional design "purist" beyond the goal to create financially accessible buildings that will last a very long time. The houses have two distinct parts: The first he calls the "high-agency massing," which is the structural brick, which can be re-used over and over for many generations.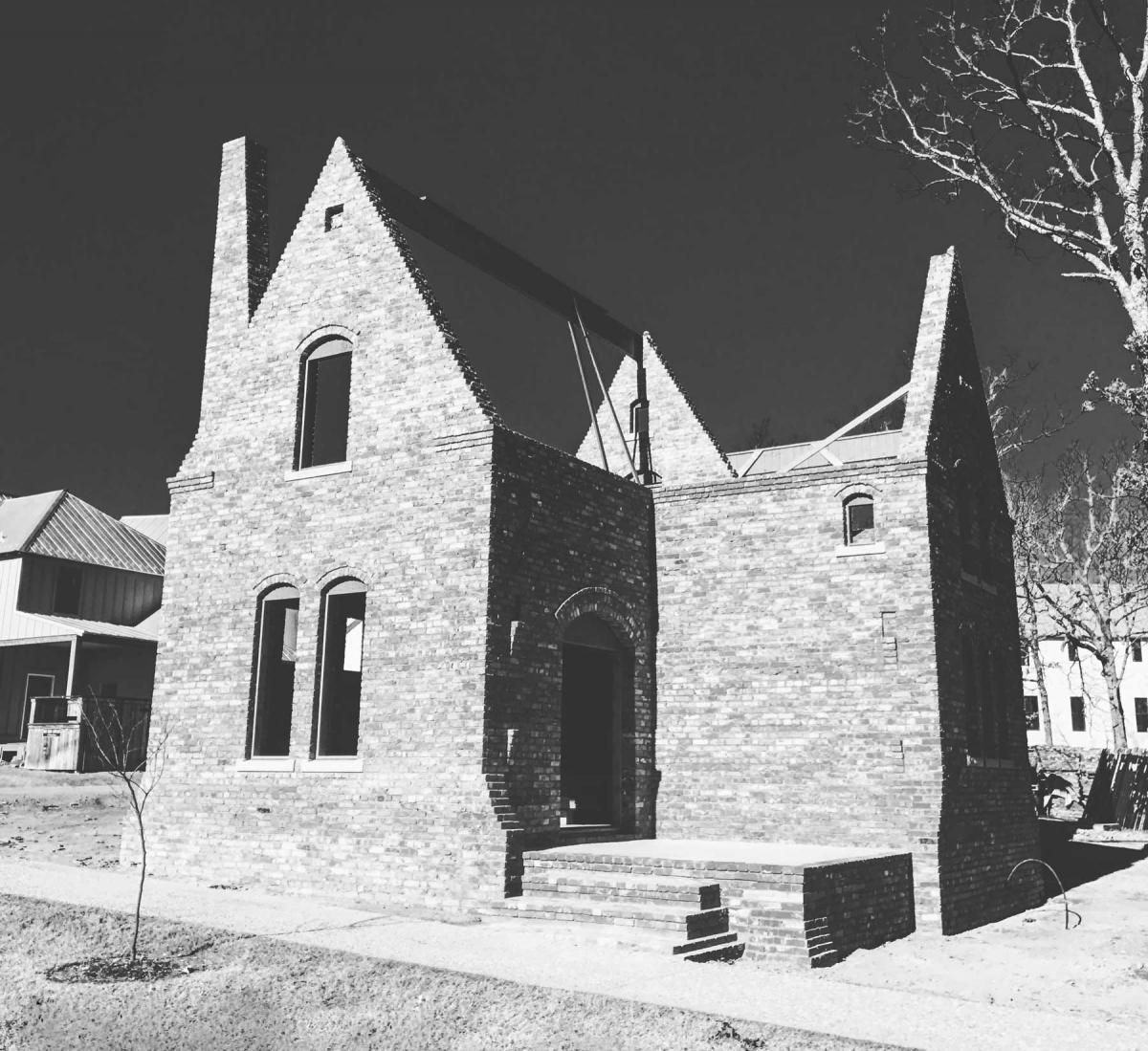 This masonry stage is followed by conventional, "low agency-outfitting" which uses more conventional building materials for floors, windows, doors, roofs (in Carlton Landing, every house has a metal roof), and everything else. This outfitting lasts for 1-2 generations.
The plumbing and electrical conduits are left exposed, similar to loft construction in old mills. "We looked at the success of that product, and we unapologetically turn that into an asset," he says. That approach gives these houses an honest, "res-industrial" interior.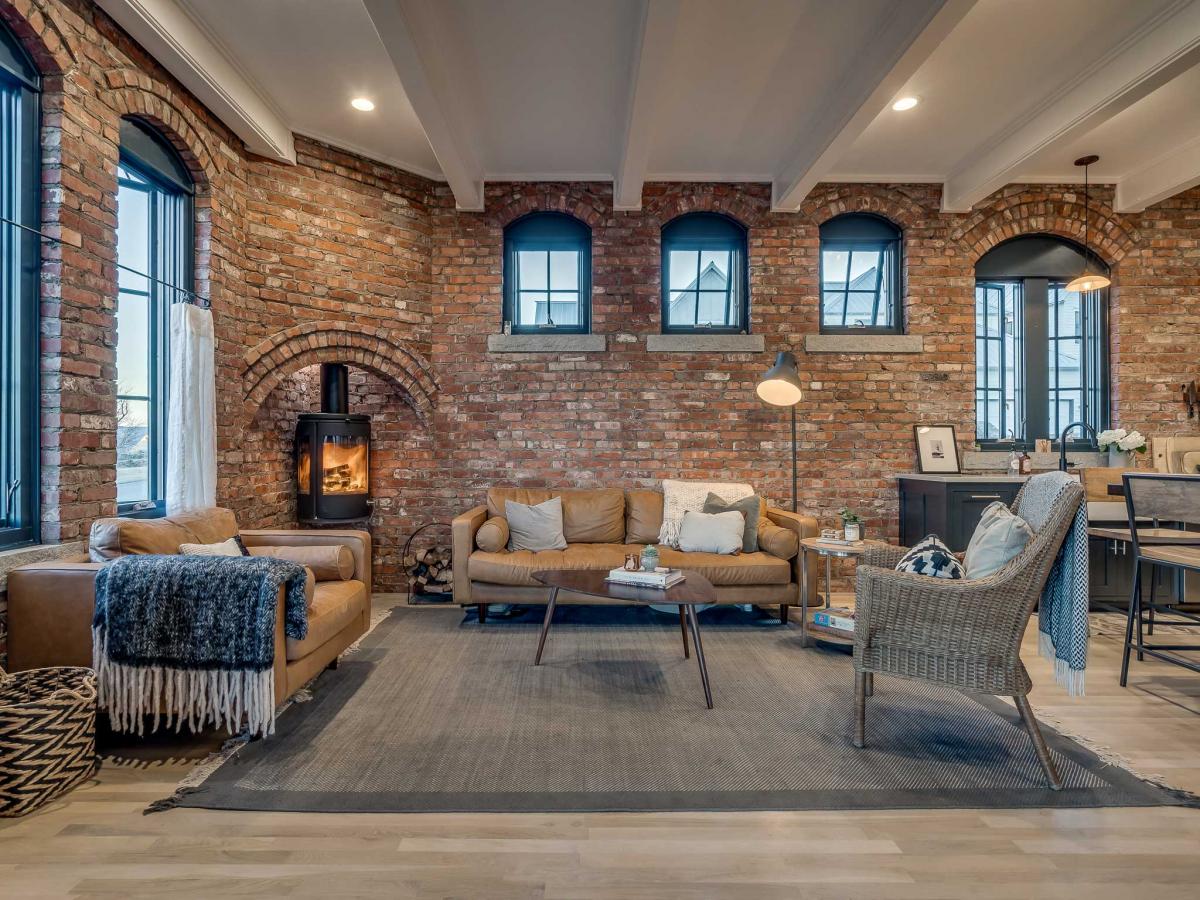 The low-agency part of the houses contributes to affordability, providing the convenience and comfort of the modern age, "without consequence to the overwhelming charisma and honesty of the masonry," Chapman says. In this multi-century product, the masonry satisfies the lifecycle requirement.
The walls and foundation cost about $50,000. Chapman continues to work on cutting costs of the low-agency part. "We believe we can eventually satisfy the entire spectrum of housing, from low-income to high-end housing," he says. (For low-income housing, subsidy would be required just like conventional construction). "The short answer is I think we can get costs down to $100 a foot at some point," he explains. At Carlton Landing, Chapman is providing early adopters of mass-wall brick housing "an 'apples to apples' opportunity to actively respond to the growing concerns of our time."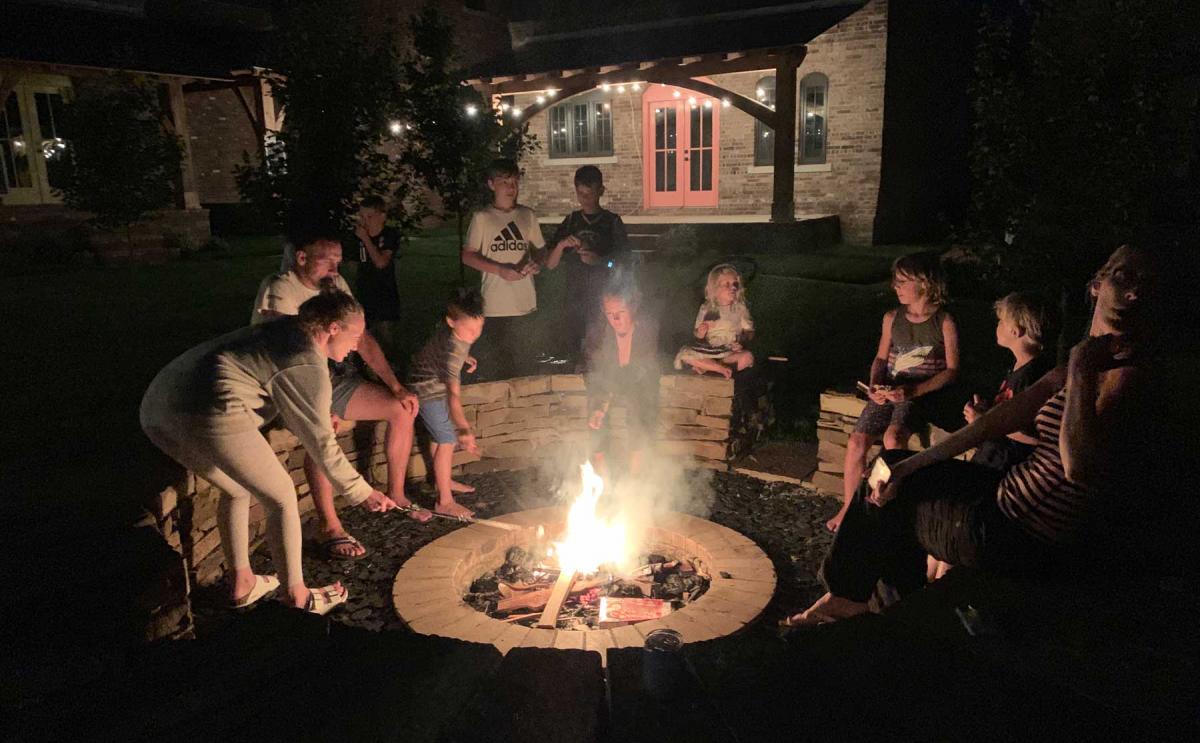 Public space and urban design
The Borough combines two Carlton Landing lots, totaling less than a third of an acre, to create a cottage court with a 4,000-square-foot horseshoe shaped public space opening to the street. That shared space with a grand, stone fire pit is a communal gathering spot for informal and annual gatherings that sometimes attract hundreds of people.
Parking for all eight houses is located in a common area on an alley, hidden by the arrangement of the cottages and a high garden wall, concealing vehicles from the street. "Light imprint" infrastructure around the perimeter of The Borough manages stormwater. Each cottage has a timber frame porch that faces the green and a brick footpath circulates throughout. The houses are very close together—as little as five feet. Because of the exterior brick, there is little danger of a fire spreading. Also, those narrow spaces are comfortable—almost European—in character. That small shady space is private and cool in the warm months.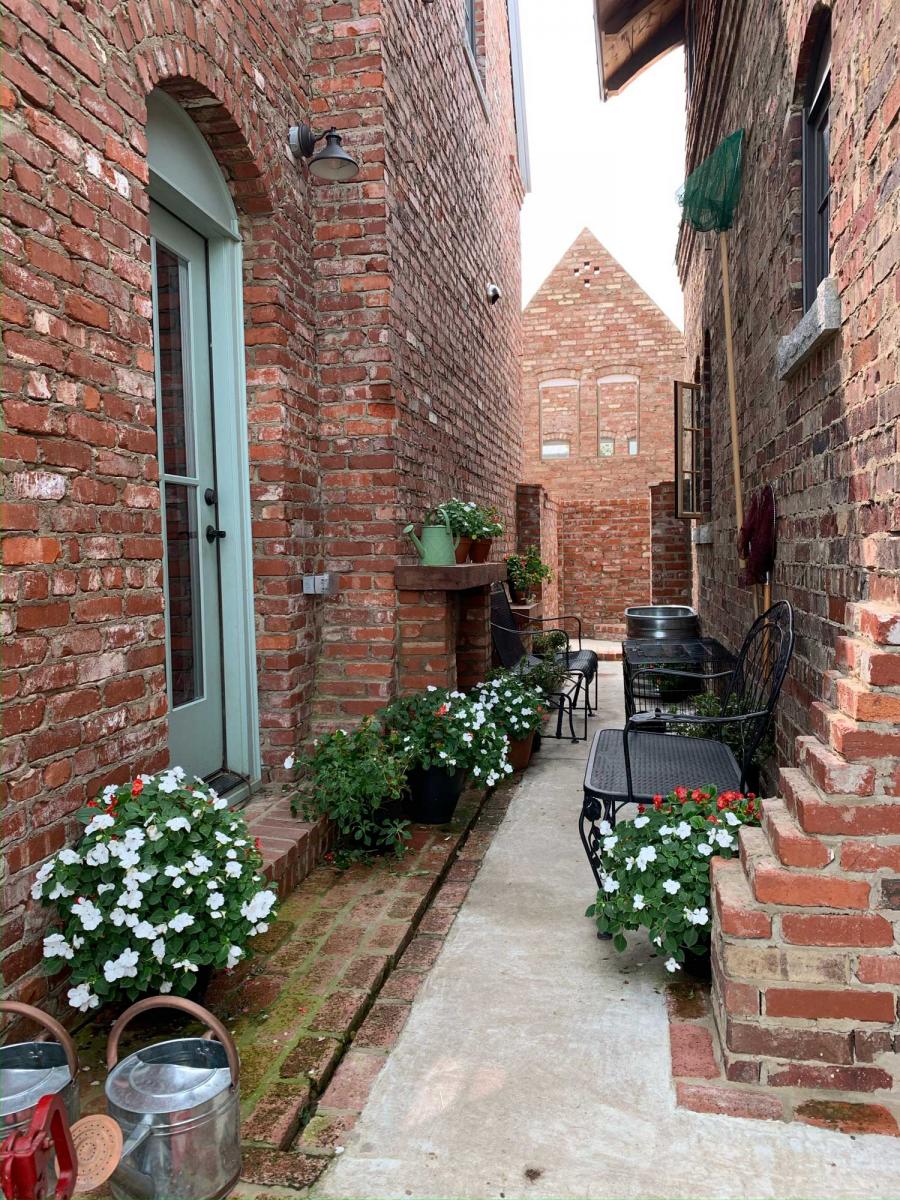 Sustainability
Although the mass wall does not provide conventional insulation, it has advantages in specific climates. The brick cools at night, which reduces the need for air conditioning except in the hottest times. The windows are designed for quick ventilation of the interior, and steel roofs reflect solar heat. The mass walls heat in the day, energy that is released into the house at night in the winter. The cottages are equipped with modern, Swedish wood stoves behind a brick corner arch. Mostly, the sustainability comes in the longevity and lovability of the architecture. 
"The goal is to firmly ensconce a philosophy that conspicuously values the lives of our descendants, while enriching and fostering well-being in real time," Chapman says.
"As we create culture, let's make it endearing and enduring," concludes Carlton Landing Town Founder Grant Humphreys.
Charter Awards will be presented at CNU 30 in Oklahoma City, on Friday, March 25.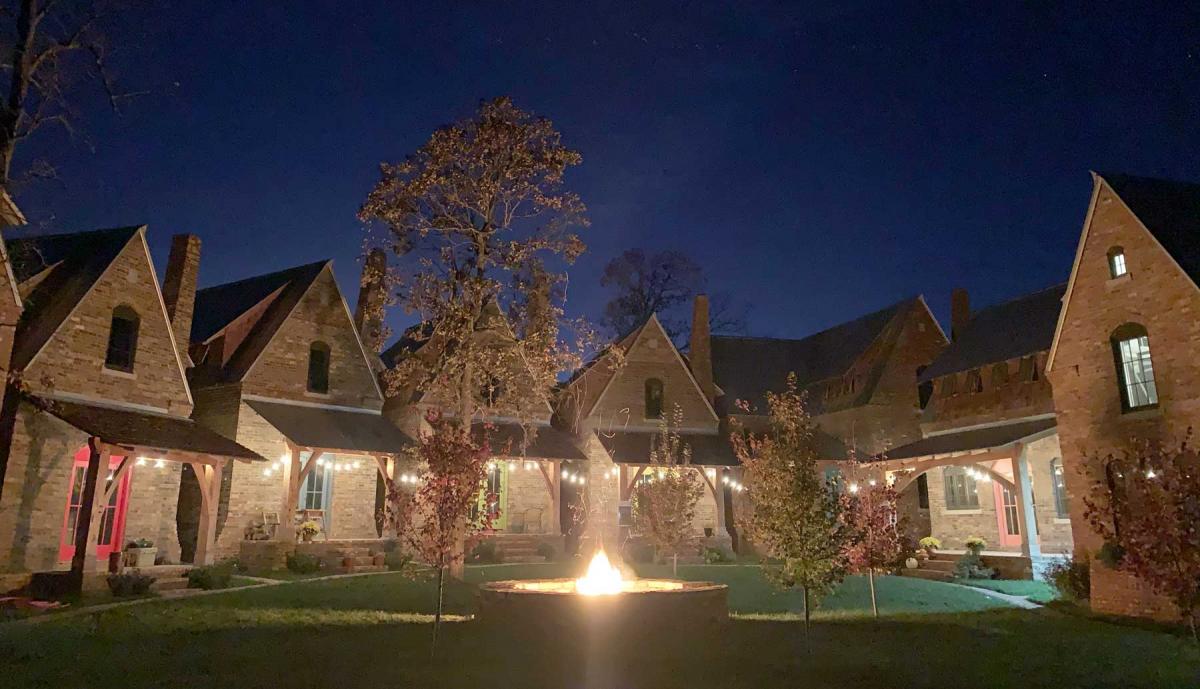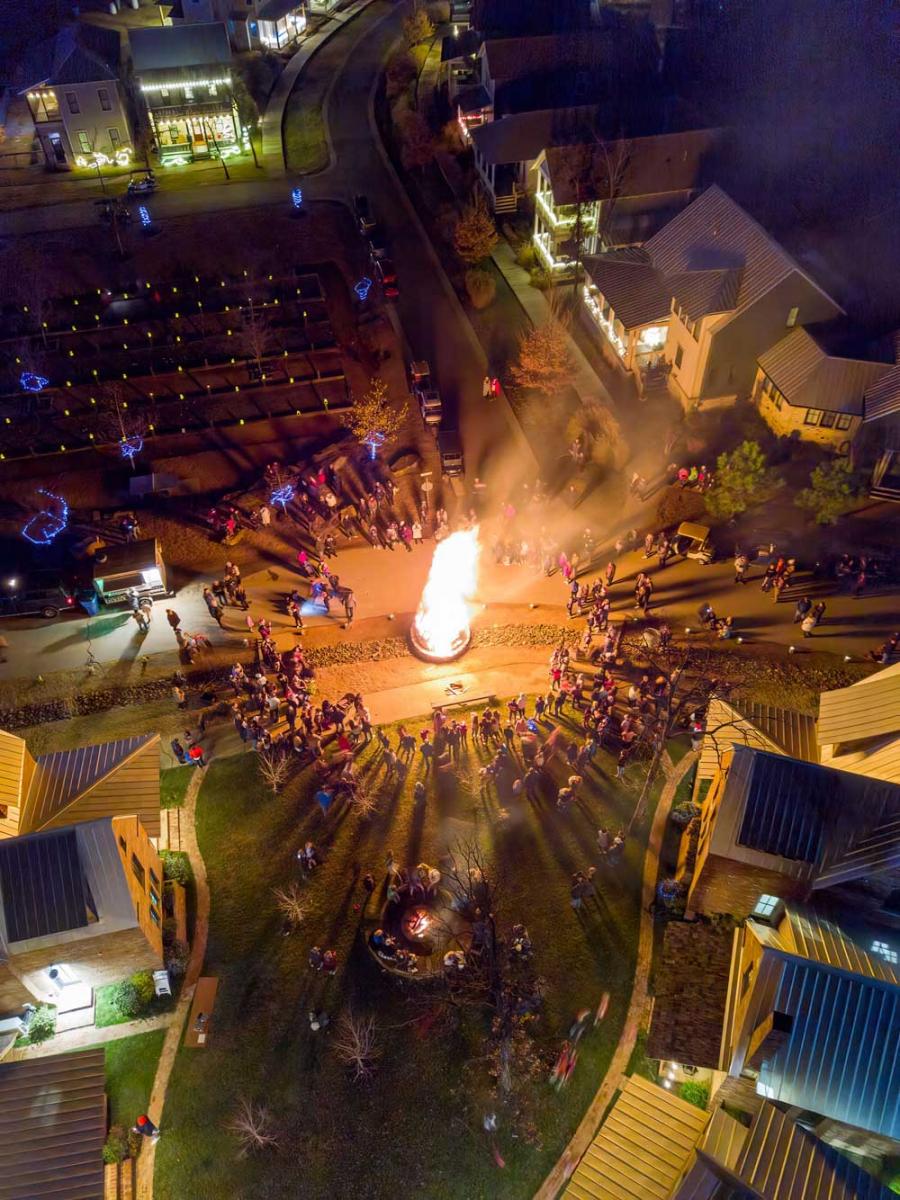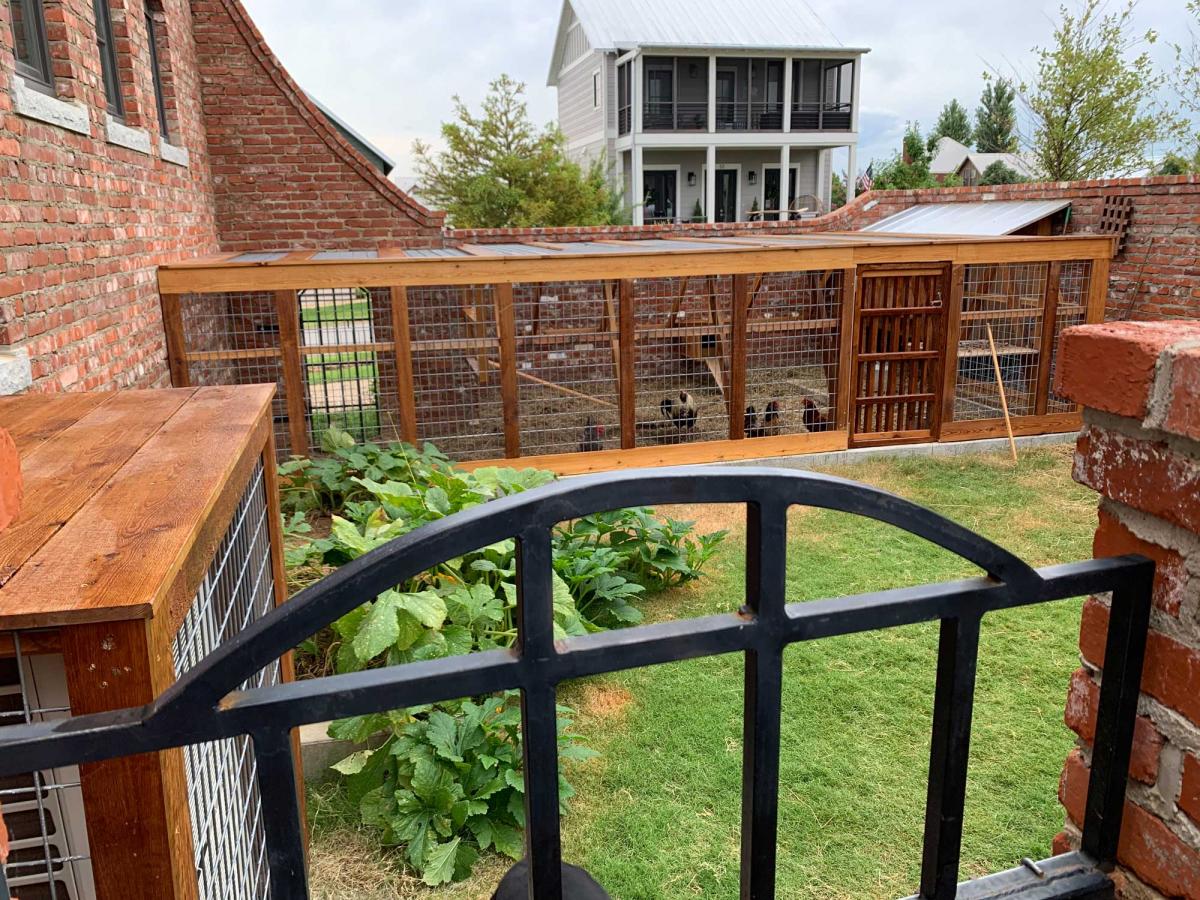 The Borough
Clay Chapman: Principal firm
James Taylor: Investor
2022 Charter Awards Jury
Andrew von Maur (chair), Professor of Architecture at Andrews University in Berrien Springs, Michigan
Maria Fernanda Sanchez, Co-Founder and Director of Estudio Urbano in Guatemala City, Guatemala
Wendell Joseph, Project Planner with Toole Design Group in Boston, Massachusetts.
Jaime Correa, Director of the Undergraduate Program and Associate Professor in Practice at the University of Miami School of Architecture, Coral Gables, Florida
Megan O'Hara, Principal, Urban Design Associates in Pittsburgh, Pennsylvania

Charter Awards 2022