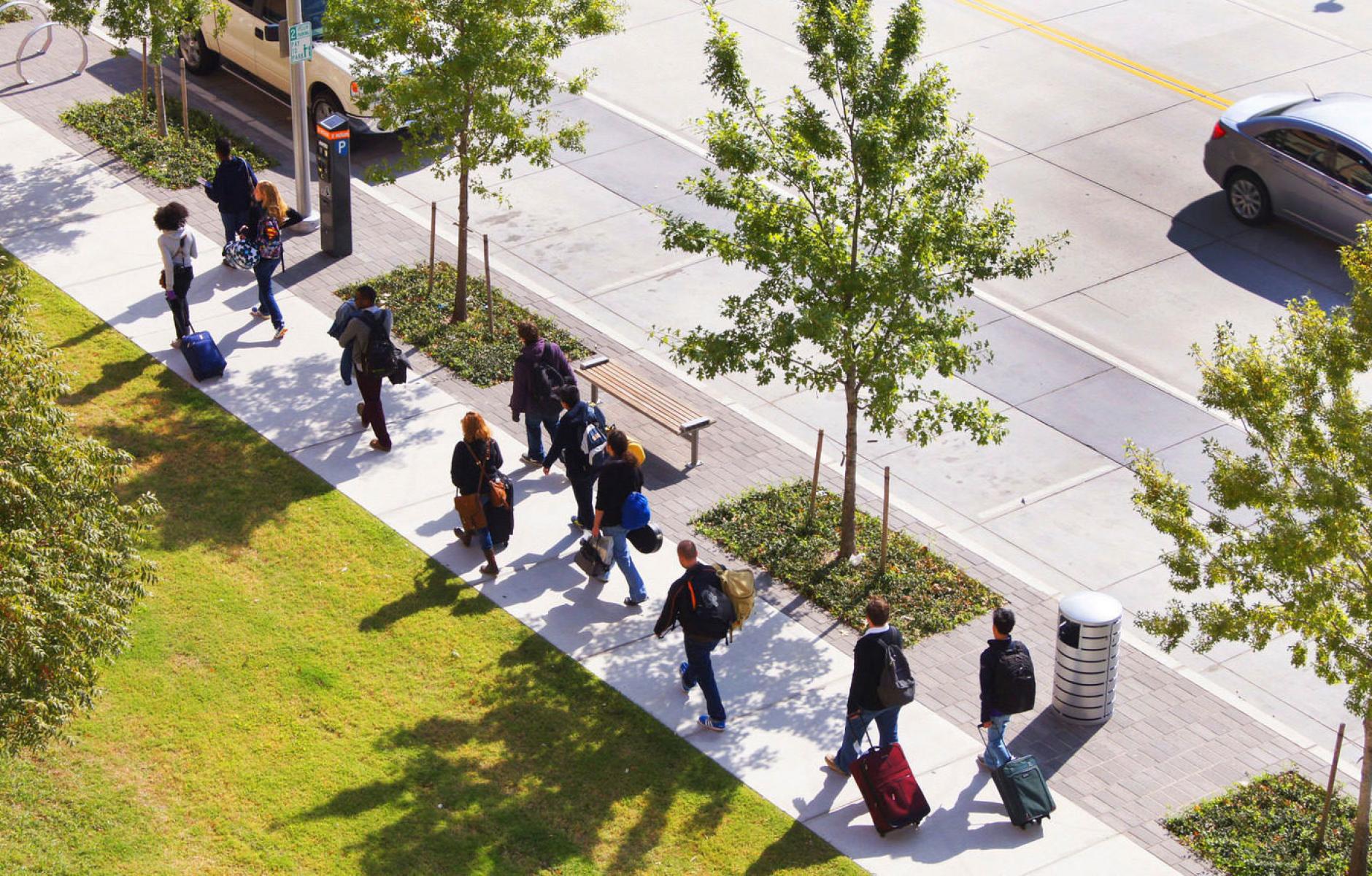 Streetscape elements include trees, bike racks, street furniture, bike lanes, and more. Photo by Lifang International
Comprehensive redesign makes city more livable
Project 180 transformed the fabric of Oklahoma City's downtown. OJB Landscape Architecture and Speck & Associates won a Merit Award in the Neighborhood, District, and Corridor category of CNU's 2022 Charter Awards.
Oklahoma City reversed a half century of automobile-centric street planning in a comprehensive makeover of its downtown public realm in the last decade. 
A public-private partnership, Project 180, redesigned every downtown street. In Jeff Speck's plan for the 50-block downtown core, the one-way system was eliminated, driving lanes were cut by more than a third, lane width was reduced, the amount of on-street parking was doubled, and a network of bike facilities was introduced. More than 2,500 trees were planted to provide a continuous green canopy. Significant public spaces were renovated and created.
"Project 180 changes how this area of the city functions," says Andrew von Maur, Professor of Architecture at Andrews University and chair of the 2022 Charter Awards jury. "This kind of project could be implemented in cities across America, in a post covid world, reimagining streets as comfortable places for people to be for an extended period of time."
The scale of Project 180 is unusual. Many cities rebuild one or two streets for better walking and biking and are proud of those efforts. Oklahoma City redesigned its whole downtown—nearly eight miles of thoroughfares.
"The team has completely transformed the fabric of downtown Oklahoma City," says Larry Nichols, former CEO of the Devon Energy Corporation—a major employer and a partner in the project. "What was once a confused and over-scaled one-way network of downtown streets is being transformed into a vibrant, pedestrian-friendly two-way traffic system that includes 900 new on-street parking spaces, bike lanes, site furnishings and beautiful ornamental plantings."
Oklahoma City was ranked America's least walkable city in America by Prevention Magazine in 2008—a wake-up call for the city. Mick Cornett, mayor at the time, commissioned a walkability study of the entire downtown, one of the first in the US. The construction of a skyscraper by Devon Energy, starting in 2009, created the tax-increment finance to pay for a makeover. 
"Project 180 may have invented the concept of the Downtown Lane Audit, in which each street is analyzed in terms of its number of lanes, the width of those lanes, its direction of travel, and its provision of on-street parking and bike facilities, and then redesigned to provide desired vehicle through-put while optimizing the needs of pedestrians and cyclists and improving safety for all users," the design team notes.
The improvements were completed, block by block, over the course of a decade. Project 180 also renovated the 15-acre Myriad Botanical Gardens, an underutilized downtown green space into a highly programmed urban park and a center of downtown life.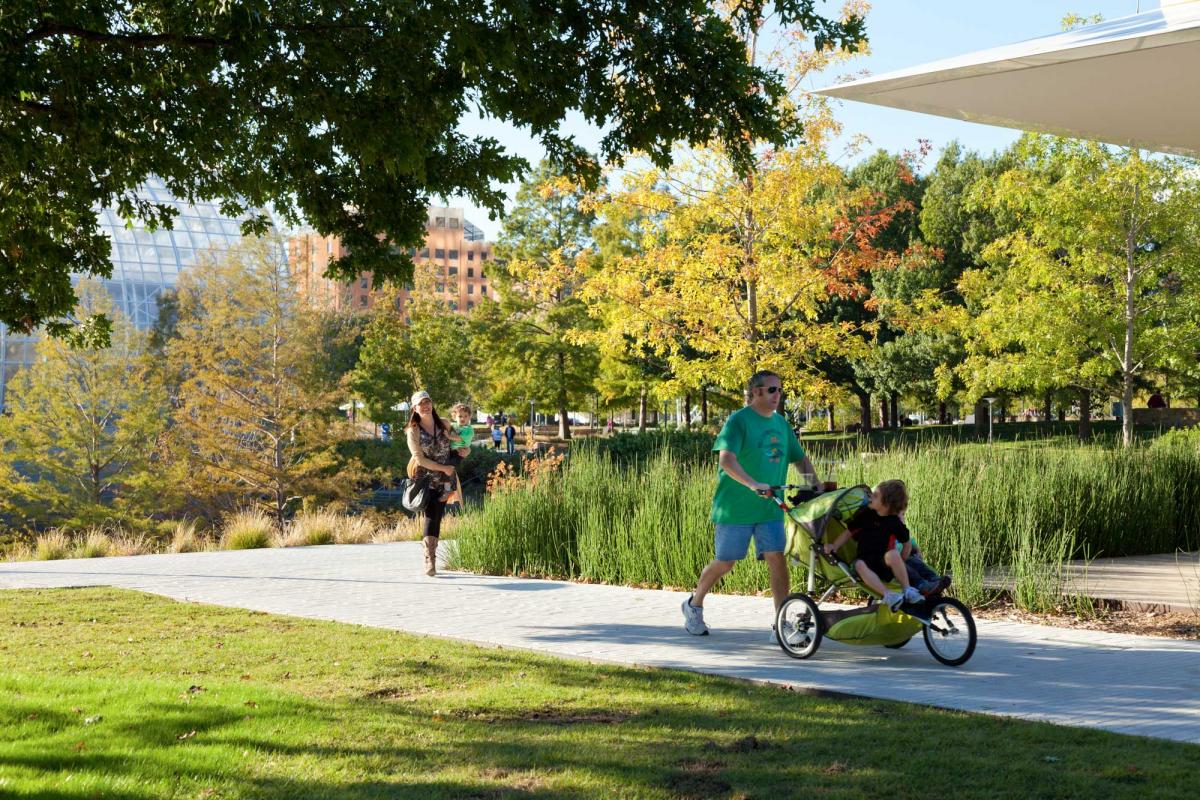 OJB worked with a coalition of public and private stakeholders to re-envision the park as an iconic setting for the city's civic and cultural events. More than 300 high-value specimen trees were preserved and stormwater was directed to the renovated central lake, where it supplements irrigation, the team reports. The gardens are permeable and inviting along the edges, drawing visitors onto a tree-lined promenade that loops through botanical plantings around the lake. Shaded berms overlook a Great Lawn and a sculptural bandshell. On the west side, a grove of sycamore trees provides flexible space to support Oklahoma City's annual Festival of the Arts. To the south, an interactive water feature marks the entry to a children's garden. A dog park, a fountain plaza, and a restaurant with outdoor dining enliven the eastern portion of the park. Extensive programming by the Myriad Garden Foundation utilizes the site for concerts and plays, weddings and galas, sports and fitness events.
The Devon Tower provides a 2.25-acre public space incorporating a lawn, shade trees, and water features. A public green accommodates up to 2,000 people during special events. A pavilion rises from a "skin of water"—a space for special events as well as the activities of the everyday lunch crowd.
When first presented with the street proposal, the City's traffic consultants rejected it, claiming the reduction in driving lanes would create "instant gridlock." At its own expense, the planning team funded an alternate traffic study that demonstrated the viability of the proposal and convinced City leadership to largely ignore its car-centric advisors.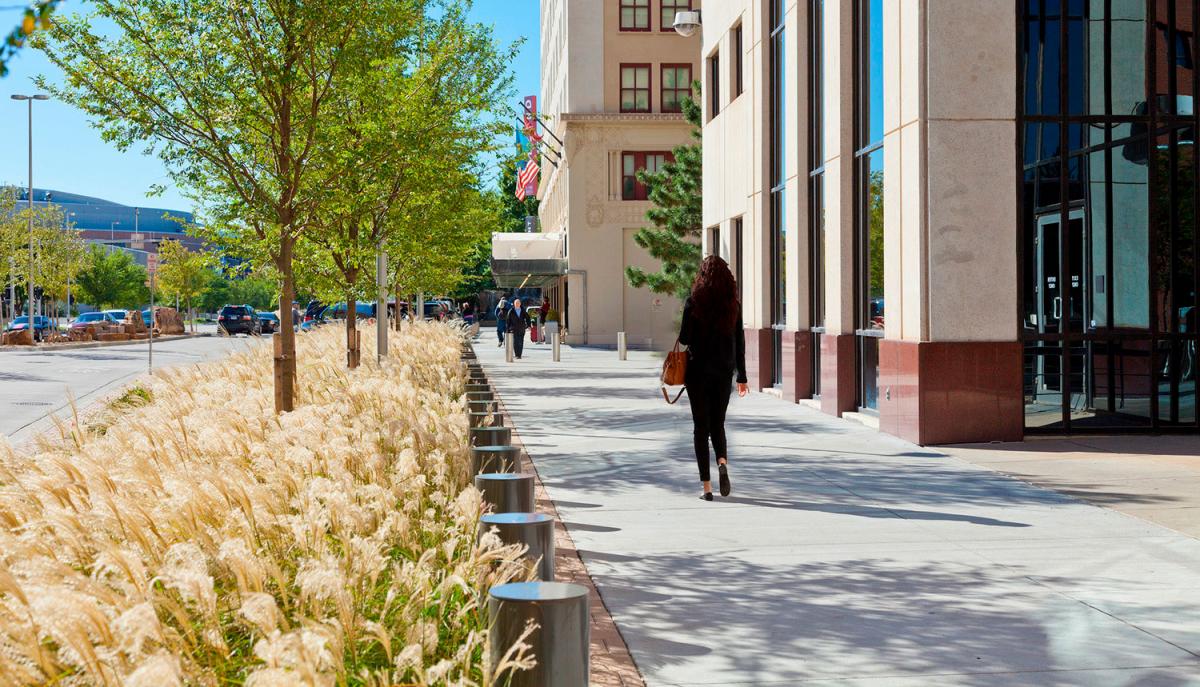 Project 180 was implemented in one of America's most auto-centric metropolitan areas, facing the headwind of traffic consultants who deemed it unwise and likely to fail. The persistence of the public-private partnership has paid social and economic dividends for Oklahoma City.
"The city has exploded with new recreation, entertainment and eating venues. The demographics of our City have changed so much with the influx of young adults starting their careers; downtown feels alive and metropolitan. … I believe this increased activity level has in large part been due to the downtown infrastructure reconstruction," says Laura Story, Project 180 Program Manager for the City.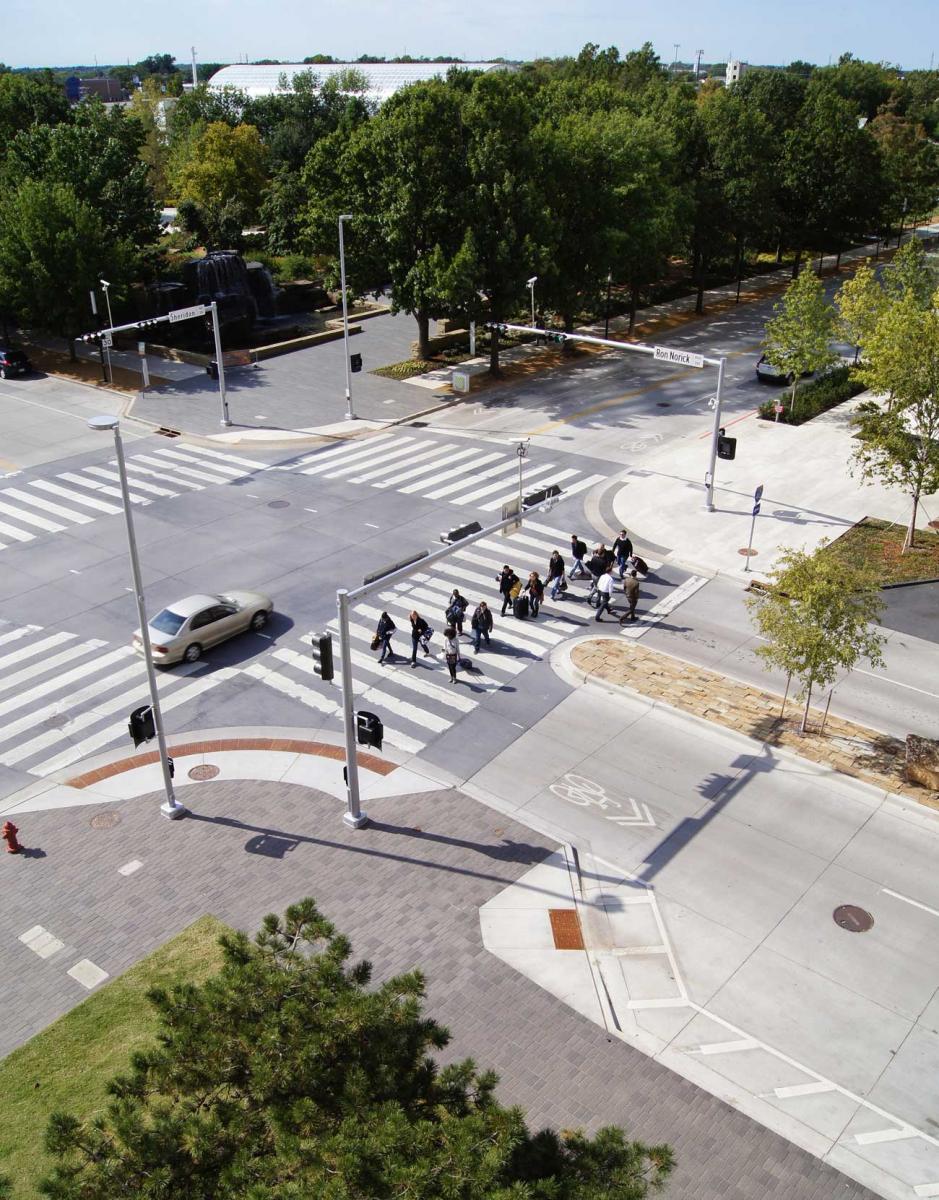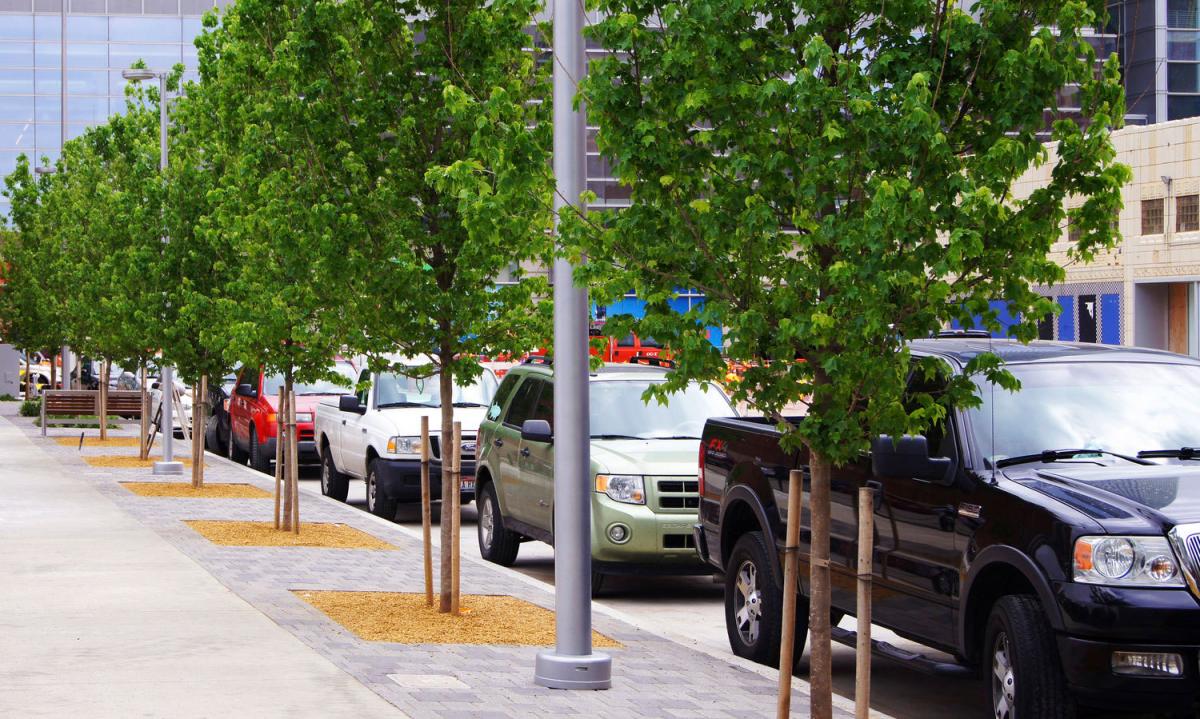 Project 180
OJB Landscape Architecture: Principal firm
Jeff Speck: City planner
City of Oklahoma City: Client
Murase Associates: Associate landscape architect
Howard-Fairbairn Site Design: Local landscape architect
CLS & Associates: Local landscape architect
Robert Lewis & Associates: Local landscape architect
Carter Design Group: Irrigation
Fisher Marantz Stone: Lighting
White Engineering: Structural engineers
Darr Collins Consulting Engineers: Structural engineers
Cardinal Engineering Inc.: Civil engineers
Johnson & Associates Inc.: Civil engineers
Legacy Engineering Inc.: Civil engineers
Lemke Land Surveying: Civil engineers, surveying
MacArthur Associated Consultants: Civil engineers
Myers Engineering: Civil engineers
Smith-Roberts Baldischwiler, LLC: Civil engineers
Tetra Tech: Civil Engineers
CH Guernsey: MEP
Traffic Engineering Consultants, Inc.: Traffic engineering
Lifang International: Art, photography
2022 Charter Awards Jury
Andrew von Maur (chair), Professor of Architecture at Andrews University in Berrien Springs, Michigan
Maria Fernanda Sanchez, Co-Founder and Director of Estudio Urbano in Guatemala City, Guatemala
Wendell Joseph, Project Planner with Toole Design Group in Boston, Massachusetts.
Jaime Correa, Director of the Undergraduate Program and Associate Professor in Practice at the University of Miami School of Architecture, Coral Gables, Florida
Megan O'Hara, Principal, Urban Design Associates in Pittsburgh, Pennsylvania

Charter Awards 2022