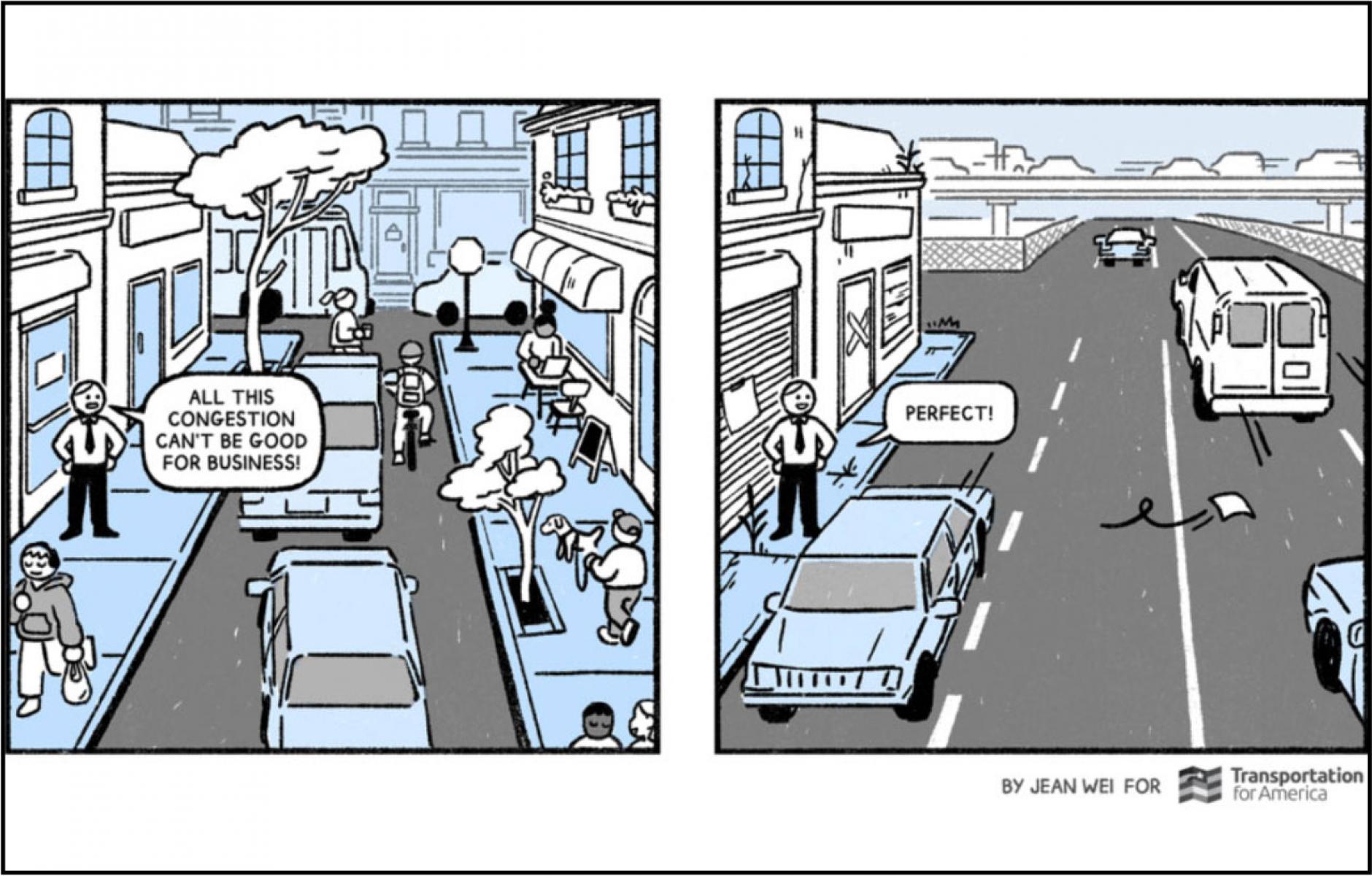 Solving the congestion problem
This cartoon by Jean Wei for Transportation for America perfectly depicts what happened to so many American downtowns and main streets in the latter half of the 20th Century. Older cities and towns faced many problems at the time, not the least of which was streets rebuilt by DOTs to accommodate speeding automobile traffic—a change touted to help the local economy.
I like the touches here, especially the highway in the background that has taken out a residential neighborhood. The result, still visibly evident in too many downtowns, is a desolate one-sided main street with closed-up shops. Look at the guy in the tie in the second frame, who I imagine is a transportation engineer, smiling and saying "perfect." No one seemed to notice, for many decades, that these changes damaged downtowns and main streets. Few questioned the designs, and if they did, they weren't working for the DOT. 
Fortunately, attitudes are changing. That process can be, and is being, reversed in many cities. A prime example is Oklahoma City, where CNU is holding its annual Congress in late March. While most cities are proud of a "complete street" project or two, OKC gave every downtown thoroughfare a makeover in the last decade. The city's Project 180, a 180-degree transformation of street design, has been a smashing success. 
The idea that congestion is bad for a city is ridiculous on its face, isn't it? Cities are defined by a concentration of activity. A city without congestion is dead. Former CNU president John Norquist pointed out that congestion is like cholesterol. You need good cholesterol as much as you need to limit the bad. Bad congestion occurs when you are sitting in traffic in an unpleasant spot, like, say, I-95. Good congestion is found in a place where everyone wants to be, like a lovely main street or lively downtown.