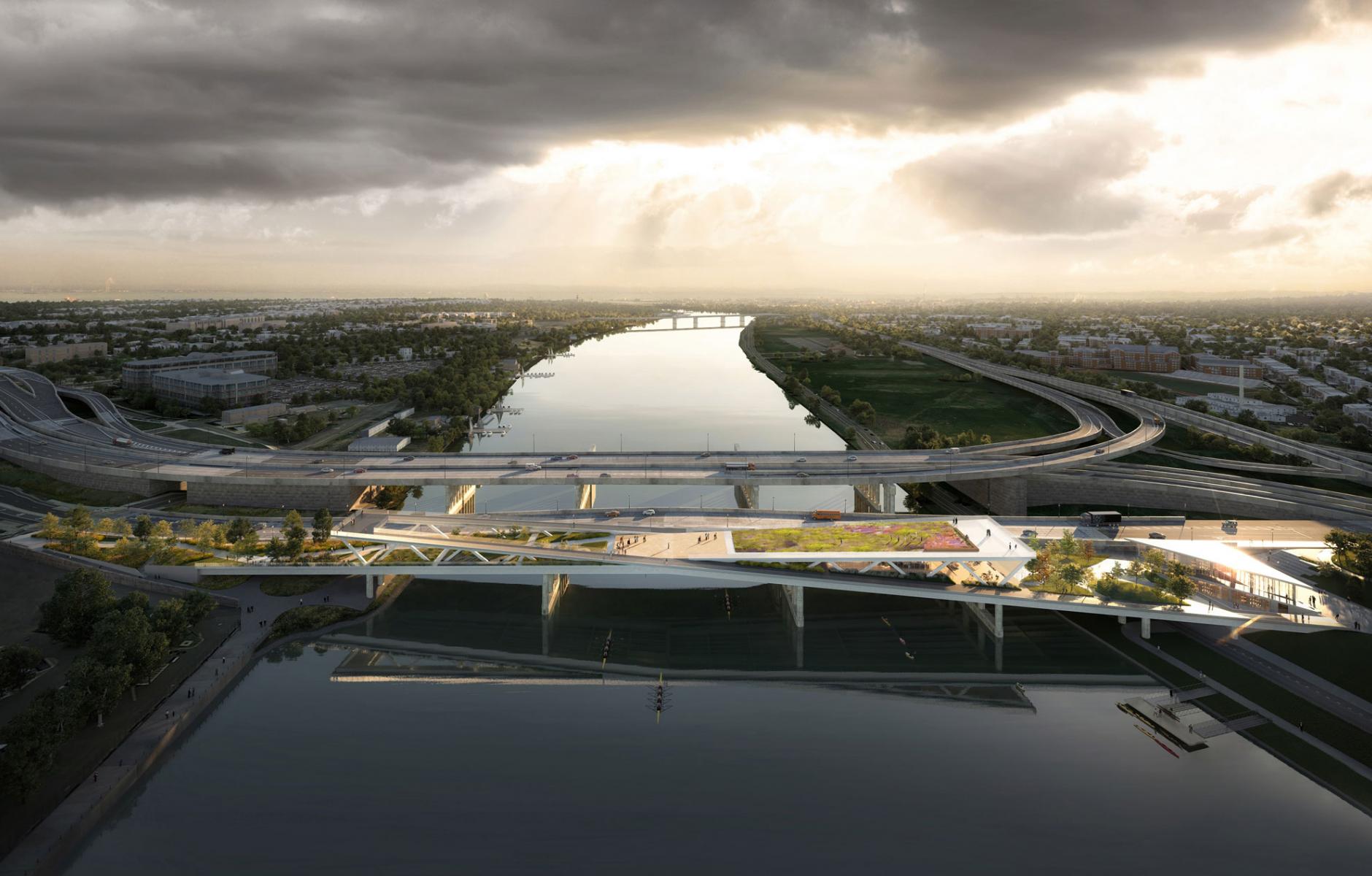 Image courtesy of OMA+OLIN
Signature park project bridges community divide
The deliberative engagement process used by the 11th Street Bridge Park in Washington, D.C. shows how community revitalization can benefit existing residents.
Successful equitable development takes work but there are steps and actions organizations can take to ensure local communities are truly involved. The 11th Street Bridge Park in Washington, D.C. will break ground later this year, but it is the long-term community engagement work that illustrates how time, trust, and collective ownership are vital to successful equitable development.
The 11th Street Bridge Park will connect D.C.'s Capitol Hill/Navy Yard and historic Anacostia/Fairlawn neighborhoods across the Anacostia River. Once construction is completed in 2025, the seesaw-shaped structure will have multiple pedestrian and bicyclist access points and will offer activity areas to include an amphitheater, an environmental education center, a play area, a café, a boat launch, a community farm, and a hammock grove.
The Anacostia River has been a dividing line in the city of D.C. for generations; dividing the city by race, by income, and by health outcomes. The idea for the Bridge Park began back in 2011 after the vehicular bridge was reconstructed and Harriet Tregoning, then head of D.C.'s Office of Planning, saw this as a once in a lifetime opportunity to transform part of this old infrastructure into a park.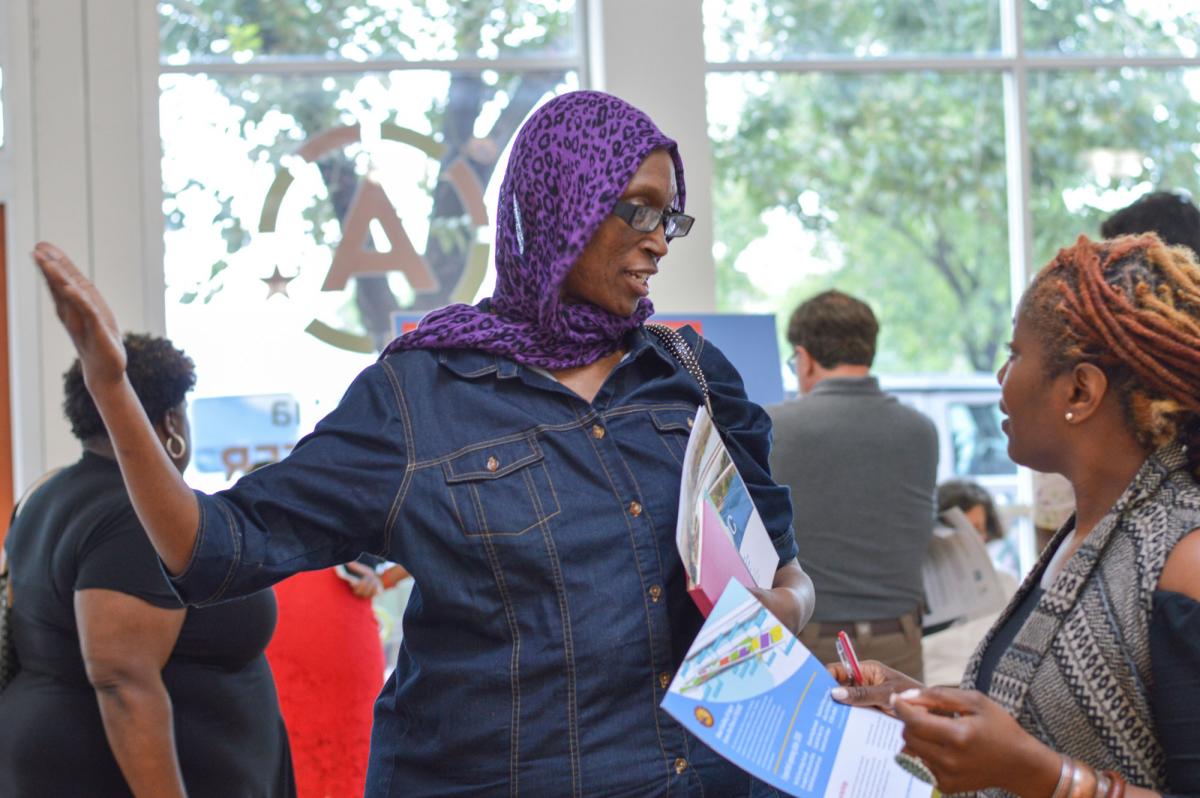 Before engaging architects, landscape architects, or engineers, Scott Kratz (now the Director of the 11th Street Bridge Park project) and Harriet spent two years talking to the community. They recognized that there was an enormous trust deficit, particularly in the East of the river communities so they started with an initial exploratory meeting that had over 100 attendees. Then Scott started having meetings with civic leaders, faith leaders, business owners, and civic associations to test the waters. Once it was clear that people were excited about the idea of a Bridge Park, community members were then asked to help design it and make sure that every programming element came from the local residents themselves.
"By engaging with the community during the design process, it identified key red flags for the design and made each of them so much better." said Kratz.
In 2013, the project aligned with an existing nonprofit Building Bridges Across the River (BBAR) that has been providing access to facilities, programs, and partnerships for East of the river residents for nearly 30 years. The organization's name was not literal but BBAR is now literally building a bridge.
Through outreach, BBAR heard from local residents about a need for jobs, a need for housing, and anxiety about gentrification. This became an opportunity to not only invest in the brick and mortar of the Bridge Park but also invest in the nearby communities to make sure the same residents who helped shape this park from the beginning can be the ones to benefit from it.
In late 2014, Scott and BBAR looked at how to invest early and intentionally in the areas around the Bridge Park and met with local residents to shape the civic strategies to help ensure residents can stay and thrive in place. This led to the launch of their first equitable development plan in 2015 which included strategies on housing, workforce development, preservation of small businesses, and later grew to include arts and culture equity strategies.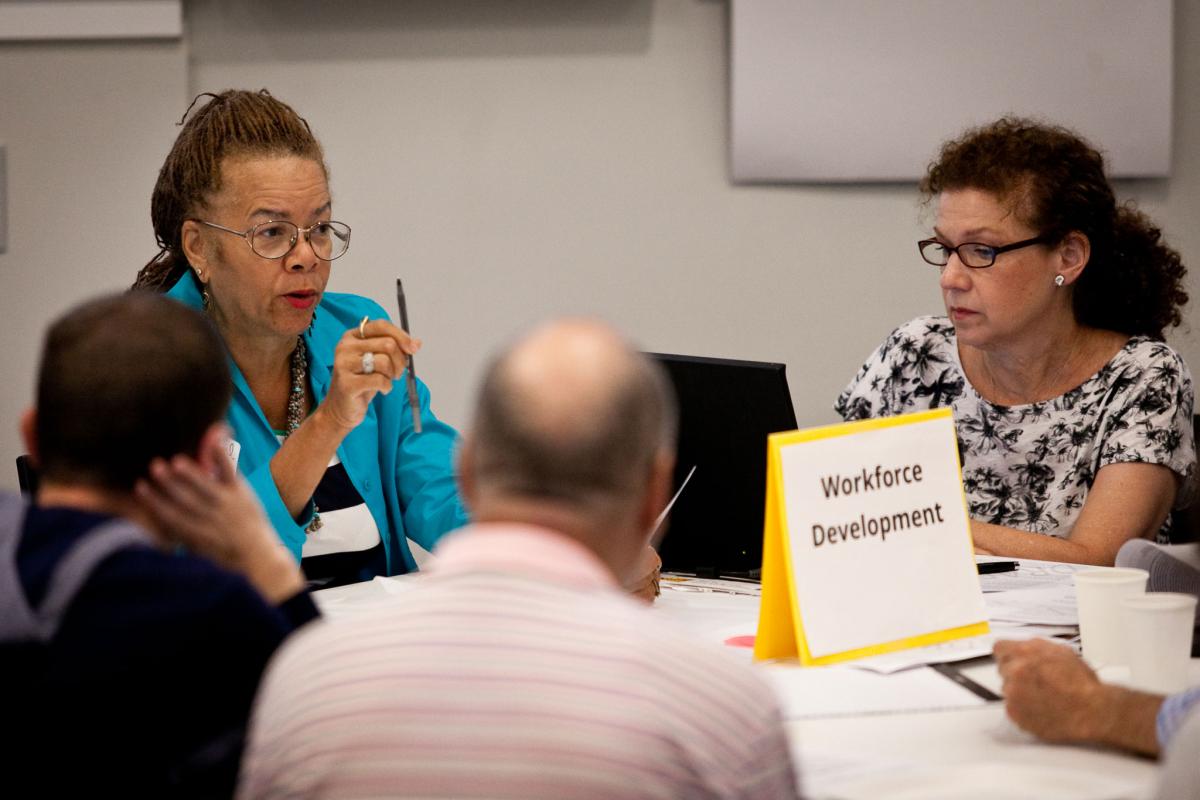 The equitable development plan has now been implementing strategies for the past 7 years. BBAR, in partnership with local leaders and nonprofits, has invested $86 million in equitable development directly into the communities that are adjacent to the park, most of which are black and brown communities east of the river. This is about the same amount it will cost to actually build the park.
Initiatives include standing up a separate nonprofit called the Douglass Community Land Trust which now has over 230 units of permanently affordable housing. They have also invested several million dollars in black owned businesses through technical assistance and low-cost loans. Even more, BBAR just graduated its 20th construction training program, aimed at giving local residents the skill sets and capacity to apply for and succeed at the jobs that will come from park construction and ensure as much of that money from the 11th Street Bridge Park goes back to the community as possible.
Through the success of this work, BBAR is advising almost a dozen similar projects around the country on how to engage with their own residents and neighbors to build an equitable development strategy. "Everybody should not be making the same mistakes at the same time across the country. We should be learning from each other and pushing each other a bit further up the learning curve." says Kratz. 
What advice does Scott have for successful equitable development?
Make sure the community is in the driver's seat. A deliberative engagement process takes longer but it makes a much more powerful and successful space. By engaging the community early, there is much more collective ownership so people take great pride in and will help take care of these spaces.

Recognize from the start that these signature parks produce a tremendous amount of value and often that value is extricated from the community. Turn the typical design process on its head and think about how to first invest in the community and then, and only then, build the asset. Think deeply about the intended and unintended consequences of these spaces and act with a level of intentionality.

Make sure what gets measured gets done. Look at the data and look at where things are going right and where things need course correction. That is critical to building trust in a community and keeping your word, sharing experiences over time, and deepening relationships. Trust is fragile, needs to be cared for, and needs to be nurtured.
This is only a successful model for engaging a community and being intentional about equitable development if the 11th Street Bridge Park gets built. Right now, they are focused on raising the last funds for bridge construction and equitable development strategies and are at 90 percent of their goal. This project has been in the works for a decade and it is exciting to see what the next decade of work will bring.