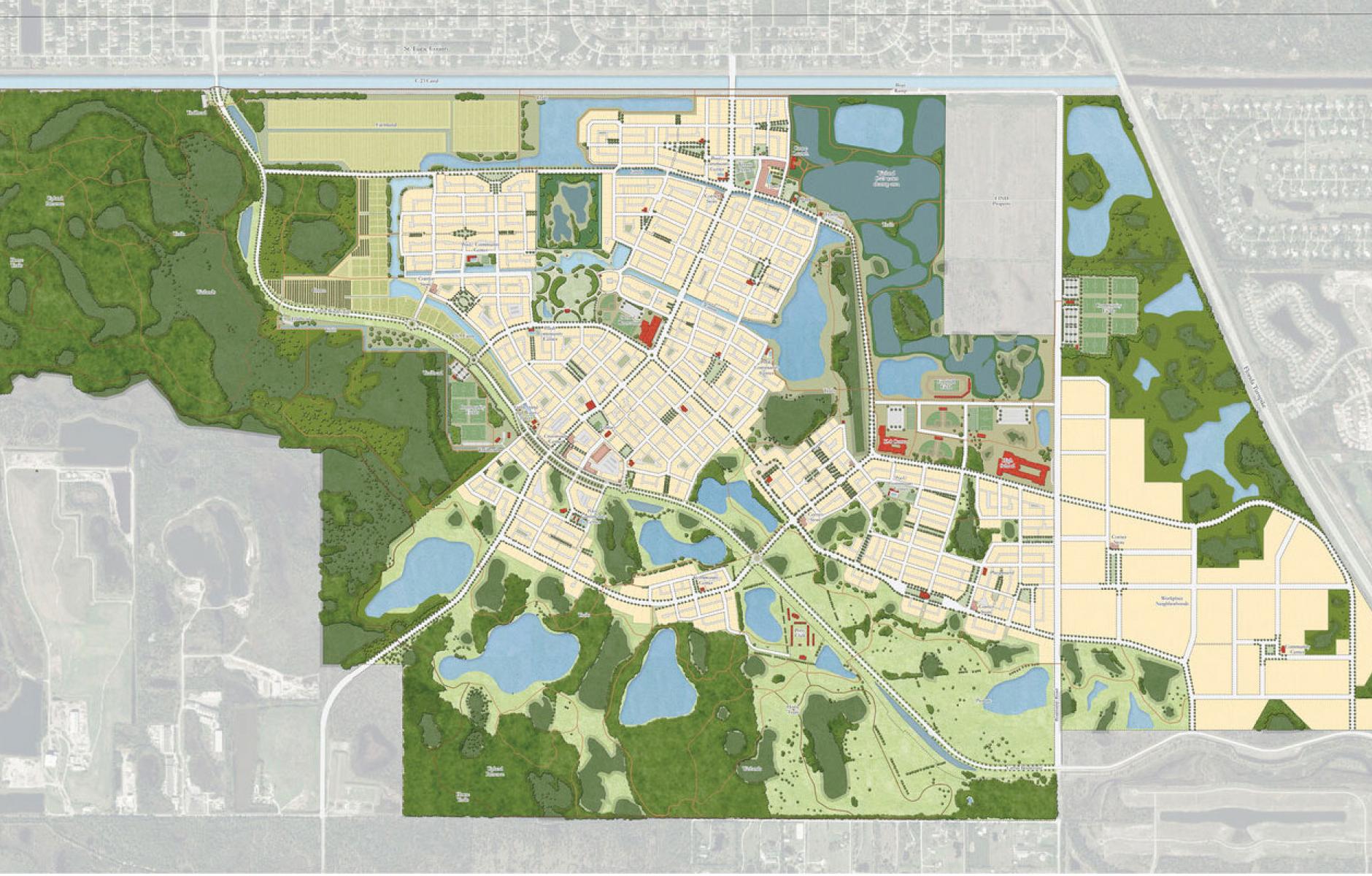 Illustrative plan for Newfield. Source: Dover, Kohl
Design for new town deals with climate change
Newfield in Martin County, Florida, provides an upland alternative to coastal real estate in Southeast Florida, while preserving the countryside.
Development of a new mixed-use town near Stuart, Florida, designed for 15,000-20,000 people, is getting underway. The 3,400-acre Newfield, in Martin County, is being developed by Knight Kiplinger, head of the Kiplinger Media company in Washington, DC.   
The plan by Marcela Camblor & Associates and Dover, Kohl & Partners was approved by the county in December of 2020. "Newfield is going to be a new kind of community," Kiplinger told NPR. "More like a traditional small town. You know, the same low-rise buildings that Martin County insists upon; nothing more than four stories."

Newfield is an example of "15-minute city" design. It is also a model of designing for climate change in the Sunshine State, according to Jason King, who writes about the project in his recent book, The Climate Planner: Overcoming Pushback Against Local Mitigation and Adaptation Plans, published by Routledge. Newfield employs a form-based code to legalize its compact, walkable design. 
Newfield is a large-scale traditional neighborhood development (TND)—a throwback to the early days of New Urbanism, when there were more large-scale new urban plans built from the ground up. As a long-time observer of New Urbanism, this development appears to me to be better designed than most of the TNDs of 20-25 years ago. The plan looks more like an authentic town, with a full range of employment and services, like schools and day-to-day retail. It is directly connected to a thoroughfare of regional importance, Citrus Boulevard, which goes through the planned town center.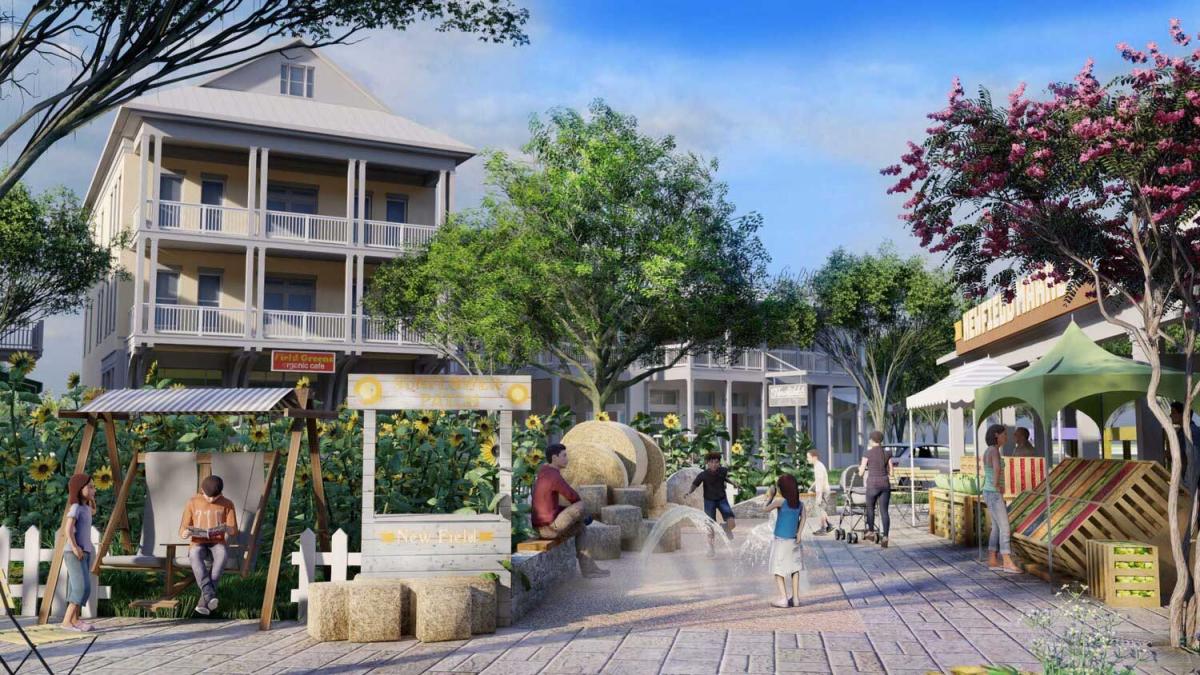 "Newfield, if constructed faithful to the vision, could become a model for new settlements in Florida's interior, away from the vulnerable shore," says King, an urban designer with Dover Kohl. With more than six million people in a very low-lying area, Southeast Florida may be the most vulnerable region to climate change in the US.
Newfield is located about 10 miles inland, on what qualifies as upland in Florida—on average, the site is 26 feet above sea level. "Newfield got one thing right from the beginning—it is in the right place. The rising seas and increased storms will not impact Newfield like places along the coast," King says. Residents won't have to evacuate except during the worst storms, he notes.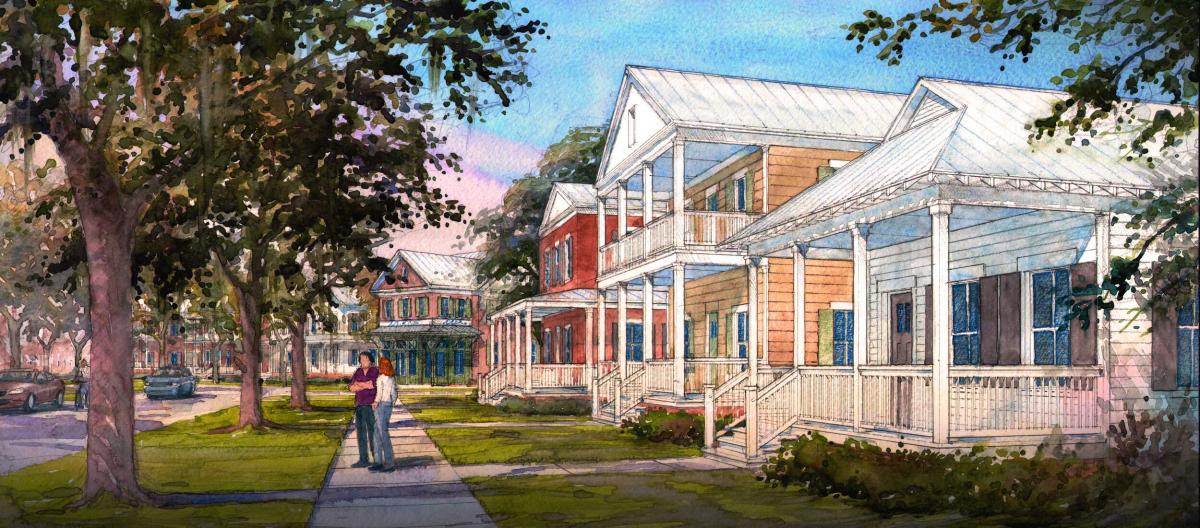 Newfield will preserve 70 percent of the land in open space, some of which will be replanted as citrus groves and other agriculture along Citrus Boulevard, which, as the name suggests, formerly went through groves but now is lined by pineland forest and open fields. The natural state of the land, lined with boardwalks and multiuse hiking and biking trails, is an amenity for Newfield. In Florida, the amenity is usually the beach. Newfield re-imagines a natural draw in an era when the coast is vulnerable.
"Most of the site can stay natural while still delivering a profit thanks to a dense center with apartments, townhomes, triplexes, duplexes, and single-family homes with accessory dwelling units in the back," King says. At Newfield, the average family will live on a tenth of an acre. "People aren't so much buying a house as buying into a town that will stay rural by design."
One day, Floridians may not be able to build on the ocean, because homes will not be insurable, King explains. "Until that day, we need to design places on higher ground with a high quality of life and recreational and scenic amenities that are not the beach in order to give all Floridians a choice-worthy place to go."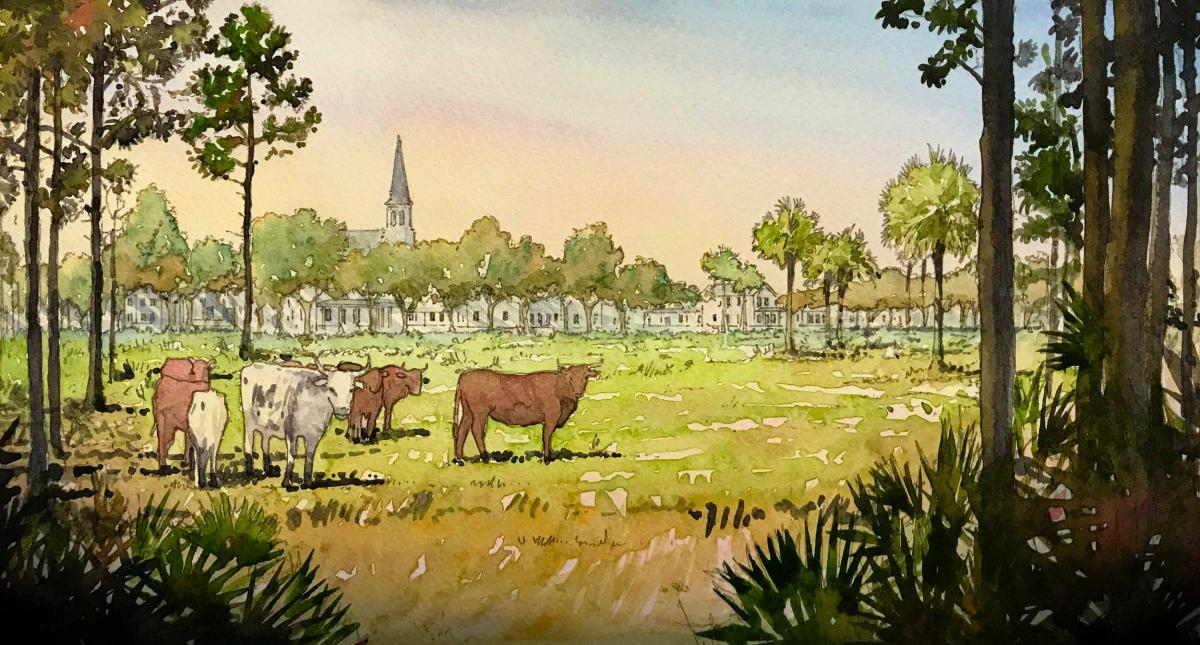 Newfield will provide a walkable town center for residents of suburban sprawl on the east, north, and south of the development. "I picture narrow pedestrian streets that will be home to tapas bars, a microbrewery, a bakery, and a bookstore. I picture a bike shop where one can rent a bike and explore the nearby trails that traverse the landscape," King says. The designers emphasize shade trees on streets to cool the public realm in the hot Florida climate.
The architecture embraces the traditions of Florida during the "railroad" era. The designers studied old Florida towns like Stuart, Winter Park, and DeFuniak Springs for inspiration. "Let's picture a new Florida with complete compact, walkable, mixed-use communities amidst the inland pinelands and vast sawgrass prairies, atop upland ridges, and far from the shore," says King.
Kiplinger could have gotten by-right approvals to build the property out in low-density development, with little open space preservation, including a substantial office/research park. That would have been quick and profitable, and done little for Florida sustainability. "I want to build a place where I would want to live and a place my grandkids will want to live," Kiplinger told King.