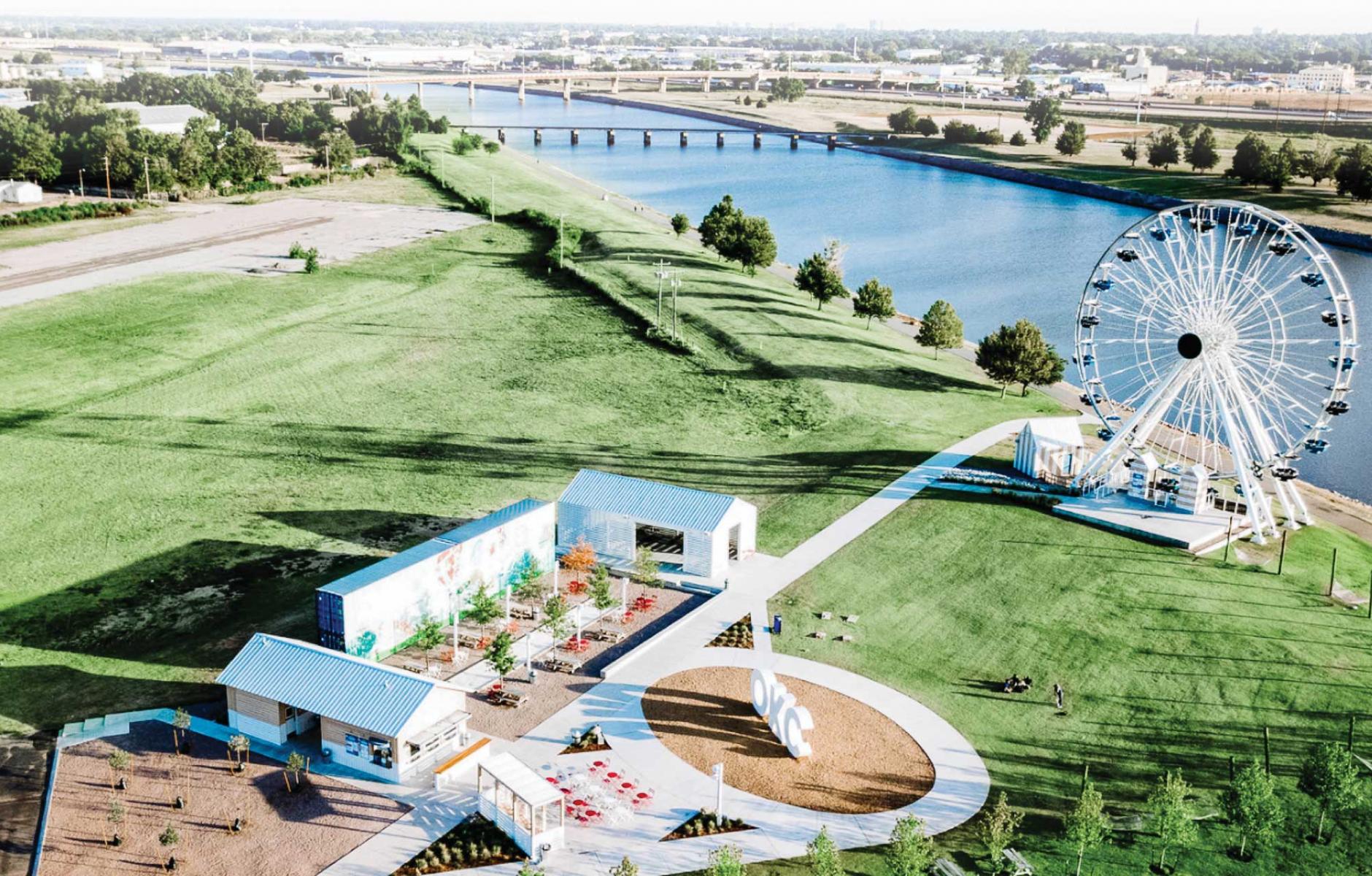 The Wheeler District Ferris Wheel, concert venue, and OKC sculpture. Photo by Tony Gaeddart
New neighborhood highlights the joy of urban place
The Wheeler District is shaping up as one of Oklahoma City's landmark neighborhoods.
Note: CNU 30 will be held in Oklahoma City in March, 2022.
The 150-acre Wheeler District, located on a former airport in Oklahoma City, is the design and construction of a complete neighborhood—the first built in the city in a long time. And yet the soul of the place is indicated by its first vertical construction—before any streets, homes, or commercial buildings came out of the ground.
The developer installed a vintage ferris wheel with great views of the Oklahoma River and the downtown skyline in a public space on the river. Formerly a landmark of the Santa Monica pier in California, the wheel made the unlikely journey east to become the symbol of The Wheeler District, near a new "OKC" sculpture that has become one of the most Instagram-friendly spots in the city (see photo at top).
While developer Blair Humphreys was seeking entitlements, an outdoor concert venue and cycling race were launched, utilizing the former airport runways as a one-way track. The early developments and programming make a statement: The Wheeler District is urbanism, and urbanism is fun.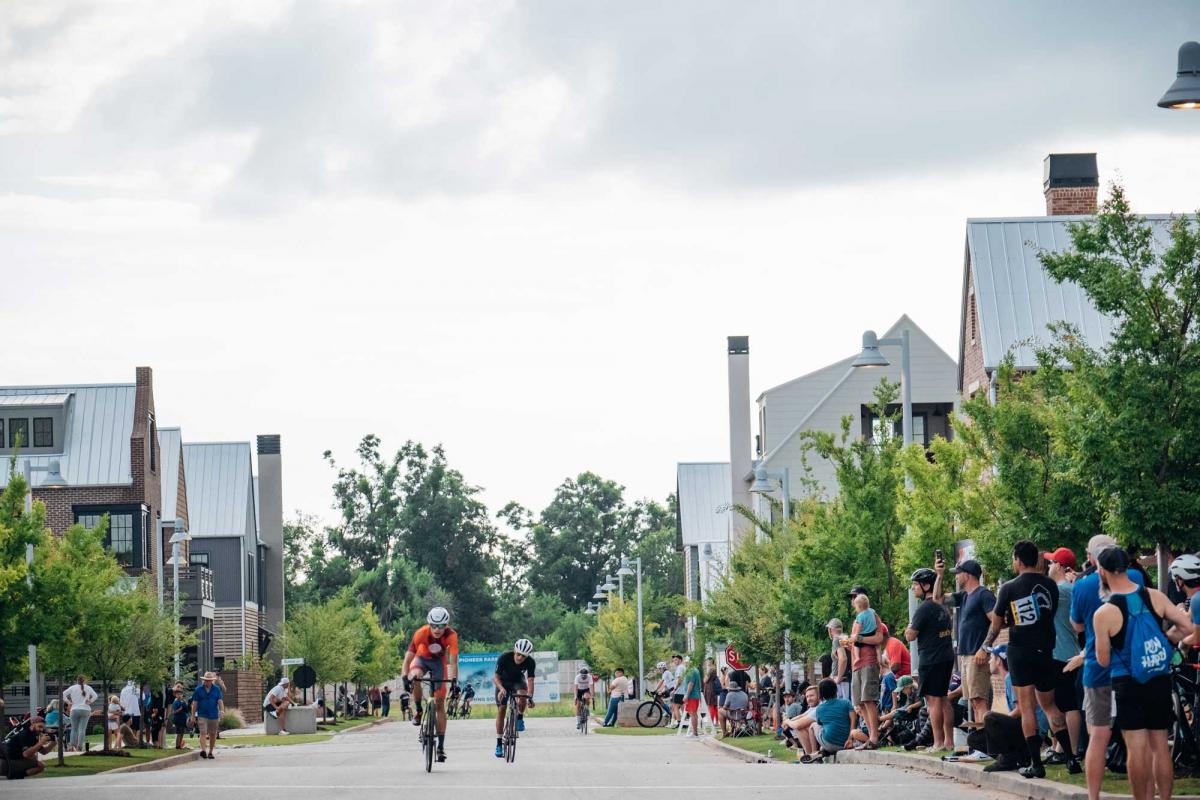 A combination of serious and fun has been part of the Wheeler District vision for 15 years. As reported in The Oklahoman, the Humphreys family (father Kirk was a long-time mayor of the city, and sons Blair and Grant are developers) purchased the 90-acre bankrupt former airport facility in 2006, at a time when development along the south side of the river was anything but a sure bet. Soon after, Grant bought the wheel on eBay. Let me pause and say that I admire the boldness in acquiring a historic ferris wheel, an opportunity that doesn't come along every day. I can't imagine the logistics but I'm pretty sure that same-day shipping was not an option. And yet the wheel was and is a perfect symbol of the Wheeler District to come.
The Great Recession set the project back in 2008, and Grant concentrated on building another Oklahoma new urban community—Carlton Landing, which gave the Humphreys' valuable experience in incremental development. With Blair in charge of the Wheeler District, an adjacent 60 acres was purchased and a planning charrette was led in 2014 by Dover, Kohl & Partners. The site has three-quarters of a mile frontage on the river, and connection to a 13-mile riverfront multiuse trail. 
Wheeler District welcomed its first residents in April 2019, and since then the neighborhood has grown to include almost 100 single family homes. In 2020, the former airport Terminal was redeveloped into an all-day café known as Terminal Commons and The Big Friendly Brewery and taproom opened across the street. A public charter school, Western Gateway Elementary School, opened in August of 2021 offering dual-language immersion for residents of the District and nearby neighborhoods of College Hill, Higgins Heights, Jones Grove, Wheeler District and Will Rogers Courts. All students from those neighborhoods may enroll to attend.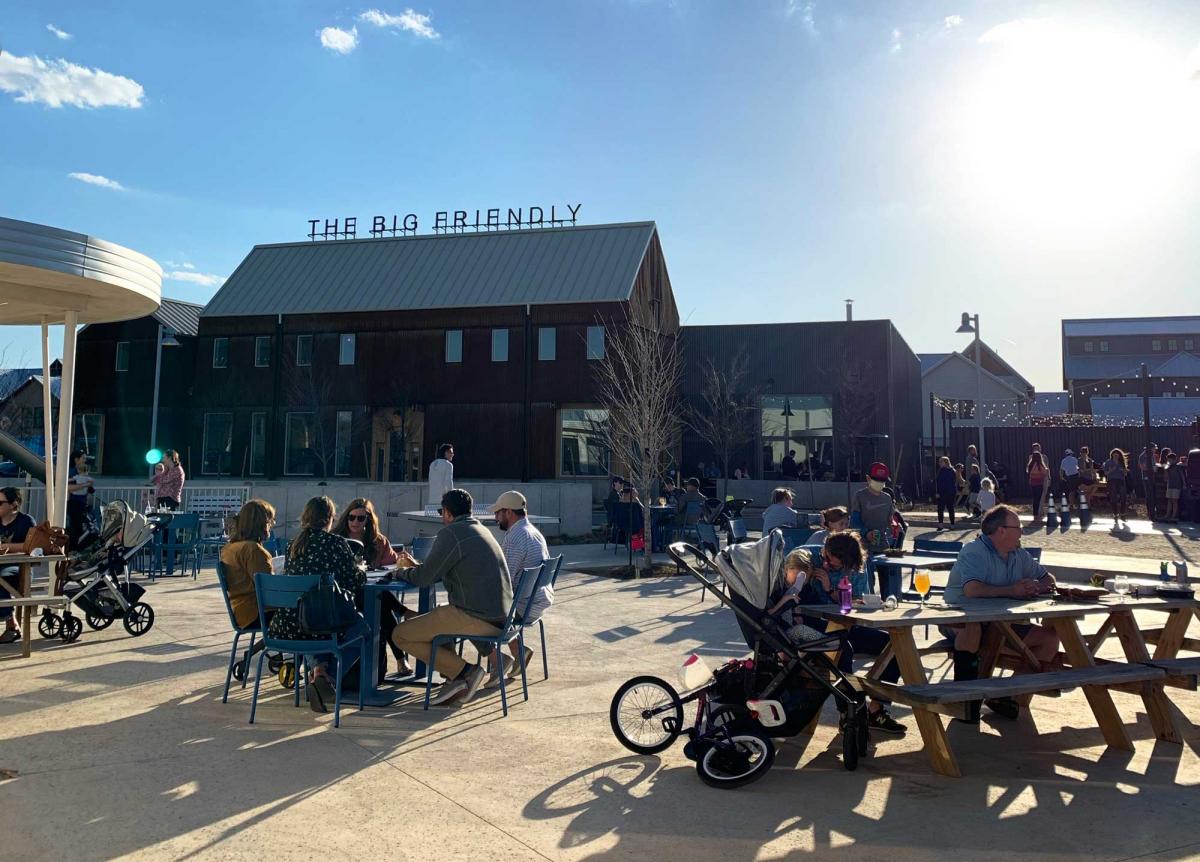 Phase 2 is underway of a 10-phase, multi-decade master plan that calls for a wide range of for-sale and for-rent housing—up to 2,000 units—in a mixed-use neighborhood with retail and office. "The Wheeler District is designed for everyone to enjoy, from new residents to visitors alike," notes Blair Humphreys.
I asked the following questions to Humphreys and VP of development Ashley Terry. Their responses, with minor edits for length, are in italics.
What are the major hurdles that you have overcome getting to where you are now, and how?
First was the geography of the project. How does Wheeler District give people the opportunity to reimagine an area of the city that hadn't been reimagined for a very long time? What once felt like an impossible task (and some people even snickered at the potential of the idea), is now taken for granted. The planning process itself was a huge opportunity to overcome this hurdle. There was a lot of strategic effort put into who the project was going to appeal to, along with the project location and how it was going to fit in the broader Oklahoma City story. That led our team to basically design a marketing strategy focused on millennials that were ready for something different and were excited to plant roots in areas of the city that hadn't experienced urban redevelopment in a long while.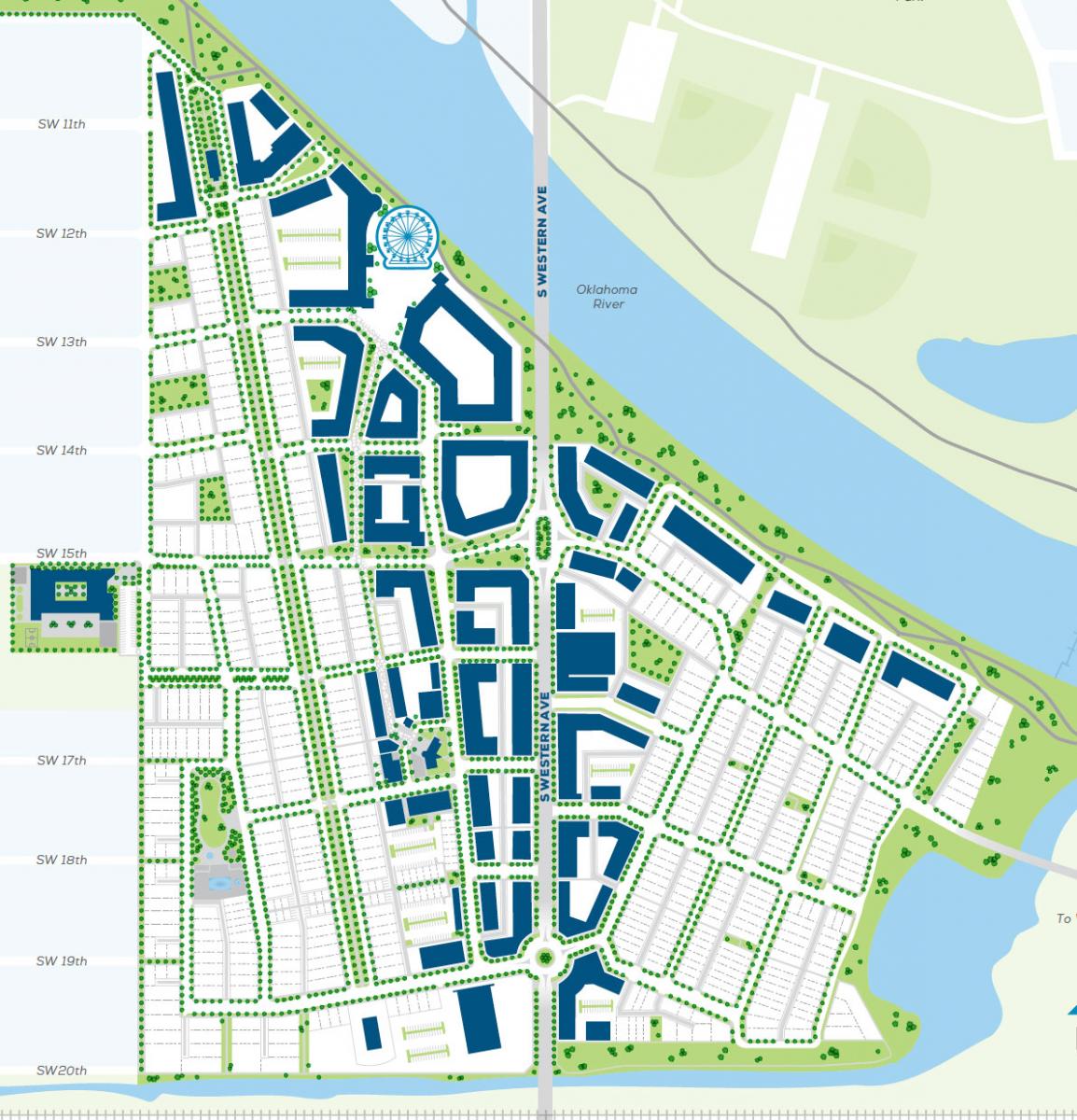 The second major challenge the Wheeler District faced was how to get the city to expand its public private partnership efforts south of the Oklahoma River. Overcoming this challenge took a lot of perseverance. Again, this started with the public charrette with Dover Kohl in the summer of 2014. We were able to appeal to the civic interest as to what this project could be and broader ripple effect it could have in the community.
As with many developments, Wheeler District utilized public private partnerships to make the development happen. The Western Gateway TIF (tax-increment financing) was created to encourage development of the bankrupt Downtown Airpark. Because of the considerable infrastructure needed to create a vibrant mixed-use community, a combination of public assistance and private financing was required to make reviving the area economically feasible. For the TIF, the private developer took on the up-front risk, rather than the city. The developer is eligible to receive reimbursements for authorized infrastructure used by the general public, only after the infrastructure has been completed. Ultimately, Oklahoma City residents and visitors will enjoy this district for years to come, and economic activity in the area will boost revenue for the city.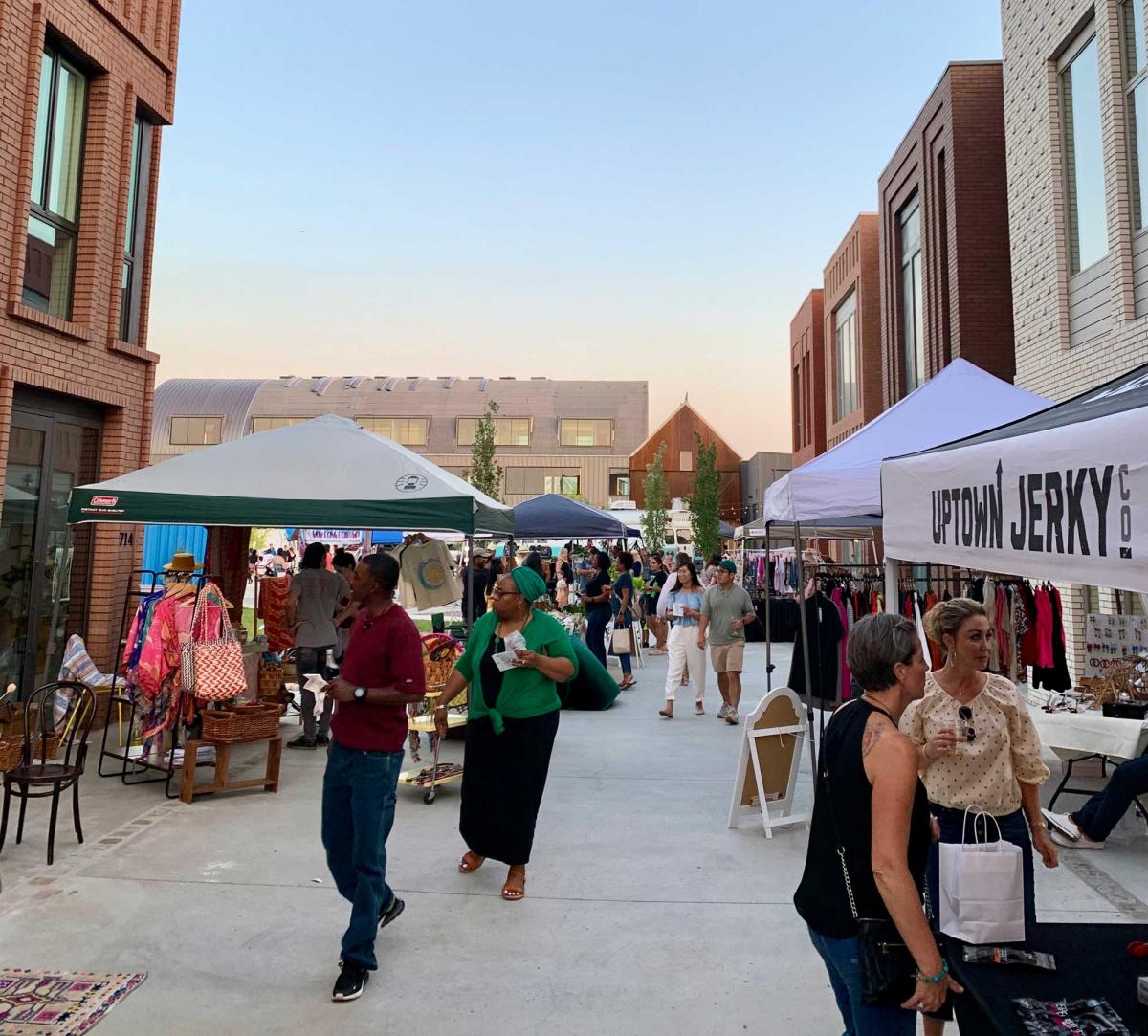 The third challenge that we faced early on is where do we start? You have 150 acres, you have riverfront property, and you have a major throughfare bisecting the project, so where do you actually put the first puzzle piece down? There was no question that there was pent up demand for new single-family construction within close proximity to downtown. Through our partnership with Wheeler Home, that product came together in a way that was compelling enough to do on its own—without having all of the bells and whistles. So, we really used that single-family product as the incremental starting point. Said Humphreys, "I really give a lot of credit to Brian O' Looney (of Torti Gallas) in understanding the strategic sequencing of different product types based on what makes sense at what each stage of the project. That gave us the opportunity to rapidly practice and refine product at a smaller scale."
What are you and your team's best design decisions and why?
Said Humphreys, "I'm really proud of our team's design decisions and I think that is something we excel at. One reason we excel at it is because we prioritize it—we believe that design matters. Another reason we excel at it is because we don't design things as static, but we design places that include the thinking of the soft programmatic elements that will make them become a reality. And the third reason we excel at it is that we take chances, but we do them in really deliberate and studied fashion."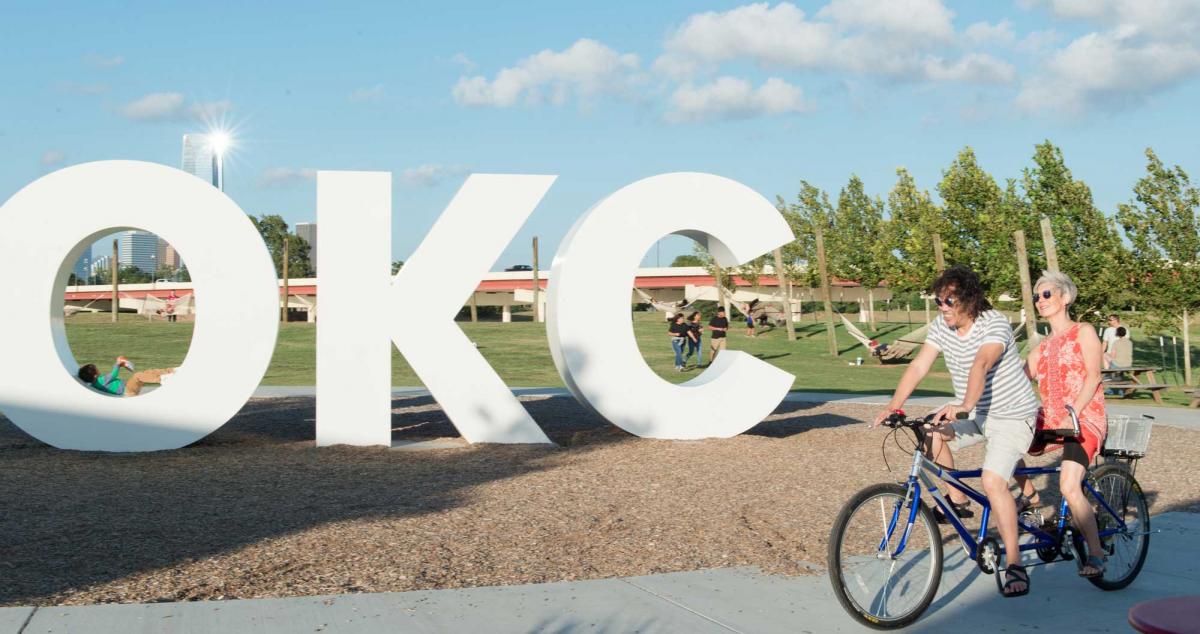 The first design decision that our team is proud of is the OKC sculpture and the overall design of the park around the Wheeler Ferris Wheel. Our team was faced with the question of "How do you get folks to visit a single ride attraction in the middle of an abandoned airpark?" When you look at the design from a cost benefit standpoint, we really feel like we pulled a rabbit out of the hat. The sculpture was not an original idea, it was borrowed from "I AMSTERDAM" and other lettered signage around the world. At the time, it felt like the Instagram Era was just beginning, and we understood early enough that a lot of public space design and experience design are about photo creating takeaway photo opportunities that are scaled for the iPhone. And it worked! Photos of the sculpture, Ferris wheel, and skyline going viral really kicked off the broader marketing strategy for what was to come. 
Some of the best design in Wheeler District is stuff that we've done functionally in-house. Early in the project, there was lots of conversation around tiny homes on wheels. Our team took those many demands and interpreted them into an extremely dense and compact Cottage Series. Phase One launched with 12 of that series on offer and sold those out before we poured the first foundation. This product continues to be a key ingredient of our project.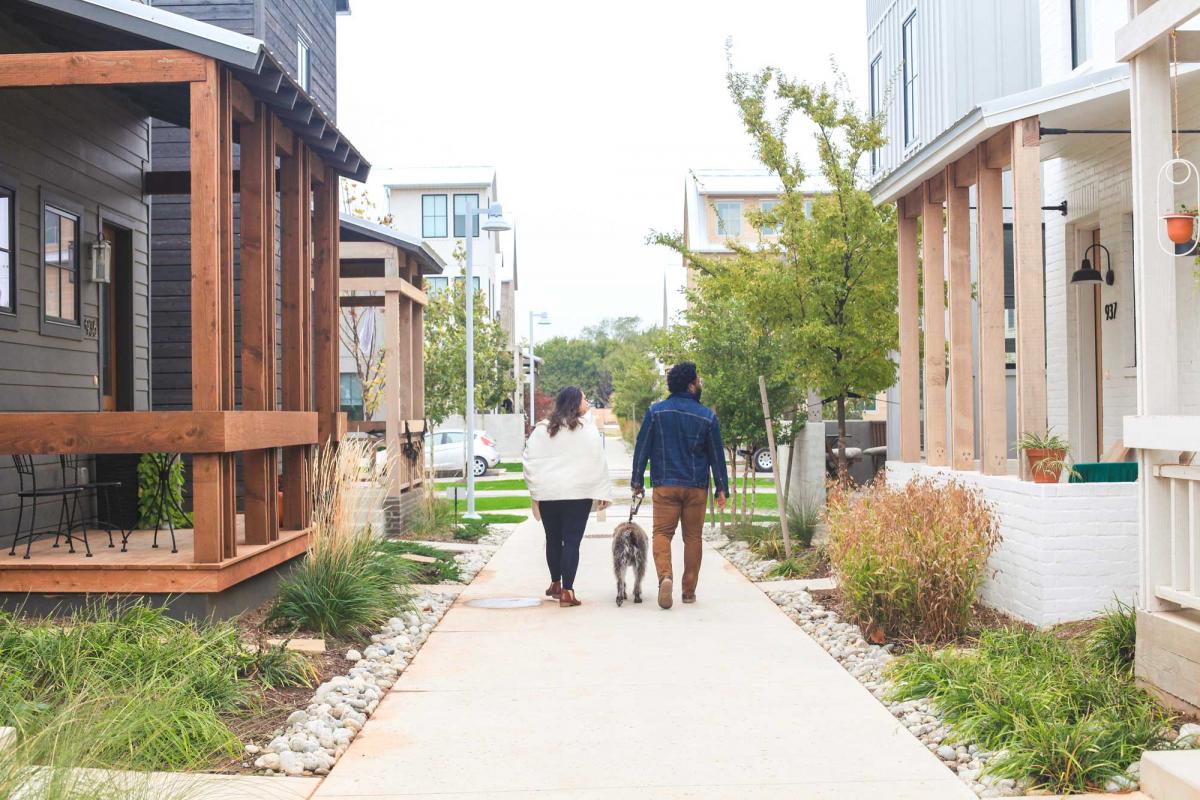 The Wheeler District Pedalers Lane Cottage homes are unlike anything you will find in the Oklahoma City metro area. These twelve single family cottages range from 600 to 1,200 square feet and have simple, clean lines with custom elevations and floor plans. Mixing Scandinavian design and sleek interior selections, the homes were created to efficiently use space and reflect each homeowner's personal style. Situated on micro lots (24 feet x 36 feet) along an idyllic pedestrian street, the cottage homes are specifically designed to create connections between neighbors. Located right in the heart of the district, these homes are located just steps from the public space and mixed-use amenities of their neighborhood.
One of the things the things that evolved from the Cottage series is a product that we call a "detached townhome," and it also has become a mainstay of our development. It is a three-bedroom, two-and-a-half bath product, stretched across three stories that really creates an urban verticality but in a single-family home condition that knits right into the fabric of the rest of the neighborhood.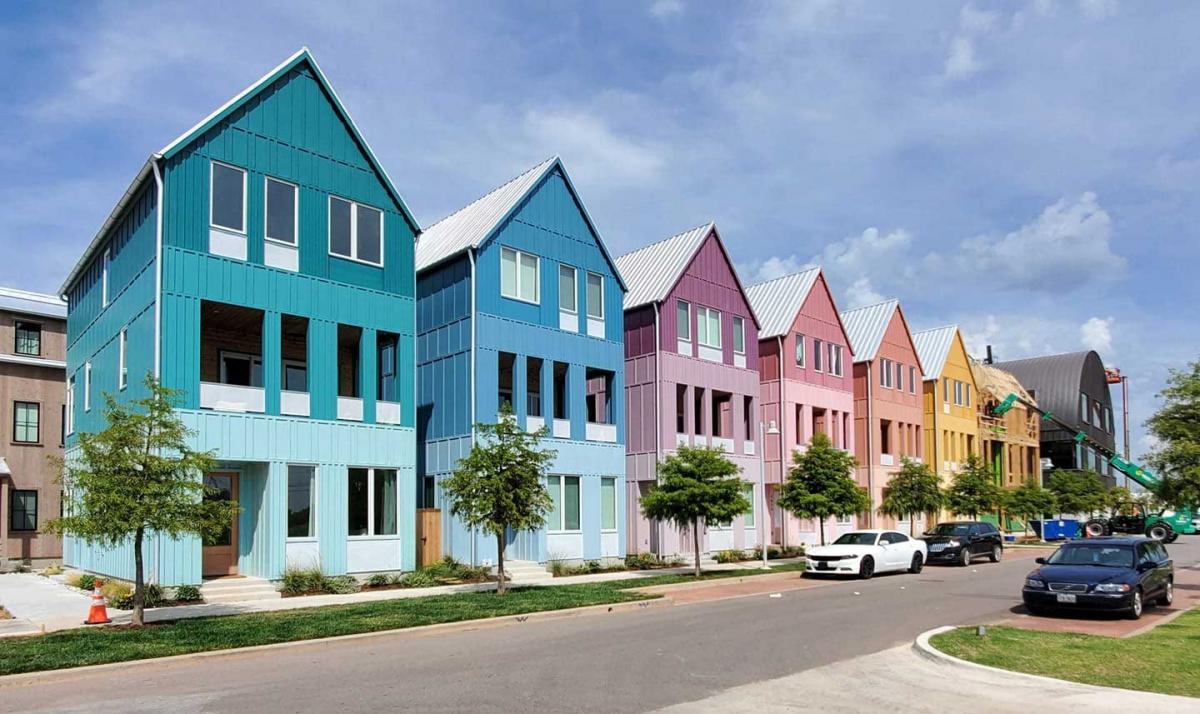 Both the cottage product and the "detached townhome" were designed by architect Sam Day. Sam went on to start a development company in which he partnered with us to launch an innovative Shop Home product. These are a very tight townhome product that has flex-commercial space on the ground floor. This ground floor spaces offers the potential for office or micro-retail use on the ground floor. Wheeler District brought 10 of these to market in May 2020 and they sold those out in 3 weeks. Nine of 10 Shop Homes have a commercial use on the ground floor—a therapist office, an accountant, a realty office, a small wine shop, a coffee shop, and a branding and design firm all call Spoke Street their home.
Bringing a unique product type to the Oklahoma City market, the Spoke Street Shop Homes provide the opportunity to live, work, and play all in one place. In each three-story home, the ground-floor can be purposed for retail, office, makerspace, workshop, and more, while the upper floors serve as a comfortable living space.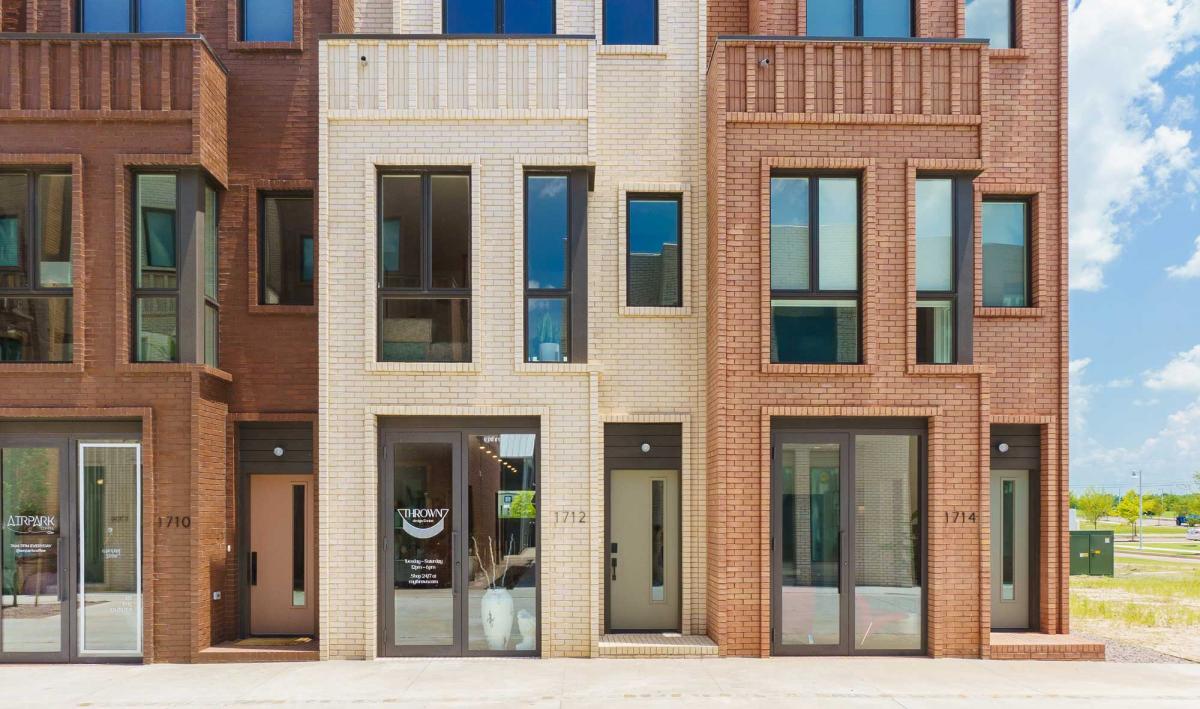 Another thing that comes to mind is the idea of not taking things too seriously and making things too permanent. The public spaces have the ability to flex as the development grows and needs change. With this design mindset, Wheeler District is able to express itself in different forms throughout each sequence of the project. For example, a new 30,000 square foot Class A office building just finished construction. Across the street is old concrete that was once the foundation of an airplane hangar that we've now flexed into a temporary parking lot for the office building. Eventually, as that site is ready to develop, the parking lot will disappear. Generally, we're always exploring how to create lean staging so that everything functions in a way that feels complete, while still allowing for the opportunity to grow and expand.
Said Terry, "One of the best design decisions we've made wasn't architectural, but it was social and communal. Early on, we focused on the idea of creating partnerships that allowed others to put their fingerprints on the project." The OKC sculpture is a perfect example of that. Our team had a general vision for the letters, but it involved finding a partner who could create the physical manifestation of the actual public sculpture piece. In that instance, we joined with local metal fabricator Hugh Meade. We've also done this on larger things like the bikeability of our street design. We invited local cyclists from the Wheeler Criterium to come out and ride the first section of our streets and confirm that the design worked, not just for Criterium races, but for the everyday cyclists as well. All of these partnerships have made the development better.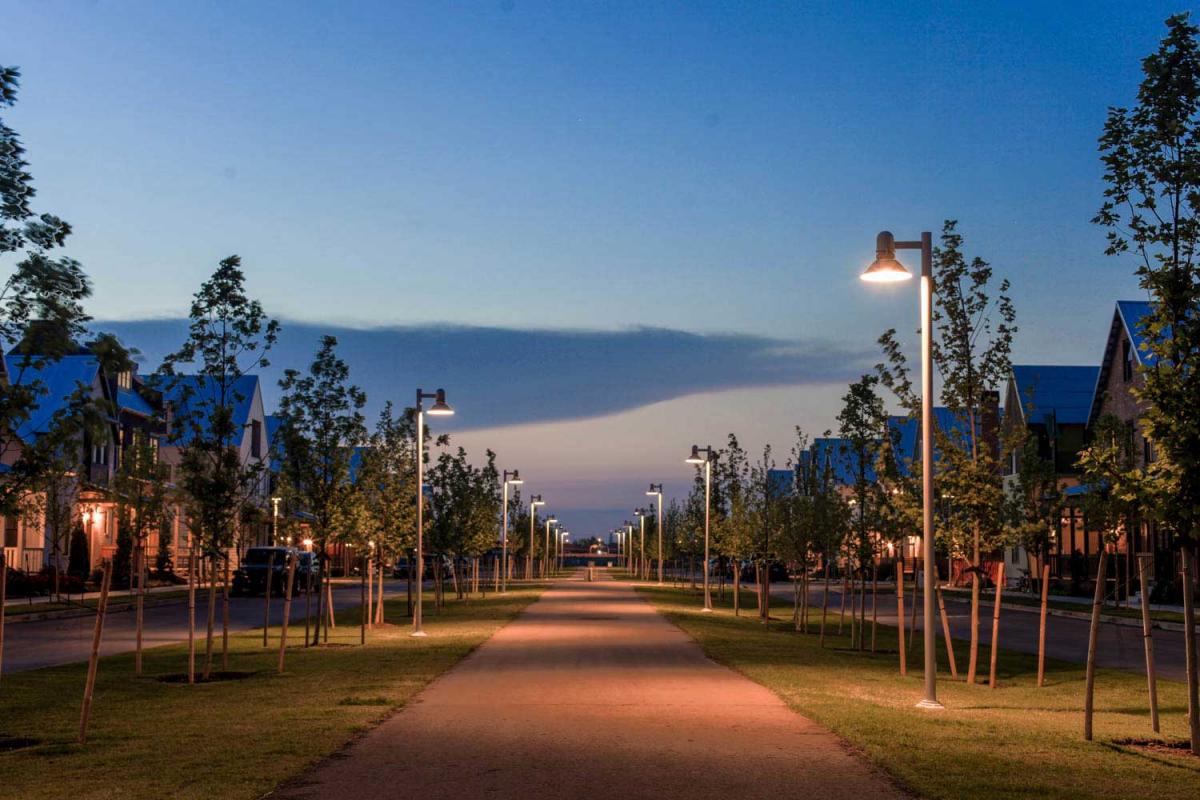 Wheeler Crit is Oklahoma City's premier cycling festival located in the Wheeler District. The event is hosted on Tuesday nights in the summer and in fall. Spectators line the streets to cheer on Oklahoma's top cyclists. This year, for the first time, the cyclists ride through the streets of the Wheeler District.
What are your biggest challenges going forward?
Our biggest challenge going forward is how do scale while maintaining all of the little things that we've loved about this project. Going from 14 acres, to 36 acres, to 150-acres someday.
I like how the Wheeler plan fits into the overall street network in Oklahoma City. The longest runway is being converted into a boulevard, which, in addition to the hangar reuse, means that traces of this airport are not lost. Western Avenue, a major thoroughfare heading into downtown, is planned to be calmed with two traffic roundabouts. Western Avenue places the Wheeler District in the middle of through traffic, and yet the design, if implemented, would be compatible with a walkable neighborhood. Wheeler District is designed not just for real estate success, but to be an important neighborhood for generations to come. The Wheeler Ferris Wheel may be the first of its kind to serve as a landmark in two cities.
This is part of a series of articles on Oklahoma City in advance of the annual Congress. Find out more about CNU 30, March 23-26, 2022. See also, How downtown Oklahoma City did a 180.