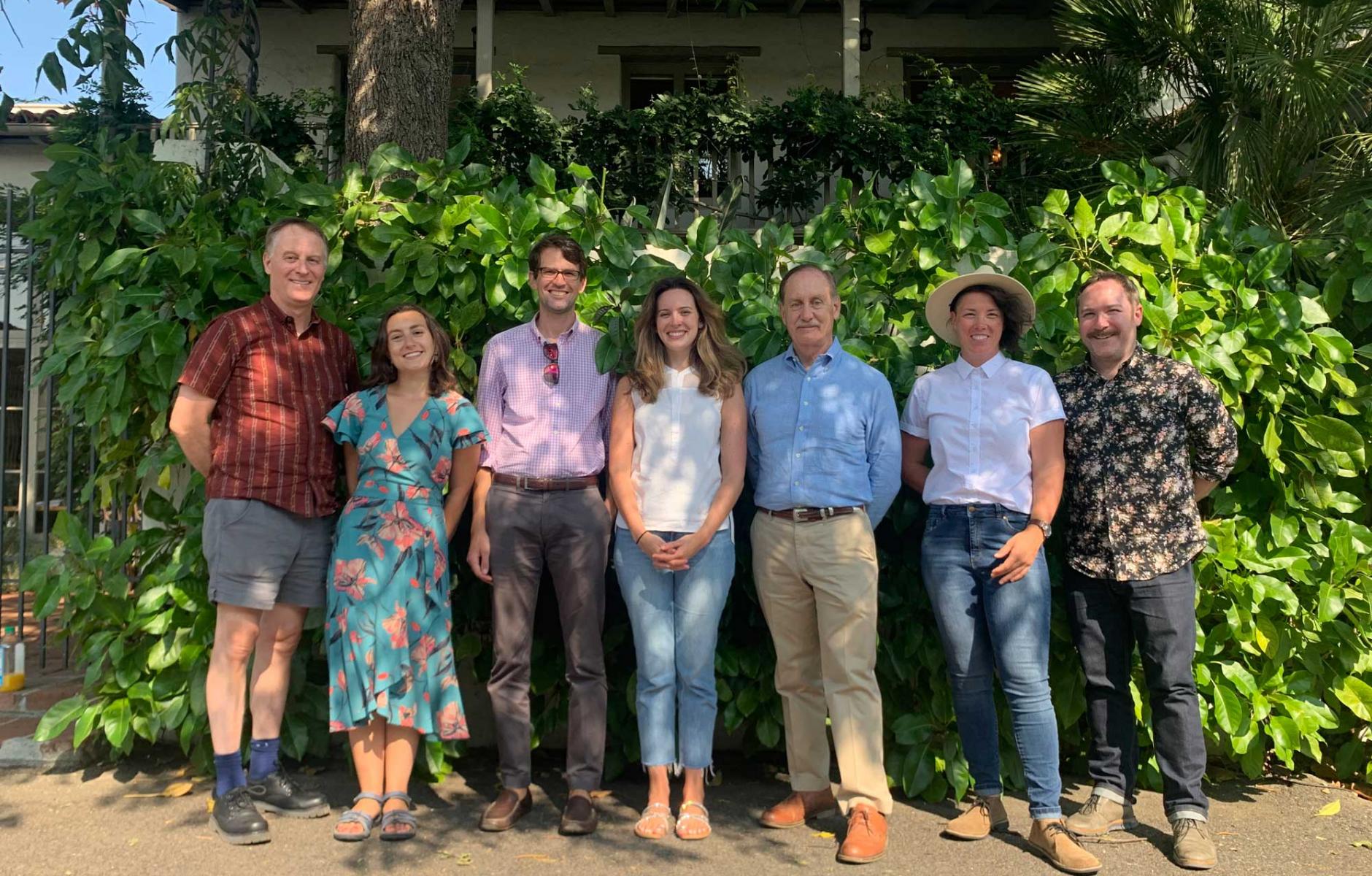 CNU staff at Moule & Polyzoides. From left, Rob Steuteville, Lauren Mayer, Ben Crowther, Avery Kelly, Rick Cole, Margaret O'Neal, Scott Shields. Not pictured is Mallory Baches, who took the photo
Improving urban design in a post-pandemic world
CNU staff, new Executive Director Rick Cole, meet in person for the first time to find new ways to support complete, sustainable neighborhoods through the architecture of community.
On June 1, 2021, we welcomed new Executive Director Rick Cole to the CNU family. He brought with him an impressive career, a trove of insights, and a passion for New Urbanism that was clear from day one. The only thing? As a remote organization, staff never met Rick in person and even between staff, some of us only knew each other through boxes on a computer screen. 
Last week, CNU staff gathered for a retreat in Pasadena, California. This was an opportunity to discuss the mission of the organization, contemplate our place in the ecosystem of city and urban design/reform organizations, and bring CNU back into the center of the national conversation. And that was just day one!
From these conversations you can expect to see some updates in our language to truly focus on legalizing walkable urbanism, creating complete neighborhoods, and designing for climate change while also centering the language and mission of the Charter more squarely in our work moving forward. These conversations were robust and inspiring and have us coming back from California with a clearer idea of our goals and how best to achieve them. This is an exciting time for CNU and as an organization transitioning leadership, is a ripe opportunity for revisiting and updating our mission. 
This retreat took place in Pasadena and for those who don't know, Rick Cole is a former mayor whose work is still having impacts on the urban landscape there today. Our retreat included a walking tour of Old Pasadena complete with discussions about infill development, stopping the razing of city blocks for parking lots, and favorite places to eat. CNU staff doesn't just talk the talk, we literally walk the walk. 
Day two focused on the internal operations of CNU and what needs to be done to ensure staff continues to thrive in the work they are doing. This included additional discussions about partnerships and policy as vital to reaching broader audiences in addition to the role of members in shaping the organization. These conversations were a key part of the retreat and benefited greatly from all of us being able to gather together.  
We cannot neglect to mention our great hosts in Pasadena, the architecture and urban design firm Moule & Polyzoides. They graciously offered up their conference room for us to use and even gave us a tour of the building and time to mingle with staff. For an organization based on thought-leadership and resource creation, having the opportunity to see and discuss New Urbanist architecture with practitioners was gratifying as it helps make clear that the work we do matters and has lasting positive impacts on communities. 
As our retreat came to an end and we all prepared to return to our Zoom squares, we discussed concrete next steps to make these conversations into actionable items. Be on the lookout for updates, opportunities, and new programming. We also value your feedback and want to know what is working and what may need discussion at a future retreat.