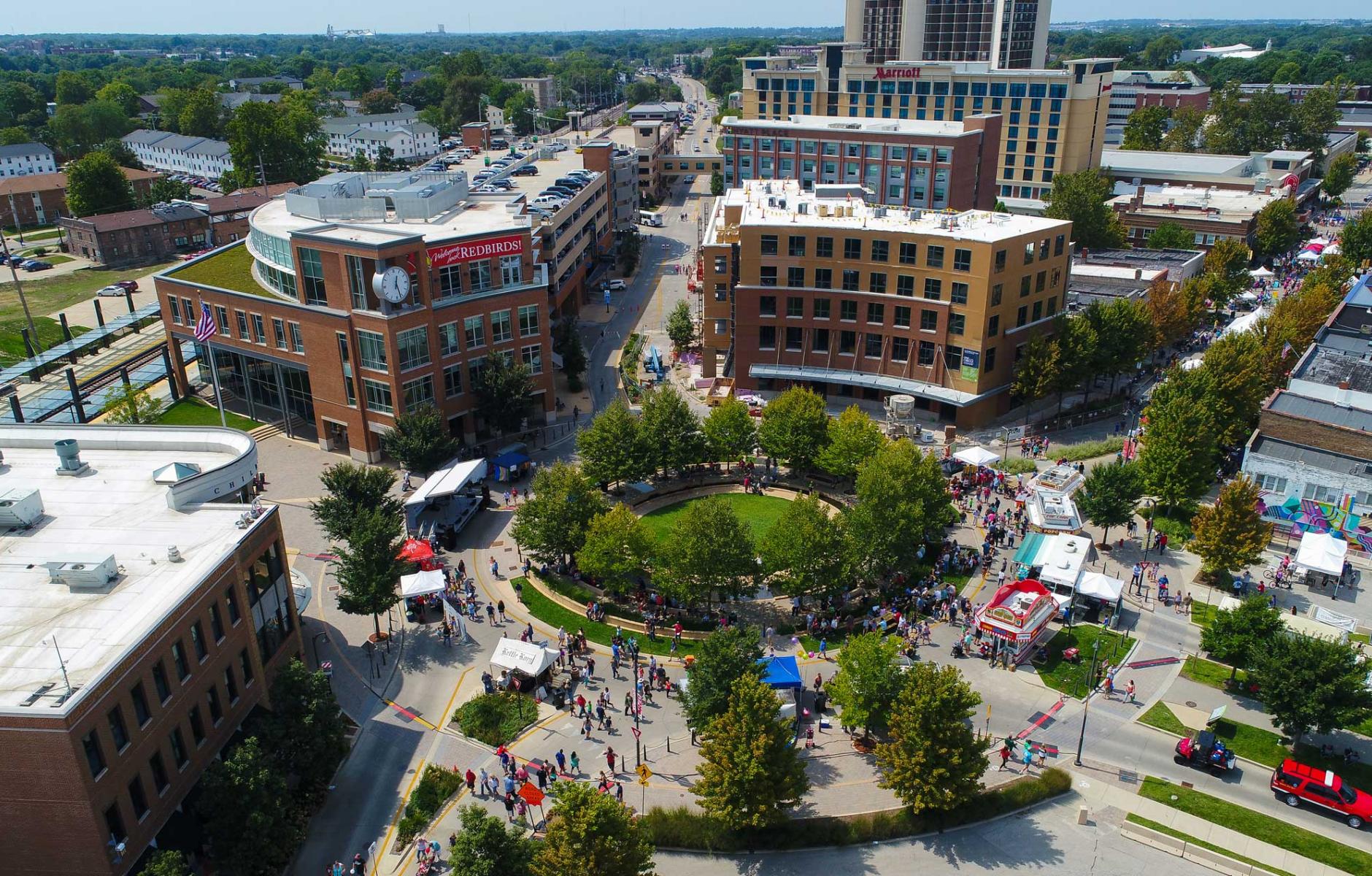 Uptown Circle is ground zero for community gatherings and events including the annual Sweet Corn Festival. Source: Farr Associates.
New Urbanism in America's heartland
Uptown Normal is helping to bring a small downtown back to life, providing an economic boost to a town in Central Illinois.
When I was tracking neighborhood-scale new urbanist projects in the early 2000s, Uptown Normal in the Town of Normal, Illinois, was just breaking ground. Planned by Farr Associates of Chicago, Uptown Normal was a different kind of traditional neighborhood development than I was used to seeing at the time. 
It is not a greenfield development—rather it is located right in the heart of a historic downtown with large gaps in its urban fabric. The plan also focuses on green building—Normal was the first municipality to require all new downtown buildings to meet LEED certification. The 35-acre project centered on a circular public space called Uptown Circle (see photo at top), that doubled as stormwater infrastructure.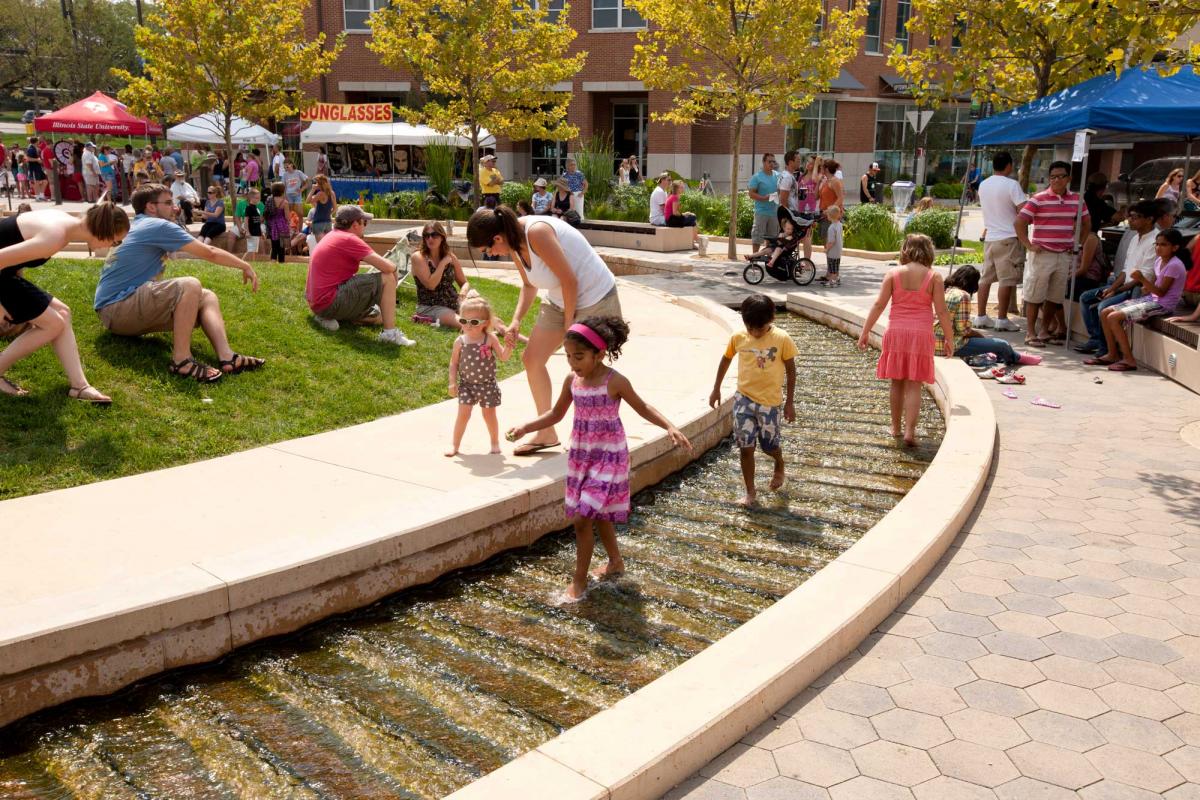 "Terraced bog filters allow Uptown Circle to function as a working stormwater retention and purification feature," notes Farr Associates. "Barren corridors radiating out from the Circle are now lined with mature trees with vivid understory plantings that collect, treat, and recharge stormwater, as well as provide beauty and charm for visitors of all modes."
Uptown Normal also incorporates a former rail line—the Illinois Central closed in the 1980s and was converted to "Constitution Trail" that runs for miles through the city and neighboring Bloomington. The plan converted this trail to a boulevard for a few blocks, with the trail in the central boulevard space, a cool idea that was more recently implemented in Carmel, Indiana, another Midwest community.
Uptown Normal has come a long way in the last two decades—and many of the key buildings that were envisioned have since been built. The project is anchored by two civic buildings. The Normal Town hall is a mixed-use building and multi-modal transit facility, marked as a civic building by its prominent clock tower, on axis with Constitution Trail. The five-story building houses the Town of Normal offices, a food court, an Amtrak station (Amtrak runs perpendicular to Constitution Trail), a regional bus station, a taxi stand, an art gallery, and a parking structure. Across the plaza from Town Hall is the Children's Discovery Museum, a three-story, 34,000 square foot facility that opened in 2004 as the first LEED-Certified children's museum in the country.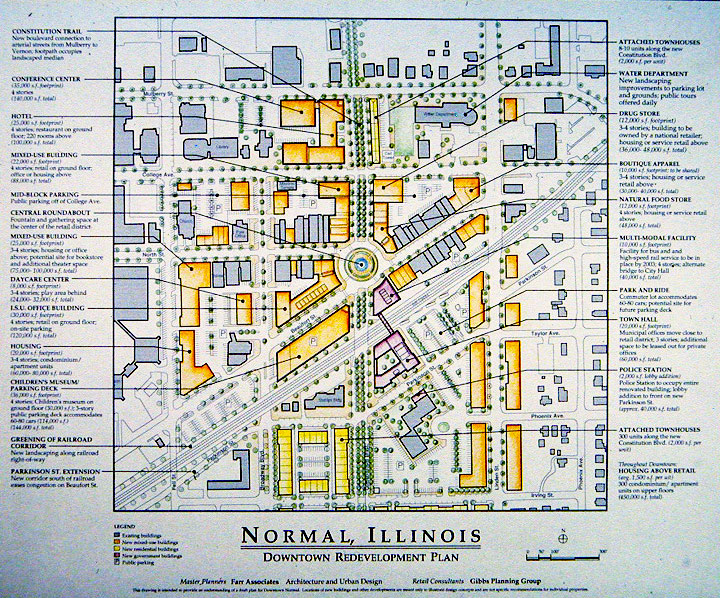 A Marriott Hotel has also been built and 18 historic buildings have been renovated. Residential buildings have been constructed with 61 living spaces. Despite the fact that only a small portion of additional retail square footage has been built, retail sales in Uptown Normal increased by 46 percent from 2009 to 2015, a reflection of Uptown's drawing power. Upper floor office space is planned for the next phases.
It will likely take another 10 years to complete the development of the three remaining sites along Constitution Trail identified in the 1999 master plan, according to Farr Associates. "The second phase of the master plan, completed in 2015, focused on securing a Congressional earmark to fund a pedestrian underpass under the active rail line to connect to the 10-acre site south of the tracks. Following the construction of the underpass, the second phase may take a generation to complete."
While Uptown Normal has been developing, the town has weathered economic difficulties. A Mitsubishi automobile plant closed in 2016, costing thousands of jobs. Rivian Automotive, an electric vehicle manufacturer, purchased the plant in 2017 and has been hiring ever since. The town recently landed other employers, including the Farnsworth Group, a national architecture and engineering firm, which is building its headquarters in Uptown Normal. The revitalization of Normal's downtown is a significant selling point for the town. Uptown Normal shows the impact of New Urbanism on a small community in America's Heartland.