The major Cayalá civic buildings like the Azaria Civic Hall (front left), the Church, and the Campanario (bell tower on far back), are situated on important locations overlooking public spaces and vistas.
The Cayalá effect in Guatemala City
The Paseo Cayalá Neighborhood in Guatemala City is a model of open and economically resilient development in a city of gated development. Estudio Urbano and Leon Krier won a 2021 CNU Charter Award in the Neighborhood, District, and Corridor category.
Many developments in Guatemala City, Guatemala, are gated, and the New Town of Cayalá sets a different example: One of welcome and openness to all citizens. This growing town, with 350 shops, 650 residences, and major civic buildings and institutions, revives the architectural identity of the region. The central plaza looks like it could have been built hundreds of years ago.

"Cayalá sets a model for Central America and other places like it," where security concerns have led to a proliferation of gates and armed compounds, says Geoff Dyer, jury chair and urban designer with B&A Planning Group. "That is especially true for a city with a rich urban fabric, yet in recent decades the city has been unable to emulate or grow based on that."
Paseo Cayalá's small urban blocks, walkable streets and boulevards, and public plazas promote social interaction among residents and visitors. "Their daily encounters have become normal occurrences and are the cornerstones of building community," reports the design team.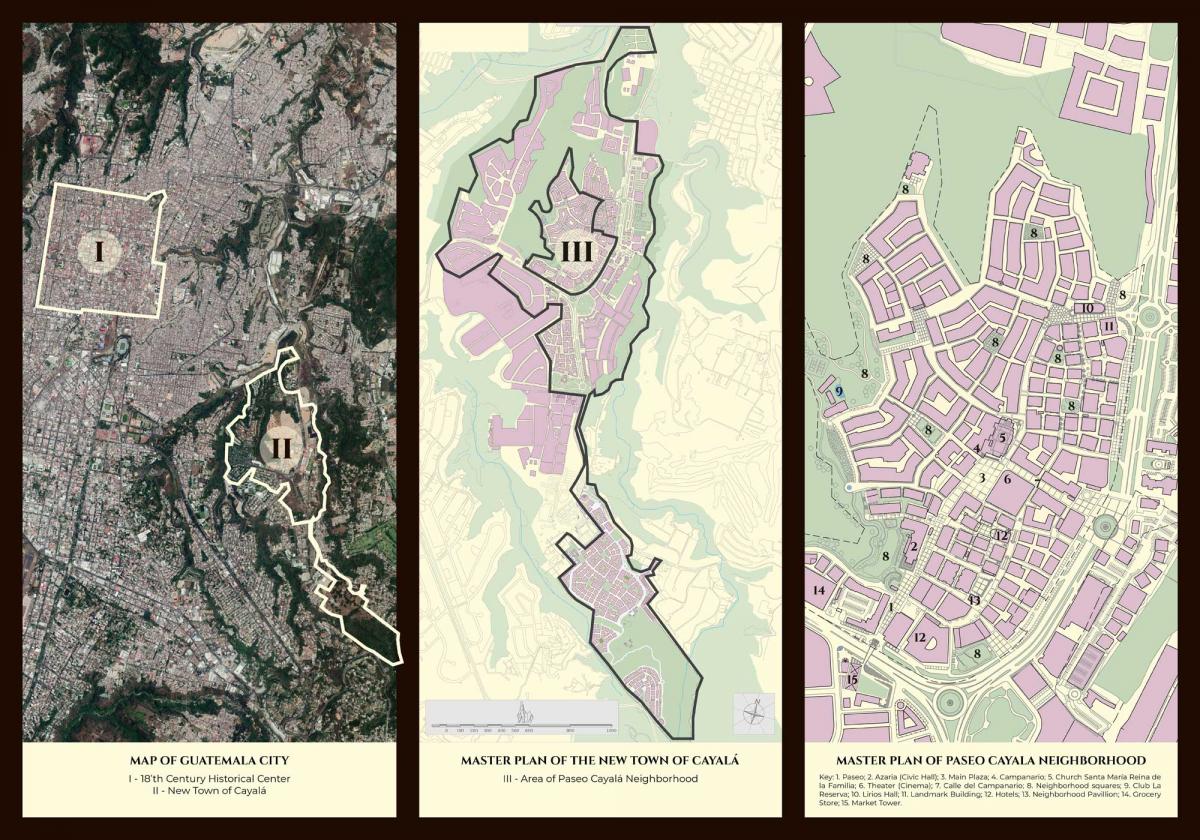 Those who work in Cayalá, including gardeners, waiters, policeman, shopkeepers, sales clerks, and office workers, and those who live there, experience an excellent urban environment daily, says architecture Professor Warren Orbaugh, of Universidad Francisco Marroquín, Guatemala. Visitors immerse themselves in the extraordinary civic spaces and design. "It is especially evident on weekends when people choose to go for a stroll in Cayalá," he says.
The steps on the main plaza leading up to the church, Santa Maria Reina de la Familia, define imageability and iconic place. Lively civic spaces and architectural vocabulary set off key public buildings like the church, a civic hall, and a future market tower. Paseo Cayalá houses a university campus, academies specializing in foreign languages, visual and martial arts, a pre-school, hotel, health facilities, and co-working office spaces—all in a walkable street network. The neighborhood has become the civic and economic center of Guatemala City's Zone 16 District.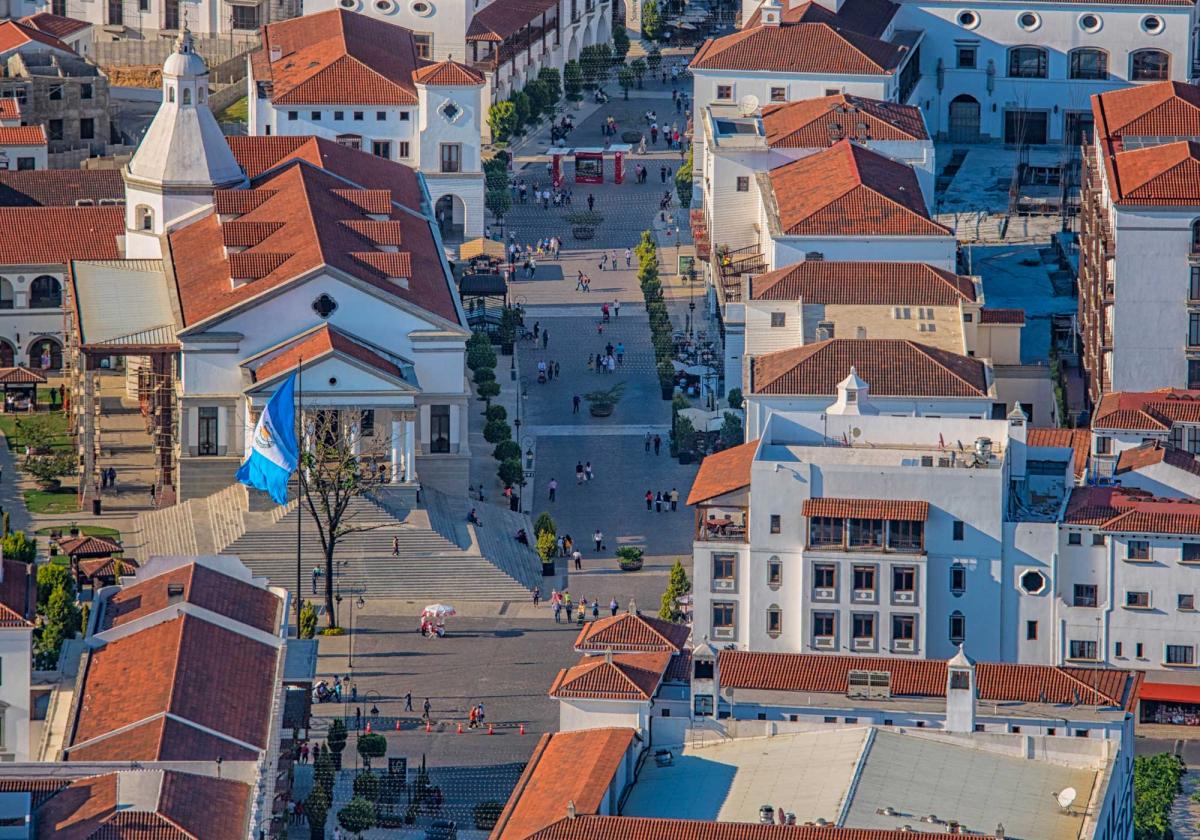 Cayalá offers lessons for revitalizing the city's troubled areas, according to Mayor Ricardo Quiñónez Lemus. He announced plans to "implement the Cayalá effect" in these districts: To create pedestrian neighborhoods with a mix of uses, generating new, local and more resilient economies.
New buildings comprise a mix of three-to-six-story, mixed-use apartments, commercial structures, parking pavilions, entertainment complexes, market sheds, and larger civic and sacred edifices that are imbued with regional architectural DNA. Stone-paved boulevards, streets, and squares give way to the quieter, more residential neighborhoods. The beauty of the design, and the connection to a 100-acre nature preserve, have transformed the lives of Cayalá's residents.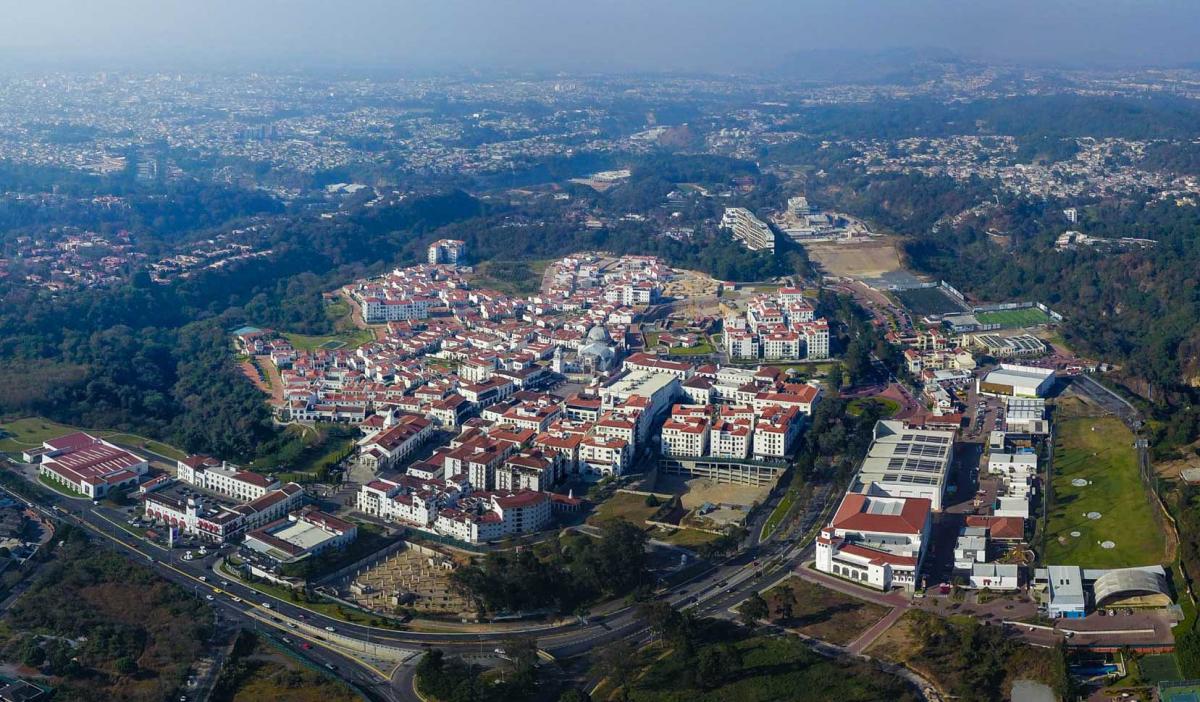 The development sets a new standard for construction in the city. Buildings are typically plastered, with hammered concrete trim and moldings. Wooden balconies feature decorative ironwork, and roofs are finished in traditional red tiles. Details such as octagonal or rosette windows, stepped tiled cornices, corner bollards, ball finials, consoles, wall fountains, wooden window lattices, and chamfers define facades and enliven streetscapes.
Cayalá has pioneered the local use of shared space in thoroughfares. Techniques like eliminating sidewalk curbs, for same-level spaces, create a culture of respect and good behavior among drivers and pedestrians. Shared space has been so successful that there has been little-to-no need for speed limits signs, the design team reports.
New Town of Cayalá/Paseo Cayalá Neighborhood
Estudio Urbano and Leon Krier: Master planners
Pedro Godoy, María Sánchez, Richard Economakis, and Leon Krier: Architectural design team
Marc Landers: Landscape designer
Grupo Cayalá: Client, real estate developer
2021 Charter Awards Jury
Goeff Dyer (chair), Master Planning and Urban Design Strategic Lead, B&A Planning Group
Amy Stelly, Artist, designer, urban planner with Claiborne Avenue Alliance
Marques King, Economic Development and Design Manager with Jefferson East, Inc.
Alli Thurmond Quinlan, principal, Flintlock Architecture & Landscape
Andrew von Maur, Professor of Architecture at Andrews University

Charter Awards 2021
&nbsp&nbsp&nbsp
popular