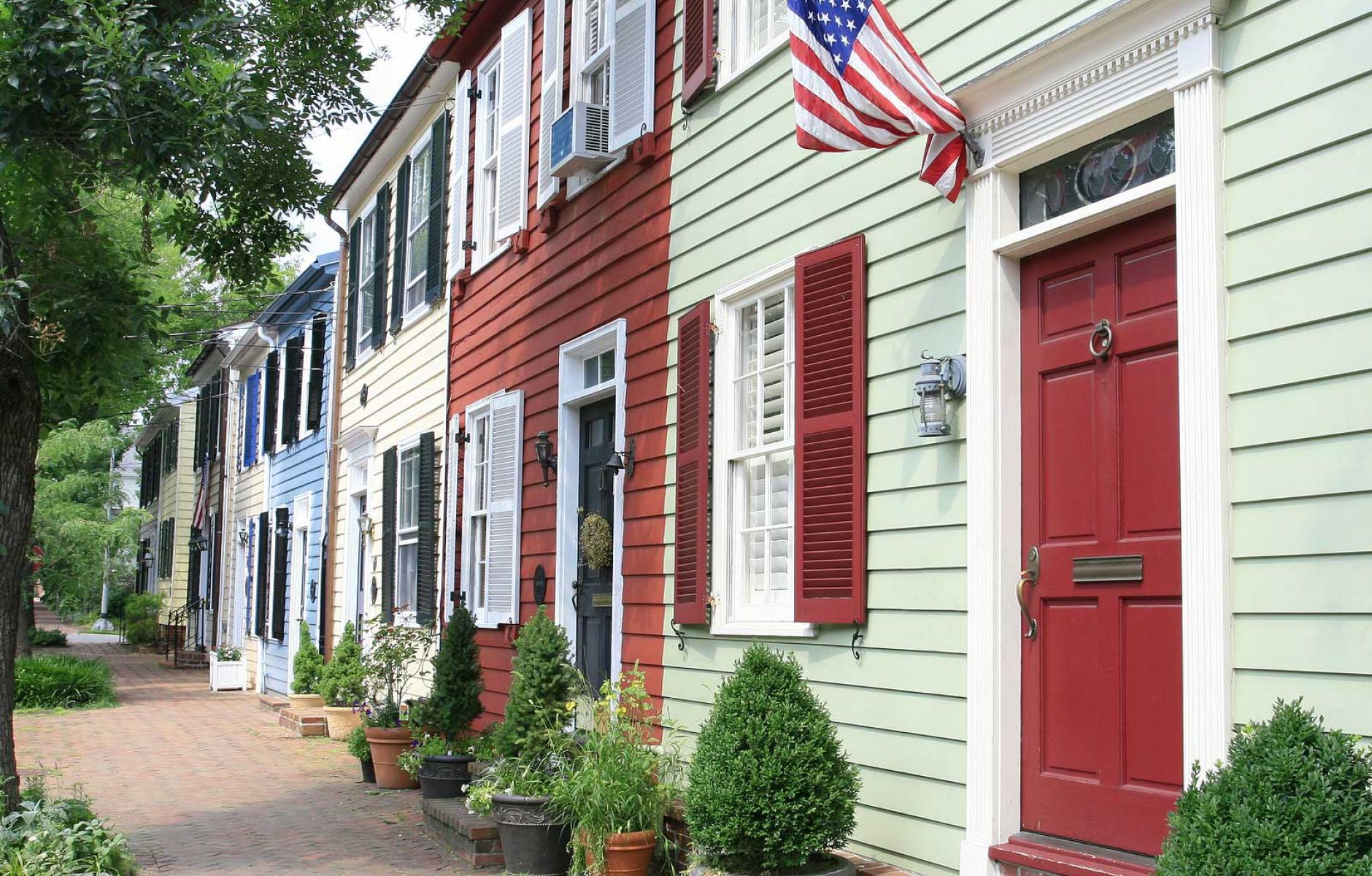 Source: Bigstock photo
The power of cute, affordable townhouses
We need more ways to build uncomplicated affordable housing in cities and towns. These 19th Century townhouses in Alexandria, Virginia, offer a great model. 
Although the townhouses have nice details, they wouldn't be expensive to build. Each unit has little siding and few windows in the front. Cheaper materials could be used in the back.

Architect Tom Low listed the characteristics of these townhouses in a recent discussion among urbanists:
Shallow setbacks
They need only one step up, which enables slab construction
Door surrounds are nicely detailed
Inset windows create shadow lines
Real operable shutters with hinges and shutter dogs create layering and additional depth, reflecting quality 
Jumbo round downspouts in color (the downspouts are actually a nice feature that add more depth to the facade)
Sidewalk pavers add to the charming streetscape 
Street trees frame the street as an outdoor room
Accents like planter boxes, light fixtures, and flags add to the charm of the street
On-street parking (not shown in photo) adds a layer of pedestrian safety
Continuous rich color pallet 
"What makes these feel so great?" Low asks.
One characteristic that makes them feel good is lack of garage doors in the front.   
Incremental developer John Anderson listed some of the reasons why more townhouses of this design are not built today.
"People are out of the habit of building this housing type," he explains. Developers "understand the detached single unit house buyer, Realtor, and appraiser. They are used to creating or buying lots that fit the front-loaded detached house with its utilities run in the front yard. They compare the relative return on brain damage expected when considering changing what they build. Once you have all your trades trained to deliver a familiar building plan the shift to something else can be quite expensive. It can take three or four times for everyone to get it right without any rework or extensive warranty repairs."
For sale housing typically includes a garage, which is tough to incorporate into a narrow townhouse, Anderson explains. He adds that "Construction defect litigation is more frequent with attached buildings than with detached."
On the plus side, Anderson notes that he has learned not to underestimate the power of cute houses. These townhouses are definitely cute, and they appeal to a strong market of small households today that want walkable neighborhoods.
The garage problem is an easily solvable one. First, car-free, or "car light" neighborhoods are in demand, as shown by the success of this project in Tempe, Arizona. The Alexandria townhouses can be served by on-street parking. But they could also feature dedicated off-street parking spaces in a small mid-block lot. Households that need off-street parking (and not all of them do) could pay extra for an off-street spot. 
Municipalities, of course, would need to enable the construction through codes that all these kinds of units. Many current codes would outlaw such townhouses in new construction, but codes are being reformed to allow more "missing middle" housing types.
Cute townhouses, inexpensive to build, would fill a market niche in any city or town that has walkable neighborhoods, if builders could go through the "brain damage" of learning the process of constructing them. This is a job for incremental developers.