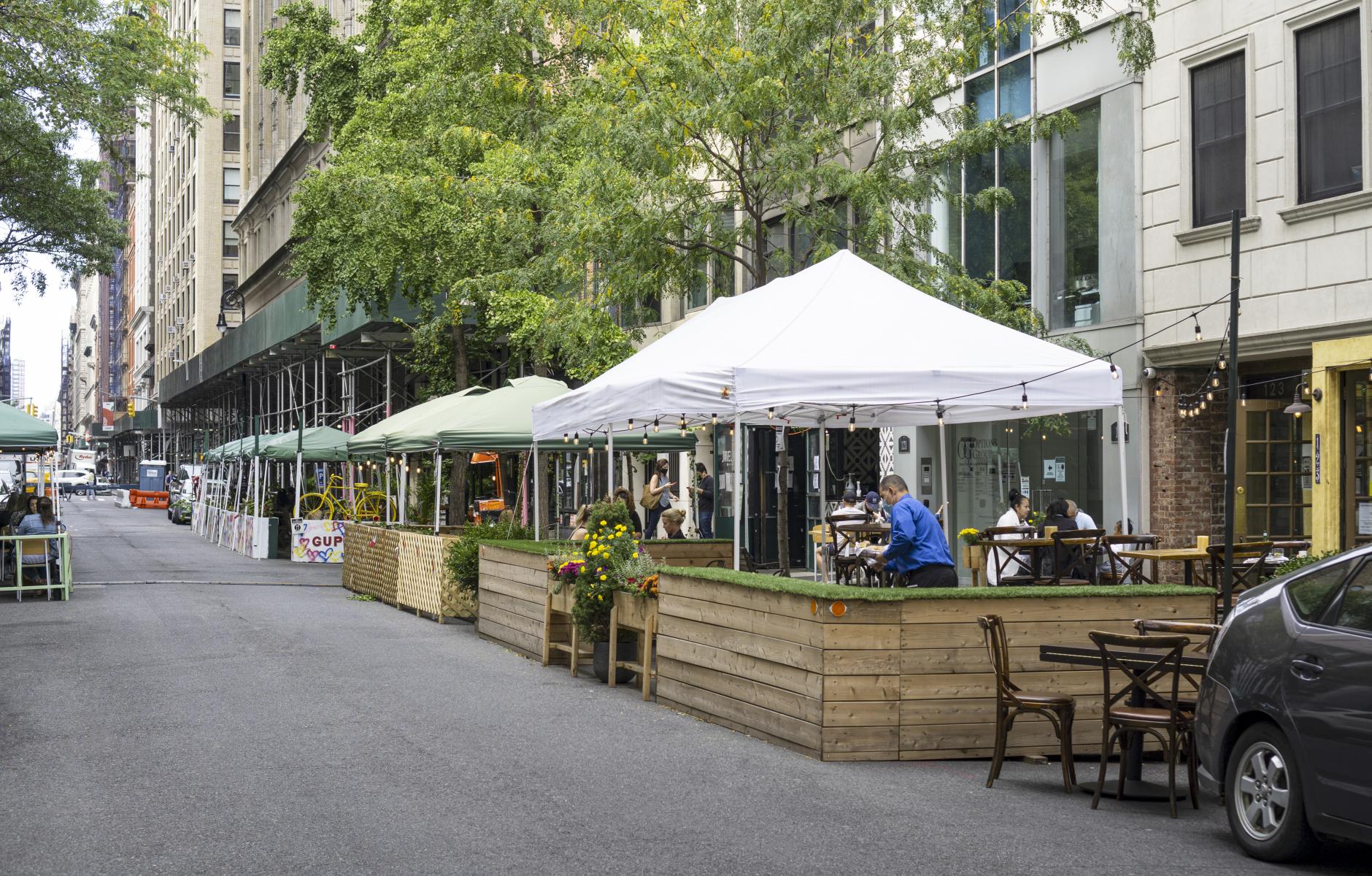 New York City street with parking lane used for outdoor dining. Adobe stock photo.
Actions for rebuilding health and opportunity
A Pandemic Toolkit describes 22 actions that local governments can take to safely jumpstart their economies.
In the last seven months, many of us have turned our attention to cataloguing and collecting planning practices of how cities, towns, and suburbs are responding to COVID-19 in an attempt to rebuild health and opportunity. Thanks to those of you who contributed to the PlaceMakers Pandemic Response Compendium, currently cataloguing 38 pandemic interventions. From this ongoing crowd-sourced document, we extracted a Pandemic Toolkit of the first 22 actions governments should take to get the economy restarted while protecting public health.
Our goal in writing the toolkit is for local governments to add to their pandemic responsiveness in ways that can provide quick wins for local businesses and community health. We've spent time observing and developing best practices, and have distilled those interventions here in an easy-to-use format. Our hope is that the toolkit helps rebuild municipal budgets quickly, by supporting local businesses and residents and by reducing the bureaucratic process.
"Pay attention to these suggestions to avoid finding your dear old town asleep at the back of the class." — Andrés Duany, architect, urbanist, Suburban Nation author
Each of the 22 actions in the toolkit includes the regulatory or policy tool needed to implement the action, along with methods, key points, and interventions required to see it through. For some actions, different implementation methods are highlighted to align with the level of local political will and administrative capacity.
For instance, for the action of "enabling outdoor shopping, learning, and places of worship," an implementation method with a lighter touch is to Develop a COVID-19 Temporary Public Space Registration Form that covers: general safety requirements; right-of-way permits; insurance; indemnity; deductibles; reduced parking regulations; winter regulations for shelter, heaters, and snow removal. However, a more catalytic implementation method is to draft a council proclamation to allow this without application or fees, clearly stating all these rules and indemnification. So, the moment a shop owner takes a table out and sets it up on the sidewalk, this action triggers the rules and indemnification process. No application, no fees, no time wasted to get into a safer, more productive environment. 
If your community has already implemented one of the actions, make sure you still read through. For instance, plenty of places have accessory dwelling units (ADUs) enabled, but the tool is frequently made unusable through setbacks, parking, and ownership restrictions. The pandemic economy requires every means possible to increase household income, and (ADUs) and the newly-evolving accessory commercial units (ACUs) are an opportunity to leverage the average household's greatest asset: one's home. ADUs and ACUs provide access to additional income for homeowners and allows renters to access affordable housing and commercial space during constrained economic conditions due to the pandemic.
"Listen up. These 22 ideas were always the right things to do to support social equity, economic prosperity, environmental sustainability, community vibrancy and aging in place to name just a few. COVID-19 underscores the urgency for all communities to focus on these levers for positive change. This is a practical resource for planners, policy makers and politicians alike." — Angela Mathieson, city planner, CEO CentreVenture Development Corporation
More than one respected colleague has pointed out that these initiatives are actions that local governments should take with or without a pandemic. That these are the actions that generate the highest returns by delivering connected communities that support wellbeing, along with economic and environmental health. These critiques are valid. 
It's true that the toolkit is, in part, a primer on incremental urbanism, set in a pandemic context of what should be done first. It starts with "the biggest little thing," as we like to say, which can demonstrate effectiveness, build trust, and move the community on to the next step. However, what the pandemic has done is to increase the urgency of making these changes as quickly as possible and cleared away the bureaucracy that often causes these sorts of initiatives to be years in the making. Our residents, businesses, and governments cannot wait that long anymore.
"Starting even before the COVID-19 pandemic, American life expectancy has been falling behind that of peer nations. We need to get serious about public health, and that includes those of us in the community design profession." — Kaid Benfield, attorney, LEED-ND cofounder, People Habitat author
I hope you will forgive me that we used many images of intensive urbanism in the toolkit to illustrate these ideas, which was a complaint I heard from my co-authors. That's because these ideas work in cities and towns as well as suburbs, in places of less residential density or employment intensity than are pictured in the toolkit. However, in a time when all of us are attempting to reduce our travels to the bare minimum, revisiting some of my favorite places via photography was a bit of a balm.
Please feel free to critique the Toolkit in the comments below here and add to the Compendium on the google sheet itself. Wishing you strength and fortitude in the months ahead.
This article was posted on the Placemakers website.