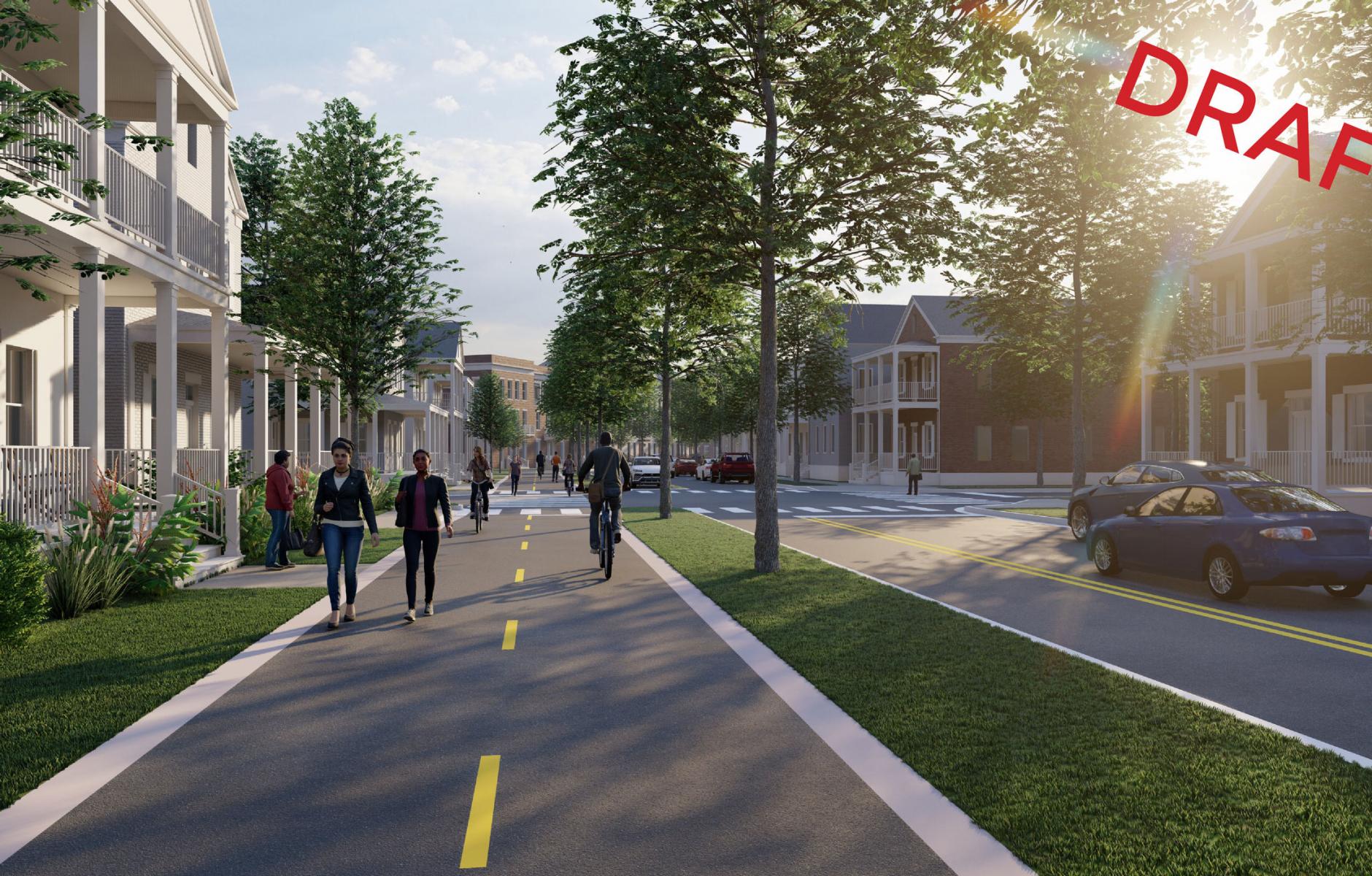 A draft rendering from the Mullen Neighborhoods Master Plan. Source: Dover, Kohl & Partners
Urbanists keep planning through crisis
Using online tools, urban designers conduct virtual charrettes during the coronavirus crisis. Envisioning the future of a city is a great way for all involved to stay productive and connected to the community.
The Mullan Neighborhoods Master Plan public design charrette in Missoula, Montana, was scheduled March 23-27, just as the governor was ordering residents to stay home. The charrette went ahead as scheduled—as a virtual, online process—producing plans similar to an in-person event. Other design charrettes are also moving forward during the coronavirus crisis, according to CNU's new webinar series "On the Park Bench: A Public Square Conversation." 
The coronavirus storm cloud is revealing a silver lining for urbanism: Online charrettes can produce high quality plans. The crisis is putting new technology to the test—quickly honing skills that can be used to augment community design when the nation returns to normal, urbanists say.
Even as the nation pauses most business activity, some municipalities are under deadline to get plans done. The city and county of Missoula won a $13 million federal grant for infrastructure that has to be spent whether or not a good plan is in place, notes Victor Dover, of Dover, Kohl & Partners, which led the consulting team. Jason King, who managed the charrette for Dover Kohl, had plane tickets purchased and the hotel rooms booked when the COVID-19 crisis hit.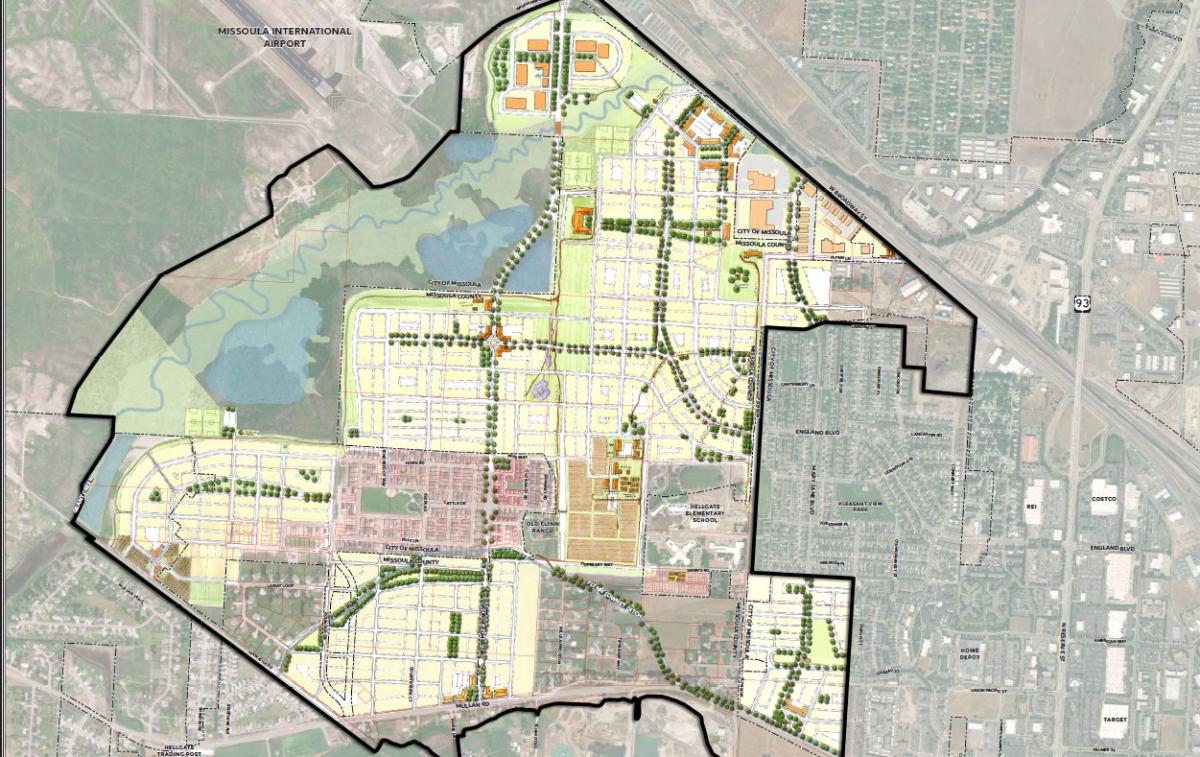 The Mullan Neighborhoods plan is an opportunity for the city and county to align land use planning and regulations, transportation elements, and plans for amenities in an area of the community currently receiving significant development pressure. Dover Kohl has a similar process scheduled next week for the Neptune Beach, Florida, Community Vision Plan. "What better way to stay positive, productive, and connected with your neighbors than envisioning the future of your city," notes the firm in a video.
Similarly, the City of Port St. Lucie in Florida was eager to keep its charrette on schedule, says Kim DeLaney, director of strategic development and policy at Treasure Coast Regional Planning Council (TCRPC), an agency that covers an area with 2.1 million people. The charrette, held two weeks ago, created a master plan for 1,200 acres that the city acquired. The city has seen an increase in investor interest in the property, despite the crisis. TCRPC, which employs a busy urban design studio, has several public design events moving forward.
Although virtual charrettes can get the job done during this time of crisis, they will augment, rather than replace, real-world planning meetings, according to the presenters. "The virtual charrette is just one part of a long process," says Dover. "Shifting to online is part of bigger planning time frame—it doesn't eliminate the need for face-to-face meetings." The panel, which also included Dana Little, director of design at TCRPC, said there will be a pent-up demand for real-world meetings after the coronavirus crisis.
The participants offer "lessons learned" from their experiences in recent weeks.
Virtual charrettes allow for greater public participation. Many members of the community are not able to attend physical meetings because of busy work and family schedules. "Going forward there is no reason can't include a virtual component to every workshop carry out," says DeLaney. "This is an opportunity to get more inclusive and better public engagement."
Structure the charrette as the team would normally, says Dover, with daily pinups and feedback loops. Present the work—adjusted based on feedback—day-to-day on the Internet. And don't forget the essentials of a successful charrette: Tell the truth, and follow through on promises.
Expect larger participation. A well-attended physical charrette may have several hundred participants. The virtual charrette may reach thousands.
On the other hand, online meetings may shut out those who don't have broadband. This could include the majority of residents in public housing projects. That means the designers may have to redouble efforts to contact leaders in these communities.
In some respects, online design can be efficient. But it can also take longer. To get answers on stormwater may require scheduling a conference call rather than just knocking on the door of somebody's office, says DeLaney. Meetings will take longer than expected—so schedule bathroom breaks and make sure that you have water to drink, she says.
Not looking people in the eye may bring out negative tendencies in community members. There is "trolling," and snarky comments. Require people to use their real names. Respond to negative comments on the Internet—but only once. "Don't get into an endless back and forth, because in that case you will get nothing else done," Dover says.
Whether the charrette is in-person or virtual, there can be anger and distrust in the audience. The antidote is to give people lots of information, says Dover. Create a resources tab on the website and upload videos and whole documents. Build up ideas, don't just criticize.
The response from charrette participants has been surprisingly positive, note the presenters. Part of this may be that staff and residents are grateful that the designers are working during this crisis. "We are in a honeymoon period," says DeLaney. 
Don't worry too much about the "platform," or specific software system, Dover says. There are many platforms and tools available, and this is a time for wide experimentation on their use. "Now is not the time to get rigid. Innovate and show each other what we are doing," he says.
Some aspects of the "virtual charrette" are low-tech. Telephone calls are very useful—especially in communities with low access to broadband. That includes low-income communities. Dover praised the usefulness of what he called the "Telephone Town Hall," which allows for participation even on a land line. Sometimes municipal staff would rather not be on video, Little says.
In the current crisis, designers may have to make adjustments. Without access to a large printer, Little reported drawing some plans on the scale of 1 inch to 1,250 feet, which is hard to do in detail. 
The virtual charrette is an extension of what firms have already been doing. Dover Kohl's director of design works out of Budapest—so he was already working on charrettes remotely. "These were tools we were already using, we are just turning them outward, letting the clients see," says Dover. 
The virtual charrette allows for increased collaboration with designers all across the world, some of whom would not be able to attend the in-person because the travel would be too costly. 
There will be a pent-up demand for in-person planning after the coronavirus crisis, says Dover. Some projects have stalled. There will be rethinking of others.
Conventional charrettes have the advantage of "team building," says Little. The designers talk about their personal lives, and joke, as they work. "That aspect (of virtual charrettes) we will have to figure out going forward."
The crisis has forced urban designers to take a "crash course" in virtual technology that will benefit the industry. "We are going to be using digital tools in the future, it will be great addition," says Dover. "The virus is just temporary situation, but has caused this sudden skill building."
Don't forget the basics. Little makes quick drawings based on a conversation, takes a photo, and emails them to planning staff for an immediate response. "Keep your pencil close, it's still your best friend—it helps to bridge the gap between the digital and the analog."
During an economic downturn—brief or not—is a great time for planning, the participants say. "We are in the business of selling hope to communities," DeLaney says. "This is a chance to figure out some better ways of doing things going forward."
CNU is convening urbanists every Tuesday at 12 noon ET during the crisis through On the Park Bench: A Public Square Conversation. Sign up and take part in the discussion.
Note: This article originally misidentified the Missoula plan as the downtown plan.