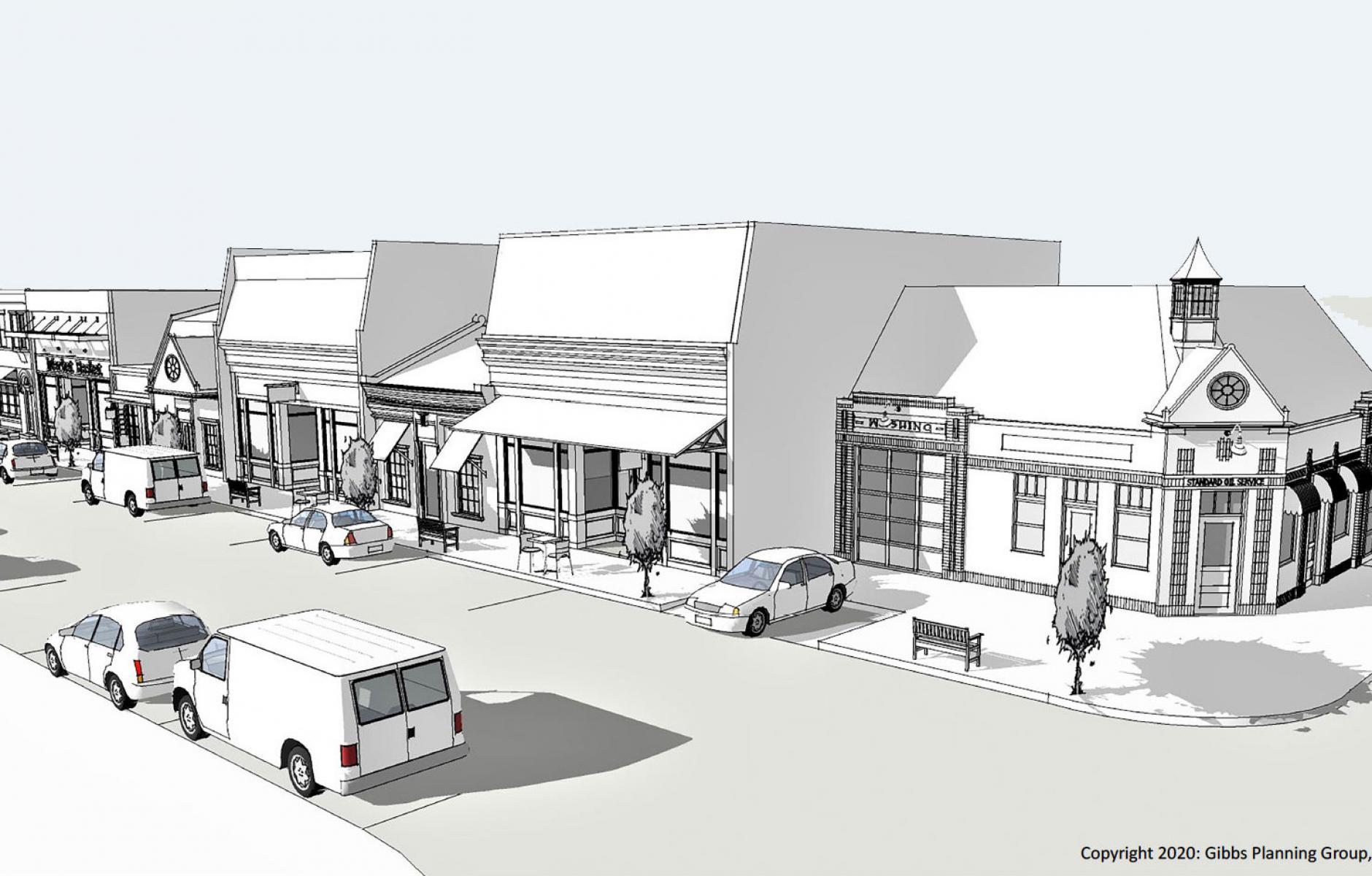 Village center retail type. Rendering: Gibbs Planning Group
Village centers offer quick and local shopping
The village center is a walkable urban retail type comprising a small group of shops that allow nearby residents to make quick purchases—often on the way home.
Typically, between 10,000 and 30,000 square feet in size, the village center offers an array of goods and services geared to the daily needs of its surrounding neighborhoods. Often including a small specialty food market or pharmacy, a village center contains a limited number of tenants that offer a balance of food, per­sonal, and professional services. The village center's typology has been historically labeled a "convenience" center by the shopping center industry, but  the term is more commonly given to the smaller stores associated with gas stations.
The village center's primary economic advantage is its close location to residences, allowing the time-pressed shopper to make a quick purchase on the way to or from home. Like corner stores, convenience center businesses do not always provide competitive prices, but focus on providing shoppers with quality goods and services that can be quickly purchased. Given their size and proximity to residences, these centers do not need the draw of a large anchor store, such as a supermarket or hardware store. 
Typical village center tenants include bagel stores, bakeries, banks, cof­fee shops, delis, dry cleaners, tailors, financial services, florists, food markets, ice cream parlors, laundry centers, packing and shipping centers, package liquors, personal services, pharmacies, and real estate offices. Additionally, antique, bicycle, fashion and home stores often deploy in the centers. Adjacent businesses sup­port each other by attracting shoppers who prefer to make multiple store visits and purchases. For example, someone dropping off dry cleaning items on the way home from work may also wish to pick up a carry-out meal for dinner or fill a prescription at the pharmacy. Centers with numerous businesses offering diverse goods and ser­vices increase the likelihood that those businesses will be visited more frequently than as stand-alone proprietors.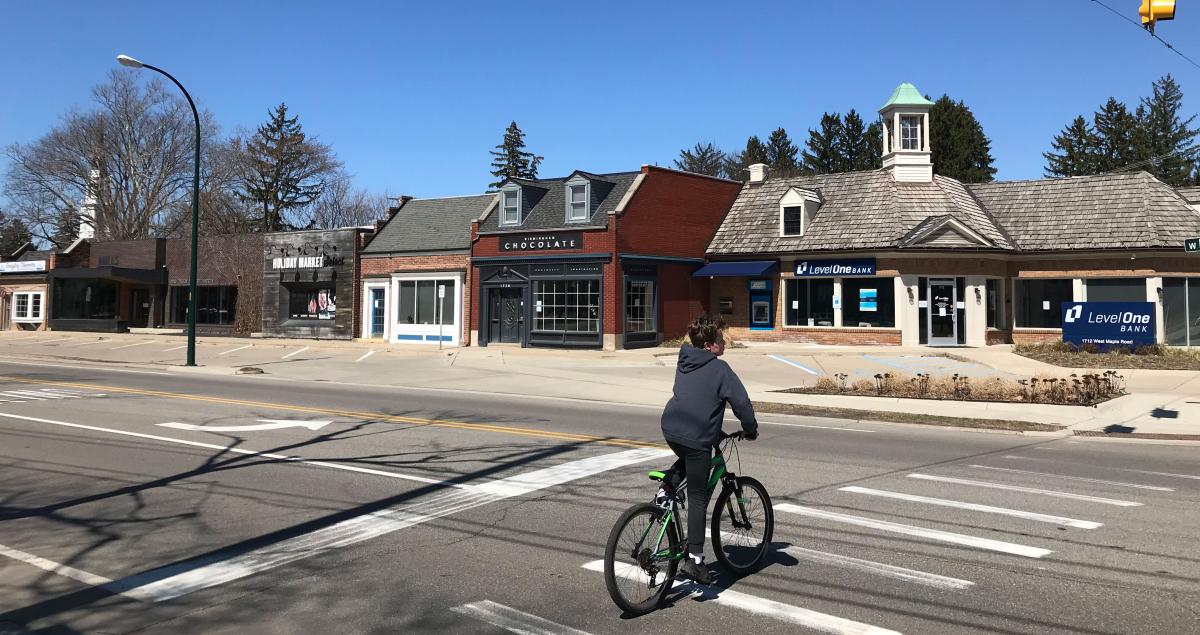 Village centers are usually developed as linear freestanding buildings, but they can also be in the form of an L, U, or market square. Build­ing depth can range from 20 to 60 feet, and the average sustainable tenant space is 1,000 to 1,500 square feet of gross leasable area (GLA). Basements, attics, or off-site storage should be provided whenever possible; they allow businesses to make bulk purchases and thus reduce expenses. Village retailers can also be located on the first floor of a mixed-use building as long as they can be easily seen from the primary roadway. The storefront signage and displays that shop owners use to draw the attention of passing motorists is their principal means of advertising, so careful building place­ment is crucial. These businesses also rely on customers who make quick visits for planned and impulse purchases, so nearby surface parking is essential. Parking decks or underground parking lots are impractical for nearly all locations, exclud­ing high-density urban areas. Surprisingly, village centers cannot be support­ed by transit stops alone. The typical commuter tends to be in too much of a hurry or simply unwilling to carry purchases to or from work. 
The International Council of Shopping Centers (ICSC) defines a convenience (village) center as follows: 
A Convenience Center provides for the sale of personal services and convenience goods similar to those of a neighborhood center. It contains a minimum of three stores, with a total gross leasable area of 30,000 square feet or less. Instead of being anchored by a supermarket, a convenience center usually is anchored by some type of personal/convenience services such as a minimarket.
To be economically viable, a village center needs about 2,000 house­holds—the equivalent of two traditional neighborhood development (TND) neighborhoods. These centers should be located at the common entrance or intersection between two neighborhoods, preferably on the homebound side of the roadway. Locating a convenience center inside a neighborhood poses an economic challenge because of the smaller population and lower traffic levels unless the site is in a dense urban area. Rural centers should be located at the homebound side of primary crossroads. In suburban locations, the average primary trade area for a village center is a 1.5 to 2.0 mile radius.  An urban village center may have a trade area of only several blocks, while a rural center may draw shoppers from up to 5 miles away.  Village centers are desirable neighborhood amenities and recommended for both new developments and as an resource for restoring historic neighborhoods. 
Taken from: "Principles of Urban Retail Planning and Development" by Robert J. Gibbs FASLA, AICP Published by John J. Wiley and Sons, Inc.  2011