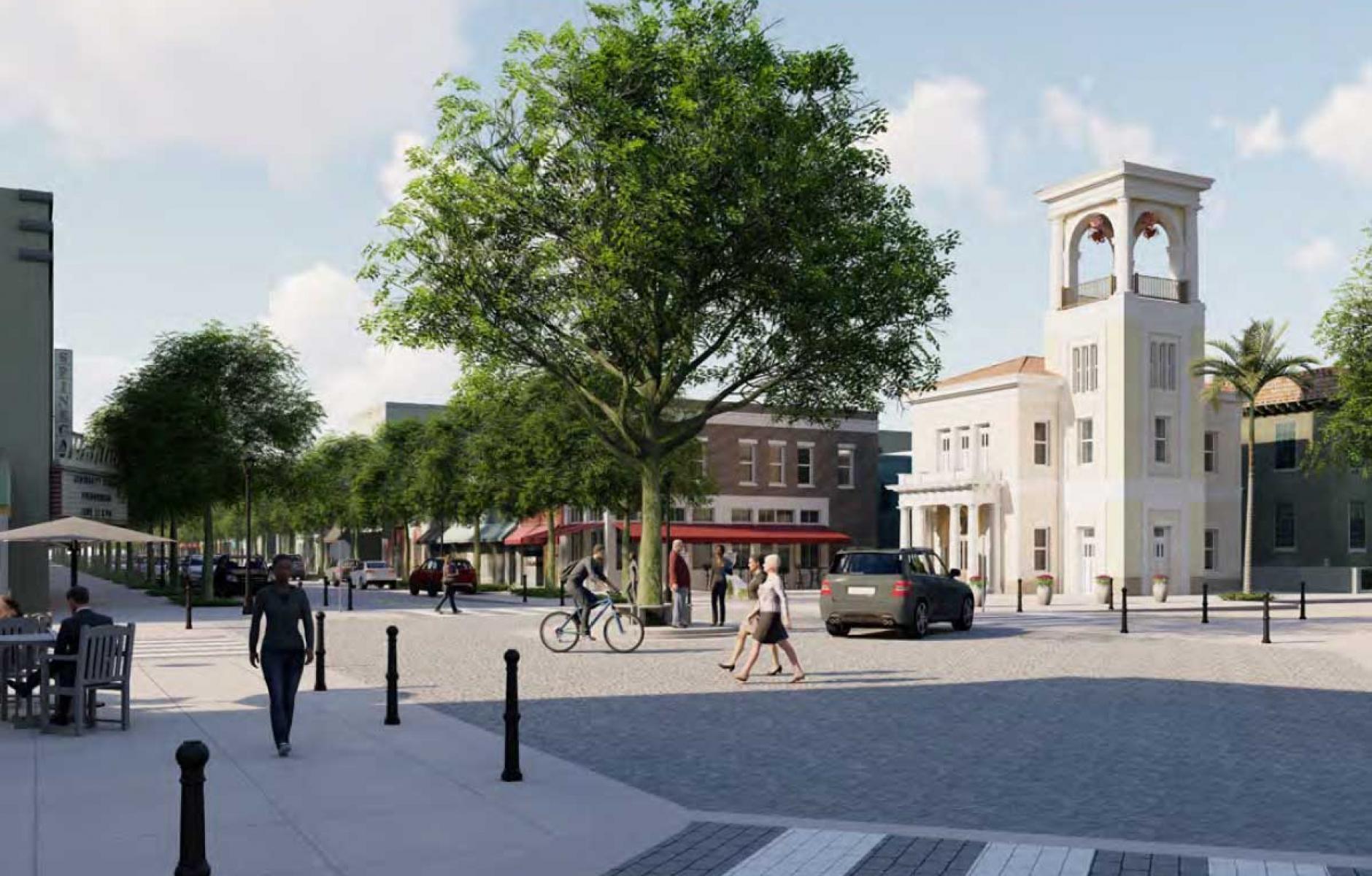 Proposed shared-space plaza on Harrison Avenue. Source: Plan by Dover, Kohl and Partners
Panama City adopts recovery plan in wake of hurricane
The Florida Panhandle city survived Category 5 Michael with most of the downtown intact—the plan looks to a more resilient future in the face of potential sea level rise.
Panama City, Florida, approved a strategic plan for downtown recovery and resilience in early October, a year after Hurricane Michael tore through the city as a Category 5 hurricane. 
Thousands of buildings in the city of 37,000 people suffered roof and other damage. 
Panama City is a waterfront town, not a beach town, with a historic main street and marina. The city is protected from the Panhandle coast by barrier islands. 
While significant parts of the downtown are vulnerable to rising sea levels, most of downtown—including the main street called Harrison Avenue—are more than 10 feet above sea level. The plan grew out of a charrette led by urbanists Dover, Kohl and Partners (DKP) in June, 2019. In addition to sustainability, the ten "cornerstones" of the plan deal with improving activity and quality of life downtown, safety and security, and other issues.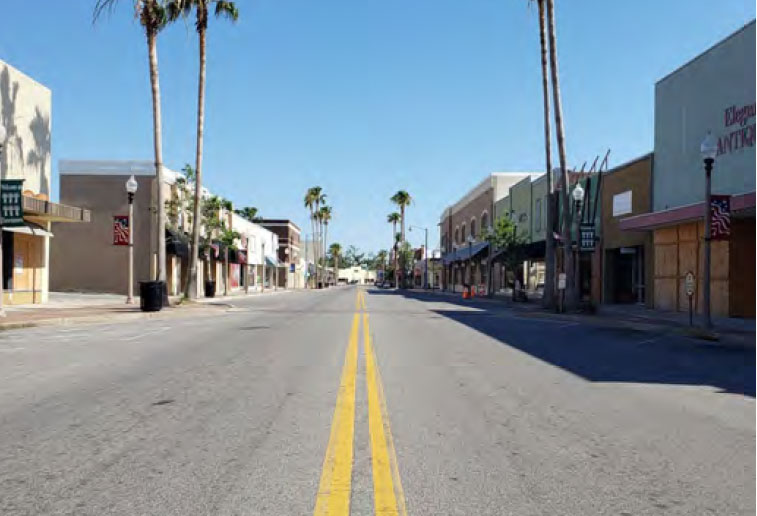 1) Waterfront Access: A high-priority idea is to create "continuous, connected public access to the waterfront" through a tree-lined, waterfront promenade. Residents will be able to walk, run, and bike at the water's edge. Improvements to the marina area include a new amphitheater and restaurant.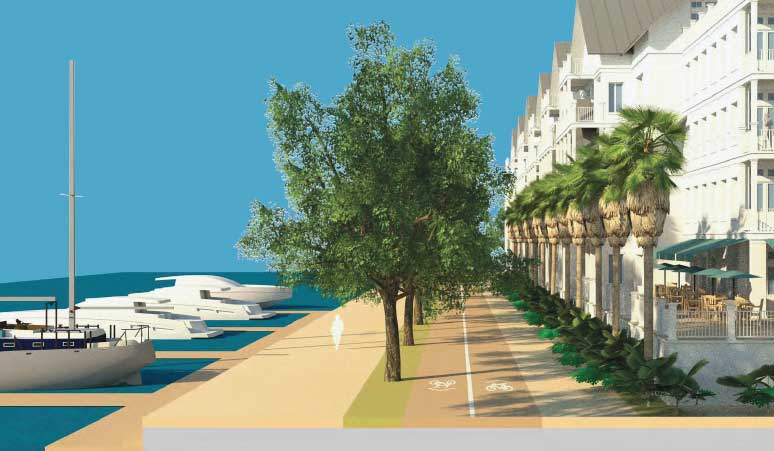 2) Downtown activity: The main goal of this cornerstone is to bring more business downtown and maximize investment. In the short-te­rm, that will involve marketing, branding, and promotion. "In the mid- and longer-term future, the emphasis should expand to include housing development," the plan says. The city should work with higher education institutions to locate facilities downtown—such as arts and culinary studies programs of the Gulf Coast State College, located in the city. 
The hurricane recovery offers an opportunity to reimagine Harrison Avenue. Prior to the hurricane, the city was already making streetscape improvements, but these were interrupted. The new plan calls for making the street substantially narrower and widening the sidewalks and planting more shade trees. A shared-space public plaza is planned in the middle of the critical 4thStreet intersection (see image at top), where the street deflects. This would calm traffic in both directions.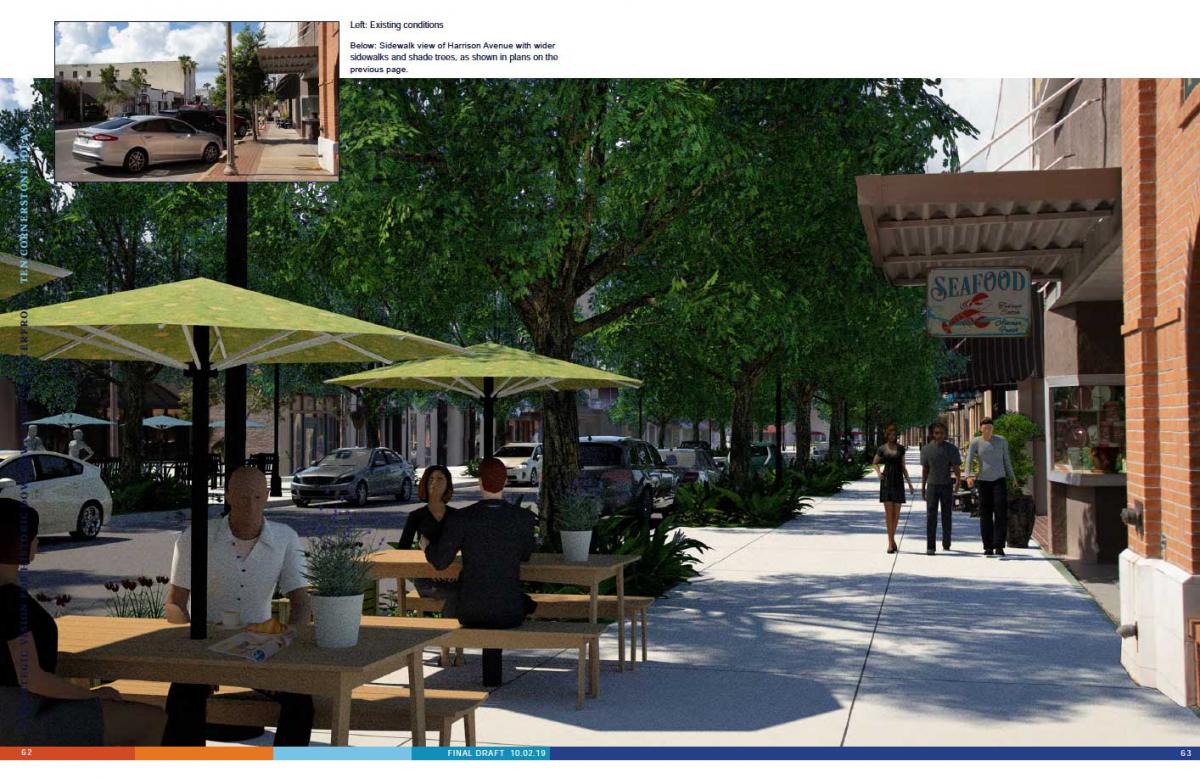 3) Downtown living: The plan shows the potential for substantial residential construction downtown, with a variety of building types on vacant land. Panama City is facing a critical shortage of housing—with 2,700 multifamily units remaining uninhabitable as of April 2019. "With appropriate zoning changes, and utilization of opportunity sites, Downtown can provide suitable sites for new construction. A larger Downtown residential population is needed to support area businesses and provide 24-hour activity."
4) Safety and security: More people and businesses located downtown will naturally boost safety and security with more eyes on the street and lighting and activity in storefronts and residential units. "The streetscape designs recommended for Harrison Avenue and other Downtown streets also address these concerns, through enhanced pedestrian lighting, and improved pedestrian accommodations." Design standards for new buildings will require windows and doors to face the public right of way. 
5) Sustainable building: The damage to buildings has a silver lining in that it offers an opportunity to rebuild using the best green building techniques. Meeting high green standards does not necessarily mean high-tech: The plan recognizes the inherent sustainability of traditional building patterns that reduce the need for air conditioning and make for a more walkable city. 
6) Resilient infrastructure: Significant improvements are needed to water and sewer infrastructure, and power lines could be placed underground to improve resistance to storms. The rebuilding offers the opportunity to reduce some of the impervious asphalt and plant trees that will hold water during storms. The waterfront promenade can be used to stabilize and reinforce the coastline. This is the most technical aspect to the plan, including details about making buildings and the landscape more resilient to major storms.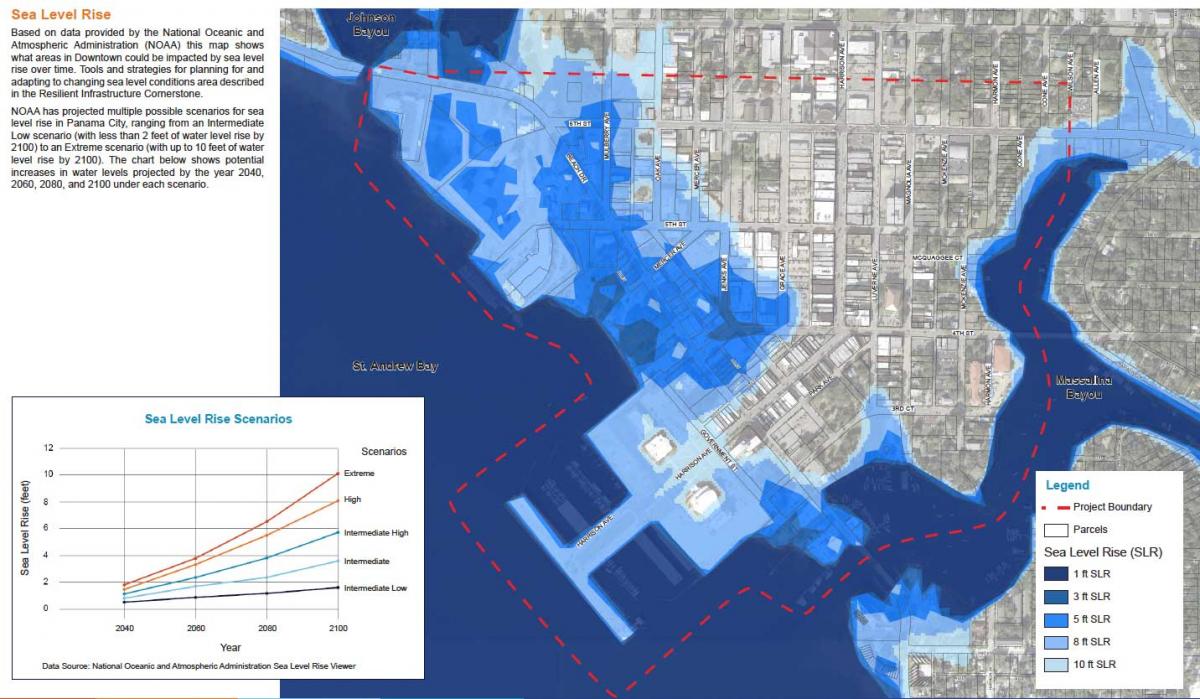 7) Connected: The downtown has a well-connected street grid, but many of the streets have been changes over the years to prioritize automobiles at the expense of walking and biking. "The vision for Downtown is to realize a network of streets, sidewalks and trails that are designed to increase pedestrian and bike comfort and safety." The list includes accessibility upgrades to streets and public spaces and a loop of protected bike lanes throughout downtown. In addition to the plaza, roundabouts are proposed at key intersections to calm traffic. The plan includes a set of street designs based on new Florida context zones. 
8) Placemaking: This can involve anything from historic building preservation, to the creation of temporary plazas, to use of civic art like the historic clocks that once graced downtown. The historical society has come into possession of a clock that can be restored and remounted on one of the downtown buildings. 
9) Gathering spaces: To support more activity, downtown needs a variety of public gathers places. "Some ideas that were proposed during the charrette week include more com­munity parks and open spaces, a waterfront amphithe­ater, maritime and science museums, a splash pad, pool, and YMCA." The city already began to act on the ideas even before the plan was adopted. The marina area currently has excess asphalt that could be turned into public greens. On July Fourth sod was brought in for a temporary green space. 
10) Updated standards: Downtown codes need to be updated to promote and improve mixed-use development, including the elimination of most minimum parking requirements, according to the plan. In addition, shared stormwater facilities that create public spaces would be better than existing on-site requirements. In the long-run, a form-based code would be a big improvement over current zoning, according to the plan. In the short term, waivers for parking and stormwater requirements would jump-start downtown development. "It's important to streamline the process so you don't have to be a big corporate investor to invest downtown," said Victor Dover of DKP.

resilience
&nbsp&nbsp&nbsp
disaster recovery