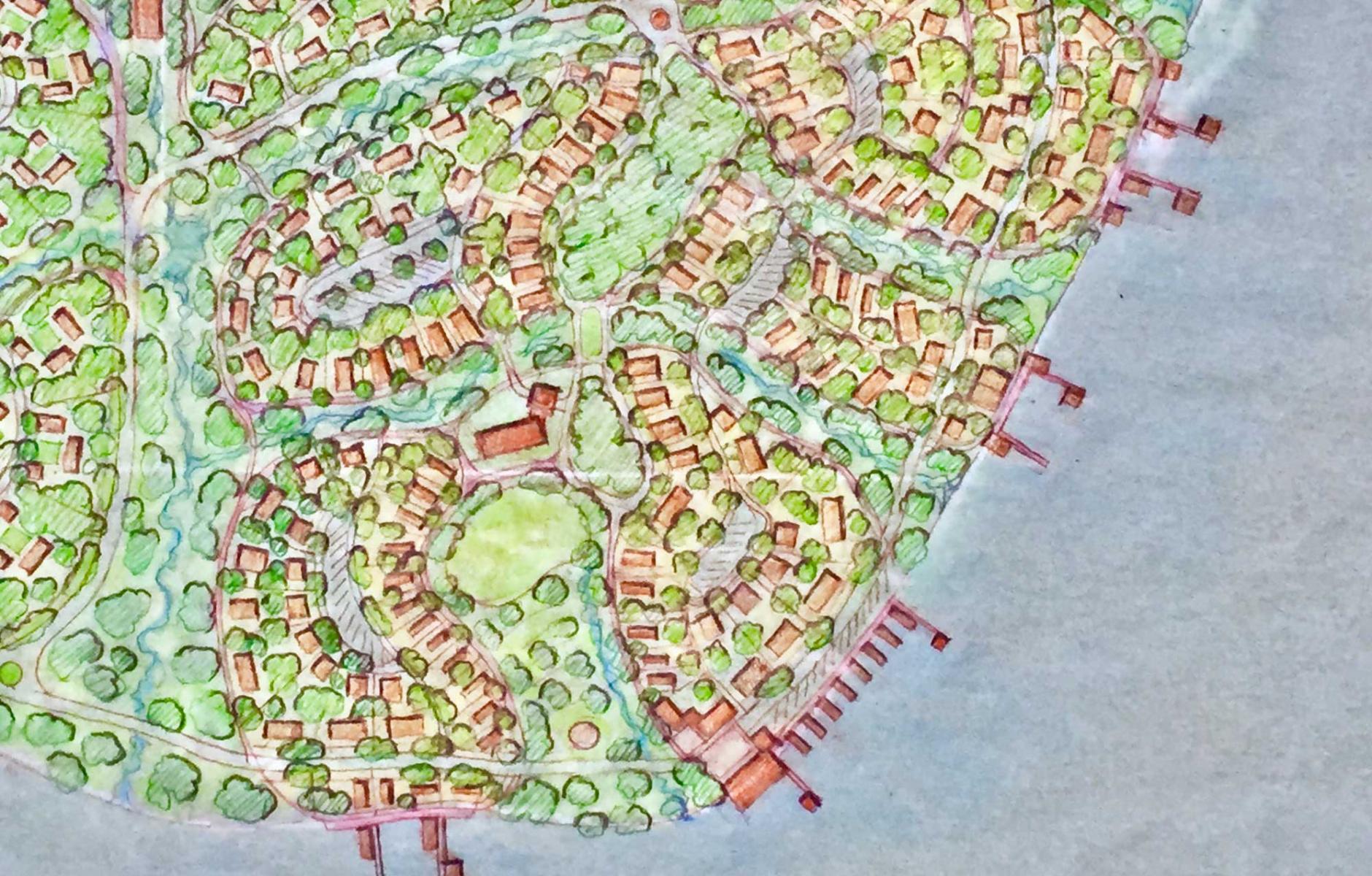 Plan by Tom Low
Retreats, eco-villages, and walkable communities
TOM LOW
&nbsp&nbsp&nbsp&nbspOCT. 25, 2019
A retreat is often used in real estate marketing to describe anything from a gated suburban resort subdivision to enclaves and eco-villages. Ideally, a new urbanist neo-traditional version includes the same fundamental principles of villages and neighborhoods in towns and cities—walkability, connectivity, a mix of housing types, access to daily needs, a high-quality public realm with abundant gathering places, and mixed use. 
What characteristics would further distinguish a retreat or eco-village? These may include further emphasize on conservation of open space; an elevated connection to nature; dwellings directly fronting on nature and intimate community green space; a connectivity network with a more organic pattern; more integrated local and organic food systems; and a light imprint approach to infrastructure—reducing gold-plated engineering of curb and gutter, stormwater inlets, concrete pipe, and retention pits. Light Imprint thoroughfare types reduce urban hardscapes and impervious surfaces while increasing walking paths, nature trails, cart-paths, narrow lanes, and rural roads where pedestrians, bicyclists, cart-drivers, and vehicle motorists all share laneways. Clustered parking in remote areas and/or embedded in blocks is also emphasized. Waterfront frontage, views, and access are a primary concern. 
Case studies include the historic Chautauqua Assembly retreats such as the Monteagle Assembly in Sewanee, Tennessee, that was featured in the Light Imprint Handbook. A client of mine, and their investors, are requesting a retreat design—and specifically not a standard new urbanism layout—to respond to a municipality's RFP for a waterfront site with hillside topography and natural drainage fingers throughout. At top is an example of a recent very preliminary plan.