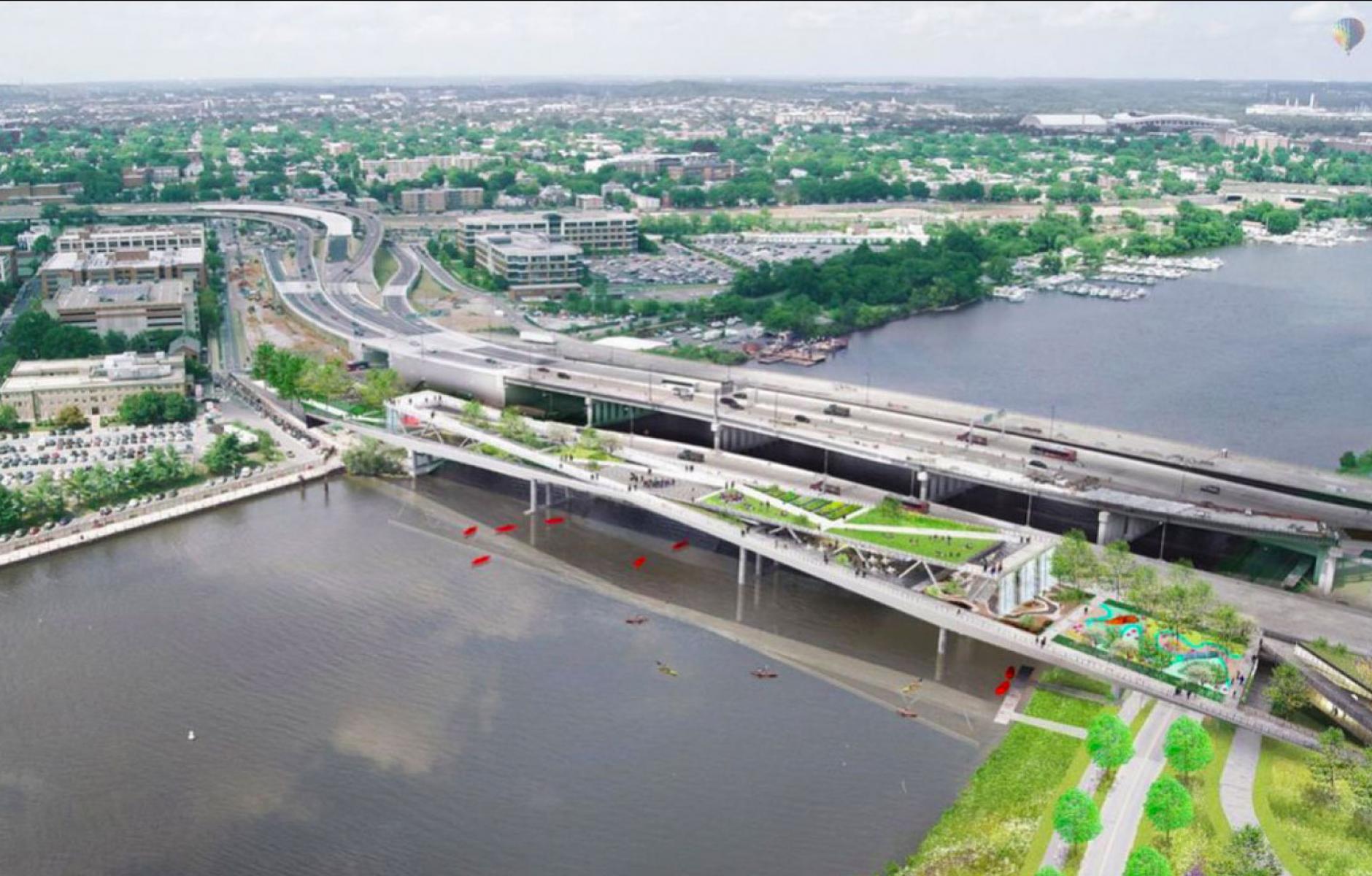 Rendering of the 11th Street Bridge Park. Credit / OMA+OLIN
Partnership in DC focuses on minimizing displacement ahead of bridge park
An Equitable Development Plan offers wealth building opportunities—not just affordable rental housing—including homeownership, workforce development, financial counseling, and small business development.
In Washington, DC, the decommissioning of the 11th Street Bridge offered an opportunity to create an elevated linear park over the Anacostia River using the piers of the old bridge. The proposed bridge park, expected to break ground in 2021, would connect to trails on both sides of the river and provide a destination in a sector of the city lacking in amenities. Inspired by New York City's High Line, the project posed a pressing challenge to planners: to anticipate and address the impacts of development that the bridge park would likely attract.
Anacostia, across the river from DC's higher-priced neighborhoods, has long been one of the city's least expensive addresses. It has also experienced dropping population, relatively high crime, and low income levels.
The nonprofit Building Bridges Across the River collaborated with LISC-DC, a community developer, to create an innovative Equitable Development Plan (EDP) that focuses on minimizing the displacement of residents within a mile radius of the bridge. The plan brings together residents, business owners, government officials, and policy experts to provide homeownership opportunities, direct social services, small business development, and affordable housing.
An initial step was to develop an "asset map" of local organizations and the work they do, to avoid duplication of efforts. LISC, the Local Initiatives Support Corporation, one of the nation's largest community developers, committed $50 million in investment to the area around the bridge park.
After two years of community meetings, the EDP was completed in 2017. A design competition for the bridge park, which included residents as judges, emphasized community input.
The EDP housing strategy calls for a tenants' rights workshop and housing counseling services for residents. "Seventy-five percent of the residents on the east side of the bridge are renters," says Vaughn Perry, equitable development manager at Building Bridges. Seed funding was provided to community groups to lead this effort.
Additionally, the Douglass Community Land Trust was established in 2018, controlled by a board made up of two-thirds community residents and one-third housing advisory experts. The Trust sets a strong standard for affordability—30 to 50 percent of the area median income. The Trust immediately began purchasing properties as the market heated up in anticipation of the development, helped by a $5 million Pro Neighborhoods grant from JP Morgan Chase.
The Trust enables residents to purchase homes at subsidized rates. Buyers sign an agreement that, when they sell, 75 percent of the equity in the house will go back to the trust, along with its original investment. For example, if a buyer pays $200,000 for a $400,000 house, and that house appreciates to $500,000 upon its sale, the Land Trust would recover its $200,000 plus $75,000 in equity. The original buyer would get the remaining $25,000 equity.
"The key is to balance permanent affordability and wealth creation," says Perry. Homeowners are able to save money through a lower mortgage payment, and build equity in their homes. The Land Trust gains funds over time so that it can continue to invest in properties and maintain them at or below market value.
Direct services, mentoring, and peer connection for homebuyers is another important aspect to the EDP. Manna, a DC nonprofit developer for 35 years, has hosted a Home Buyer's Club since February 2016, with more than 50 homes purchased or in the process of being purchased by participants in the program. "It was valuable to go to a formal place and have access to people with years of experience in financing and purchasing homes. The camaraderie was valuable also: you had people from all walks of life participating, with the common goal of owning their own home," said Kara Johnson, a Home Buyer's Club participant.
The small business enterprise arm of the EDP aims to serve local small business immediately on both sides of the bridge and surrounding impact area. One million dollars of the JP Morgan Chase grant will go to technical assistance and micro loans to be provided to small businesses. Skyland Workforce and Collaborative Skills for Cities will put on a job fair and construction apprenticeship program as well as mentoring, entrepreneur training, and partnerships. 
The bridge park team will use local contractors for construction, landscaping, and media support. Training and apprenticeship programs are underway to boost skills of residents who want the jobs. The increased foot traffic and development are expected to create new retail opportunities.
There are also benefits of the EDP that are harder to measure—it has built trust and goodwill in a community that has good reason for being suspicious of big plans. It has also catalyzed new programs to serve the community, including a partnership with Capital Area Asset Builders to create children's savings accounts for 100 low- to moderate- income families identified by the local school district, matching their $300 savings 5:1, then rolling the money into a college savings fund.
This article is a case study from CNU's Building Local Strength report, written to identify strategies to can help revitalize communities that have seen decades of disinvestment, in ways that are sensitive to the threat of displacement and emphasize access to opportunity. The report was generated through the efforts of CNU staff, including Robert Steuteville, Margaret O'Neal, Lynn Richards, Mallory Baches, and Taylor Griggs.