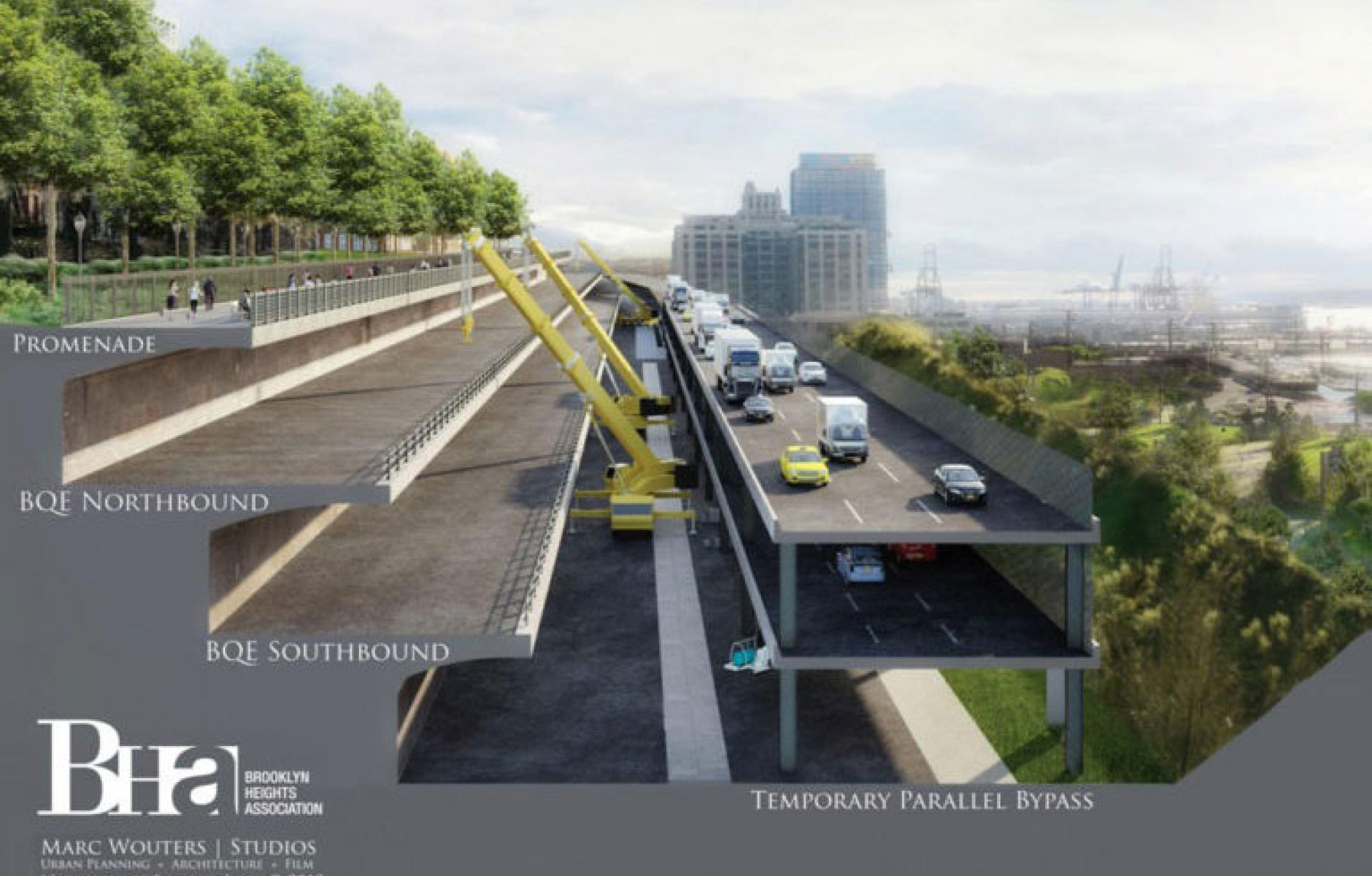 BQE alternative proposal by Marc Wouters
A city highway alternative for Brooklyn
When transportation engineers make problematic city highway proposals, CNU members sometimes offer alternative design solutions that broaden the conversation—and that's the case with the BQE in Brooklyn.
It was not Jane Jacobs who first successfully fought the powerful Robert Moses on a highway proposal that would have torn a neighborhood apart. It was the citizens of Brooklyn Heights, across from Lower Manhattan.
A citizen-led campaign scuttled Moses's 1950s plan to build the Brooklyn-Queens Expressway (BQE) through neighborhood streets. Instead, the highway was cantilevered on two levels below what eventually became one of New York's favorite attractions, the Brooklyn Heights Promenade. 
Now, more than 60 years later, BQE desperately needs repair. The city has proposed to build a temporary highway on top of the Promenade—effectively obliterating this attraction for many years while the BQE is rebuilt. A six-lane highway would be pushed right up against valuable residential buildings. Businesses that depend on the Promenade would be gone. Neighborhood amenities, like playgrounds and a swimming pool, would also be impacted. At the very least, the city is facing an expensive and protracted legal battle from now-wealthy citizens of Brooklyn Heights over this idea. 
The highway carries 153,000 vehicles per day, including a lot of freight trucks—so eliminating the highway seems unlikely. Brooklyn Heights-based Marc Wouters, a CNU-New York board member and longtime new urbanist urban planner who is trained as an architect, has offered an idea that would save Promenade businesses and cause far less injury to the neighborhood (see rendering at top).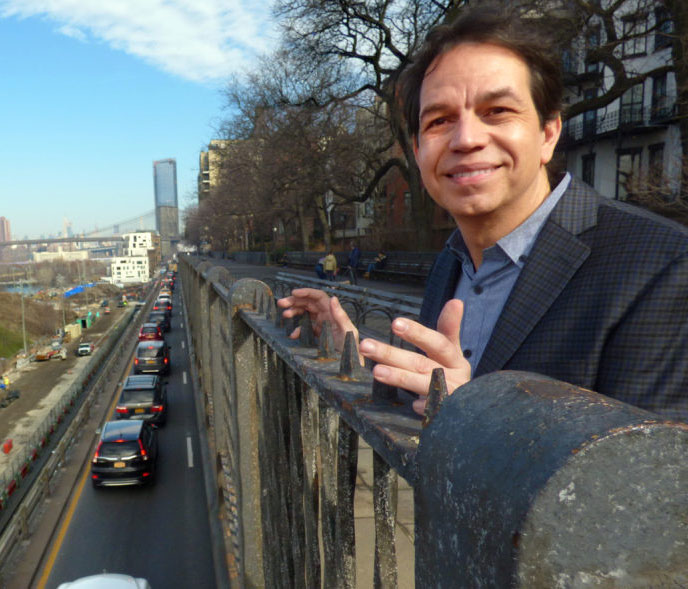 According to The Brooklyn Eagle:
Wouters confronted the BQE problem more than a year ago, when he started looking into ways to make better pedestrian connections across the interstate to the Promenade, Atlantic Avenue, Old Fulton Street or Brooklyn Bridge Park.
"In most cities that I've worked in, there is a major highway that serves as an important truck route that also divides neighborhoods," Wouters said. "And one of the toughest problems in transportation to solve is how to connect the neighborhoods on both sides of the highway, but yet maintain those transportation needs."
After the city announced its plan to replace the Promenade with the bypass, Brooklyn Heights Association began working with Wouters and other experts to develop a better solution.
Wouters, working pro-bono, notes that there is a "sliver of land" between the Promenade and the Brooklyn Bridge Park that could fit a stacked, temporary, elevated highway. "Our drawings show the bypass could fit in this area with very little interruption to [Brooklyn Bridge Park]," he says.
In an email, Wouters explained to Public Square:
"Like everyone else in CNU, I'm typically advocating for elevated highways to come down and that we look to innovative traffic management to create something better.  The particular circumstances of the BQE are really challenging. It does have some important functions for the regional economy. My solution prevents damage to important historic landmarks and stops a temporary highway from being constructed within footsteps of people's bedrooms. My solution is hardly perfect, so I'm also working on a long-term plan that is much more context friendly. I've only published a brief portion of the work."
Wouters has submitted the idea to the city DOT for review. He hasn't heard back for several months, but he has put the idea forward for public consideration. Who knows whether Wouters's idea with be ultimately implemented, but at least residents and city officials can evaluate an alternative to the current plan.

freeways