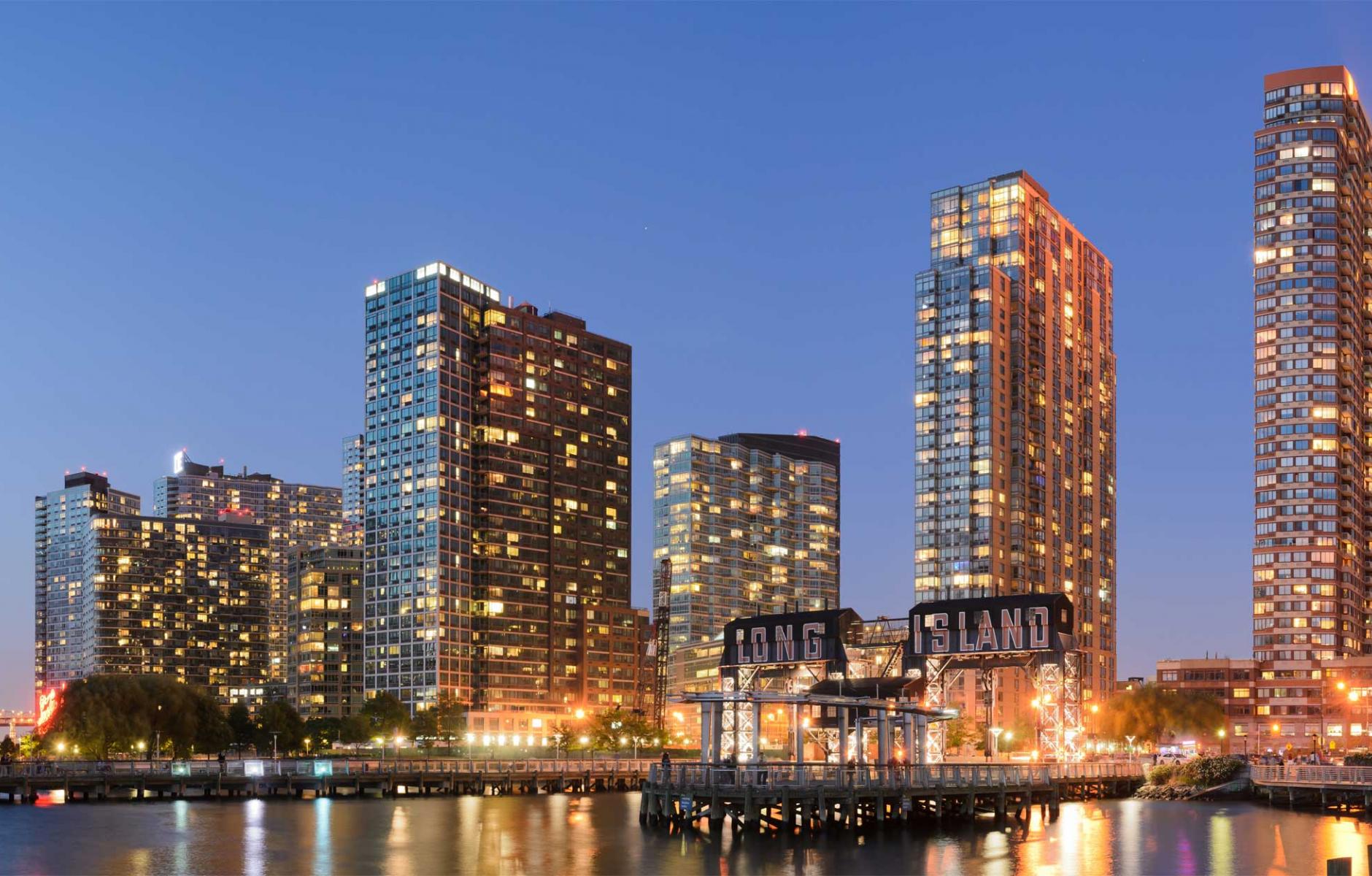 Long Island City. Source: Wikimedia Commons
Big questions for Amazon
Amazon chose urbanism for HQ2, but with urbanism comes responsibility.
Earlier this month I wrote a piece about the Charter Award-winning plan for Crystal City in Arlington, Virginia, that established a code and vision in 2010—enabling that area to become more walkable and urban as Amazon's new headquarters is built. 
That piece analyzed half of Amazon's East Coast HQ2, focusing on how that specific plan will be shaped by Amazon and vice-versa. The article was generally positive, but this issue deserves a broader analysis. 
Many urbanists have strong feelings about Amazon and HQ2, which was split between Arlington and Long Island City in Queens, New York. The world's fourth biggest corporation by stock value is the very definition of BIG, and Amazon is disrupting the way we all do business—from mom and pop stores on Main Street to big boxes like Walmart.
Is Amazon an evil empire intent upon dominating every transaction in every town, or merely this century's version of the Sears catalog? Time will answer that important question, but my personal opinion is irrelevant and probably way off the mark. I still need to figure out how to get my iTunes—purchased for an iPod that has since stopped working—off of my computer and onto my iPhone, so I'll stick to land-use and policy issues related to HQ2.
In general, I give Amazon credit for aspiring to urbanism. "Amazon's new headquarters in Long Island City, NY, and the Washington outskirts reflects a wave of businesses going greener with close-in urban neighborhoods over the far-flung suburban choices of decades past," notes Bloomberg News. Amazon's high-density, mixed-use choices not only contrast with decades past, but also the headquarters of its peers—Apple, Google, Microsoft, and Facebook—all in suburban office campuses. An isolated office campus is less controversial, but does less for cities and the planet. Each of these other behemoths are sited in automobile-dependent locations. When these firms go out of business—and they will someday—they will leave behind massive white elephants. 
Also on the plus side, Amazon's decision to split the new East Coast headquarters into two locations will mitigate the impact on both communities and spread the economic benefits further.
Having said that, there are troubling aspects to HQ2. Amazon's process smells of a zero-sum game to extract benefits from cities. Fifty thousand—or even 25,000 when HQ2 was split in two—high-paying jobs is a big deal for any city. Amazon dangled that carrot, and 238 cities and states jumped in line. To see local governments, some of them beleaguered, competing to give tax benefits and incentive packages to one of the world's largest corporations is unseemly. New York City, including the State of New York, offered $3 billion in tax benefits. The State of Virginia and Arlington County offered nearly $2 billion in investments in mass transit and technology education. Other locations offered even more—up to $8 billion. In the end, Amazon went with the two metro areas that it probably wanted in the first place—but it was able to extract better deals through competition. 
As economist Joe Cortright wrote in advance of the decision: "Corporations have choices. They could go about their business, and simply choose the best location, the one that makes the greatest business sense, and invest accordingly. Or they can like Amazon, GE, and dozens of others, go through the ritual of pretending to entertain a wide range of proposals, and use the leverage of competing bids to sweat the best possible deal out of their preferred location."
Urbanist Richard Florida went further: "As one of the world's most valuable companies, Amazon does not need—and should not be going after—taxpayer dollars that could be better used on schools, parks, transit, housing or other much needed public goods.
"The company would add far more value to its brand by eschewing incentives and instead working with the winner to address challenges like affordable housing and traffic congestion, which its new headquarters is likely to exacerbate."
These are good arguments, but why did cities all across the nation eagerly compete for Amazon's favor? Because the tech giant will generate substantial long-term economic activity, boosting tax revenues that will pay for services. Amazon has committed to a $3.75 billion payroll in each location. New York estimated that the contract will create 1,300 construction jobs for 15 years, and I assume that figures would be similar for Virginia. This is "far and away the state's largest economic development transaction in modern history," said New York Gov. Andrew Cuomo.
Does this mean that the other 236 cities are losers? I'm not sure about that. Every major corporation needs a headquarters, and Amazon will have three. Nashville also got something in the deal—a logistics hub. Yet Florida and Cortright have a point—Amazon's competition smelled of what Florida calls "winner-take-all-urbanism," and I hope this kind of process doesn't become the norm for major corporations. Thankfully, most firms don't have the leverage of Amazon, and most probably wouldn't be able to get cities to dance to the same tune.
Diversity issues​
The mere announcement of the Amazon deal was enough to give a speculative boost to land and house values in the immediate vicinity of the project areas. The impact on rents is less clear, and will depend on how many—and what kinds of—residential units are built over the years. Suffice it to say that neither Long Island City nor Crystal City will be inexpensive places to live in the next generation. Yet they were not cheap before the Amazon deal. 
In Long Island City, gentrification has been underway for more than a decade. Long Island City is also home to a substantial poor population in the nation's largest public housing project—Queensbridge Houses, with 7,000 people living on a median household income of $15,843. How these residents will fare in the shadow of Amazon is an issue that the corporate giant will need to address. 
Crystal City was never a low-income community, so it can hardly gentrify. There are subsidized "affordable" units in Crystal City, but that's relative. Because affordability is tied to area median income, affordable one-bedroom units in Crystal City rent for $1,116, which is higher than the typical apartment in most cities. 
Regardless, a concerted effort is needed to provide affordable housing in Crystal City and Long Island City. Crystal City, in particular, is walkable and bikable to a large number of working-class airport jobs. With its multiuse path, Reagan National Airport is one of the few airports where large numbers of workers can arrive via their own power and by transit. The inclusion of affordable housing will help to make both Crystal City and Long Island City "authentic" communities with a broad range of residents and workers. These diverse workers are needed to support the services and infrastructure that enable Amazon employees to do what they do—the airport is a good example.
In a way, Amazon's approach to its headquarters promotes diversity compared to its peers. Amazon's HQ2 offices will be mixed in with other businesses, civic spaces, and residential units. In building its "spaceship," Apple, for example, never faced criticism of gentrification. That's because the giant building sits all alone in a wealthy area, inaccessible to the outside world. I expect that Amazon will be surrounded by a wide variety of urban housing, shops and services, and public streets. I believe that's the way cities should be built.
Infrastructure
Both Crystal City and Long Island City are served well by mass transit, but the trains are already crowded. Both places are highly walkable and bikable, which will ease some of the transportation demand. But accommodating 25,000 more employees will not be easy (although easier than 50,000 employees, which is why splitting the headquarters helps). A promised $800 million for transit improvements were part of the inducement for Amazon to locate to Arlington. In Long Island City, the city is improving service on the 7 train, which connects the area to Manhattan and other neighborhoods in Queens.
Thoroughfares, bike-walk paths, and green space are also important. The long-term plan for Crystal City includes the transformation of a mile-long segment of highway, Route 1, to an urban boulevard. That transformation would create more buildable sites for developer JBG Smith and Amazon, but it also means a reduction in the right of way for Virginia DOT. Will Amazon support that transformation, which is needed to make Crystal City a truly walkable place? Traffic studies show that the boulevard can handle the traffic, and these urban boulevards always work better than expected, but the change would be controversial. 
Amazon's decision to build in cities, rather than suburban office campuses, will benefit the company in the long run. The connection to authentic urbanism will help Amazon to attract talent and succeed. But it also adds responsibility. How far is Amazon willing to go to support new parks and public spaces, walkable streets lined with shops and services, and a diverse mix of uses? Will it, in short, create neighborhoods? And how committed is Amazon to supporting a diversity of people in these neighborhoods, people who are needed to run the services that will attract and support its employees? These are big questions for Amazon, the local communities, and urbanists going forward.