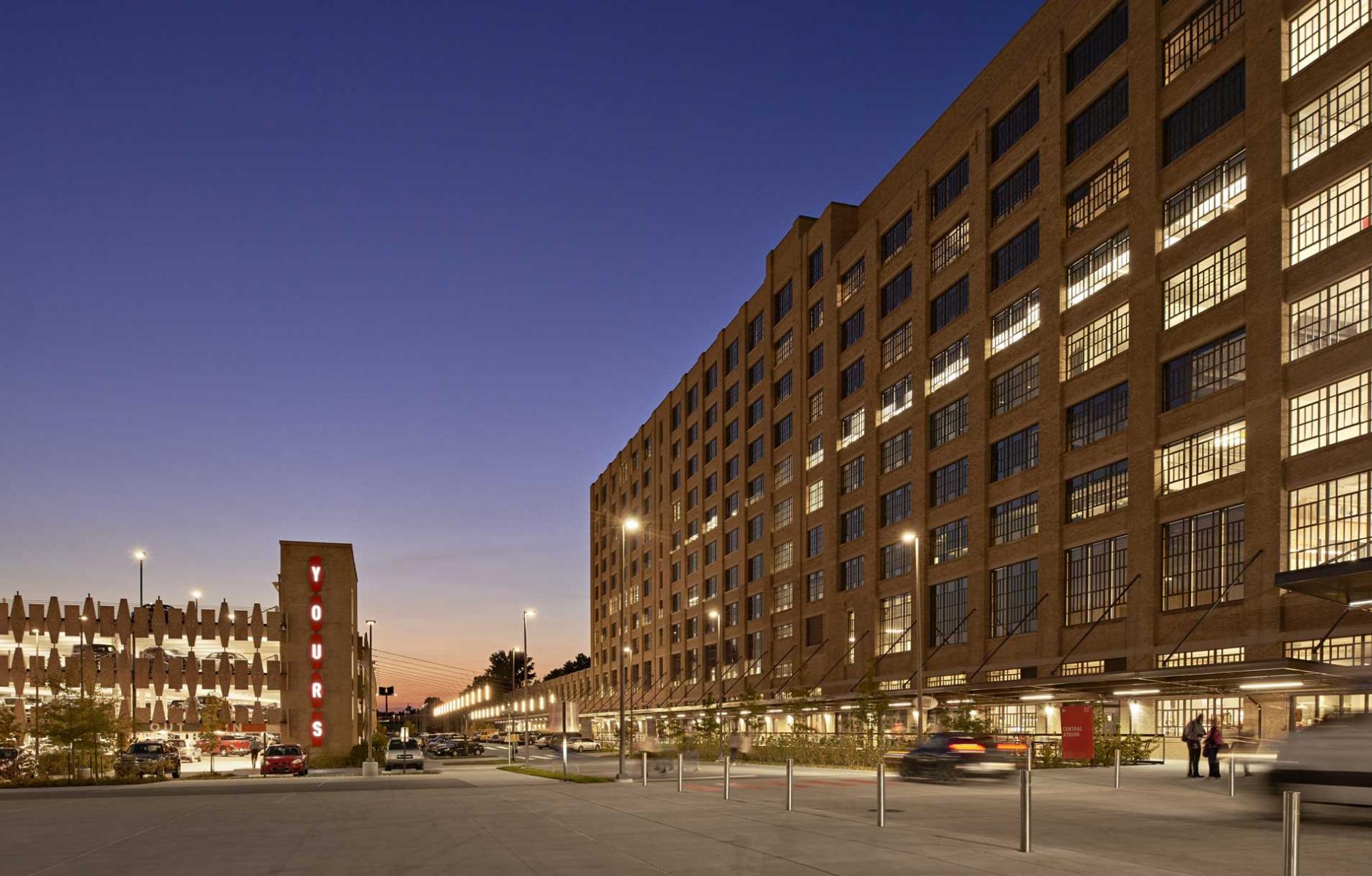 Crosstown Concourse exterior. Source: Looney Ricks Kiss
Memphis warehouse redevelopment tops Charter Awards
Crosstown Concourse, the redevelopment of a 1.3 million square foot former Sears distribution center that sat empty for decades among run-down Memphis neighborhoods, won the Grand Prize in CNU's 17th annual Charter Awards, announced in Savannah, Georgia, over the weekend.
This year, the Congress for the New Urbanism recognized 11 professional projects and 3 student projects. The awards were announced at CNU 26.Savannah, a 4-day Congress that brought together 1,600+ people to advance the art and science of city- and town-building in the US and internationally. The event was the largest-ever Congress, which has been taking place annually since 1993. The Charter Award winners manifest the principles of the Charter of the New Urbanism.
 "The winners show us how New Urbanism can open up opportunities for people, providing housing choices and transportation options, and repairing the social fabric through equitable, livable designs for many people, not just a select few," said co-chair Maurice Cox, Director, Detroit Planning and Development.
The top winner went to the architecture, design, and planning firm Looney Ricks Kiss for Crosstown Concourse, a "Vertical Urban Village" that has attracted impressive partnerships and includes 265 apartments (20 percent of which are affordable housing) a public charter school, a YMCA, health care facilities, restaurants, shops, and a 425-seat theater. Most importantly, the project is creating new community connections among residents, service providers, educators, and businesses.
Other winners include designs to introduce affordable "missing middle" housing into neighborhoods; the reintroduction of a University of Connecticut campus into a struggling downtown; a tactical urbanism project that created more public space in Miami's downtown; and an innovative shared street in Chicago's Uptown neighborhood.
The student grand prize was awarded to Africa Drawn: 100 Cities, a much-needed compendium of drawings that offers a pattern book of pan-African urbanism, depicting the cityscapes of 100 African cities. This student project was sponsored by the University of Pretoria and Holm Jordaan Architects and Urban Designers. 
Jury co-chair Jennifer Hurley added: "In addition to inclusive placemaking, these projects demonstrate substantial achievements in implementation, moving beyond visioning to realize projects that preserve or create the very specific, local character of places." Hurley is President and CEO of Hurley-Franks & Associates.
The other 2018 Charter Awards winners are:
Argyle Shared Street, Chicago, Illinois
Expanding pedestrian public space
site design group, ltd.
Biscayne Green, Miami, Florida
Tactical urbanism project broke through red tape to deliver public space in the heart of downtown Miami.
The Street Plans Collaborative
Davidson's Rural Area Plan, Davidson, North Carolina
Cultivating conservation and quality growth
Town of Davidson, NC
LaFrance Walk, Atlanta, Georgia
Bringing "missing middle" and live/work housing into a residential area.
Kronberg Wall Architects
Strategic Investment Area Plan, Charlottesville, Virginia
Plan transforms former industrial stream valley into mixed-income, mixed-use district.
Cunningham | Quill Architects
Swann Wynd, Chattahoochee Hills, Georgia
Pedestrian priority in a walkable community
Rhinehart Pulliam & Company
Sweet City: defeating the city-nature antagonism, Curridabat, Costa Rica
A plan to recover urban nature for a healthier city.
Municipalidad de Curridabat/Tandem Arquitectos
Tregunnel Hill, Newquay, Cornwall, England
Beautiful affordable housing built sustainably in a coastal town.
ADAM Architecture with the Duchy of Cornwall
UConn Downtown Hartford, Hartford, Connecticut
A major institution connects to downtown.
Robert A.M. Stern Architects
The Village of Providence, Huntsville, Alabama
Suburban infill fosters community.
DPZ CoDESIGN
Student Projects
Student Grand Prize: Africa Drawn, South Africa
A pattern book of the diverse urbanism of African cities.
The University of Pretoria and Holm Jordaan Architects
A Future for the Past: urban revitalization of a historic inner-city neighborhood, Tehran, Iran
Contextually sensitive design for dilapidated neighborhood in a traditional sector of Tehran.
Sponsored by UC Berkeley, College of Environmental Design
A Framework for Empowerment, Buenos Aires
Empowering the community to self-build affordable housing and cultural landscapes in the shanty town of 'Villa 31'
Sponsored by UC Berkeley, College of Environmental Design