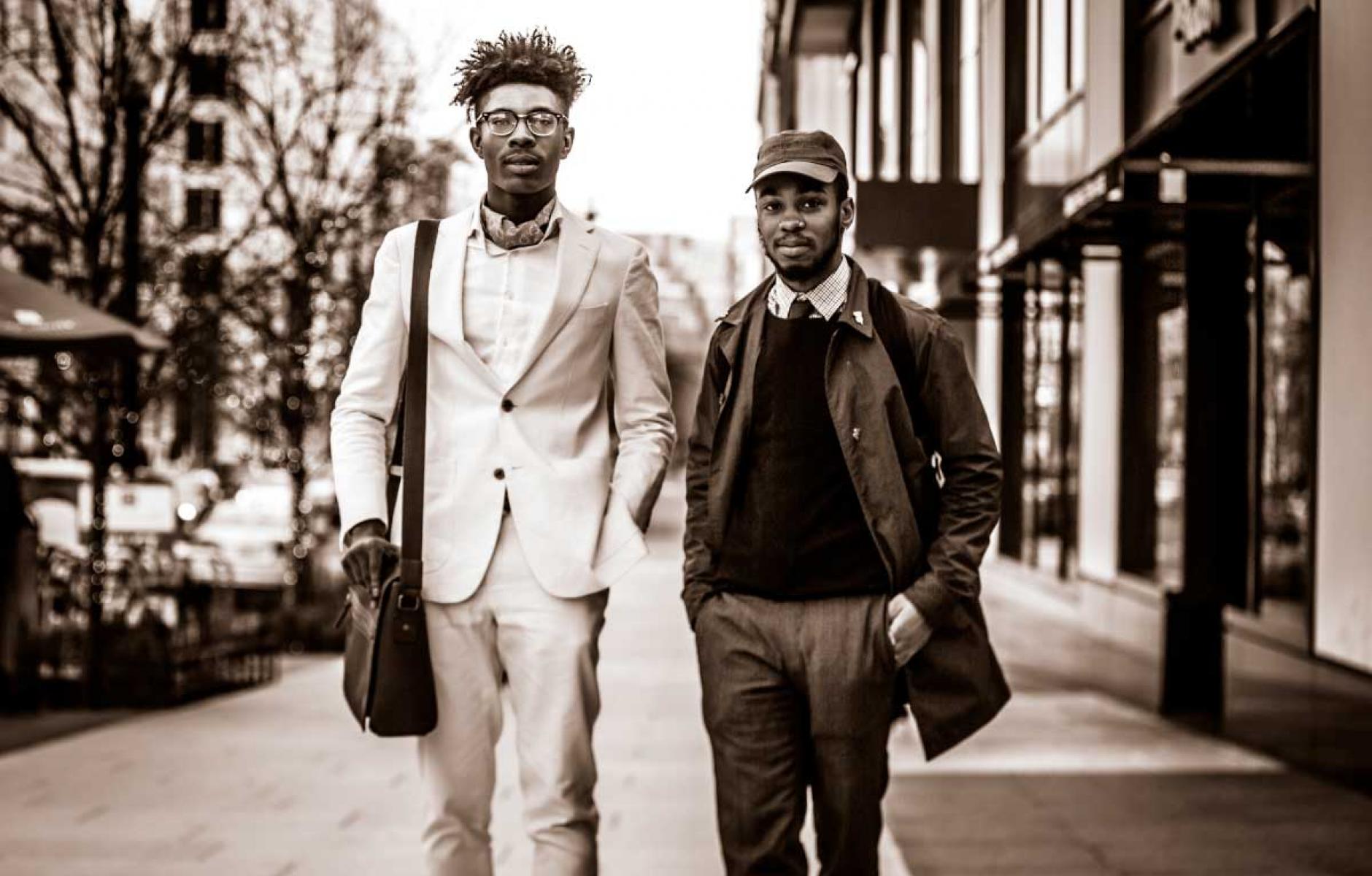 Credit: Johnny Silvercloud, creative commons license
An inclusive, nationwide movement to walk
Younger and older Americans are not the only ones at risk. The summit focused on challenges faced by pedestrians in racially and economically disadvantaged communities, as well as rural areas.
Note: CNU is a lead organization in America Walks' focus on walking in October, 2017.
Few things in life relieve stress, instill creativity and boost health and more than taking a stroll.
"Walking is a man's best medicine," Hippocrates declared in the 4th Century BCE. "To solve a problem, walk around," St. Jerome advised during Roman times. "When we walk, we come home to ourselves," observes Buddhist monk Thich Nhat Hanh.
This ancient wisdom is now backed up by modern science. A flurry of recent medical studies document the physical and mental health effects of walking as little as 30 minutes a day.
"The human body is designed to walk. Humans walk better than any other species on earth," explained George Halvorson—former CEO of the  healthcare network Kaiser Permanente—at the 2017 National Walking Summit in St. Paul.  The three-day event in September was organized by America Walks—a non-profit group encompassing more than 800 state and local organizations.
"We get less disease when we walk.  We recover from disease sooner when we walk," he said, noting half of all US healthcare costs stem from chronic diseases, which walking helps prevent and treat.  "We can save Medicare when we walk."
The Summit—which attracted more than 600 community leaders, health professionals, planners and public officials from 45 states—celebrated the growing public awareness of walking's many benefits. Surgeon General Vivek Murthy urged Americans to walk more in a Call to Action in 2015, and the National Association of Realtors reports that "places to take walks" are the #1 quality home buyers look for in a neighborhood. Recent research also links walkable places to economic opportunities, social equity, stronger communities and a cleaner environment.
Is everybody welcome to walk?
But Summit goers were reminded there's a long way to go before walking is safe and convenient for all Americans—a point highlighted at the opening reception by St. Paul deputy mayor Kristin Beckmann, who announced that a 7-year-old girl and a 91-year-old man had been struck down by hit-and-run drivers in the previous 24 hours. The girl suffered a broken leg and the man a concussion in a city ranked relatively high for walkability, according to Walkscore.  
Pedestrian death and injuries are rising across the country at an alarming rate, as part of an overall spike in traffic crashes, noted many speakers at the conference. Speeding and drunk driving (which frequently involves speeding) are the chief culprits. The influential National Transportation Safety Board recently targeted speeding as an overlooked and deadly problem in America.
Younger and older Americans are not the only ones at risk.  The summit focused particular attention on challenges people on foot face in racially and economically disadvantaged communities, as well as rural areas.
Unwelcoming streets that deter walkers can become impassable roadblocks to the 54 million Americans who live with disabilities. "I walk when I drive my wheelchair," said Maryland activist Juliette Rizzio. "So I proudly stand with you to promote inclusion. Walkability. Rollability. Possibility!"
Tyler Norris, CEO of the Well Being Trust, remembered civil rights activist Shavon Arline-Bradley asking a pointed question at the first Walking Summit in 2013: "Is everybody welcome to walk?"
Rutgers University researcher Charles Brown offered an answer at the closing session of this year's Summit's.  "I see the support, the commitment here to equity," which he described as an understanding that communities suffering historic disinvestment need help to catch up.  "This is the beginning of a movement."
The path forward
 The first-ever report cars on walking and walkable communities was announced at the Summit, underscoring the importance of the emerging walking movement.  The United States as a whole gets a failing grade in the following subjects: 1) pedestrian safety; 2) pedestrian infrastructure; 3) walking opportunities for children; 4) business and non-profit sector policies; and 5) public transportation, which is a key factor in walkable communities. We earned a D for public policies promoting walking, and a C in walking opportunities for adults.
Russell Pate—one of America's leading experts on physical activity—provided some context. "We know these are better than they would have been 10 or 20 years ago. Millions of people met the standards and so did some communities."  Pate and colleagues at the University of South Carolina Arnold School of Public Health oversaw a committee of scholars from numerous fields to assess the state of walking today as part of the National Physical Activity Plan Alliance.
Rather than deflating Summit participants, this poor performance review fired them up to learn as much as possible from one another about how to improve walking in their hometowns. Here's what's happening across the country.
Fresno, California
At a packed workshop, Esther Postiglione of Cultiva La Salud shared tips about what worked to boost walking in Latinx communities around Fresno: Walk to School Days; walking clubs (Pasos a la Salud);  Open Streets events; and community workshops (providing childcare and food) so people can express what they want for their communities. 
"When some city officials told us that people in Southeast Fresno don't want to walk. Our answer was: That's not what we hear," Postiglione recounted. "This shows why it's important to meet people where they live, play and work. Not expect them to come to City Hall."
South Dakota
The state's most remote counties are particularly afflicted by conditions linked to inactivity such as diabetes and obesity. Ann Schwader of South Dakota State University Extension identified and trained "walk coaches" in four rural communities, who organized local walking campaigns.  Schwader will offer another "Everybody Walks! SD" training next February to bring additional communities on board.
Boston, Massachusetts
The city is designating "slow zones" where speeds are capped at 20 mph as part of its Vision Zero commitment to sharply reduce traffic deaths among walkers, bikers and drivers. Forty-seven neighborhoods across town applied to be part of the program, notes Wendy Landman, director of Walk Boston. "The surge of interest by the public to make their neighborhoods safer stunned the city."
Valley Hi—Sacramento, California
This mixed-income, mixed-race neighborhood suffered a 50 percent higher rate of emergency room visits for heart disease, stroke, diabetes and asthma attacks than the Sacramento region as a whole, and 36 percent of its residents were obese. One reason was that walking was stymied by unsafe traffic conditions and crime at the local park. Neighbors, churches and institutions—organized by the Health Education Council—worked to reclaim the park by adding a crosswalk, stepping up law enforcement, increasing recreation activities and launching a weekly walking group, Walk With Friends.  Use of the park rose by 274 percent—and the Walk With Friends idea has been picked up in three other parks around Sacramento.
Decorah, Iowa
Pedestrians are plentiful on sidewalks and trails in this town of 8000 near the Minnesota border until the snow flies and the Upper Iowa River freezes.  To keep folks moving December to February, local groups sponsor the Beat the Blues Winter Marathon encouraging everyone to walk, cross-country ski, snowshoe or bike 26.2 miles.  "You can take two weeks or two months. You can do two, three or more marathons over the winter," explained April Bril, one of the organizers.  
Rondo—St. Paul, Minnesota
A freeway tore through the heart of St. Paul's African-American community in the 1960s, destroying 687 homes and more than 100 businesses even though an alternative route one mile away would have followed a largely vacant rail corridor.  "All my friends just went away," remembers Marvin Scroggins, who grew up in the once bustling Rondo neighborhood.
Many Rondo residents now propose to heal some of the lingering wounds by constructing a half-mile long land bridge over the freeway, creating new space for parks, housing and businesses which can reconnect the community.  Local foundations and the state department of transportation are showing interest in the project.  "It's more than a bridge," explains Darius Gray of the Friendly Streets Initiative, noting that land bridges have been built in Duluth, Minnesota, as well as Dallas, Seattle and Columbus.