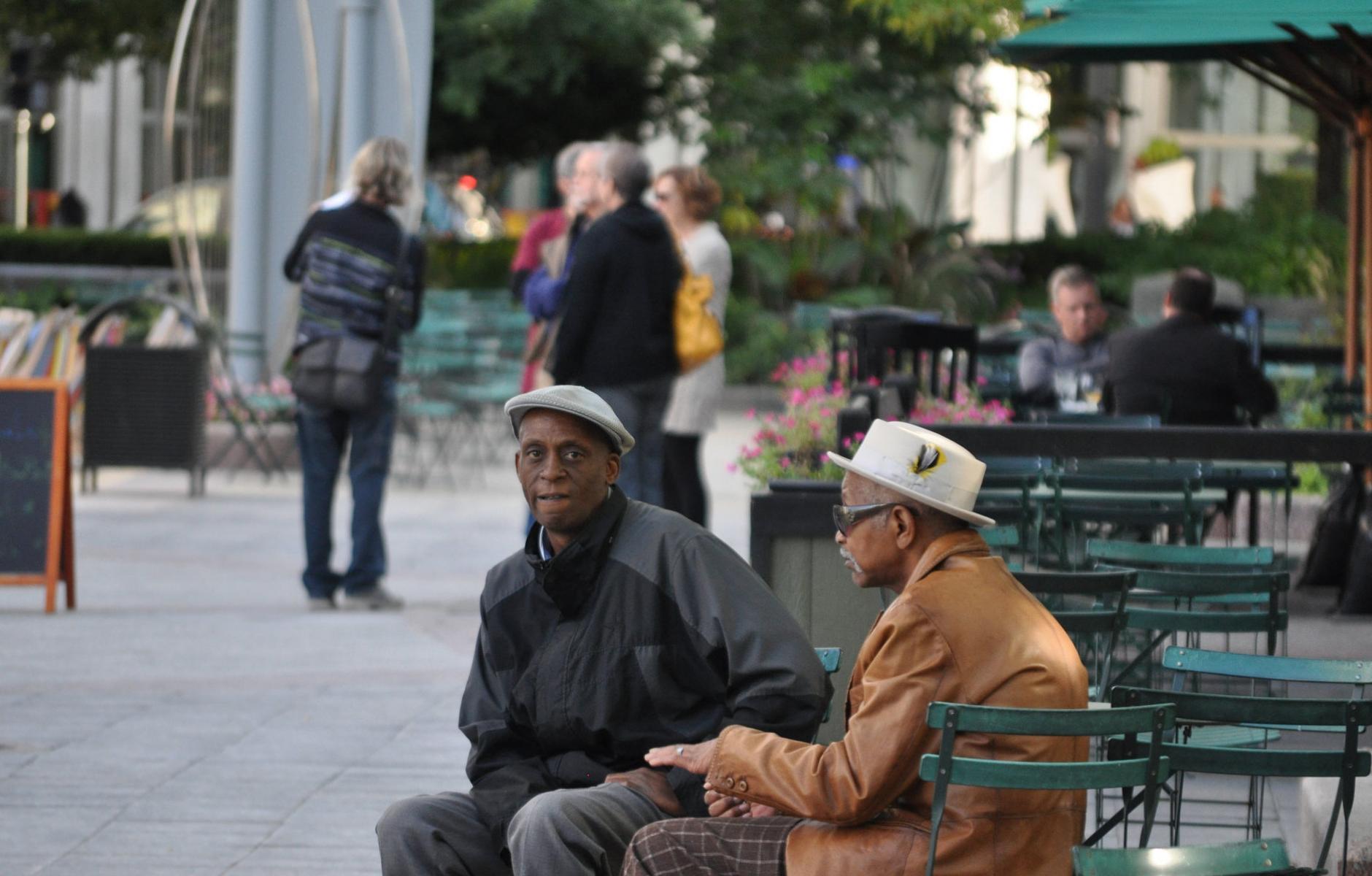 Campus Martius Park. Photo by Michigan Municipal League, via Flickr.
CNU 24 Daily Wrap-Up: Wednesday, June 8
Detroit comes alive with sessions, tours, workshops, and events at #CNU24
CNU 24 is in full swing, and the city of Detroit may never be the same. Over 1400 New Urbanists have landed, unpacked, and set about exploring the city—from Downtown, Midtown, and Corktown to the outer reaches of Windsor and Ann Arbor. Meanwhile, expert speakers on wide-ranging topics are already capturing their imagination with the how, where, when, and why of creating great places.
Every day this week here at Public Square: A CNU Journal, we'll collect the highlights of our annual Congress, as seen through the eyes of our members and followers. Here's the #CNU24 Daily Wrap-up for Wednesday, June 8.
The new TOD: Trail-Oriented Development @DetroitGreenway @DetroitRvrfrnt #CNU24 pic.twitter.com/1nChkpFkBH

— Mike Lydon (@MikeLydon) June 8, 2016
A shortie from day 1 on bikes in Detroit #CNU24 @VictorDover @cnunextgen @johnsimmerman https://t.co/oV6mloV37l

— Active Towns (@ActiveTowns) June 8, 2016
50% of Americans don't drive cars. If you want to talk about social justice, talk about how we exclude 50% of the pop in our planning #cnu24

— Tyson McShane (@TysonMcShane) June 8, 2016
We absolutely must put people first in our design of places. @Kaid_in_DC #CNU24

— The League (@MMLeague) June 8, 2016
Lunchtime @DetOperaHouse parking lot. Tactically activated for #CNU24 pic.twitter.com/KvmI3MPsEG

— Adam A Cook (@fewlittleplans) June 8, 2016
Scenes from Day 1 of @NewUrbanism does #Detroit.

(From social media posts by #CNU24 urban planning participants.) pic.twitter.com/hPMmEmX5Hk

— Deadline Detroit (@DeadlineDetroit) June 8, 2016
#JuneWilliamson: 3 strategies for retrofitting suburbia - re-in habitation, re-development, re-greening #CNU24 @NewUrbanism

— The League (@MMLeague) June 8, 2016
#missingmiddlehousing 202 great cast of speakers led by @OpticosDesign #cnu24 pic.twitter.com/Ttmiiy4uYP

— Eric Kronberg (@EricKronberg) June 8, 2016
Create the things you wish existed. #Detroit #cnu24 pic.twitter.com/3fsoExbgA9

— Hazel Borys (@hborys) June 8, 2016
Mixed-use urbanism generates 17x property tax when compared to big box retail in value per acre. #CNU24 pic.twitter.com/ATI5VqEIBa

— UrbanCincy.com (@UrbanCincy) June 8, 2016
Examining #Detroit for development potential at #CNU24 @DPGilmartin @NewUrbanism pic.twitter.com/Acri2P1IYC

— The League (@MMLeague) June 8, 2016
Examining #Detroit for development potential at #CNU24 @DPGilmartin @NewUrbanism pic.twitter.com/Acri2P1IYC

— The League (@MMLeague) June 8, 2016
Secret sauce of developing missing middle housing #CNU24 pic.twitter.com/z9vhWyvKgu

— Eric Kronberg (@EricKronberg) June 8, 2016
Tactical urbanism! #tacticalurbanism @StreetPlans #CNU24 @NewUrbanism pic.twitter.com/Au2v4okl1B

— Dan Majewski (@dan_majewski) June 8, 2016
BTS look at @NewUrbanism's Legacy Charrettes in the video below. See their results at #CNU24. #OneDetroit #thisisCNUhttps://t.co/turEWTPC6o

— Detroit Public TV (@detroitpublictv) June 8, 2016
#CNU24 Enjoying the conference and Detroit pic.twitter.com/TmNIDOZ3FD

— Lesley Pavan (@lesley_pavan) June 8, 2016
Live demo #CNU24. Tools to quickly sketch ideas #tactical-urbanism @Open_Streets #cocitytour pic.twitter.com/dfNn975rxk

— RCayla (@RaphCayla) June 8, 2016
Let's talk walkability w/ @JeffSpeckAICP #CNU24 pic.twitter.com/2UZLLiV9QS

— NewUrbanism (@NewUrbanism) June 8, 2016
#OpenStreets can change the mindset of communities about walkable, bikeable, livable urbanism. @MikeLydon #CNU24 pic.twitter.com/6neKzxWXmt

— CNU New England (@CNUNE) June 8, 2016
Mayor Mike Duggan welcomes #CNU24 to Detroit. Electric. pic.twitter.com/vMbjbgfLGo

— NewUrbanism (@NewUrbanism) June 8, 2016
Mayor duggan- car plants found it easier to suburbanize because plants could be on one floor in suburbs #CNU24

— mlewyn (@mlewyn) June 8, 2016
Carol Coletta (@ccoletta) of @kresgefdn takes the stage at #CNU24. pic.twitter.com/3KqfzsnlxB

— NewUrbanism (@NewUrbanism) June 8, 2016
Why don't we count parks and libraries as infrastructure? ~@CColetta #CNU24

— Eliza Harris Juliano (@myurbangen) June 8, 2016
Great goal, @ccoletta! "We want so many desirable neighborhoods that everyone can find attractive homes at all price points!" #CNU24

— Transit Riders (TRU) (@DetroitTransit) June 8, 2016
Mayor Joe Riley speaks to #CNU24 about Charleston, Detroit, and the future. pic.twitter.com/E8yJqXzRu4

— NewUrbanism (@NewUrbanism) June 8, 2016
#CNU24 Mayor Joe Riley of Charleston: Main Street belongs to everybody. It is the common public realm.

— Sprawl Repair (@SprawlRepairMnl) June 8, 2016
#CNU24 Mayor Joe Riley of Charleston: Main Street belongs to everybody. It is the common public realm.

— Sprawl Repair (@SprawlRepairMnl) June 8, 2016
"How does a mother feel holding her child's hand walking down the street?" Maybe the most important question for street design. #CNU24

— Jon Larsen (@stretchtraffic) June 8, 2016
Former Charleston Mayor swears this trolley saved marriages by preventing fights over driving, parking. #CNU24 pic.twitter.com/RI5oVd6utF

— Transit Riders (TRU) (@DetroitTransit) June 8, 2016
Our public spaces should be a place where our citizens can go every morning to bathe themselves in peace and beauty. Mayor Joe Riley #CNU24

— Hazel Borys (@hborys) June 8, 2016
The Belt. Alley activation between parking garages and old buildings. Things are hopping on a week night. #CNU24 pic.twitter.com/Z8HnqdJR9z

— Katherine Coles (@plannerk8) June 9, 2016
Detroit= passionate & engaged & determined. #CNU24 pic.twitter.com/KNJNLrAV4i

— Eric Kronberg (@EricKronberg) June 9, 2016