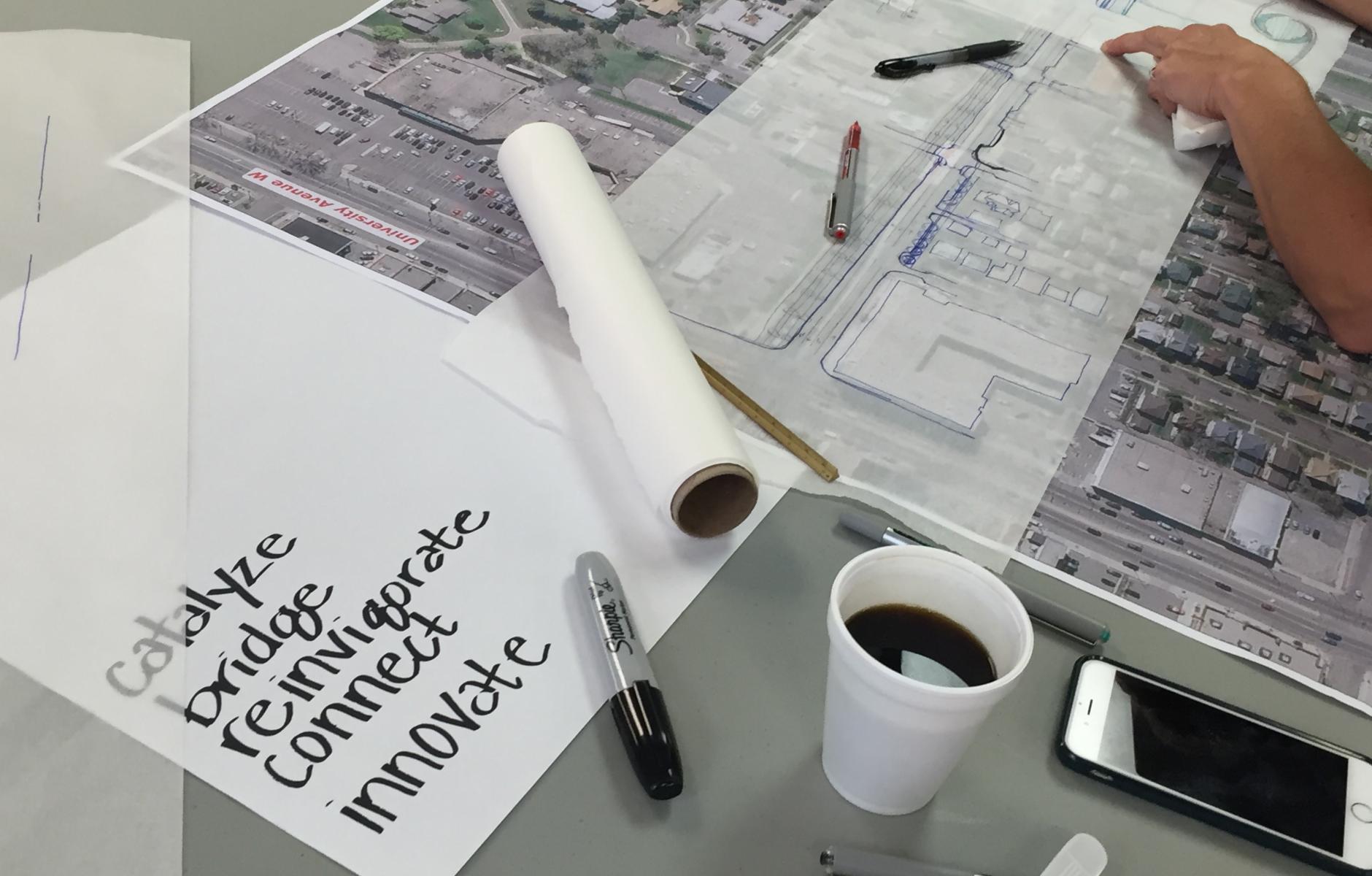 Workshop Recap: #EveryPlaceCounts St. Paul Design Challenge, Day 2
"Aiming to create a land bridge over I-94 in Rondo, St. Paul!"
This week, USDOT and CNU finished the #EveryPlaceCounts Design Challenge with a workshop in St. Paul, MN as part of the Secretary's Ladders of Opportunity initiative. Led by national transportation and urban design experts, dozens of local officials, residents, and business owners gathered to build consensus and generate strategies for reconnecting neighborhoods impacted by highway infrastructure. According to the City of St. Paul:
"The construction of I-94 divided the Rondo, a historically African American community in the Minneapolis metro area, and as the city has grown more diverse, ethnic enclaves are still clustered on either side of the highway now including Asian Americans and Native Americans as well. The community would like to develop exemplary models of community design and engagement to guide future corridor planning efforts."
Here are the highlights and insights from the final day of work:
The final day of #EveryPlaceCounts has kicked off reconnecting neighborhoods in #StPaul, MN. pic.twitter.com/JGsfcESJCG

— NewUrbanism (@NewUrbanism) July 19, 2016
Aiming to create a land bridge over I-94 in Rondo, St. Paul #EveryPlaceCounts #DOTConnects pic.twitter.com/uDTQPUok6A

— Nate Hood (@Nathaniel1983) July 19, 2016
Glad to take part in FHWA's #EveryPlaceCounts event in MSP on behalf of @APA_Planning. #reconnectingcommunities pic.twitter.com/aJyKVhJCsg

— Dan Haake (@HaakeTranspo) July 19, 2016
Day 2 lots of fun! Public session 3:30-5:00 pm tonight! 540 Fairview Ave #EveryPlaceCounts #TwinCities #DOTConnects pic.twitter.com/wIRDgaCXiS

— MnDOT (@mndotnews) July 19, 2016
Aiming to create a land bridge over I-94 in Rondo, St. Paul #EveryPlaceCounts #DOTConnects pic.twitter.com/MX9NbJ6uIU RT @Nathaniel1983

— Clarity Solutions (@ClaritySol) July 19, 2016
There's 6 times more paper in this room today. #DOTconnects #EveryPlaceCounts

— Sean Ryan (@seanrichardryan) July 19, 2016
@mikesonn Some conceptual renderings at Victoria and I-94 (via @ericorozco) #EveryPlaceCounts pic.twitter.com/HapNQqqMMS

— Nate Hood (@Nathaniel1983) July 19, 2016
@EricSaathoff @mikesonn @ericorozco @alexcecchini Marketplace plaza "cap" at Victoria St & I-94 #EveryPlaceCounts pic.twitter.com/4V89O95Hby

— Nate Hood (@Nathaniel1983) July 19, 2016
#EveryPlaceCounts final presentation w/@AdamDuininck in the house highlighting importance of #engagement & #equity. pic.twitter.com/RXCrmwLDcX

— Cindy Zerger (@path_as_place) July 19, 2016
Final #EveryPlaceCounts Community Visioning Session! Many thanks to the Twin Cities Community Team...#DOTconnects pic.twitter.com/IQ7yDUGulN

— Stephanie Gidigbi (@SimplySJG) July 19, 2016
That about captures it...in words. Most powerful words on the board - We're sorry. #EveryPlaceCounts Twin Cities. pic.twitter.com/vo7jXeunXU

— Breanne Rothstein (@BreanneRothste1) July 20, 2016
Congratulations #DOTConnects #EveryPlaceCounts for engaging community how to improve the places around I-94. pic.twitter.com/Ejdon7yBfZ

— East Metro Strong (@EastMetroStrong) July 20, 2016