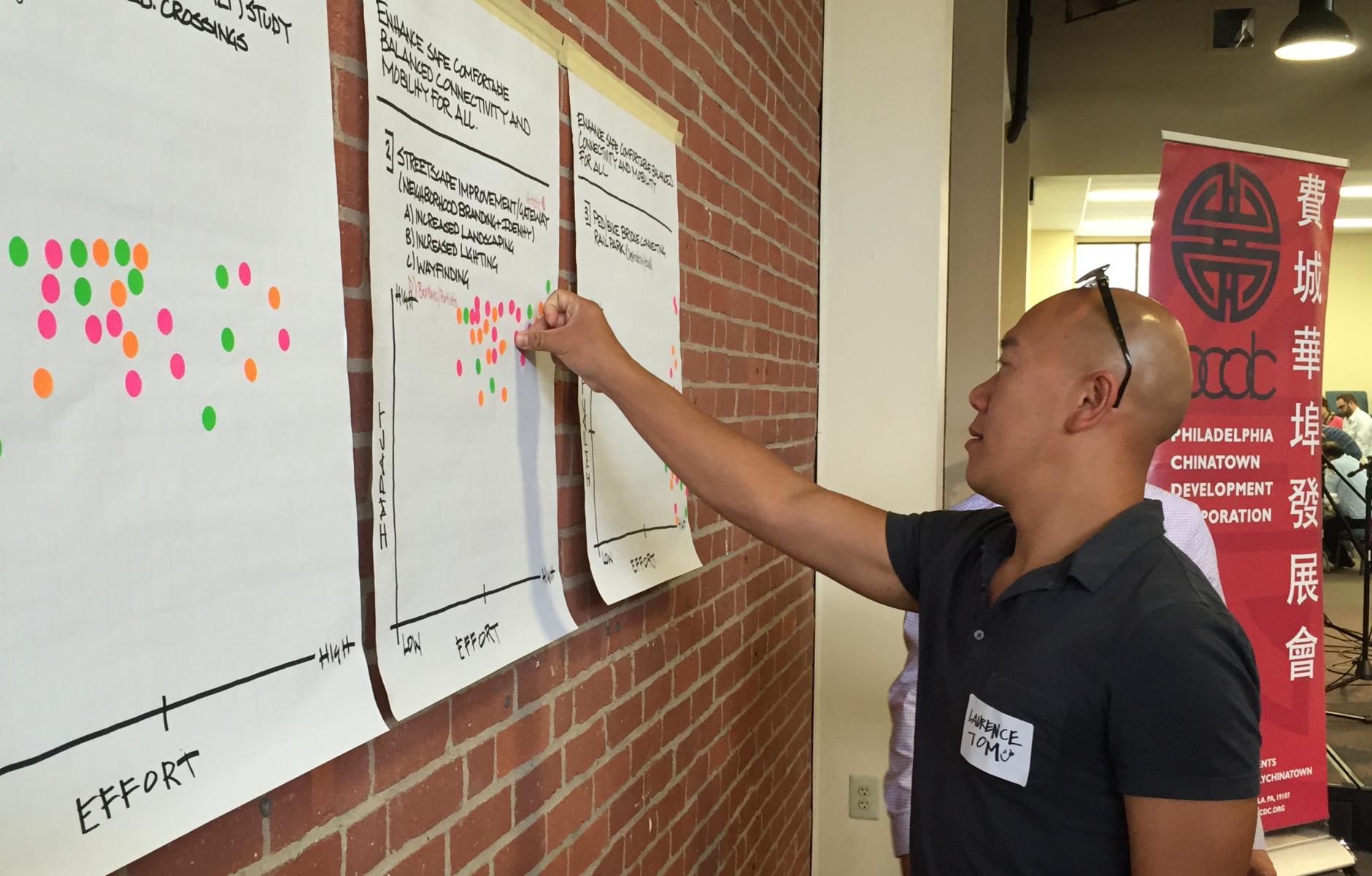 Workshop Recap: #EveryPlaceCounts Philadelphia Design Challenge, Day 2
"Advocacy + community involvement is not a static thing."
This week, USDOT and CNU continued the #EveryPlaceCounts Design Challenge in Philadelphia, PA as part of the Secretary's Ladders of Opportunity initiative. Led by national transportation and urban design experts, dozens of local officials, residents, and business owners gathered to build consensus and generate strategies for reconnecting neighborhoods impacted by highway infrastructure. According to the City of Philadelphia:
"Philadelphia's Vine Street Expressway, or I-676, cuts through the Drexel School of Medicine, Callowhill District, and Chinatown communities. The expressway has long impeded economic investment and access to green space for these neighborhoods along its path. The city aims to produce an aspirational vision for the seven-block focus area from 7th Street and Broad Street, along with a roadmap for further public engagement and an implementation plan."
Here are the highlights and insights from the second day of work:
Our design team is back in Philadelphia today assisting @USDOT with #EveryPlaceCounts! https://t.co/tfk1R8x41f

— NewUrbanism (@NewUrbanism) July 15, 2016
#EveryPlaceCounts day 2 activities. Getting ready for public mtg @USDOTFHWA @NewUrbanism @UrbanEngineers pic.twitter.com/j2BaTTjMwg

— Orla Pease (@Orla_Pease) July 15, 2016
Production in full swing. So many great ideas emerging from community conversation. #Philadelphia #EveryPlaceCounts pic.twitter.com/TWdaGIWDai

— Cindy Zerger (@path_as_place) July 15, 2016
Day 2 of #EveryPlaceCounts "Rethink Vine Street Expressway" community visioning. pic.twitter.com/CEC9DhzfuT

— LT (@laurencetom) July 15, 2016
Envisioning possibilities for #reconnecting Chinatown in Philadelphia with #EveryPlaceCounts pic.twitter.com/YcbYXWfc2o

— NewUrbanism (@NewUrbanism) July 15, 2016
Think how Vine St affects people getting to Pokestops and catching more Pokemon. #EveryPlaceCounts "Rethink Vine St Expressway" #PokemonGo

— LT (@laurencetom) July 15, 2016
#EveryPlaceCounts wraps up today in #Philadelphia as residents reimagine the possibilities for the #VineStreet Expy. pic.twitter.com/znEdPoDkwk

— TransportationGov (@USDOT) July 15, 2016
#everyplacecounts getting ready for big reveal! @USDOTFHWA @NewUrbanism @UrbanEngineers pic.twitter.com/YbCi8rfFkL

— Orla Pease (@Orla_Pease) July 15, 2016
Our #UrbanDesign team has been hard at work these last 2 weeks helping @DOTOpportunity achieve #EveryPlaceCounts https://t.co/jzomcemTel

— Toole Design Group (@tooledesign) July 15, 2016
First sighting of #PokemonGO reference in urban planning/walkability presentation at #EveryPlaceCounts Vine Street

— Sic Transit PHL (@SicTransitPhila) July 15, 2016
Concept drawing for Green gateway along the Ridge alignment between the Rail Park and Franklin Sq #EveryPlaceCounts pic.twitter.com/zlWmKeQeui

— Sic Transit PHL (@SicTransitPhila) July 15, 2016
Potential green space network (incl new green streets) for Northern Center City. #EveryPlaceCounts pic.twitter.com/4h4wvxpoMc

— Sic Transit PHL (@SicTransitPhila) July 15, 2016
#dotconnects #EveryPlaceCounts https://t.co/FVyLCMHHtG

— Jeff Alexander (@jdathela) July 15, 2016
Commenter denounces rush hour no-parking lanes on Vine Street. #EveryPlaceCounts

— Sic Transit PHL (@SicTransitPhila) July 15, 2016
A street that needs a 3-to-2 road diet shouldn't be expanded to 4 every morning. #EveryPlaceCounts

— Sic Transit PHL (@SicTransitPhila) July 15, 2016
Advocacy + community involvement is not a static thing. #EveryPlaceCounts @USDOT @DOTOpportunity pic.twitter.com/LlmtinxZX6

— PCDC (@PCDC_Events) July 15, 2016
Love this concept for limited decking I676 @ 10th to create a continuous north-south streetscape. #EveryPlaceCounts pic.twitter.com/Qyt6E8X78D

— Greg Krykewycz (@gkrykewycz) July 15, 2016
Inspired by watching Philadelphians develop vision for better Vine St for last 2 days #DOTConnects #EveryPlaceCounts pic.twitter.com/4gZrV74LcS

— Jason Broehm (@JasonBroehm) July 15, 2016
Was Exhausting bt awesome!! #EveryPlaceCounts @USDOTFHWA @NewUrbanism @PhiladelphiaGov @PennDOTNews @UrbanEngineers pic.twitter.com/8UJ5BkswgK

— Orla Pease (@Orla_Pease) July 16, 2016