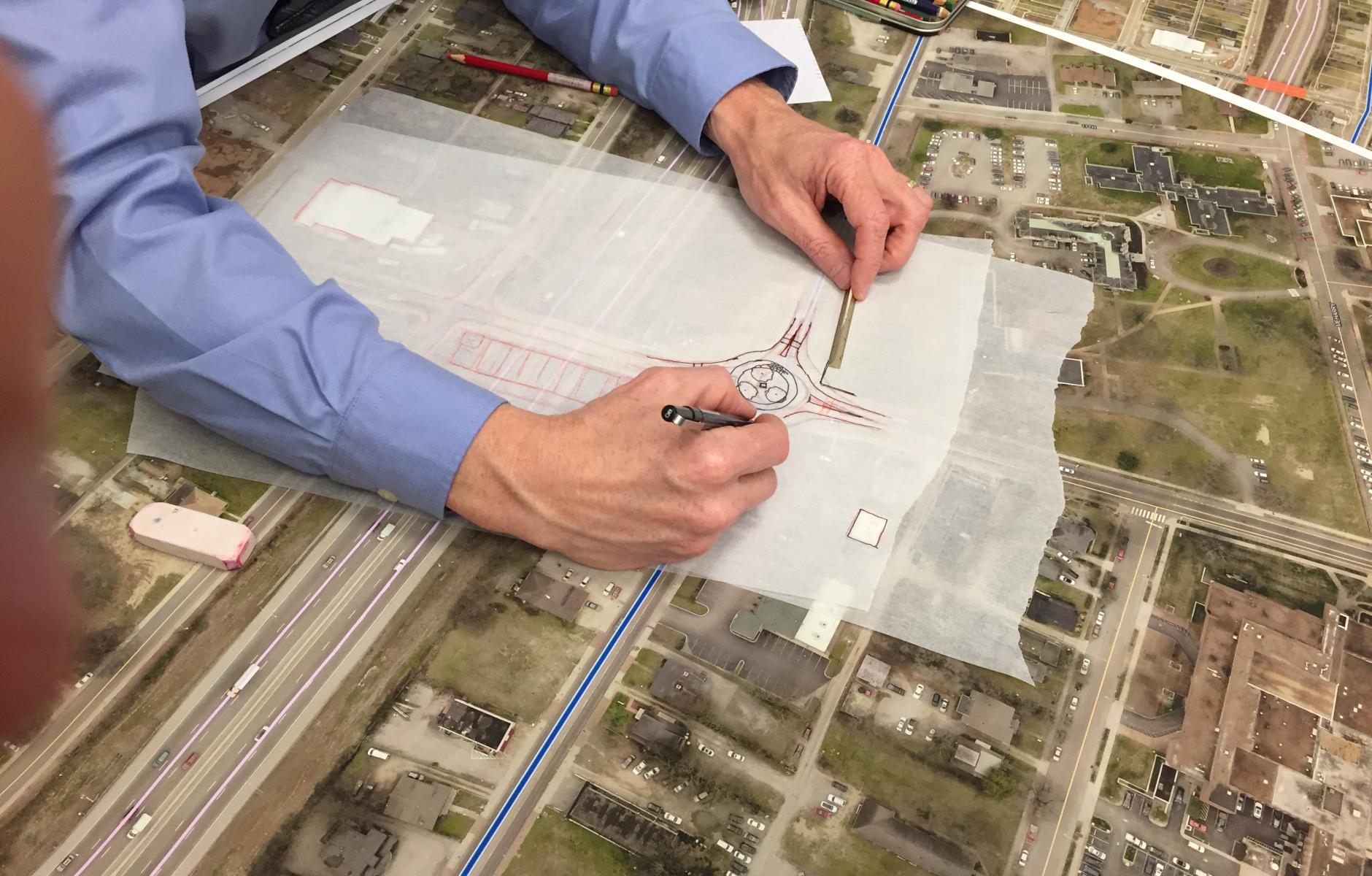 Workshop Recap: #EveryPlaceCounts Nashville Design Challenge, Day 2
This week, USDOT and CNU continues the #EveryPlaceCounts Design Challenge in Nashville, TN as part of the Secretary's Ladders of Opportunity initiative. Led by national transportation and urban design experts, dozens of local officials, residents, and business owners gathered to build consensus and generate strategies for reconnecting neighborhoods impacted by highway infrastructure. According to the City of Nashville:
"Nashville's I-40 was built through several predominantly African American, middle class neighborhoods in the 1960s, displacing residents and dividing a thriving community. Nashville plans to utilize well-established community partnership networks, gather input from community residents and business owners, host design sessions, synthesize ideas, post the results of the design sessions, and pursue implementation funds through its two-day design session."
Here are the highlights and insights from the second day of work:
Reimaging the possibilties in N. Nashville that honors the rich culture of area. #EveryPlaceCounts #DOTconnects pic.twitter.com/gEXyhvOl5l

— Stephanie Gidigbi (@SimplySJG) July 12, 2016
"Not just better, the best transit system possible!" I like how they are thinking over there. #EveryPlaceCounts https://t.co/5CgbZCfWRw

— Eric Orozco (@ericorozco) July 12, 2016
Charrette production mode. Presentation time in T minus 2.5 hrs. #EveryPlaceCounts pic.twitter.com/AsOpv4TzPE

— Cindy Zerger (@path_as_place) July 12, 2016
Expert designers are helping residents imagine neighborhood focal points and parks with #EveryPlaceCounts Nashville. pic.twitter.com/73gAyvaaxQ

— NewUrbanism (@NewUrbanism) July 12, 2016
Community visions turning into placemaking design strategies at #EveryPlaceCounts Nashville… pic.twitter.com/qYVY3woKjD

— NewUrbanism (@NewUrbanism) July 12, 2016
Day 2 of #EveryPlaceCounts #Nashville edition-the community is reimagining the possibilities! #DOTConnects pic.twitter.com/AN7VR3FCqH

— DOT Opportunity (@DOTOpportunity) July 12, 2016
Visualizing what we heard in North Nashville. A picture is worth a thousand words. #EveryPlaceCounts pic.twitter.com/cY9vXPiBjc

— Cindy Zerger (@path_as_place) July 12, 2016
@MayorMeganBarry ...and we are back @MeharryMedical as community collaboration continues...#EveryPlaceCounts pic.twitter.com/FFbm2rNe3I

— Phyllis Hildreth (@phalcon7) July 12, 2016
We are continuing the conversation today and we are proud to be a part of moving Nashville forward #EveryPlaceCounts https://t.co/wVLskcopwt

— Meharry Med College (@MeharryMedical) July 12, 2016
Thank you @MayorMeganBarry for coming to @MeharryMedical to discuss the needs of Jefferson St. #EveryPlaceCounts https://t.co/WXYi1EtqqD

— Meharry Med College (@MeharryMedical) July 12, 2016
Powerful vision & engagement! Thanks #Nashville for imagining possibilities w/ #EveryPlaceCounts. Next stop: Philly pic.twitter.com/npLh1ztRdN

— DOT Opportunity (@DOTOpportunity) July 13, 2016
Only 1 big idea of many, many ideas from #EveryPlaceCounts #Nashville. Thank you @USDOT @DOTOpportunity pic.twitter.com/JjobDzmyHM

— Michael Briggs (@transportBriggs) July 12, 2016
Thank you @MeharryMedical for hosting #EveryPlaceCounts #Nashville. Let's keep working on these great ideas. https://t.co/T0JmQ7riZb

— Michael Briggs (@transportBriggs) July 12, 2016
these #EveryPlaceCounts projects are great @NewUrbanism and @USDOTFHWA! Making me wish #houston's Pierce elevated was on the list!

— Kyle Shelton (@kylekshelton) July 13, 2016