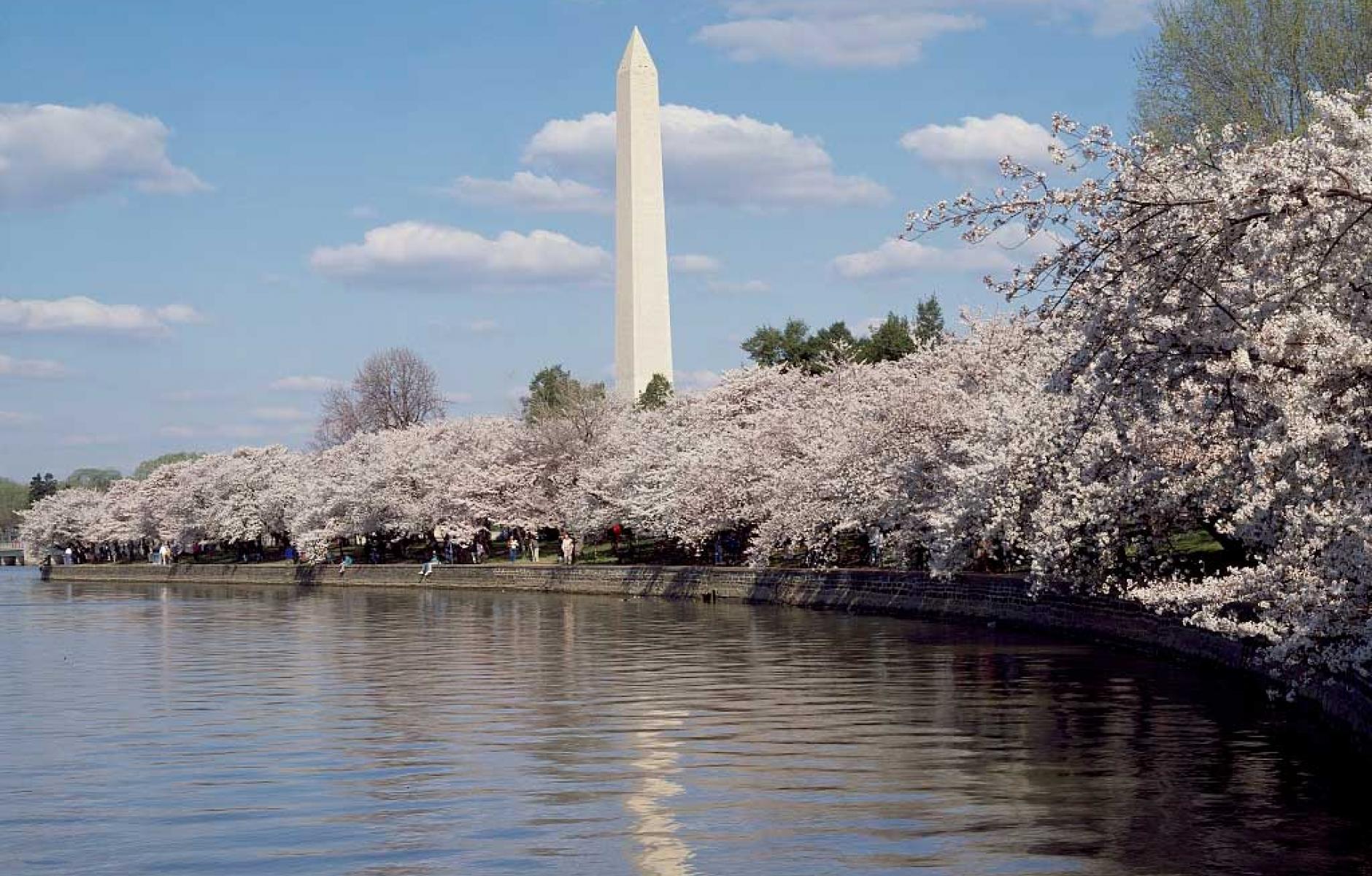 This could be the last year that cherry blossoms bloom on the National Mall. Source: Wikimedia Commons
An Olive Branch from the Middle East
While the election is taking up much of the current press, the budget deficit and continually looming government shutdown still continues to be a problem. However, a proposal has been made for our nation's capital to withstand a cost saving measure - and this one affects all of us, residents and tourists alike.
After the end of this year's Cherry Blossom Festival the iconic trees will be removed and replaced. They won't, however, be replaced with cherry trees but with olive trees. As an effort to improve relations with the US, factions from the governments of Syria, Iran, and Pakistan are joining together to donate the olive trees through an effort called Peace Thru Produce. "The cherry trees are so old and its time for a change" a spokesperson said through a translator. "Olives are much hardier trees that require less maintenance and even bear fruit to provide locally grown produce to inner city food deserts.  We understand the difficulties of any type of desert."
While it is not a flowering tree and slightly different in form than the cherry trees, the Park Service is confident that the size of the trees is comparable so the density of plantings will be maintained. There has been speculation that the cherry wood of the removed trees may be auctioned to replace part of the Park Service budget that will be cut in the government's financial crisis. The Peace Thru Produce spokesperson also offered the suggestion of an Annual Pressing Festival to provide a replacement tourist attraction and an additional revenue source - selling the olive oil. He further explained that this will be food grade oil and not suitable for bio-diesel, "we don't want to diminish any trade agreements for other forms of oil from our Middle East brothers."
It is likely that the first step will be the formation of a Congressional investigative panel to examine the relevance and appropriateness of olive trees for the Tidal Basin. As usual, Washington DC is providing fodder for the pundits and comedians; Jimmy Fallon renamed the area the "Salad Bowl", and Stephen Colbert expects the choice of black or green olives to become another bi-partisan issue. Few of the details of the tree exchange are certain but it is likely that the new trees will be in place by next April Fool's Day.