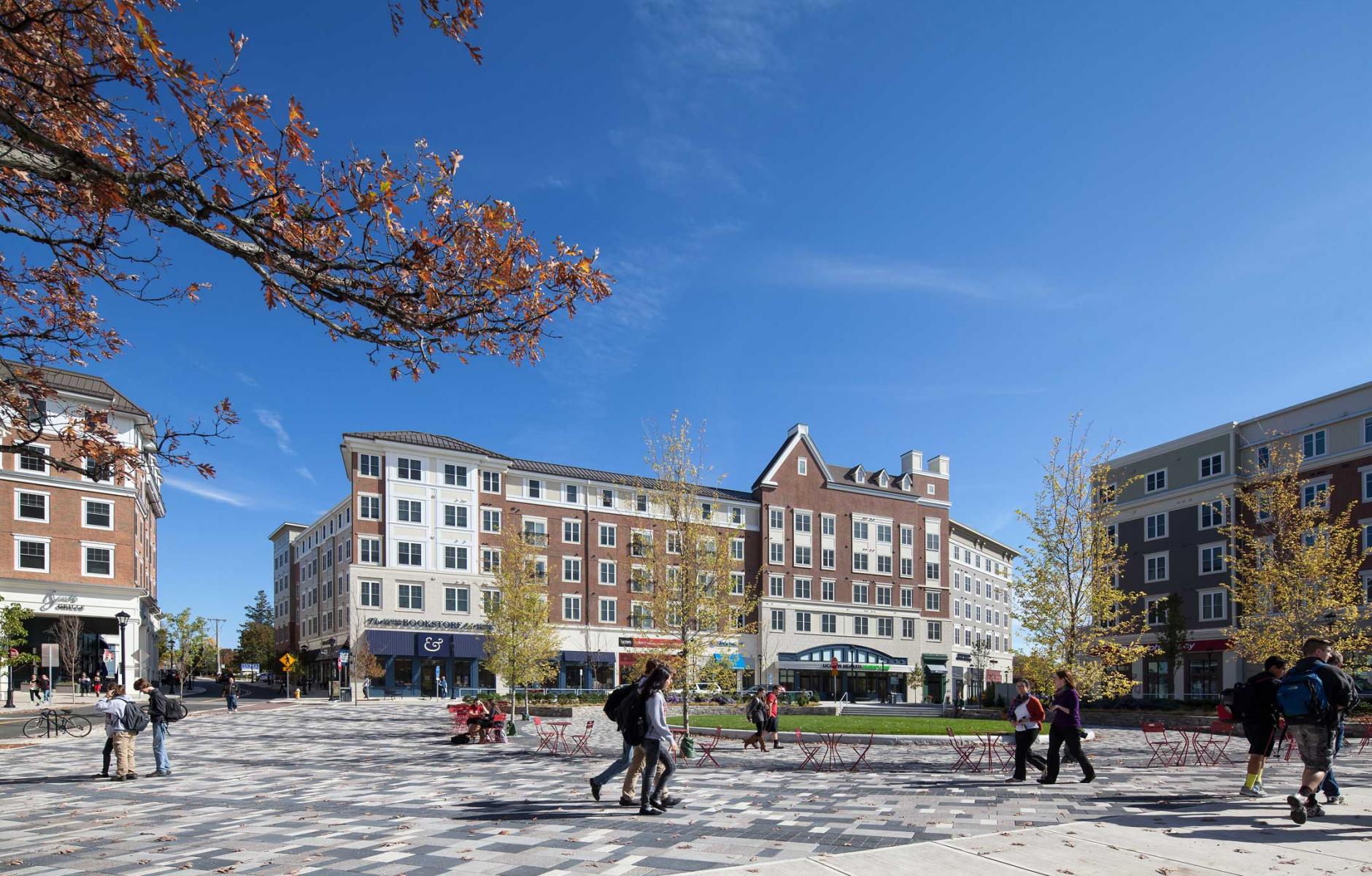 Mansfield's Towncenter, Storrs Center. Source: Courtesy of LeylandAlliance.
A mixed-use center for town and gown
The redevelopment of a suburban commercial strip area across from UConn has made Mansfield, Connecticut, a better place.
For a town with a major educational institution—the University of Connecticut—Mansfield was surprisingly short of urban amenities until a few years ago. "Mansfield," noted Connecticut Magazine, "offered little more than a couple of fading strip malls and a dilapidated restaurant along the university's main drag, Route 195." In those days, residents like Terese Karmel typically drove over an hour to a shopping mall for holiday gifts. 
Now, Mansfield has Storrs Center, a bustling district of stores and services across from the university, including a town square and more than 600 apartments, townhouses, and condominiums. "Thanks, forward-thinking planners, for injecting vitality into this community," writes Karmel in The Hartford Courant, "and for giving me a place to shop, eat and meet friends — those basics of life we all desire, without having to drive miles and spend hours finding a parking place."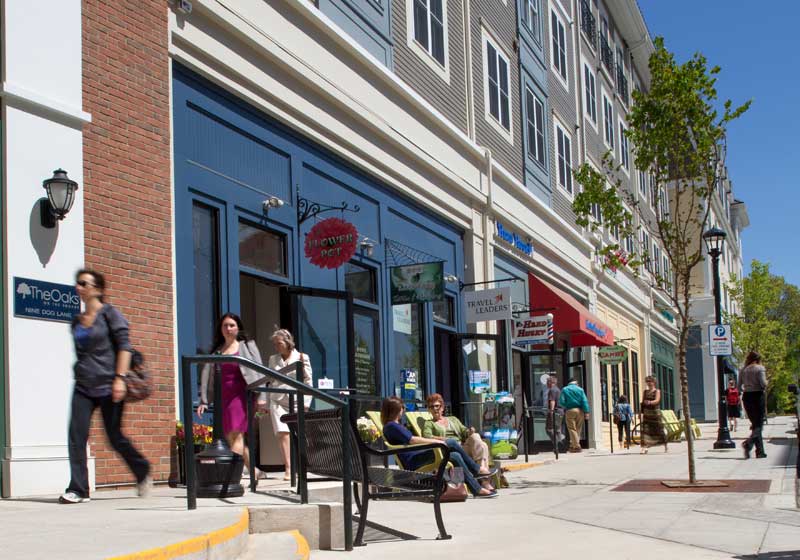 Karmel says she first opposed the center, "because I didn't want to lose the so-called 'rural atmosphere' of Mansfield. Silly me. Mansfield is plenty rural — 65 percent of it is undeveloped. Now it has the best of both worlds," she explains.
Mansfield has wanted a town center for 50 years, but officials didn't acquire the necessary land and sign with new urban developer LeylandAlliance until 2003. By the time construction began, the nation's real estate market had crashed. A tricky public-private project—including pollution mitigation, wetlands preservation, and relocating businesses from a small strip mall—Storrs Center got off to a slow start. Now success is palpable.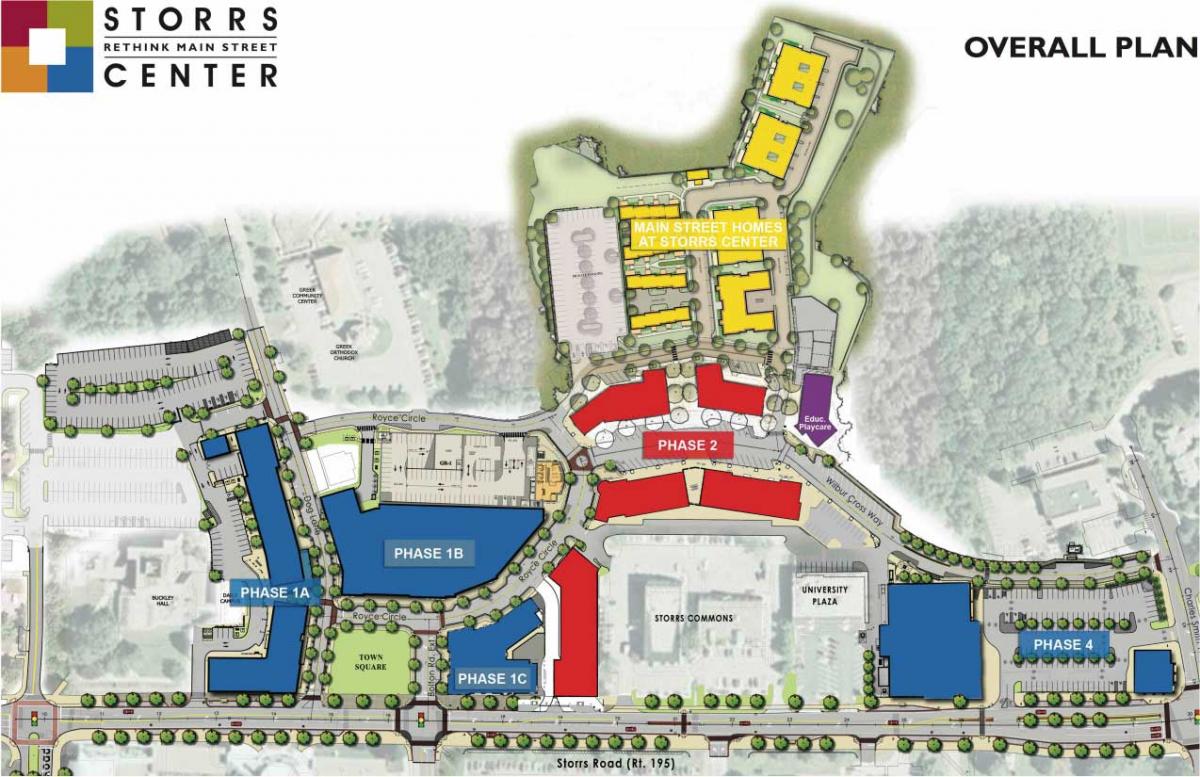 The $220 million project's final phase of for-sale housing is underway, and the sales are outpacing the construction. This is "more confirmation that Mansfield's residents, business, and college-student body have fully embraced Storrs Center," says the Courant.
Going from zero urbanism to five stories with ground-floor retail is a radical transition, but Mansfield had a pent-up demand for a walkable center. The Town Square is an important public space for the town and hosts events like Winter Fun Week, Storrs Center Stroll, and the Celebrate Mansfield Festival—the latter began in 2004 in anticipation of the town square being built. In 2014, the festival moved to the actual square—once it was completed.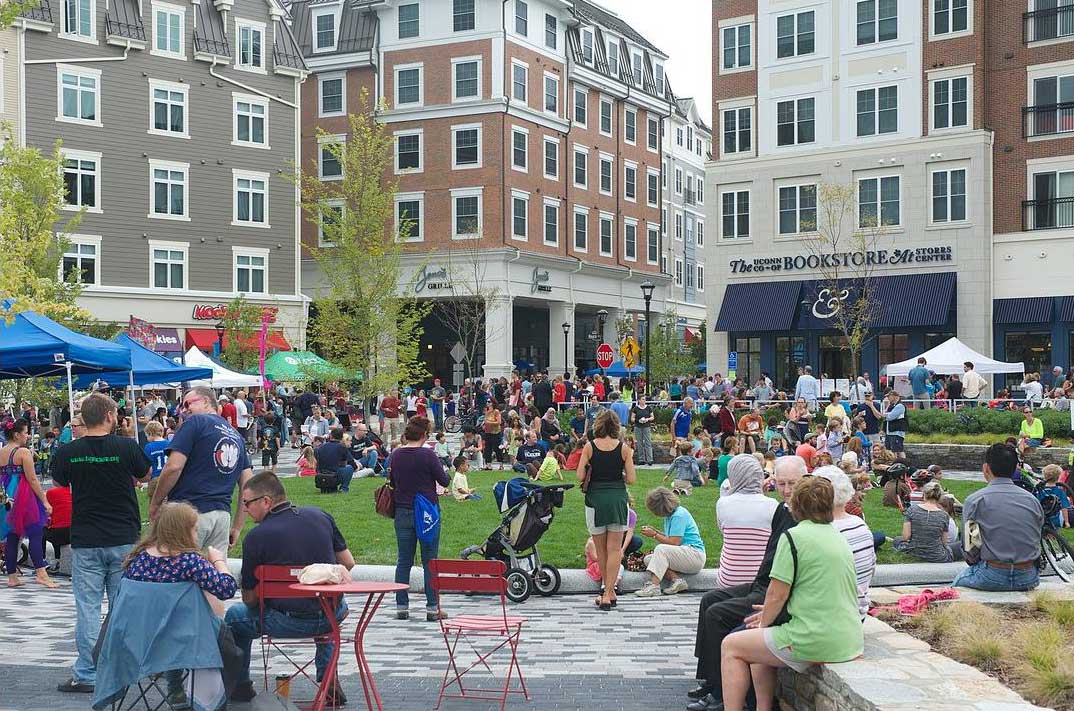 With human-scale streets winding around pre-existing businesses fronting the state highway, Storrs Center is essentially suburban retrofit. One of the first commercial tenants was an auto repair shop — perhaps the first auto repair facility ever placed in a new urban town center. Storrs Automotive occupies a pitched-roof building with a cupola, attached by a breezeway to the back of a four-story mixed-use building.
The shop effectively serves as a bookend for a rear parking and delivery area, partly concealing a view of pavement. The transition was not easy for the firm, which had fronted the highway directly, but business has been good. "I just had my busiest July ever," said Irene Schein, repair shop owner, during the first summer in the new location. That experience proves that even automobile-oriented businesses can fit into a town center with a little creativity.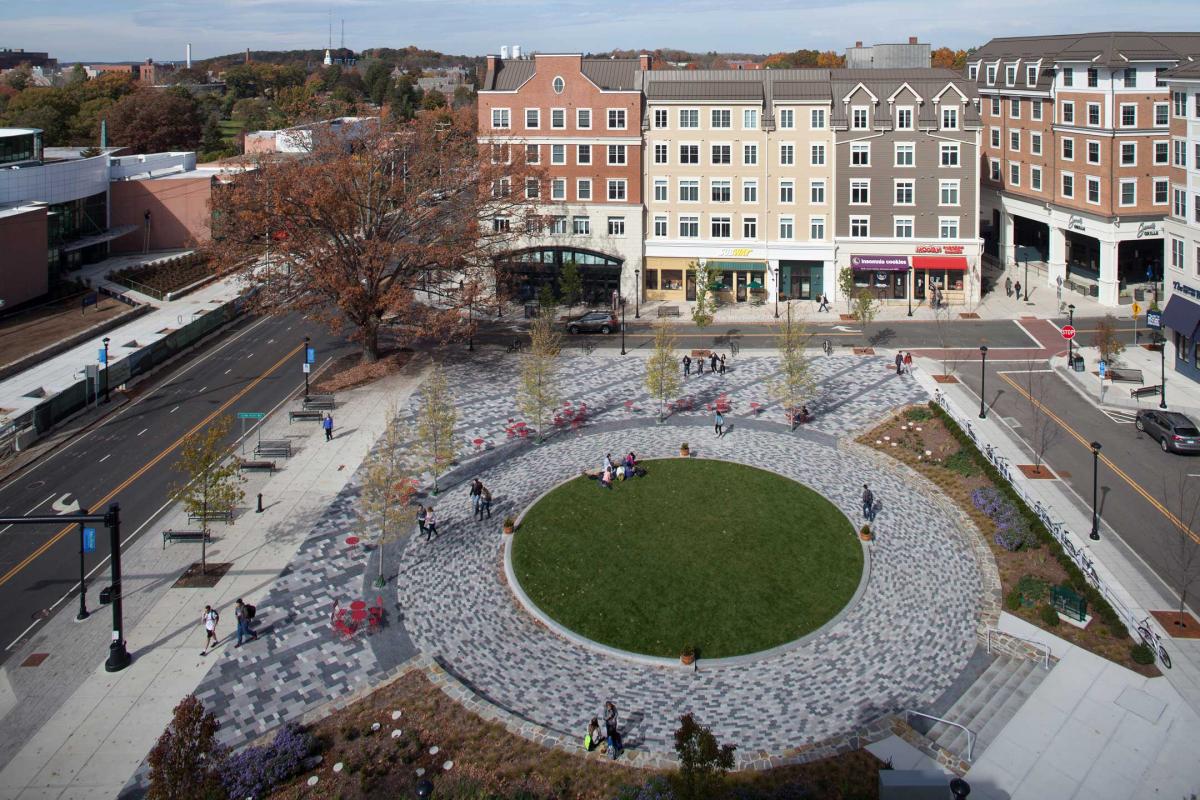 In a community of "fading strip malls," Storrs Center created a mixed-use town center from scratch—and provided the UConn Huskies the kind of urban amenities that students and faculty demand in a world-class university.