An industrial shell turns powerhouse
At the turn of the millennium, the 26-acre Pearl Brewery in San Antonio was abandoned and desolate—a collection of empty buildings and pavement with only five trees. Now, thanks to an ambitious Pearl Brewery Redevelopment Master Plan, the site is an economic and social powerhouse, drawing an average of more than 10,000 visitors to events weekly, including 3,000 shoppers at a farmer's market. Thirty locally run businesses thrive in the district, which is known for its restaurants.
"The project's nationally recognized Culinary Institute has cultivated young, local chefs in the district," note Lake|Flato Architects, the firm behind the plan. The Pearl District is home to three nonprofit organizations: the San Antonio Area Foundation, the Nature Conservancy of Texas, and the Hispanic Chamber of Commerce. Three hundred and fifty households, a 150-room hotel, offices, and educational and retail space occupy 300,000 square feet of salvaged and new buildings. The Pearl District is 100 percent occupied, and a future phase is expected to bring more activity.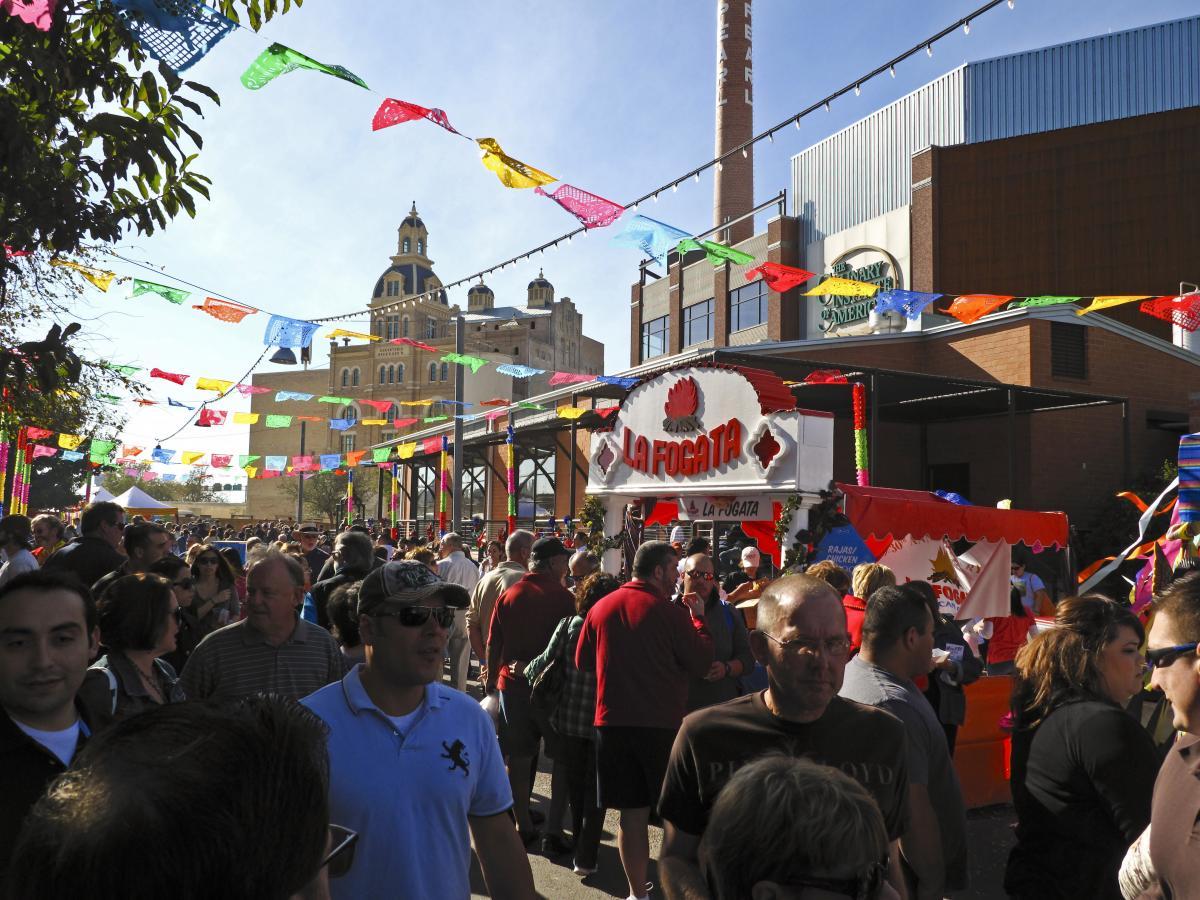 A public event draws a crowd outside a restaurant and the Culinary Institute. Source: Lake|Flato Architects
A decade ago, the adaptive reuse of a warehouse according to LEED Gold standards ignited the planning and development of adjacent properties at Pearl Brewery. Four other historic renovations followed, including an oval-shaped stable now used as ballroom, plus new mixed-use buildings constructed of similar materials.
Five hundred new trees, native ground plants, and green roofs brought the landscape back to life. The district is the terminus of the northern River Walk extension, tying the site into a regionally significant natural asset.
The Pearl District has become the hub of thousands of new residents in the city's revitalizing River North neighborhood. The famous San Antonio River Walk is a mecca for tourists, but the Pearl District is a center for local activity.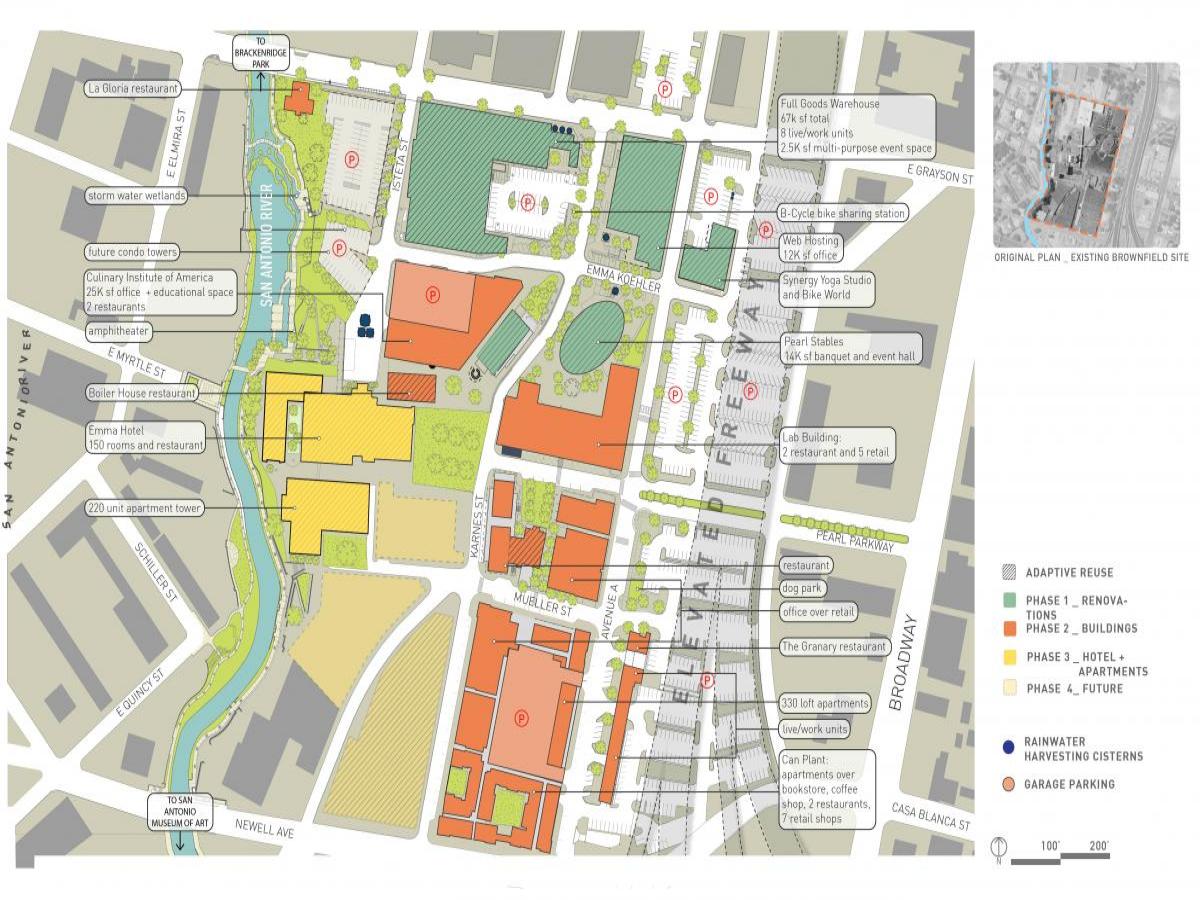 A public event draws a crowd outside a restaurant and the Culinary Institute. Source: Plan by Lake|Flato Architects
The entire district was built without street curbs, allowing flexibility for public gatherings like the farmer's market. Public spaces abound, including an outdoor amphitheater. A 500-kilowatt array in the district is the largest solar roof installation in Texas. A combination of design and connectivity reduce parking needs. Residents and visitors have multi-modal transportation options, including a bike-share station on site.
The Pearl District is a model for energizing the underutilized city, strengthening local businesses, and advocating sustainable design strategies.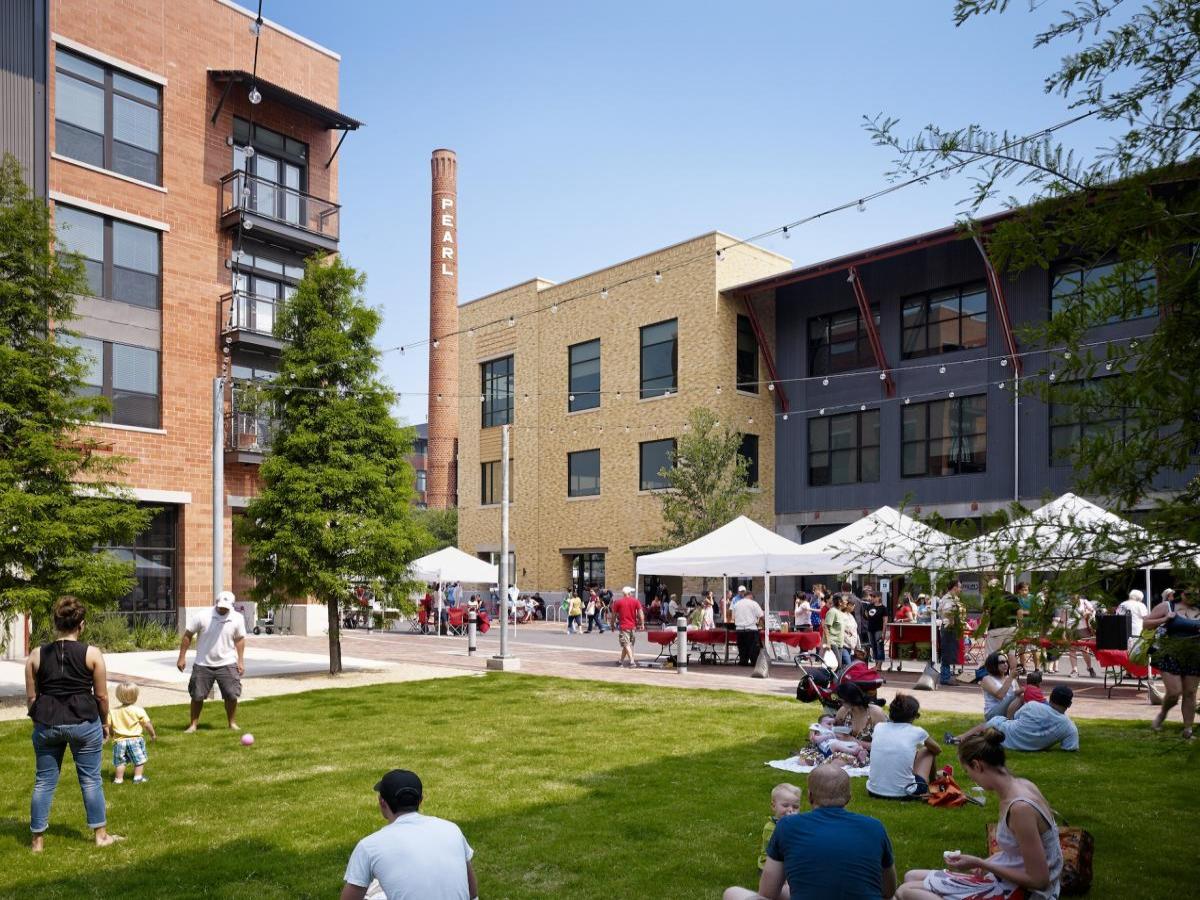 A lawn is a gathering place for picnicking and ball-playing. Source: Lake|Flato Architects
Pearl Brewery Redevelopment, 2015 CNU Charter Award Winner. This article appeared on cnu.org. Top photo: A weekly farmers market brings thousands of visitors to the district. Source: Lake|Flato Architects 
Robert Steuteville is editor and executive director of Better Cities & Towns.