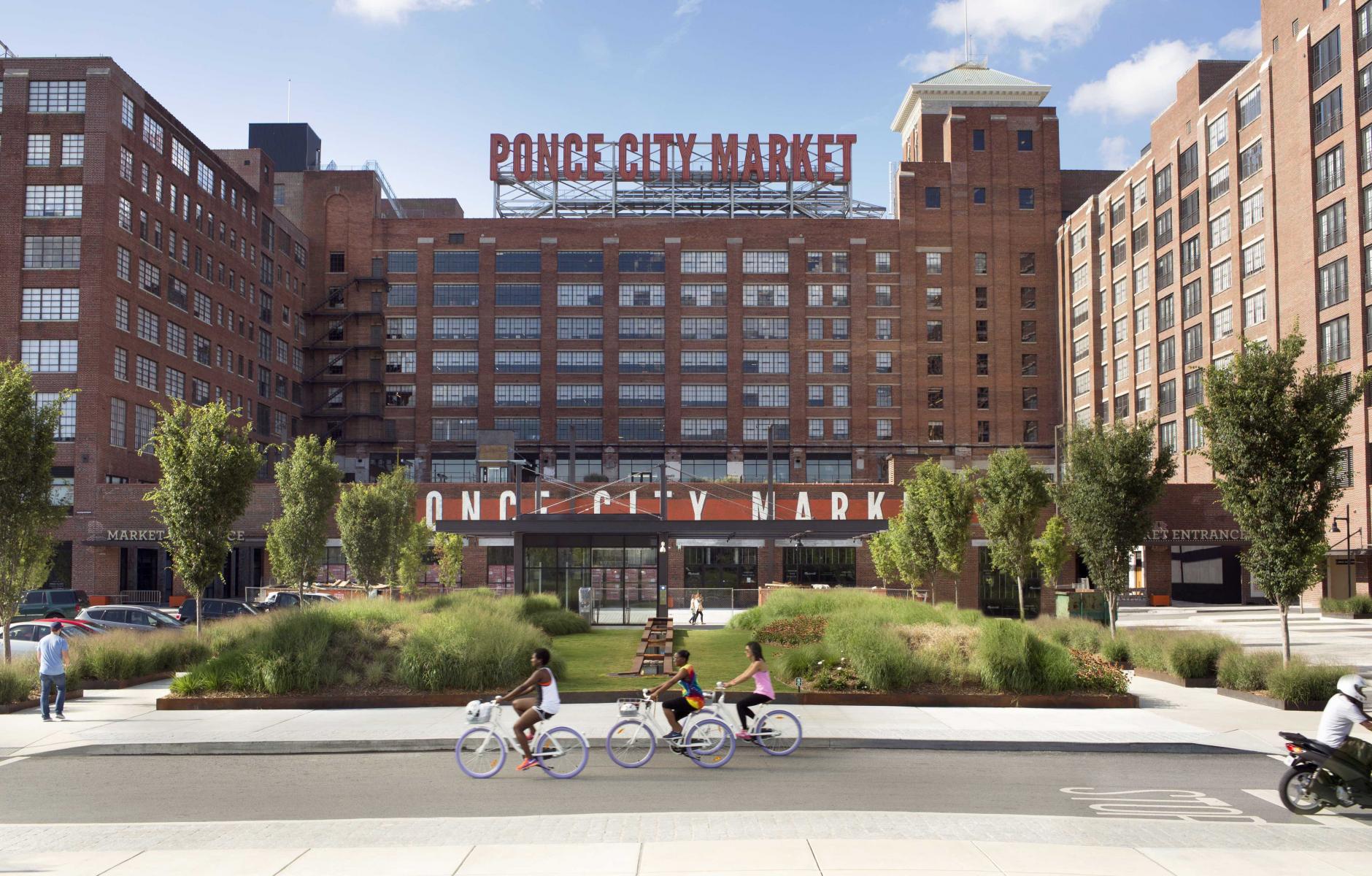 Ponce City Market from the street. Source: Source: Jamestown LP
Iconic warehouse becomes Beltline hub
Ponce City Market in Atlanta unites four neighborhoods and brings high-tech businesses back to the city.
Located in a crossroads of Atlanta, where the celebrated Beltline crosses Ponce de Leon Avenue, a former Sears warehouse has turned into one of the most striking urban redevelopments in the nation. Today, Ponce City Market is a new hub for high-tech industry growth in the city—and the retail center for four historic neighborhoods. 
The largest brick building in the Southeast, Ponce City Market was until recently a massive white elephant, a symbol of a declining city. Now it is one of Atlanta's most impressive buildings, a historic asset that couldn't be built from scratch. It features a "food hall" modeled on the Chelsea Market in New York City, plus 259 new loft apartments—20 percent of which are affordable.
The structure was built in phases—in 1926, 1929, 1947, and 1966—eventually totaling 2 million square feet. One of 10 similar buildings around the US, this building combined a department store with distribution warehouse. Goods were shipped in and out by rail from around the Southeast. 
Sears closed the building in 1989, and the rail line folded. That former rail line, now converted into the famous Atlanta Beltline, is a rejuvenation story in itself. The 22-mile corridor circles the city—serving as linear park, transit right-of-way, and development opportunity par excellence. The former warehouse, part of which was used for two decades to house city fire and police administration, was among the Beltline's best opportunities.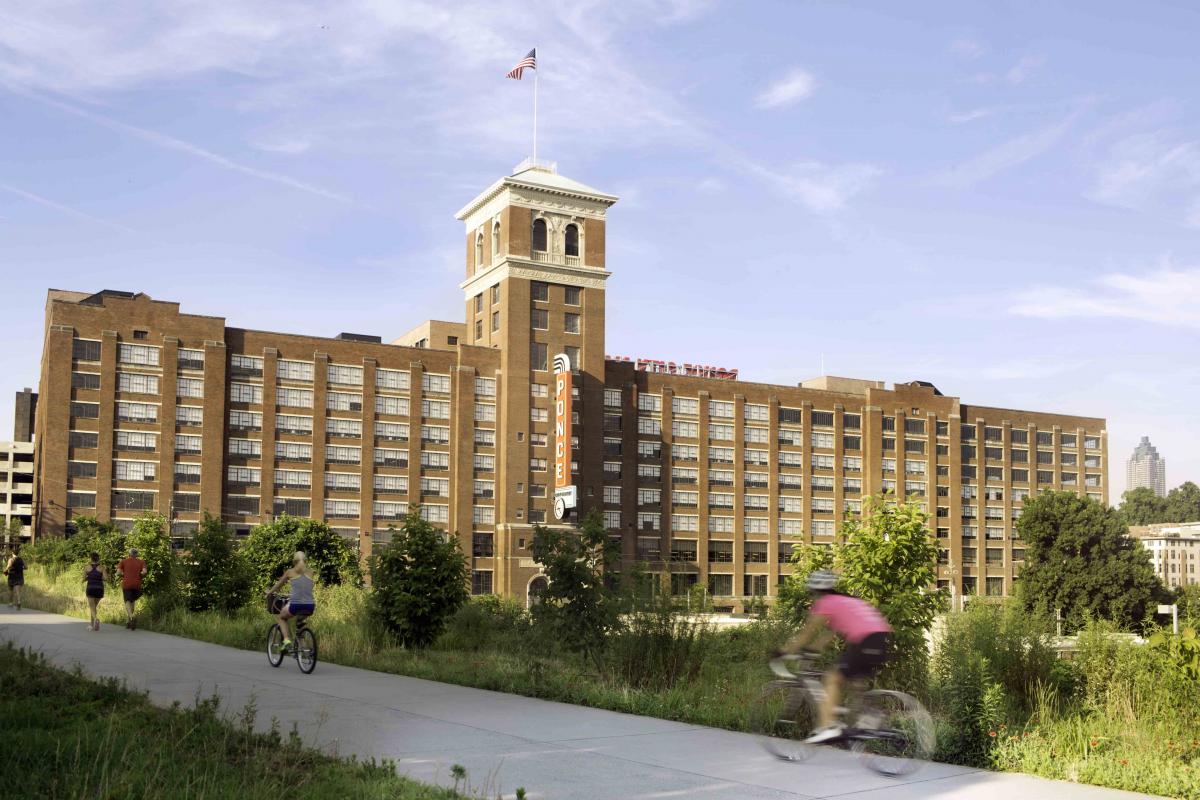 The refurbished building, which opened in 2014, has 1.1 million square feet of rentable space, now almost all occupied (part of the building is used for parking). "It is clearly the dawning of a new day in a city long disparaged for its car-dependent culture and lack of defining character," notes Arts Atlanta. "And while the city has always had an urban culture that is perhaps a little hard to see, the project clearly represents a new direction." 
Athena Health, Mail Chimp, and Cardlytics are just three of the high-tech firms that call Ponce City Market home. "It's a focal point of those kinds of businesses coming back to the city, helping to give the workforce an alternative to the suburbs," says Katharine Kelley of Green Street Properties, whose team developed the project as part of Jamestown LP. "At a big picture level, this building has become the crossroads, the central gathering point, of this part of the city," she says.
The "food hall" gives Ponce City Market its branding and name. This regional draw offers table service, quick carry-out meals, raw foods, and specialty, gourmet items. The building also includes a broad range of stores selling clothing, foot-ware, furnishings, and other goods.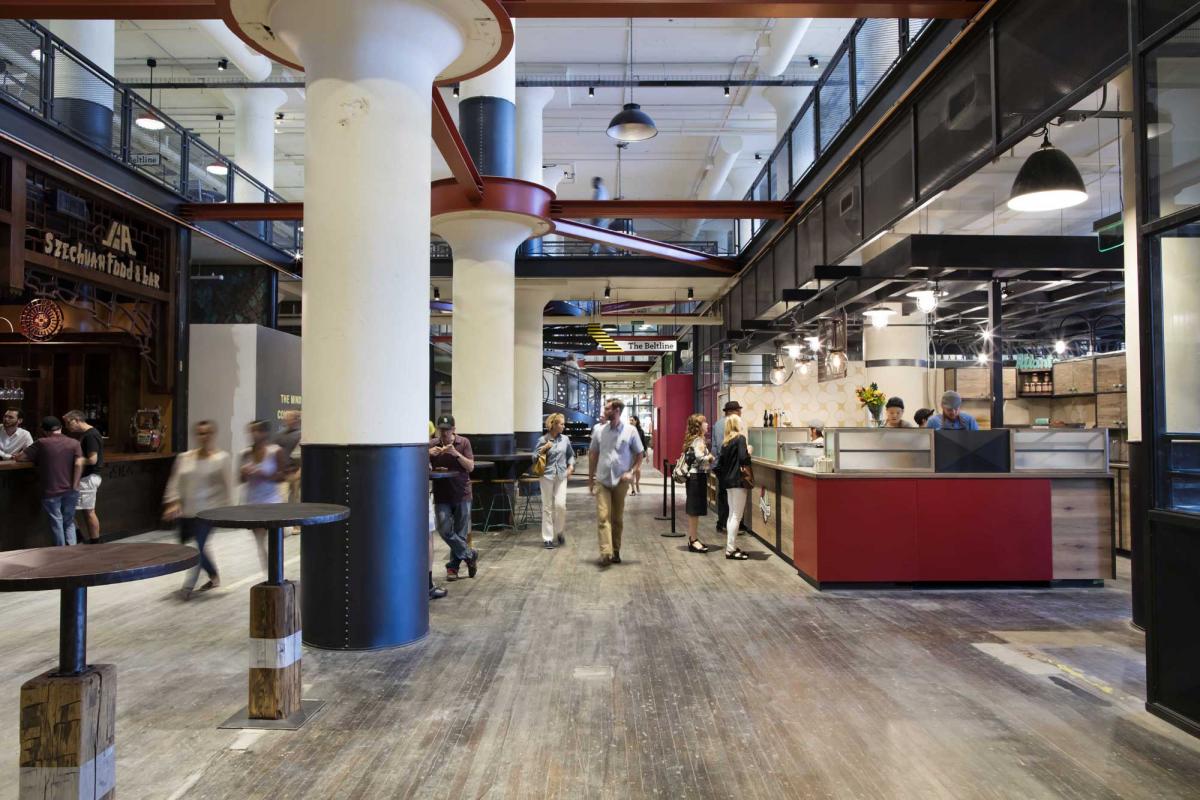 The regional Sears warehouses across the US are excellent examples of massive buildings of a quality that can be repurposed for many uses. In Boston, a similar building became the headquarters of Blue Cross/Blue Shield and a retail center. In Seattle, Starbucks corporate offices have relocated in such a warehouse. All three buildings are of a similar size with iconic clock towers and brickwork. Ponce City Market sets itself apart from the others for mixing living, working, and shopping with connectivity to the Beltline and the rest of the city.
Many Atlantans have personal connections to Ponce City Market. They shopped here, worked here, or had relatives who did. "The building has great community importance," Kelley says.