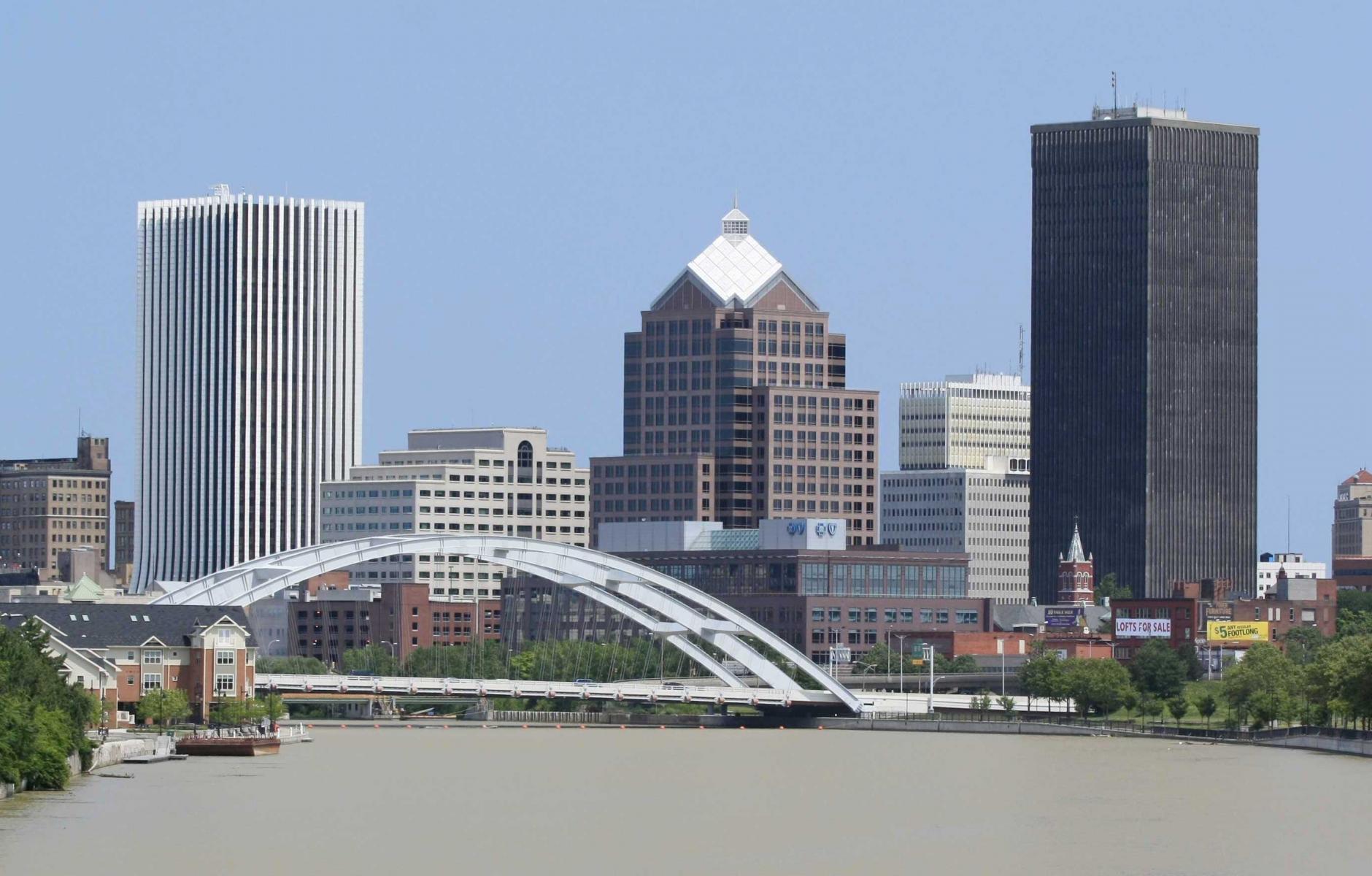 The Flower City blooms again
As growing legions of Americans look for urban places, many will be drawn to more affordable mid-sized cities like Rochester, NY.
Rochester, New York, continues to struggle overall, having lost population in every decade since 1950—but its downtown is booming.
After collapsing by 85 percent in the last four decades of the 20th Century, downtown population has tripled since 2000—up to 6,000 people.
Rochester had enormous wealth in the 20th Century. Its skyline was built by large corporations like Eastman-Kodak, Xerox, and Bausch & Lomb, which have all since downsized or moved headquarters.
Buildings all over downtown are now being refurbished for mixed-use and residential. Among them are the striking, modernist, 27-story Metropolitan—the former Upstate headquarters of JPMorgan Chase, the skyscraper on the left of the top photo with white vertical lines; the 1926, 1.1 million square foot Sibley Center; and Tower 280.
Counting only current construction, the population is heading to about 10,000, City Engineer James McIntosh recently told me on a downtown tour at a preview event for CNU 24. These new residents will transform the city's streets and attract more retail and restaurants.
Speaking of retail, the city spent $110 million to correct a 1960s urban renewal mistake, the Midtown Plaza, the nation's first modern downtown shopping mall. Designed by famed architect Victor Gruen, four downtown blocks—businesses, residences, shops and all—were demolished to build it.  Its success lasted about 20 years and then the mall began to fade—losing its anchor tenants in 1994 marked the demise.
The city took two decades to demolish that white elephant, replaced by a shared-space plaza—with a low-speed street going through it and a stage that can entertain 6,000 attendees—and three prime urban blocks for redevelopment. A new building recently opened on one of those blocks occupied by Windstream, a firm with 300 employees. Midtown Plaza left behind a 1,600-space underground parking garage—a critical asset for new development.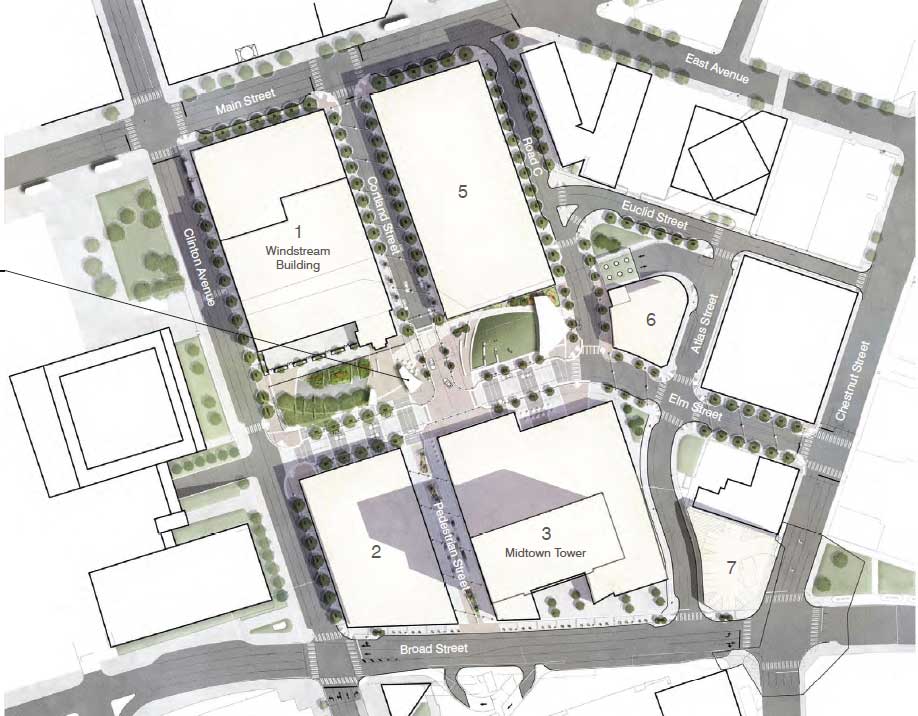 To briefly recap, the city leveled the heart of its downtown in exchange for 20 years of retail success—and 30 years of miserable failure. Gruen, the inventor of the modern shopping mall, denounced suburban malls before his death in 1980 but held on to Rochester as a crowning achievement. He died too soon.
Few midsize American cities demolished their downtowns as effectively as Rochester in the 1960s. Another in a series of expensive mistakes was the below-grade Inner Loop expressway, which formed a tight asphalt and concrete noose around downtown.
A 1-mile segment of the Inner Loop is now being filled in with dirt, part of a trend of urban freeway removal in New York State. This section had six lanes of freeway and three lanes of surface road on each side—12 lanes total—carrying only 6,000 vehicles a day! That's not a lot of traffic, even for a two-lane urban street. The replacement street will have three lanes total, plus on-street parking. Six acres of government-owned land, and more private land, will be available for redevelopment. A large residential project, unrelated to the Inner Loop, began construction only after the Inner Loop was announced, McIntosh notes.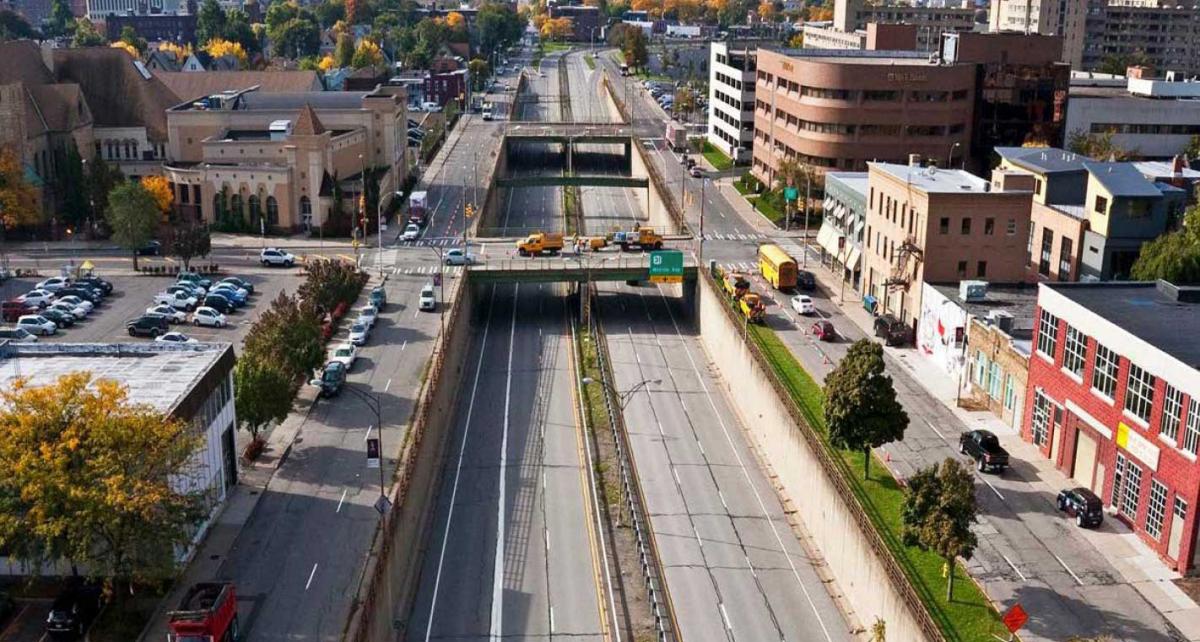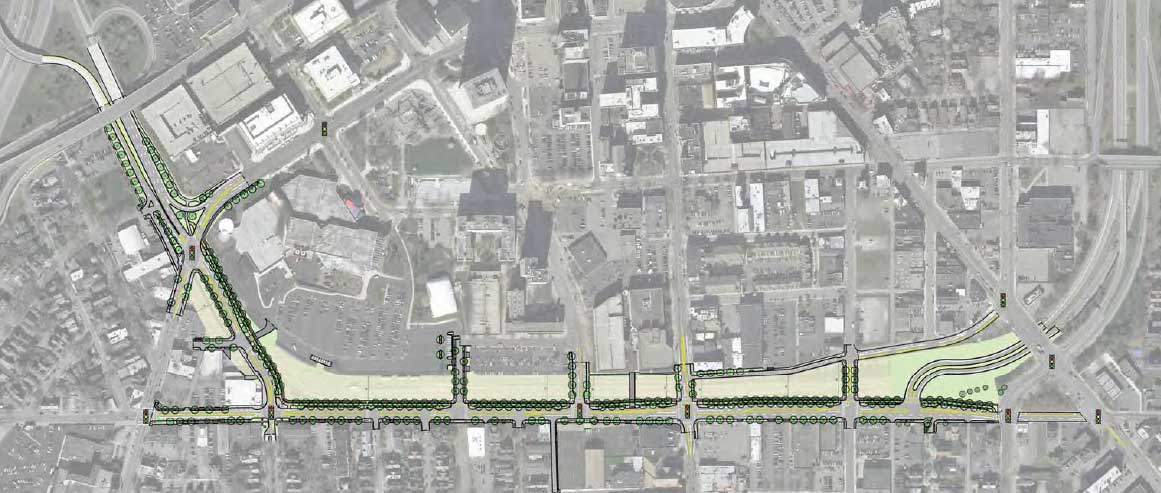 Now Rochester wants to fill in the next section of the Inner Loop, with 20,000-25,000 vehicles a day, replacing it with a surface street—reconnecting the entire east and north side of downtown to nearby neighborhoods. Much of the Inner Loop traffic—probably 40 percent, based on similar projects—will simply vanish. During my tour, on a Saturday afternoon in April, the streets near the decommissioned highway had almost zero traffic.
The population of Rochester, now 209,000, seems to have stabilized and I would not be surprised to see it rise a little this decade. Due to radical, largely unwarranted, surgery in the 20th Century, downtown Rochester lost its sense of place. There was no there there.
Yet the city is still a high-tech center, with particular strength in imaging and health care, and good research universities. Barring some economic calamity, I expect to see downtown continue to grow—returning to its rightful place as the social, cultural, and economic heart of a metro area with more than a million people. Economic benefits will spill to surrounding neighborhoods and the city as a whole.
The current planning, strongly influenced by New Urbanism, is critical to the future prospects of the city. Rochester is not making the mistake of discarding the previous generation of buildings, with the exception of Midtown Plaza, which really had to go. Some of the blemishes of 20th Century planning will remain, and some will be polished up and given new life alongside historic buildings and new urban structures. It will be an interesting mix and I look forward to returning to Rochester in a few years, if not sooner.
As growing legions of Americans look for urban places, many will be drawn to more affordable mid-sized cities like Rochester.