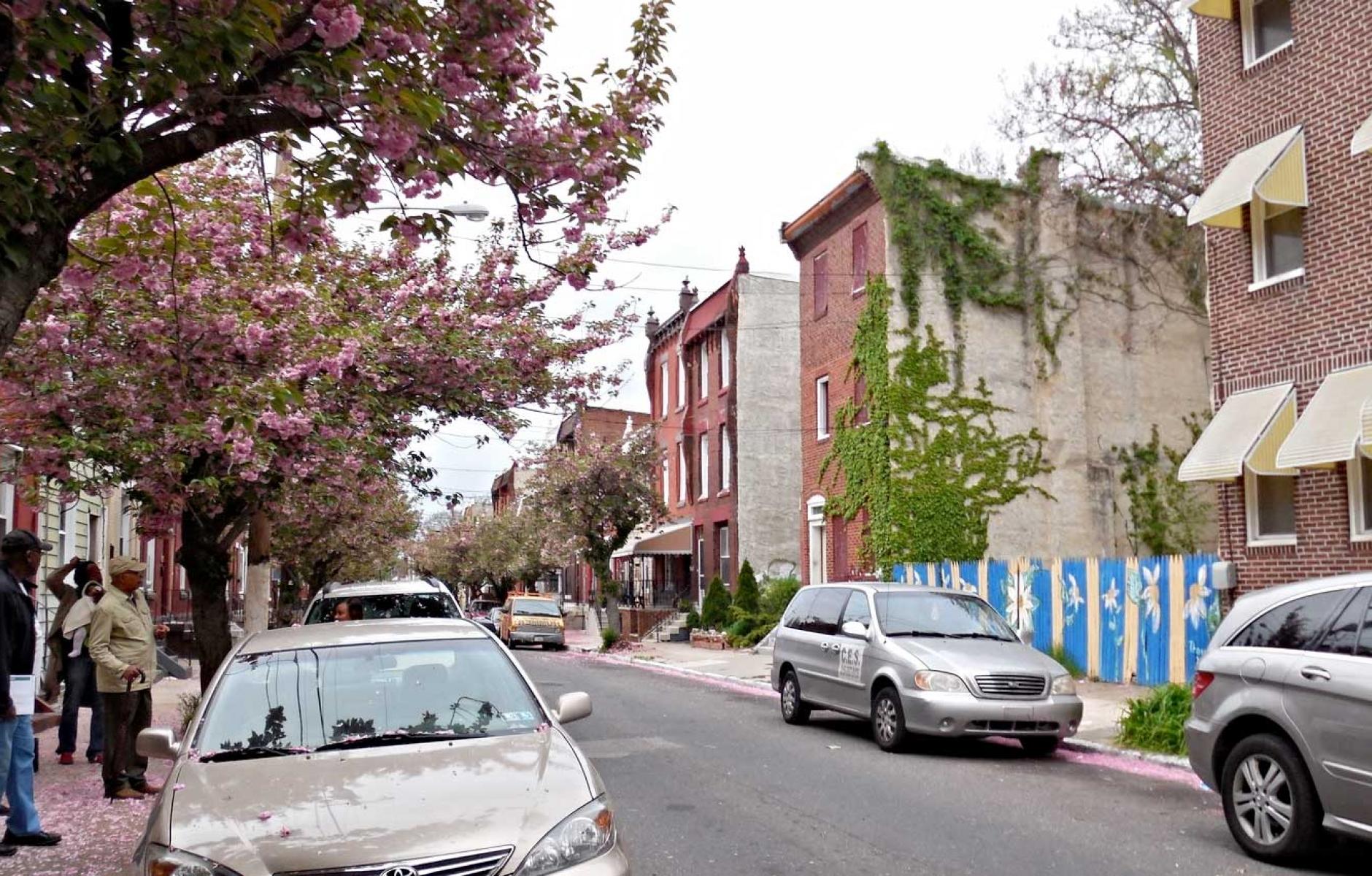 A street in Sharswood. Source: Sharswood Blumberg Choice Neighborhoods website
An ambitious plan to rebuild a neighborhood
Housing authority begins construction on phase one of 1,200 residences and 400,000 square feet of retail and replacement of two schools in North Philadelphia.
A publicly funded development program to revitalize a neighborhood plagued by crime and vacancies is underway in the Sharswood area of Philadelphia, beginning with the demolition of failed public housing towers called Blumberg homes.
Although poverty is high—unemployment tops 80 percent—and many blocks are completely abandoned, Sharswood possesses a history of jazz culture and buildings with nice brick architectural details.
The high-rise buildings on the eight-acre public housing site were leveled in March as part of the federal Choice Neighborhoods program, which replaced HOPE VI. The new urbanist planning that shaped HOPE VI is still being used, but the Choice program replaces 100 percent of public housing and takes a more comprehensive approach. Other funding sources, such as Low-Income Housing Tax Credits, are also employed.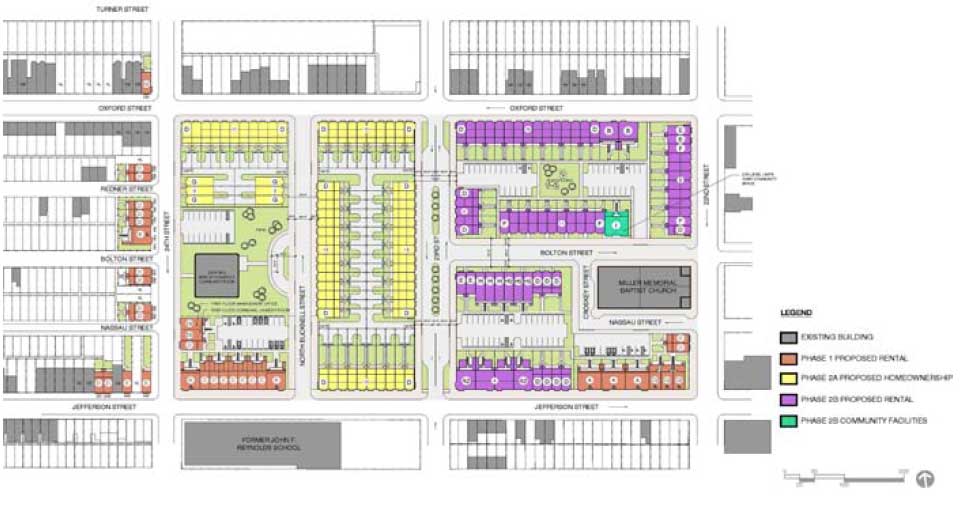 The urbanism of the plan is sound. The superblock of public housing is being broken into four blocks, restoring access to the site and creating more clearly defined public space. Two buildings on that block, including an old church, will be saved.
"The $500 million project, just two and a half miles from downtown Philadelphia, aims to recreate a middle-class community that never recovered after being ravaged by rioting in the 1960s," says The New York Times.
The Philadelphia Housing Authority (PHA) is working with the school district and an educational nonprofit to reopen or replace two schools that closed. The PHA, which is leading the project, also wants to restore the commercial district on Ridge Avenue, a dilapidated main street lined with vacant traditional buildings. The authority is negotiating with a grocery store and a drugstore and has a goal of filling 400,000 square feet of commercial space.
Furthermore, PHA is moving its offices to Sharswood from Center City, bringing 1,100 jobs.
Developers are interested in Sharswood because it is surrounded by historic neighborhoods that are revitalizing: Francisville to the southeast, Brewerytown to the west, and Temple University's main campus, with 12,000 students living on campus or nearby, a half mile to the east.
"The Michaels Development Company, a developer of affordable housing, plans to build 42 affordable rental units in Sharswood. The company's senior vice president, Milton R. Pratt Jr., said the neighborhood was well positioned to turn itself around given the buoyant market nearby and its proximity to Center City," notes the Times.
PHA has donated $580,000 to Habitat for Humanity to fund renovation of 40 houses in the area.
The first of ten phases, involving 1,200 rental and homeownership units, is under construction. PHA is trying to "preserve Sharswood as an oasis of affordability" amid neighborhoods where housing costs are rising, says Inga Saffron, Philadelphia Inquirer's architecture critic.
Brewerytown residents will have direct access to neighborhoods to the east through Sharswood, and vice-versa. The Ridge Avenue main street has great urban form—it mostly needs street trees and rehabilitated, occupied buildings. Small, attractive parks along Ridge Street are planned.
There are concerns, however, about the use of eminent domain to acquire many properties in the neighborhood. City Council approved PHA's plan to acquire 1,300 parcels, 800 privately owned and 500 publicly owned. Most of these are vacant lots—but some are vacant or occupied buildings. The PHA has yet to announce which buildings will be demolished or rehabilitated. Some critics worry that PHA will mostly opt to demolish.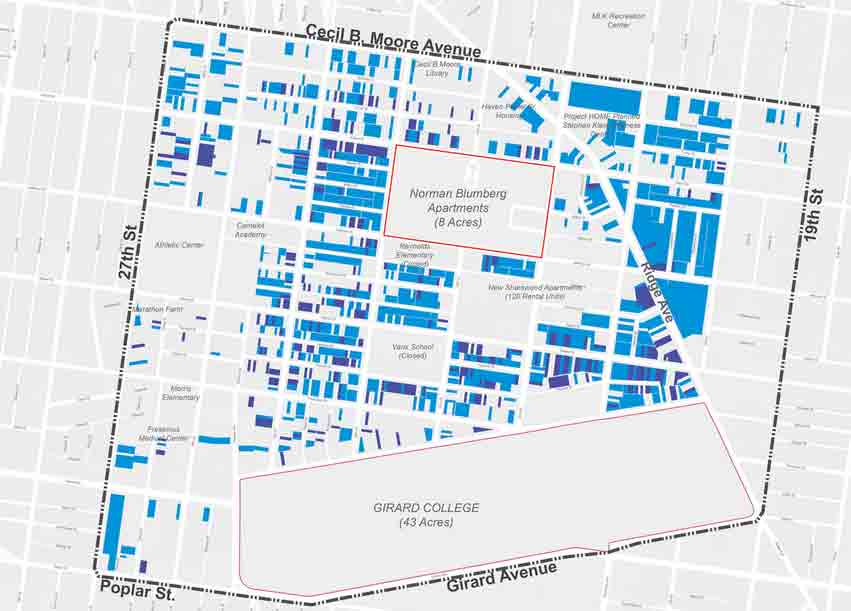 The Sharswood Choice Neighborhoods project is a major opportunity for North Philadelphia—one that is influenced by PHA's successful redevelopment of Martin Luther King Jr. homes in Hawthorne, near Center City. A mix of old and new architecture will be most appealing. The more history is preserved in Sharswood, the more successful the revitalization will be.