Aerial photo showing the Port Warwick public square surrounded by mixed-use buildings that house restaurants, retail shops, offices, apartments, and condominiums. Photo by: Dave Chance Photography.
Designing gathering spaces in a car-oriented city
A new urbanist development named after a literary hometown focuses on the arts and much-needed public space.
Newport News, Virginia, is a city of 186,000 people where downtown is hard to find. The area that Google identifies as the heart of Newport News is an office/industrial park. The traditional center at the city's south end, on the James River waterfront, primarily consists of parking lots and single-use industrial/warehouse buildings. Although Newport News was a shipbuilding center during World War II, it has been planned since 1950 in a car-oriented suburban style—like nearly every city developed during that period.
The redevelopment of a 115-acre brownfield site near the city's geographic center offered an opportunity to alleviate the city's urban design shortcomings. Port Warwick, as the redevelopment is called, offers new public gathering spaces that are much needed in this mid-sized Virginia Tidewater municipality. The developer hired Newport News-based consultants to design Port Warwick, including lead firm PMA Architecture, more than 20 years ago. The project was completed in 2008, following new urban planning principles. It was like nothing that the city had done previously—or since.
Port Warwick includes the four-acre William Styron Square, named after the award-winning author of Sophie's Choice, born in Newport News. Mixed-use buildings with restaurants, retail shops, offices, apartments, and condominiums line all sides, and a pavilion punctuates the center of the formal public space. William Styron Square, shown in the aerial photo at top, is one of the city's few outdoor event spaces, hosting 26 events a year, including concerts, art shows, and a holiday tree lighting, attracting nearly 70,000 visitors.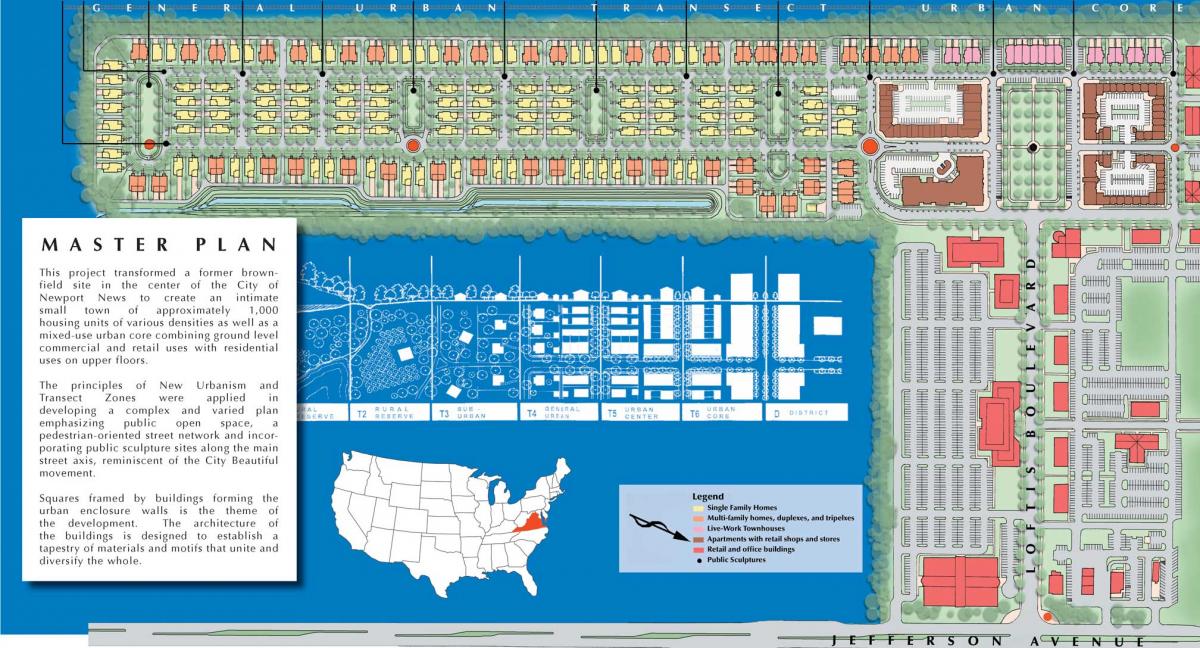 The Port Warwick Foundation, a local institution, coordinates the activities, which are free and open to the public. The square is a venue for farmer's markets and a popular backdrop for weddings, graduations, and other important events. It's an outdoor community room for the city. Other civic highlights in Port Warwick include smaller residential squares and five monumental sculptures commissioned by contemporary sculptors, sited at key points throughout the neighborhood. Residential squares, each about an acre in size, are named after Emily Dickenson, Mark Twain, William Faulkner, and F. Scott Fitzgerald. Public spaces are generously located every two to three blocks. The many eateries around Styron square are also gathering spaces.  
"Port Warwick reveals that the principles of the New Urbanism, when applied completely, can result in a highly revered, new civic village, where a wide range of people will choose to live, work, and play within walking distance of a central commercial district," according to the designers. Port Warwick includes 700 dwellings of various types, plus 229,000 square feet of small-scale commercial and office space.
"The idea that our community could have a place like Port Warwick, modeled after European communities, struck me as an amazing opportunity," says Joe Frank, the mayor of Newport News when the development was built. "Getting rid of industrial land and turning it into a world-class mixed-use housing project just enthralled me."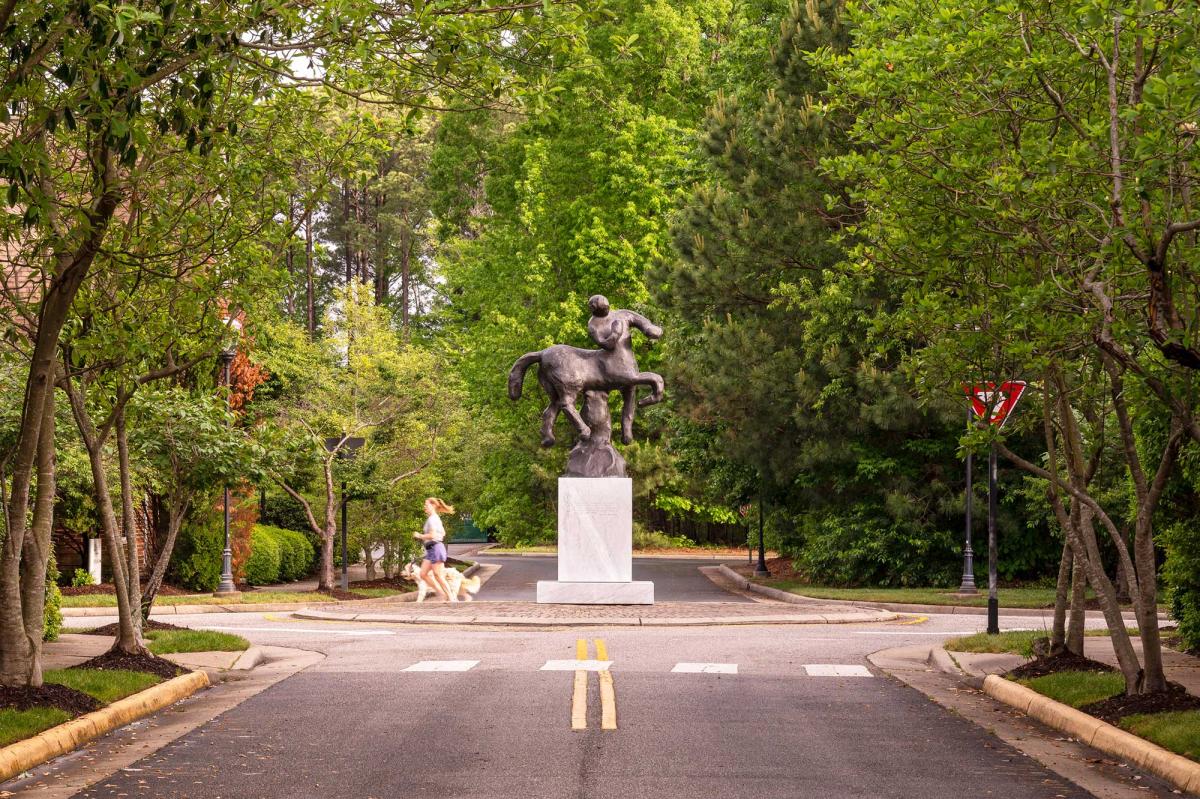 The developer asked Styron, who died in 2006, to assist with the place names for the community. Port Warwick is Styron's fictional hometown from one of his novels.
"There was something about buying into a community where the fees don't go to tennis courts and swimming pools and a clubhouse—they go to sculptures and art and music," report Marty and John Hightower, the first residents. "It's more diverse than I ever expected. Every race, every age, every income. Children, blue-collar people, military."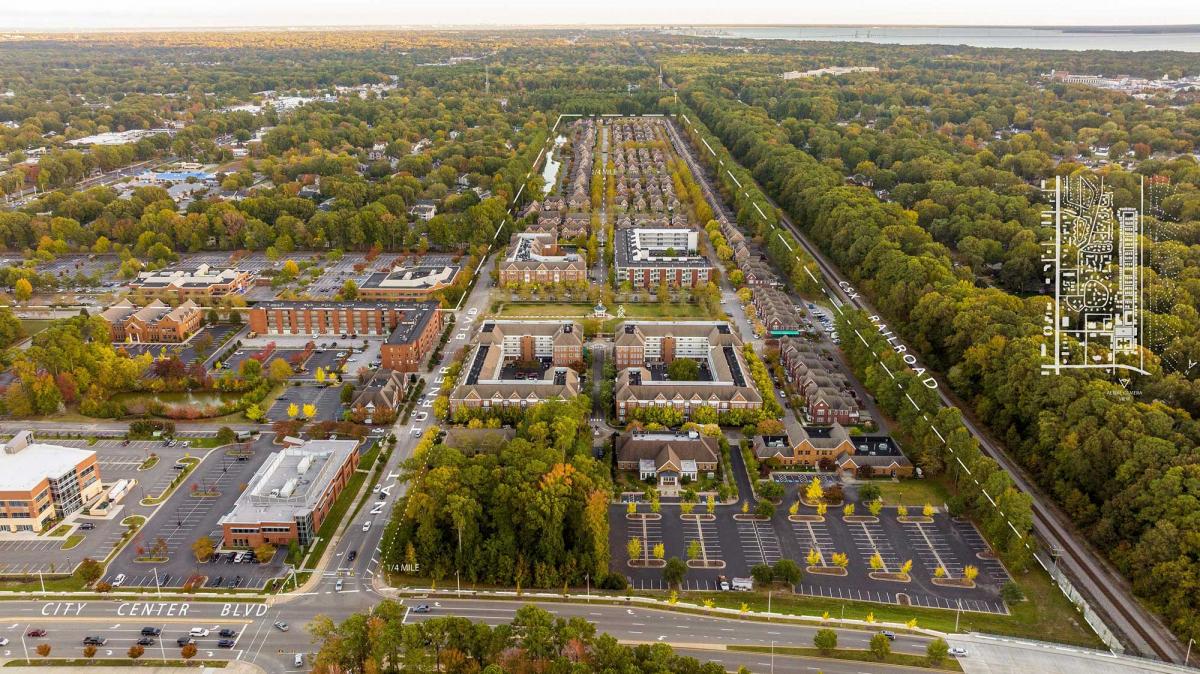 Another resident walks to work in Port Warwick, and with extra free time, he joined a cycling group in the community. "These guys are from all walks of life and became my best friends," says Matt Burton. He has been riding for 70-80 miles a week with the group for about eight years and lost 30 pounds.
Port Warwick has not changed the urban pattern much in Newport News, which is still a car-dependent city. However, it has offered a new choice of living and created public spaces that are enjoyed by residents throughout Newport News.
This article addresses CNU's Strategic Plan goal of growing the supply of neighborhoods that are both walkable and affordable.