Catfiddle Street in Charleston, SC. Plan rendering by Bevan & Liberatos. Photos by Steve Mouzon (upper right), and Robert Steuteville.
21st Century infill urbanism that looks historic
Urban designers and architects are astounded by a charming, small, mid-block development in Charleston that is 2-4 stories tall yet is comparable to the gross density of Manhattan.
Catfiddle Street in Charleston, South Carolina, is a remarkable development that most people would not believe has been recently built. It got a lot of attention on Twitter.com over the last few days because urbanists gathered in the city for several overlapping events. 
As architect Erik Bootsma points out, Catfiddle is built on 0.9 acres, and has achieved a density of 90 people per acre, nearly that of Manhattan as a whole. It also includes 48 parking spaces. A mid-block development, Catfiddle is generally hidden unless you know where to look. It has no lawns or substantial streets, only narrow lanes and small courtyards that offer lush urbanism.
Aaron Lubeck, development director at Southern Urbanism Quarterly, asks: "Why is it important for cities to foster a regulatory environment that lay citizens can navigate? Because Catfiddle is the nicest 21st-century infill project in the South, and it was developed by a bluegrass musician."
Reid Burgess, partner of Urban Ergonomics, has worked as a professional musician on the mandolin, played at top bluegrass festivals, and made recordings. He traded life on the road for the art of city building, focused on a specific place. George Holt is also a partner. Catfiddle design consultants and collaborators include American Vernacular, Bevan & Liberatos (who drew the plan shown above), Craft Design Studio, New World Byzantine, and Randolph Martz.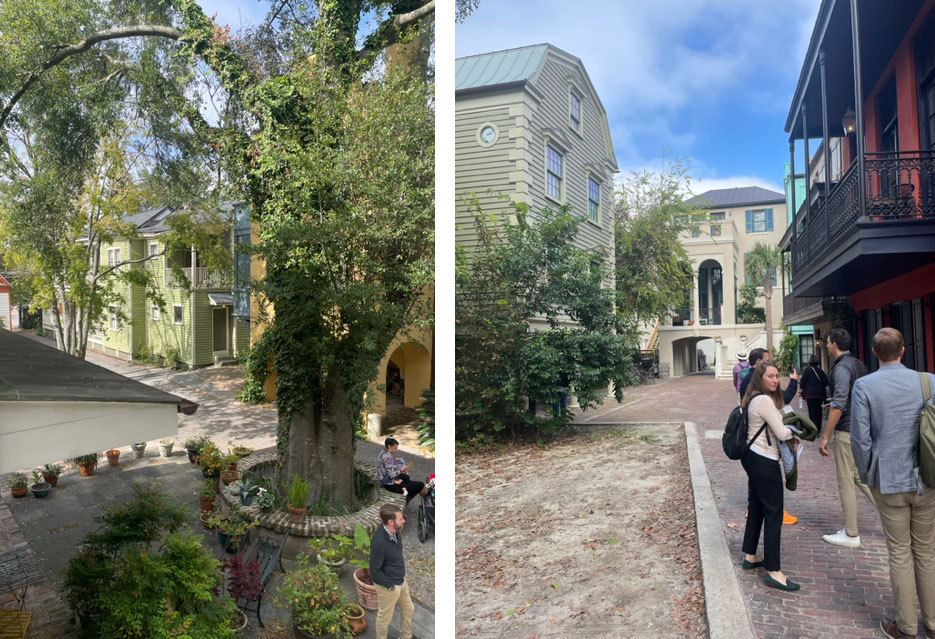 Catfiddle Street is in the heart of the old city peninsula, where you don't need a car to survive. All of the necessities of life are very close by. It also sits next to a major arterial thoroughfare with six lanes of through traffic, which you wouldn't know on the peaceful interior courtyards of Catfiddle Street.
Here are some quotes from the website:
"Buildings and cities last a long time, so it's worth taking trouble when we build them. With this in mind Catfiddle Street is intended as a haven for buildings that inspire longevity, caretakership, social interaction and good physical as well as psychological health. It is not an attempt to recreate past lifestyles, but rather a way for development to reject unsustainable industrial practices in favor of a more lasting and humane alternative. To make this an easier process there are rules for the construction materials, as well as an independent design review procedure to help reconnect us with ideas that modern building practices tend to reject, and to encourage the development of an enduring place. 
"The urban plan for Catfiddle Street is organic. As opposed to a typical urban row or lane which form a rigid passage, the street is intertwined with the architecture and private space is intertwined with public space in an unexpected, yet intentional way. Buildings are built right up to the street, allowing the houses themselves to take on slightly uneven angles as they accommodate the curved shape of the street. The open areas between buildings are owned and maintained by the households, and the road itself is a place to stay, not just a place to pass through. The intention is to foster the kind of neighborliness that inspires taking care of things and binds people and places together."
Update: Urbanist and NYC resident John Massengale points out that half of Manhattan is parks, squares, and streets. The island also includes a whole lot of land devoted to commerce. The comparison to the gross density of Manhattan is accurate but misleading. Nevertheless, Catfiddle Street achieves a surprisingly high density for 2-4 story urbanism.