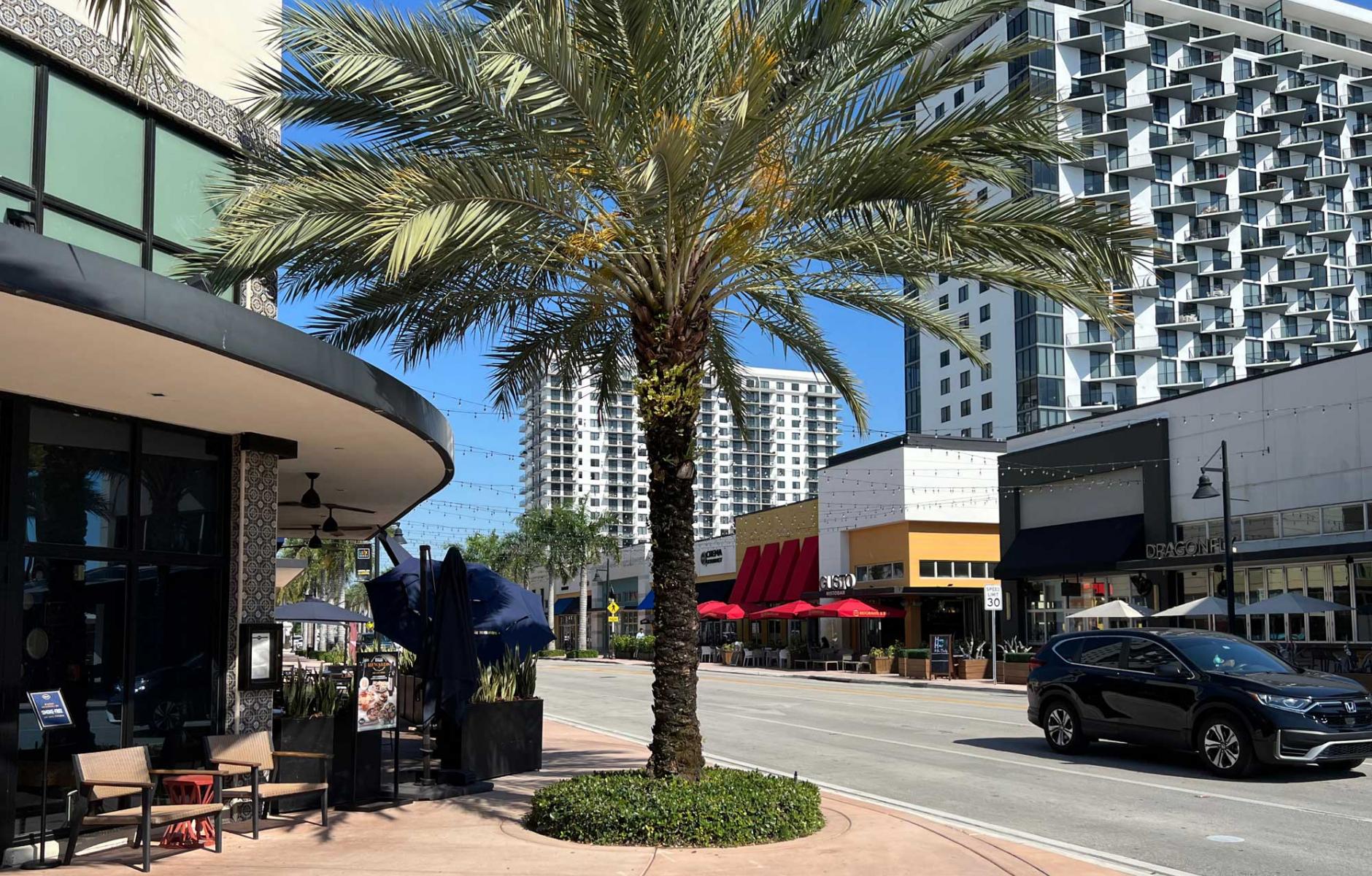 View of Main Street at grade looking west, showing single-story retail, wide sidewalks with outdoor dining, and residential towers beyond. Photograph by DPZ CoDesign.
Walkable downtown created from a suburban office complex
Doral, known for a golf course and sprawl, has partnered with a developer to create a walkable downtown on the site of a former nondescript office park, reusing existing infrastructure.
When incorporated 20 years ago, Doral, Florida, consisted of a collection of gated subdivisions, shopping centers, warehouse and industrial districts, a world-renowned golf course, and notoriously clogged arterial roads, according to DPZ CoDesign.
There was no downtown or walkable neighborhood of any kind. The owner of a 1970s era office park approached Codina Partners about redevelopment of the site in 2005, inspiring the idea of building a downtown for Doral. At 120 acres, the site is large enough to serve as a substantial urban center, with a significant population.
Converting an office complex into a walkable downtown has rarely been accomplished, especially on this scale. As office parks are plagued with vacancies, these plans may be more common. The idea involves changing a monoculture into a complete community. One example is this recent master plan in Carmel, Indiana. For now, Doral offers one of the few built models showing how it can be done.
"Downtown Doral is an office park transformed into nothing less than the urban center of a sprawling suburban community to the west of Miami International Airport," notes DPZ, the master planner. "The new urban center has successfully leveraged suburbia's typical market drivers—especially family-friendly housing and new public schools—to create a regional focus with a sense of place, a jobs-housing balance, and spurring the transformations of its surroundings."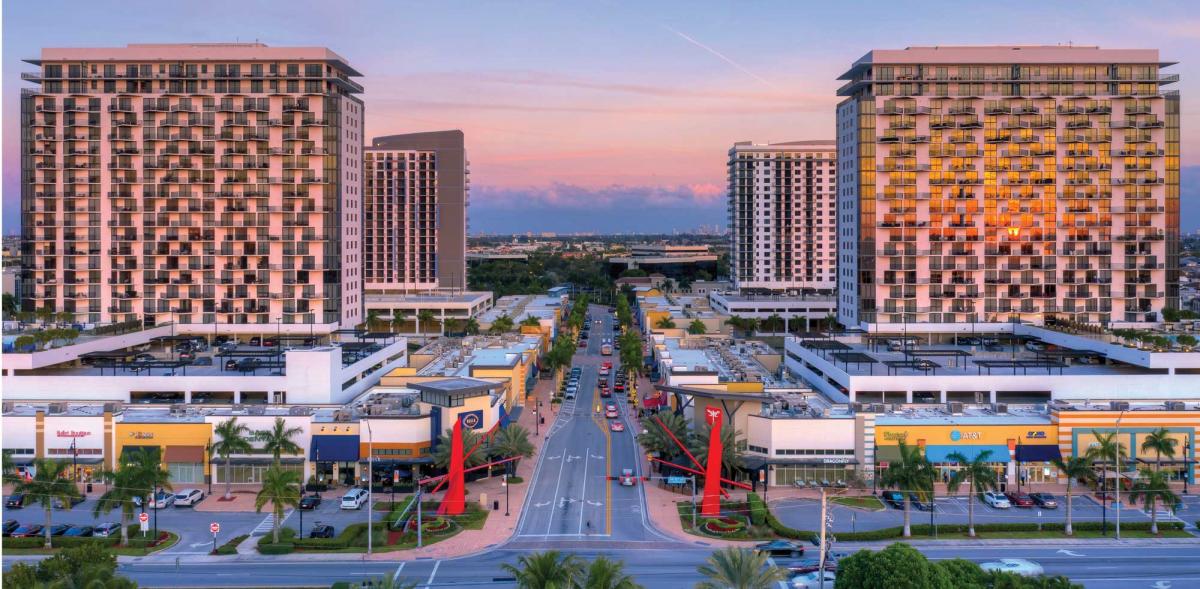 The downtown includes major civic buildings, such as a city hall, two Charter schools (including an elementary school and middle school/high school, totaling 2,500 students), an urgent care center, and a county library. More than three acres of parks and green spaces have been built, including a collection of outdoor public art on a linear park. A larger city park offers space for running around or tossing a ball, along with an adjoining Cultural Arts Center. 
The retail, including a major supermarket, exceeds 200,000 square feet, along with more than 600,000 square feet of office space—including four of the original buildings that have been renovated. At full completion, Downtown Doral will be home to more than 5,000 residential units, including apartments, condominiums, townhouses, and single-family homes.
Doral is a rapidly growing suburban municipality in Miami-Dade County, Florida, increasing from 45,000 to 75,000 in population in the 2010s. Doral has one of the highest percentages of Hispanic/Latino population, at 83 percent, of any sizable community in the US. 
The urban pattern
Suburban office parks are particularly hard to renovate because, unlike malls, the buildings are spread out—with a typically curvilinear street pattern already established. In Doral, the decision to adaptively reuse existing infrastructure determined the street grid. The entry from the western boundary was turned into a main street with single-story retail, DPZ explains. Perpendicular to the main street is a cross-axial park, extending north and south from the main street. "The Paseo became the landscape and art-infused focus for eight blocks of mixed-use high-rise development," according to DPZ.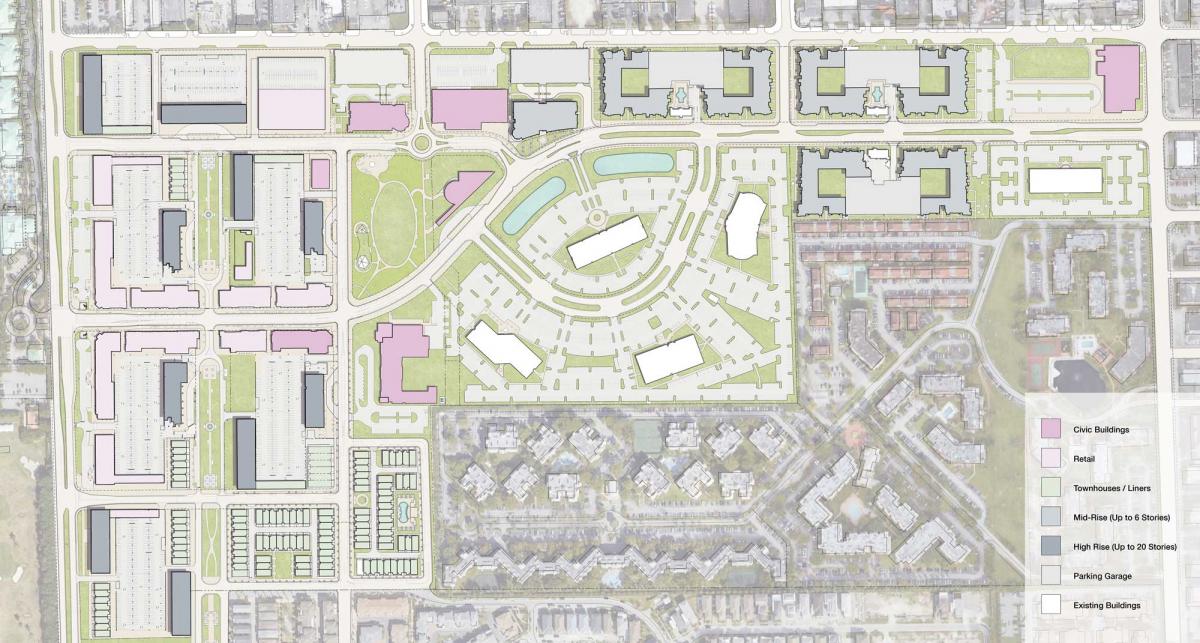 The regulating plan, urban regulations, and thoroughfare standards were approved by the city in 2006 as part of a special downtown zone. The development team's partnerships with public entities allowed for a rich selection of civic buildings in the plan. 
Although the project was launched during the Great Recession, the various parts of downtown have been built, piece by piece, even during the economic doldrums. "In a rare vote of confidence, Florida's largest grocery store chain agreed to embed a supermarket in the heart of the community—near the central park—instead of along the more visible arterial roadway," the design firm explains.
The transformation of the office park is inspiring more suburban retrofit. The repurposing of an adjacent property to the south of Downtown Doral is already underway with significant additional residential, office, and retail development. Like many historic downtowns, this project has become its own center of gravity. 
"Much of the success of this project is due to the flexible regulating plan and urban/architectural guidelines based on massing and form rather than uses and quantities," notes Ana-Marie Codina Barlick, CEO of Codina Partners. "This flexibility enabled changes to the project, such as adding units with more than two bedrooms once the school proved successful."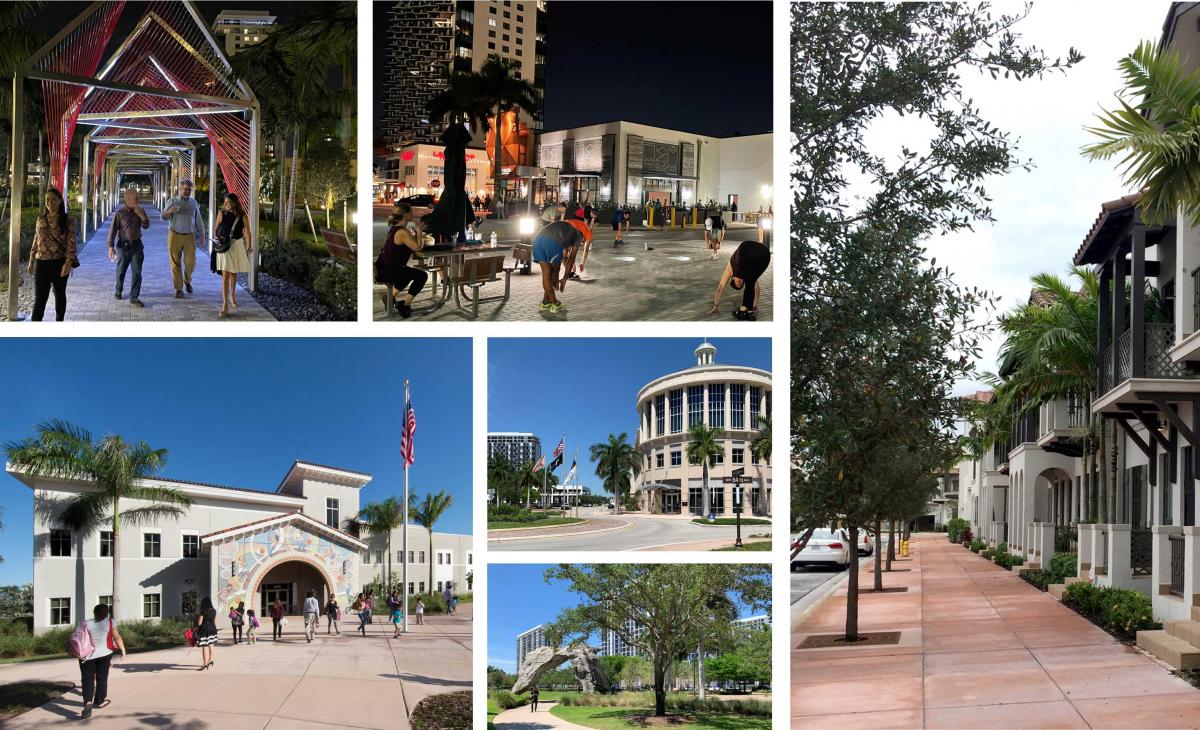 Testimony from a resident speaks to how the project supports multigenerational, healthy living. "My family and I first lived in a high-rise apartment in Downtown Doral when our children were toddlers. We found the place very family friendly, and loved the short walk to the supermarket and community events at the park. I particularly enjoyed being close to the office I still share with my father. My father later traded in his 45-minute driving commute to join my family at Downtown Doral. Indeed, both our households ultimately ended up in the same four-story apartment building for a while. My kids loved running upstairs to know on their grandparents' door. My wife and I so appreciated taking walks to the nearby restaurants and bars for date nights while my parents watched the kids, and my father was delighted to walk his grandson to school before returning home for breakfast with my mom. Eventually, we moved to a townhouse in Doral, still within walking distance of my parents and the kids' school. Oh, and the bicycle we gave my dad for Christmas, and that he rides nearly every day? It is housed in our garage."
This greyfield retrofit is having significant impacts at every scale, from building to region, following the principles of the Charter of the New Urbanism, notes DPZ. "While only 120 acres in size, Downtown Doral creates a focus of activity and civic life for an entire suburban region."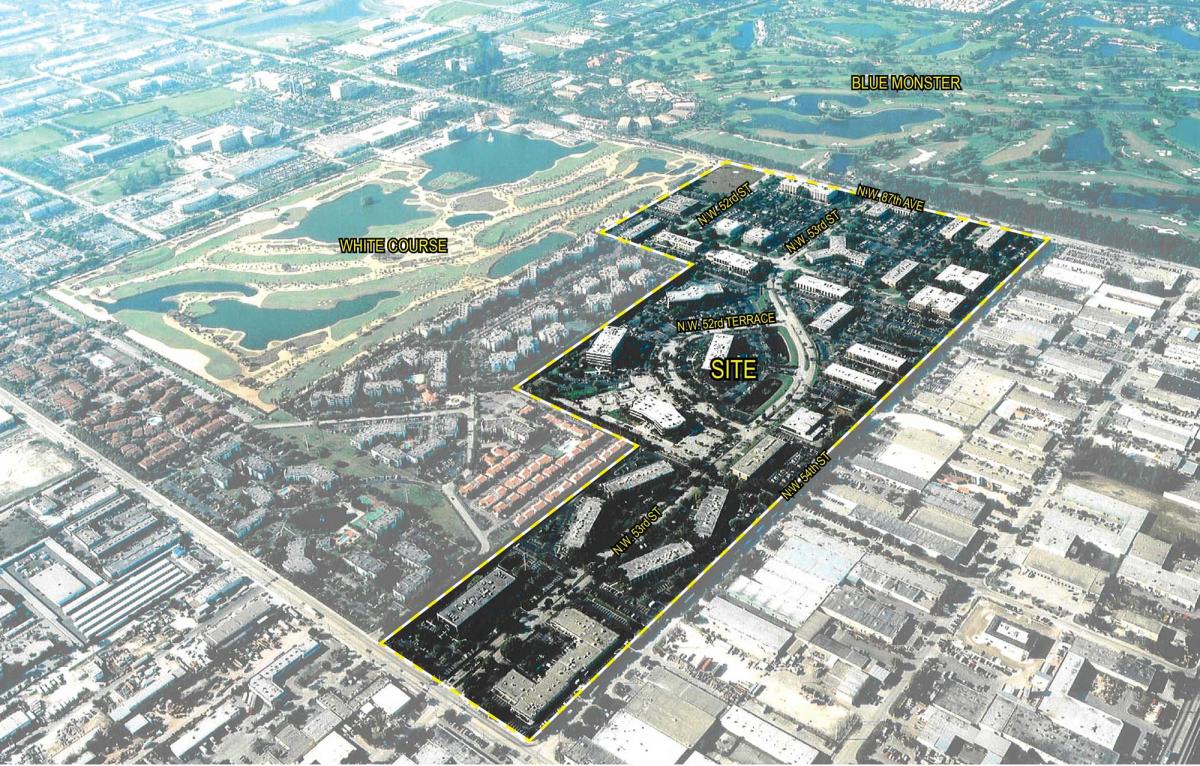 Editor's note: This article addresses CNU's Strategic Plan goal of working to change codes and regulations blocking walkable urbanism.