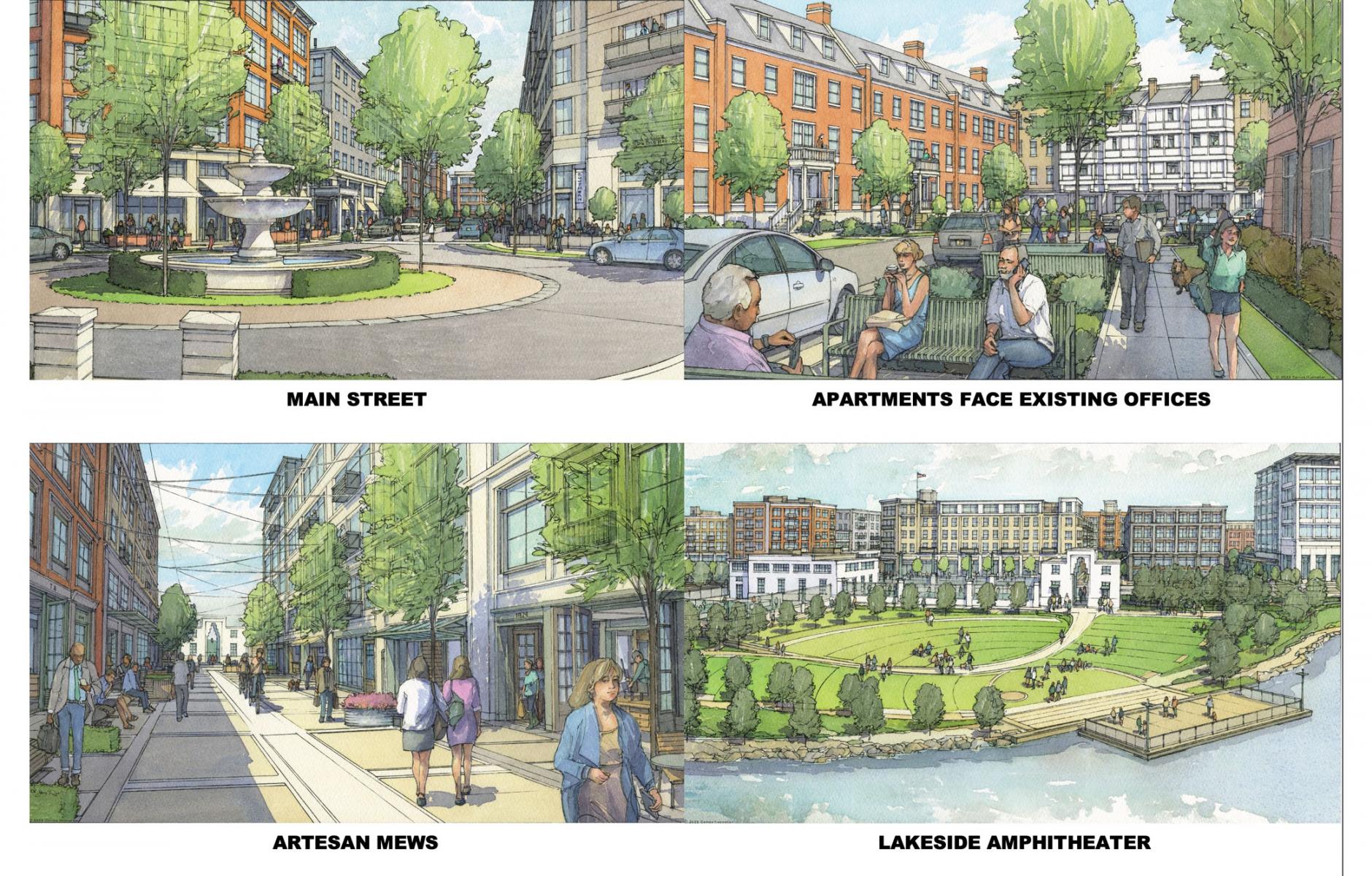 Views of Carmel Gateway. Images source: Speck & Associates and Principle Group
Turning an office park into a town center
The rethinking of a conventional office park, Carmel Gateway is the latest big idea to be proposed in Carmel, Indiana, the city of roundabouts.
Under the leadership of Mayor Jim Brainard, Carmel, Indiana, has been a town planning innovator for a quarter century. With almost 150 roundabouts (making it one of the safest suburban communities in the US), and the striking new Monon Boulevard planned by Speck & Associates and Gehl with landscape architecture by REA, the City has demonstrated how a car-centric community can make itself more walkable. But much of Carmel still consists of postwar commercial sprawl, raising the question of how readily such landscapes—office buildings and strip centers in seas of parking—can be transformed into more urban, inviting, and long-lasting places. 
Rubenstein Partners, the owner of one such large office park called Parkwood Crossing, shared with the mayor an intention to "enhance" its property. Brainard's response: "Why amenitize an office park when you can build a town center?" Since the office park occupies a key site at Carmel's southern boundary with Indianapolis, the City already had plans for a large roundabout to replace a busy intersection at the municipal border. Officials were excited to see Rubenstein convert its office park into "Carmel Gateway," a mixed-use destination with the same vibrancy as Monon Boulevard, to serve as a grand entrance to the City from the south. 
Rubenstein reached out to Speck & Associates, who teamed up with the Principle Group to reconceptualize the roughly 50-acre study area as a neighborhood that balances office, housing, retail, and recreational uses. (Full disclosure, this article's author managed the project for Principle). The goal was to supplement the site's already good vehicular and cycling access with a fully walkable destination that would proclaim to visitors Carmel's commitment to high-quality urbanism.
Because large-scale sprawl repair is no walk in the park, drawing precedent from contemporary examples proved difficult. The designers established foundational principles with the client using Ellen Dunham-Jones and June Williamson's Retrofitting Suburbia and Galina Tachieva's Sprawl Repair Manual. For a rare built example of a comprehensive office park conversion, the team examined DPZ's Legacy Town Center in Plano, completed when Speck was at the firm. Most other similar projects on record were only theoretical. 
Some of the design decision-making takes a 180-degree turn from what Rubenstein Partners had known to be historically successful in their industry. Yet, through the process, CEO David Rubenstein, a self-proclaimed "dirt guy," could be found walking the site and pacing off public spaces, contributing high quality plan refinements. Rubenstein, like Mayor Brainard, was willing to do things differently.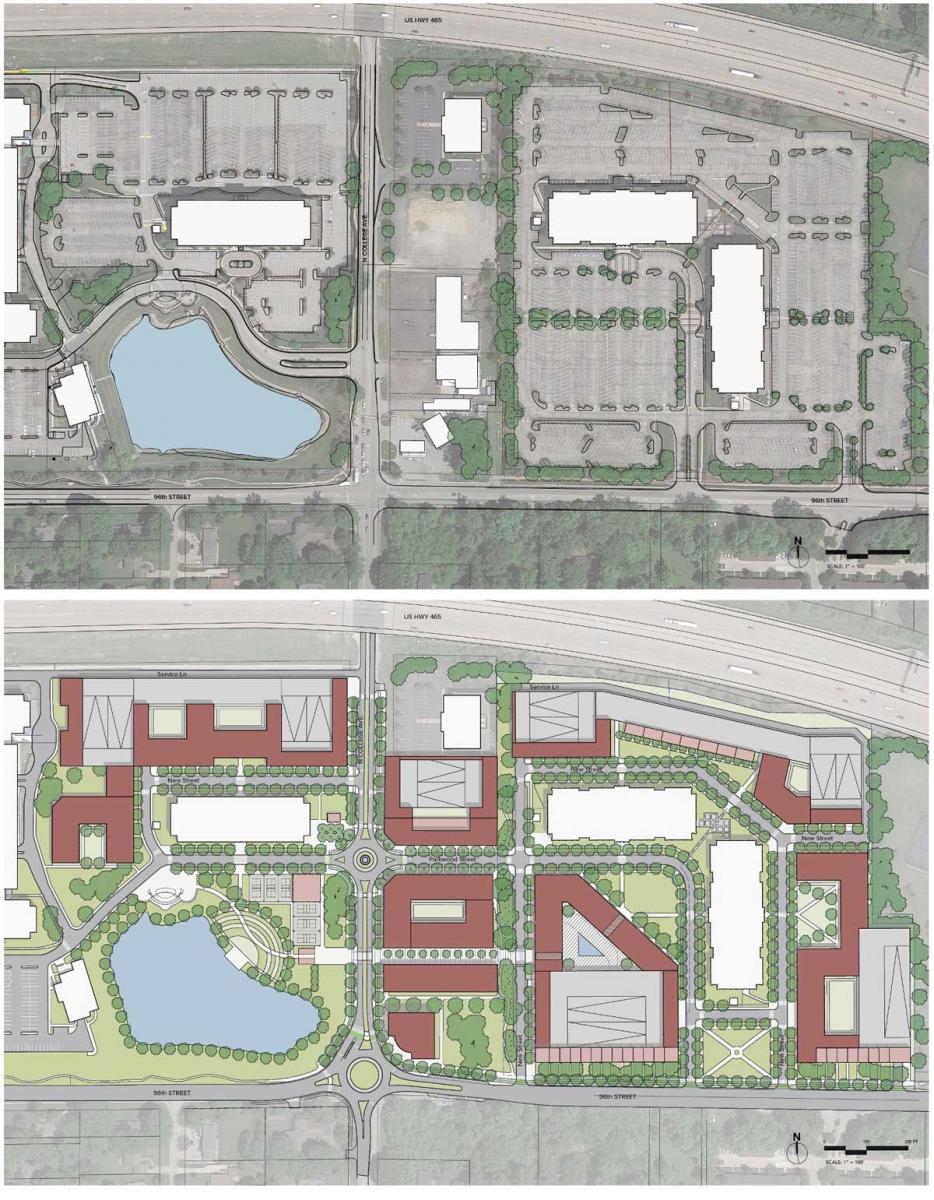 Carmel proved to be a useful source of inspiration. Every night after leaving the charrette studio, the team would invariably end up on the Monon Boulevard, doing informal design crits of what has been built to date, from lane widths and materials of new slow streets to demise lines on midrise buildings lining centralized parking garages. 
A tricky but lucky site
From Google Earth, the site appears like its principal function is car storage—though many of the lots are empty—surrounding a few prominent office buildings. Parkwood straddles a collector road, College Avenue, and is bookended by a suburban arterial to its south and an elevated highway (I-465) to its north. Three large buildings hold 640,000 square feet of fully-leased offices surrounded by almost 2,300 surface parking spaces. The City plans to build their roundabout at the intersecting streets—removing a gas station—and also recommended an aging strip center on College Avenue for redevelopment. Mayor Brainard was also excited to see College Avenue, currently quite dangerous, remade as a complete urban avenue.
A fortunate aspect of the office park layout is how it implies an underlying block structure that is currently missing but easy to unearth. Placing streets along the edges of the office buildings and an existing hedgerow creates a smaller-block network that is essential to walkability. Many of these streets can be created through the quick-build strategy of placing tree strips into parking bays, replacing head-in with parallel parking.
When these streets are mapped, it becomes clear that the office park's swooping western entrance road is redundant and can be eliminated. This allows a graceful pond edge to be reused as the site for a civic building—currently imagined as a pickleball club—and an amphitheater that takes advantage of the sloping grade and curving shoreline. 
Where the main east-west street crosses College Avenue, a second, smaller roundabout is provided, in keeping with City standards. Two more design elements complete the network: a central triangular civic space responds to the diagonal axis established by the two identical office buildings; and a pedestrian street crosses east from the amphitheater entrance, further breaking up the blocks. In addition to the preserved hedgerow, the site's two tree stands are saved as locations for neighborhood parks.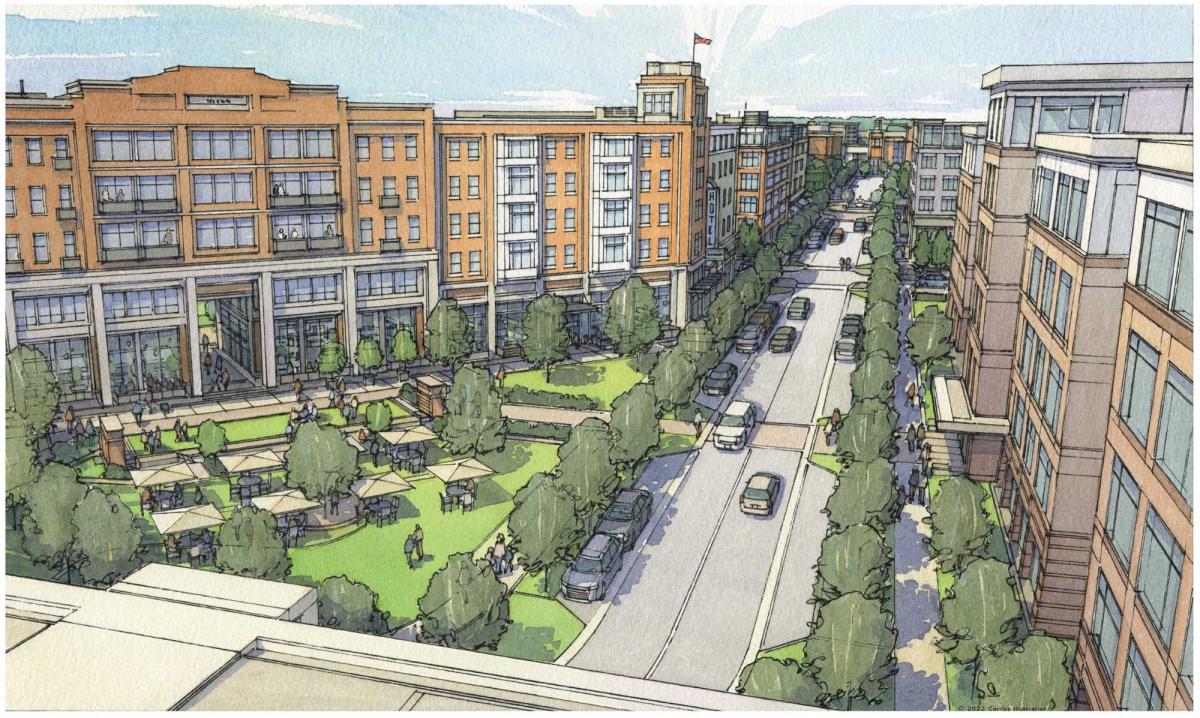 Hiding the highway
The largest blocks are placed against the Interstate highway in a novel configuration: on both sides of the plan, long parking decks connect a pair of parking ramps at both ends, hiding the highway. Among the remaining blocks, some contain parking structures and others do not, but no office or apartment is more than a short walk from parking. This parking is shared around the clock among complementary on-site uses, significantly reducing the number of new stalls needed. Many of these stalls are located in the central block, which is also expected to hold a hotel, with its triangular courtyard serving as porte cochere, dining court, and pedestrian access to parking. 
The spatially complex arrival procession, from parking to courtyard to central square to retail main street, is a key feature of the plan. Restaurants and stores run along the triangular square and back to the northern roundabout. Retail is also allowed along the pedestrian street to its south, but that trajectory is imagined more as an artisanal mews, inviting craftspeople to occupy ground-floor space in the adjacent apartment buildings.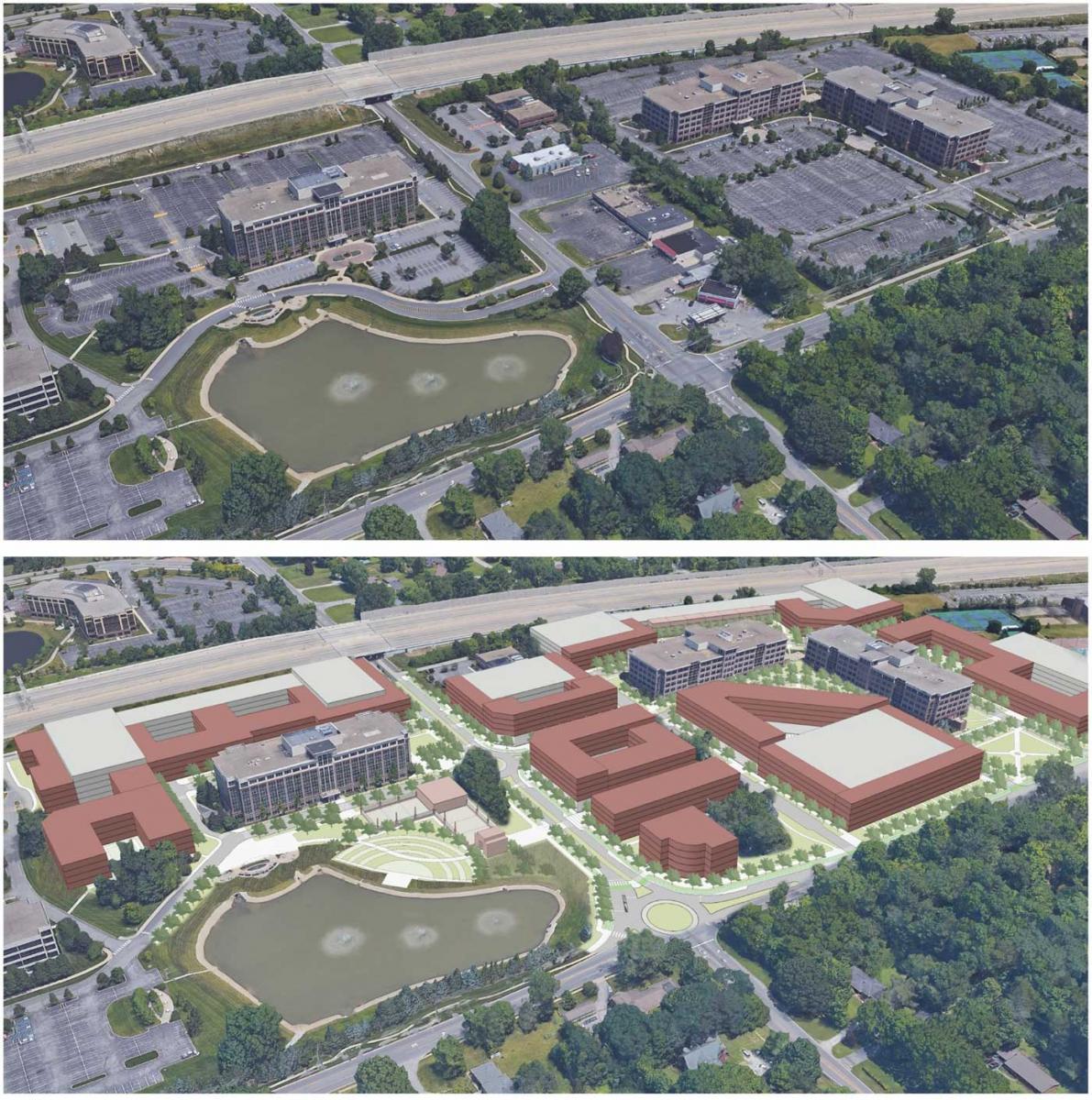 Development partners sought
Rubenstein Partners is in the business of acquiring and developing office properties, but not residential or retail ones. Rather than venturing solo into an unfamiliar market, they are looking for an experienced partner or partners to join them in executing this plan. Inquiries are particularly welcome from CNU members, and can be directed to bsimel@rubensteinpartners.com. 
Turning Parkwood Crossing into a mixed-use town center is intended to maximize the value of both Rubenstein's investment and Carmel as a whole. It also demonstrates a technique that could be repeated in hundreds of sites nationwide, including at other office campuses within Rubenstein's own large nationwide portfolio. 
More diversity of people and activities in a walkable setting are key to the future success of this project, notes Jeff Speck. "Places really gain value when they are loved, and the first step to loving a place is to live there," he explains. "Developments without homes feel expendable, and offices in a sea of parking—without street addresses—can never be truly amenitized. Two factors—mixed-use and neighborhood structure—will turn this 'product' into a community."