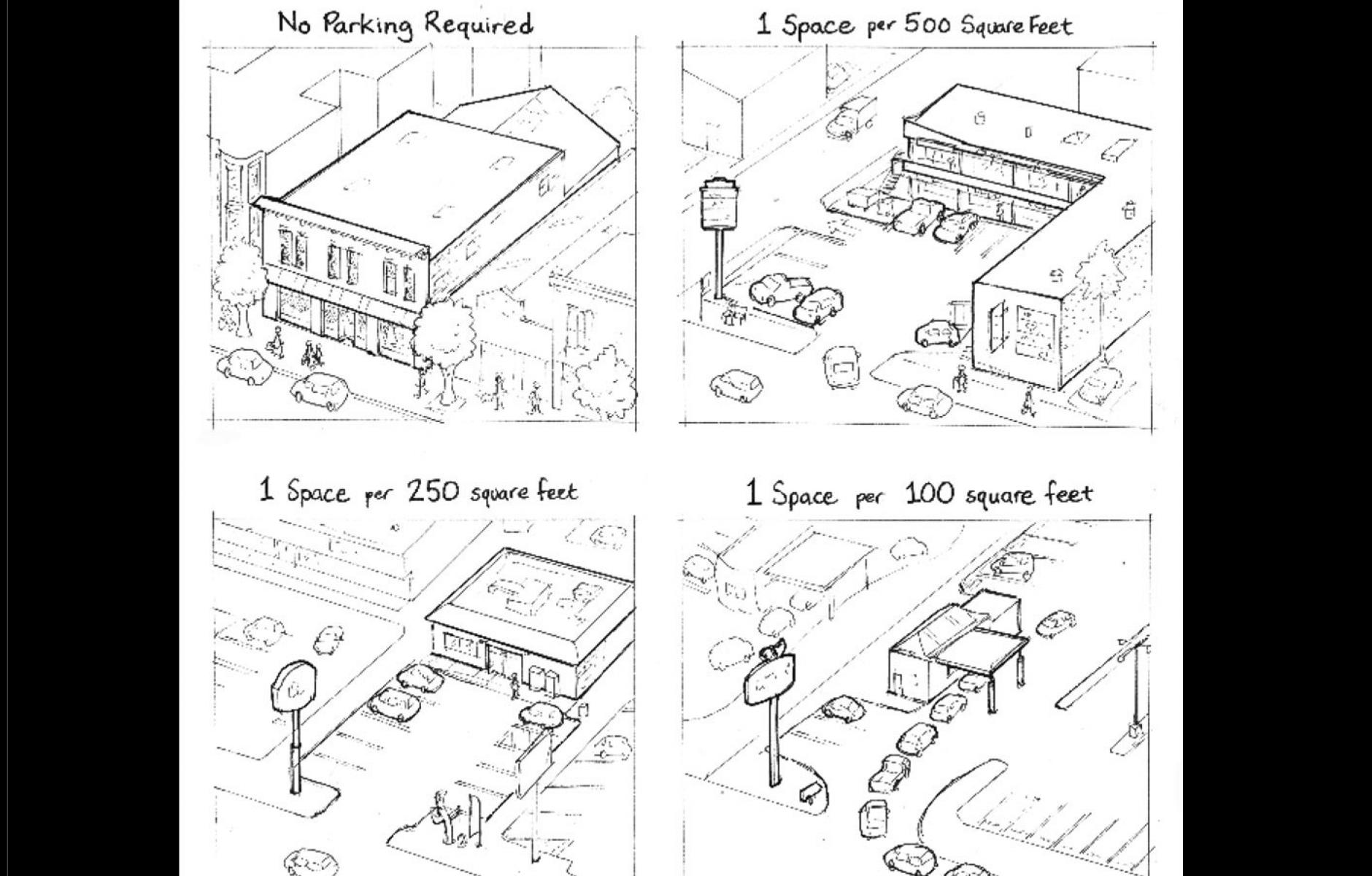 Alfred Twu illustrations from Paved Paradise show the impact of various levels of parking requirements on urban form.
Shining a light on parking reform
Motivated by concerns over housing affordability and climate change, big cities and small towns are eliminating parking requirements. The reform has just begun—especially in the suburbs.
With reviews in The New Yorker, LA Times, New York Times Review of Books, and The Wall Street Journal, a book by Slate Magazine staff writer Henry Grabar has elevated parking as a national topic of conversation over the last month. New urbanists, who are used to dealing with parking but not reading about it in major publications, discussed the issue with Grabar in an On the Park Bench author's forum this week.
Grabar's book Paved Paradise: How Parking Explains the World, published in May, is significant for the "parking reform" movement. Although Donald Shoup's 2005 The High Cost of Free Parking is the parking classic, Paved Paradise is the first such book aimed at a more general audience. 
The publication comes as parking reform is gaining traction nationwide. It is happening in nearly every state, in small towns, and big cities, Grabar notes. Many of the reforms target main streets and central business districts, where, in the past, parking requirements often caused the demolition of historic buildings. Lifting downtown parking restrictions "are a big part of" enabling revitalization of old buildings, Grabar explains. Citywide parking reform is also gaining steam—from Fayetteville, Arkansas, to Minneapolis and Boston. 
"We are not seeing it yet in the suburbs," Grabar laments. "That's really where most of the work needs to come, because these are the communities that I suspect we would like to see the most housing growth." Many suburbs are not growing in population because they are stuck in a very restrictive single-use land use paradigm, he adds.
The author cites two paramount motivators for reform—housing affordability and climate. "In places where housing is very expensive, that choice we make—whether to provide land for parking or housing—becomes more conspicuous," Grabar explains. Parking is a primary concern in battles over housing entitlement. When new residents compete for scarce parking spaces, parking is a "motivation to reject change and stop new people from moving into a neighborhood at a time when housing affordability is a primary challenge in our cities." 
Affordability is the impetus for statewide parking reforms in places like California, Oregon, Washington, and Vermont. A key benefit of state bills is that they tend to apply across the board, including suburbs that are otherwise not changing parking laws.
With regard to climate, "transportation is our largest source of greenhouse gas emissions. If we want to tamp that down and enable people to have other ways to get around, reassessing our thinking about parking is important," Grabar says. That's because parking is an obstacle to redesigning streets for multimodal transportation, and it generally encourages car ownership, he argues.

The valley of parking requirements
Grabar introduced a concept from his book, which he called the valley of high parking requirements. Requiring off-street parking works relatively well in low-density areas, where parking spaces can easily be accommodated on large lots or spread-out commercial districts. Conversely, high-density areas with high land values often provide the economic incentive for developers to build parking garages for large buildings—especially in major downtowns. In between these two extremes, in medium density neighborhoods and main streets, there is neither room for substantial parking nor the economic return to justify structured parking, Grabar explains.
Paved Paradise is widely praised for its accessible and entertaining writing style, and it also is nicely illustrated by Alfred Twu, who captures the essence of why parking is important. Grabar presented a few of Twu's illustrations, including the one below that summarizes the impact of parking mandates on urban form. 
The four drawings show how urban form may be shaped by various levels of off-street parking requirements. Instead of arguing that readers should prefer the example on the upper left (although many people would prefer it), Grabar explains that the city is powerfully shaped by underlying parking regulations. "The obligation to provide parking turns out to be one of the primary determinants of the urban form," he says, a point that will not surprise new urbanists. Still, to have this argument made more broadly can only help urbanists when they present proposals for mixed-use neighborhoods or policy reforms. 
See the entire video below: