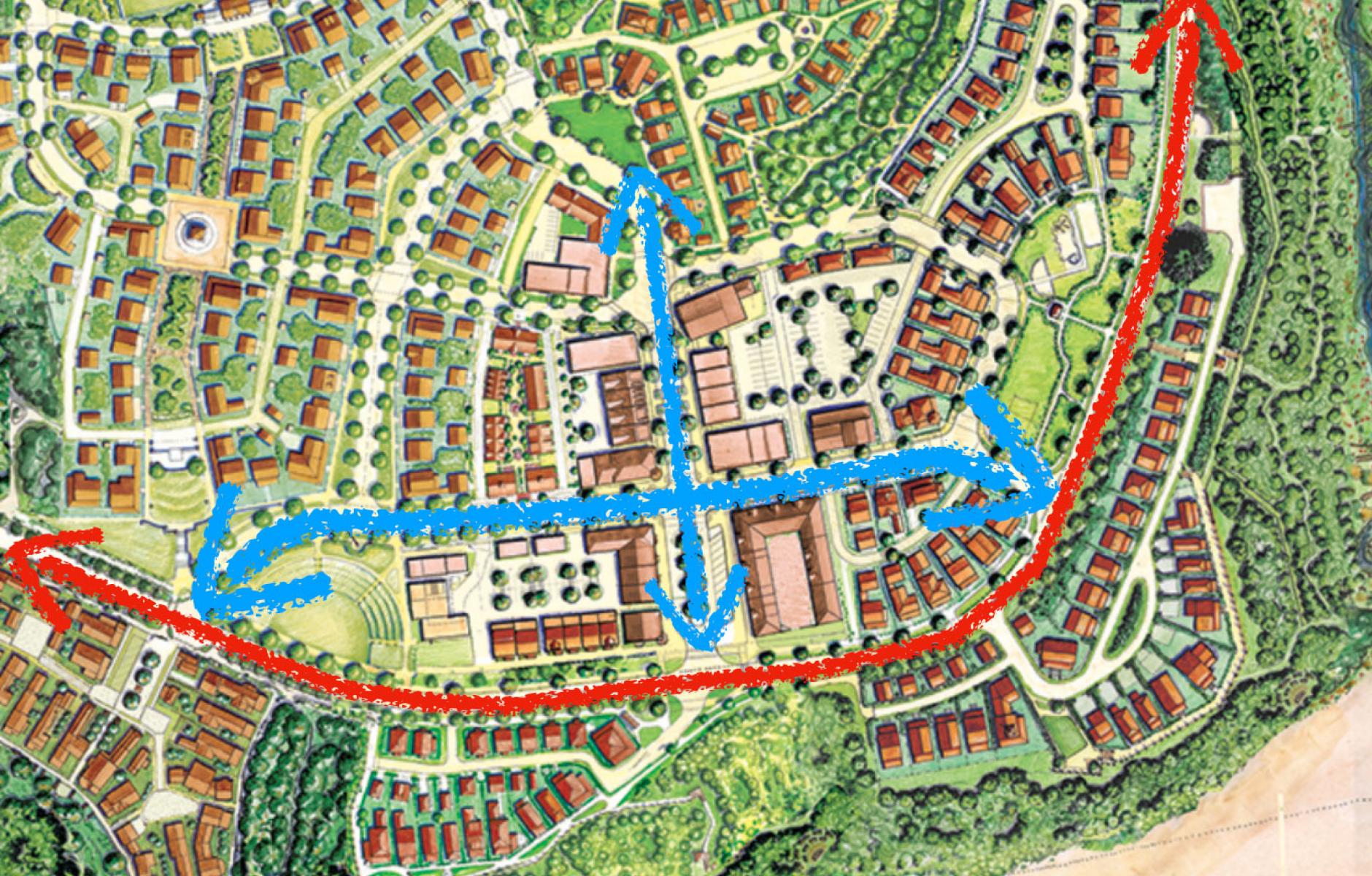 Plan for Seabrook's downtown, showing parallel and perpendicular main street, with highway in red. Source: Laurence Qamar.
Four ways to transform 'stroads'
Every city has commercial strip corridors, but there are proven strategies for rebuilding them as places for people.
The functional classification system used by departments of transportation tends to build commercial strip arterials that are hostile to pedestrians and bicyclists, notes Portland-based architect and urban designer Laurence Qamar. 
At CNU 31 in Charlotte in early June, Qamar outlined four techniques for transforming strip arterials, which are often called "stroads" (a mashup of "street" and "road," performing neither function well). The theme for this year's CNU Congress was "corridors," and commercial strips are among the most prevalent and problematic type of corridor. Qamar says that he owes these reform models to Robert Gibbs, who wrote Principles of Urban Retail: Planning and Development. Qamar has nicely illustrated how these strategies work—drawing on his experience in design and construction of the models. They are described below: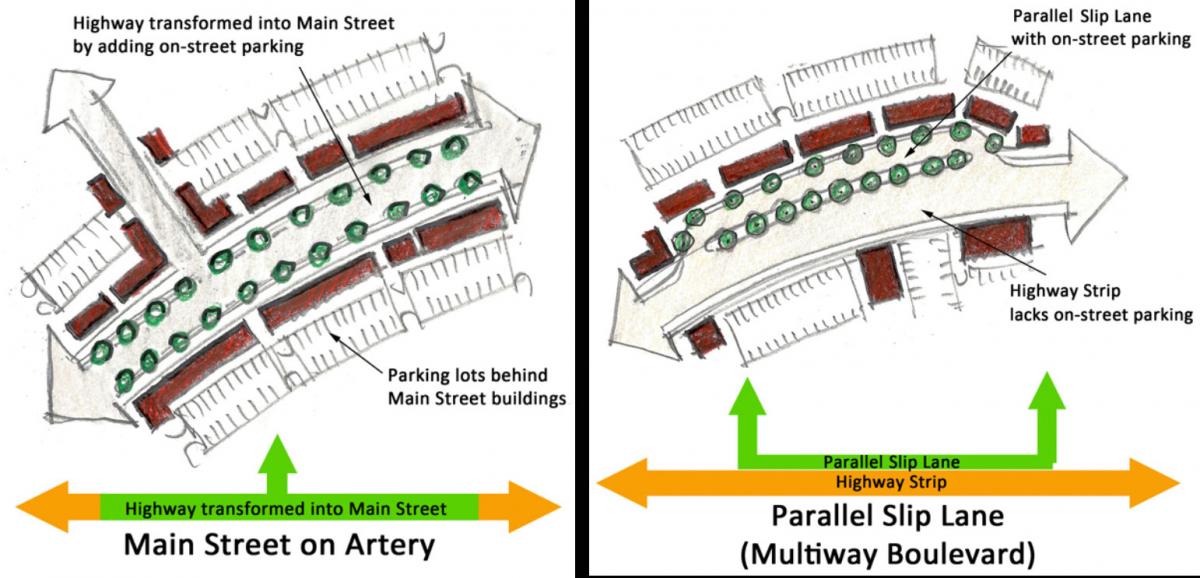 Road diet. The highway becomes a main street by adding on-street parking, among other design changes that slow traffic to a speed that is comfortable for pedestrians. Mixed-use buildings are enabled to front the street and face sidewalks, rather than parking lots. The transformation may be just a few blocks long, or up to a mile or more. 
Multiway boulevard. Build a parallel access lane (sometimes called a slip lane) at the side of the thoroughfare. The access lane is built for pedestrians and slow-moving traffic, and typically includes on-street parking. The center travel lanes are for higher-speed, high-volume traffic. Crossing such boulevards can be a problem, so special attention should be paid to pedestrian crossings at intersections.
Perpendicular main street. In this case, the pedestrian-oriented main street connects to the car-oriented road at a T intersection. The on-street parking is located along the main street, off of the highway, which remains designed for higher-speed traffic. Special attention must be given to crossing the highway at the end of the main street, so people on both sides of the thoroughfare can access the mixed-use center. The mixed-use buildings at the T intersection should be designed as a gateway, increasing visibility of the main street to through traffic.
Parallel main street. In this design, the main street peels off of the artery and connects at both ends. This design is highly visible, because the main street connects to the artery in two places—both entries may have a gateway features. Also, people turning on to the main street can drive through without going far out of their way.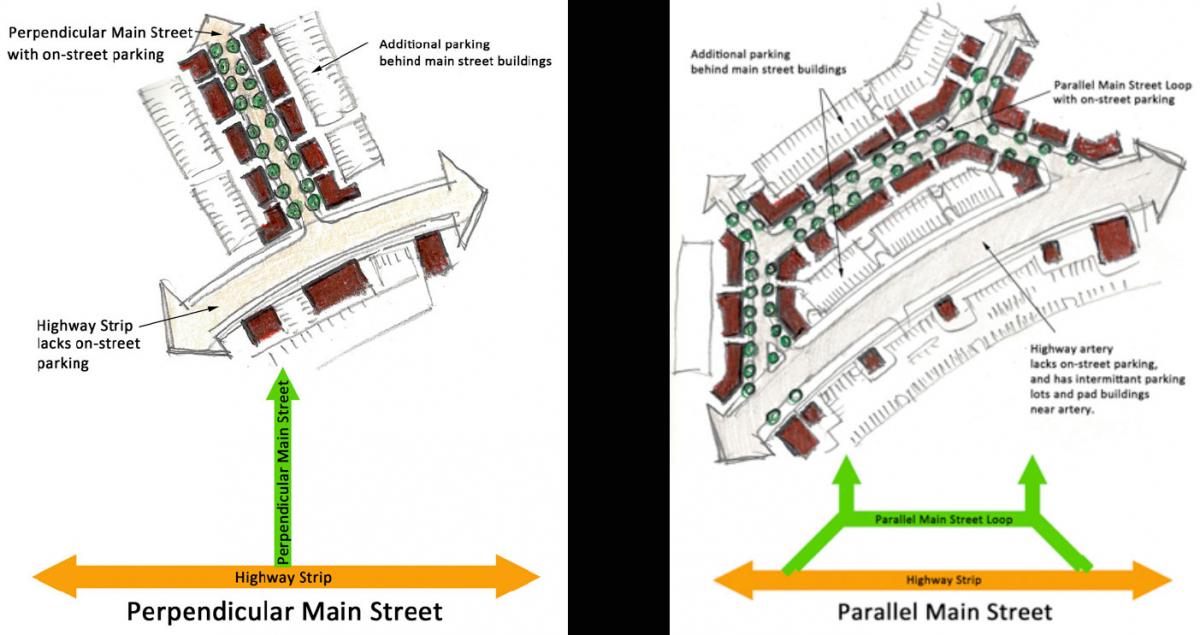 These options are not mutually exclusive, Qamar explains, and are sometimes used in combination—such as in the new town of Seabrook, Washington. Seabrook employs both the perpendicular and parallel main street designs, thus connecting to the pre-existing highway in three locations (see image at top of article). This gives the town center high visibility to passing motorists on the road. Seabrook's impressive center owes a measure of success to this design. Built slowly from scratch in the last two decades, Seabrook has 10 eateries including a bake shop, wine bar, ice cream shop, and restaurants. About a dozen shops include a food store, a book seller, home and outdoor equipment stores, and various other retailers. Just this past weekend, a full-service grocery store opened in Seabrook's downtown.
These four options are not comprehensive: There are other ways to transform arterials, such as a series of roundabouts, or building a square on the arterial—the latter is used by the noted Town of Seaside, Florida. 
Yet the models outlined by Qamar may be the most common. When using these models, urban designers and city leaders understand the models, their limitations, and key associated strategies. 
Because these models are tried and true, using them is less dangerous than reinventing the wheel. And yet they can be built with many variations. The road diet, for example, can take many forms. One of the best could be called the "Lancaster model," because it was first tried in Lancaster, California—where the downtown was transformed. It is now being duplicated in Hammond, Indiana. The Lancaster model, inspired by Barcelona, creates a center "ramblas" that is used for multiple purposes—such as parking, public space, markets, and seasonal festivals.
Qamar bases his work on core principles and ideas, such as Christopher Alexander's "A City is Not a Tree," a seminal work that explains why city streets best function as connected networks, not branches of a trunk. Qamar is a believer in the value of on-street parking, which slows down drivers and supports urban retail. The bottom line is that corridors should be conceived as "strings of pearls," rather than car sewers, he says. By this, he means  centers along a corridor are focused on convivial places for pedestrians to stop and linger while also being adjacent to the flow of the "movement economy."