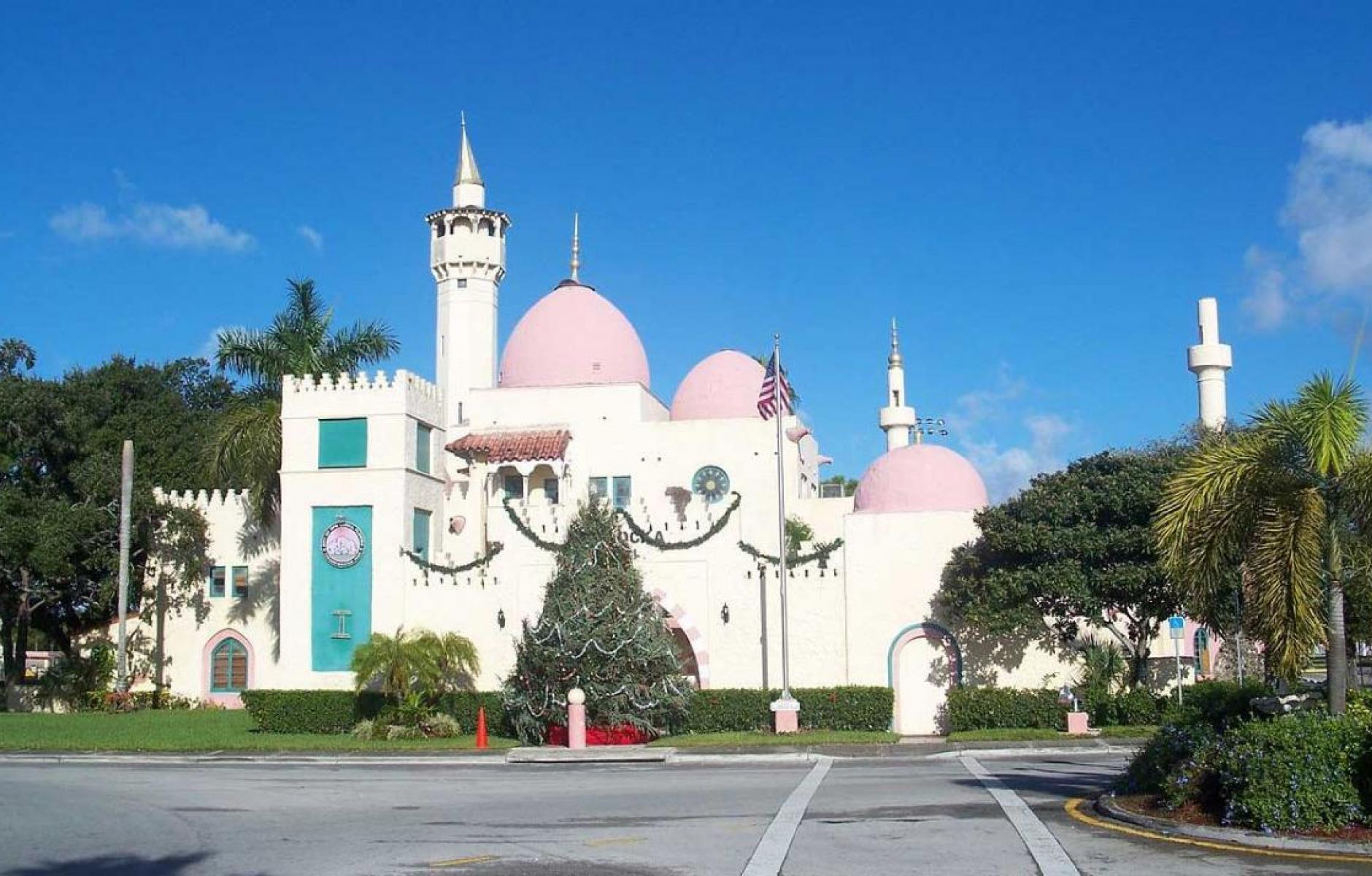 Opa-Locka City Hall. Plans to refurbish the historic structure are under review by the city. Source: Wikimedia Commons
Reviving the downtown of a hard luck city
Florida's first predominantly African-American suburb has been out of the economic mainstream for six decades. A downtown plan that focuses on New Urbanism, affordable housing, and minority business development maps out a better future.
Founded in the 1920s by aviation pioneer Glenn Curtis, Opa-locka, Florida, had an imaginative beginning, with architecture based on the Arabian Nights. The city six miles north of Miami reportedly has the largest collection of Moorish building design in the Western Hemisphere. The City Hall, with its domes and spires, is architecturally unique and terminates the city's main street.
After a military base closed in the 1950s, the city of 16,000 declined economically and became Florida's first predominantly African-American suburb. "A substantial Hispanic influx has since added diversity," but the local economy remains depressed, according to Stantec Urban Places, which authored a Downtown Master Plan in 2021. "Opa-Locka has been bypassed by all but auto-oriented and strip retail development for more than two decades due to its widespread poverty," Stantec Urban Places reports.
For those who argue that Opa-Locka's future will be just more of the same, the plan is a retort. It begins with a simple mission—to revive downtown, while ensuring the center is common ground to the city's residents long into the future. 
While Miami's strong housing market has largely bypassed Opa-Locka, the plan calls for 2,300 units of new transit-oriented, mixed-income development. "Extensive market research revealed significant, unmet, demand for a new mixed-use, walkable South Florida downtown that welcomed residents from across the economic spectrum," according to planners. Based on community feedback, the goal is for 40 percent to meet affordability standards.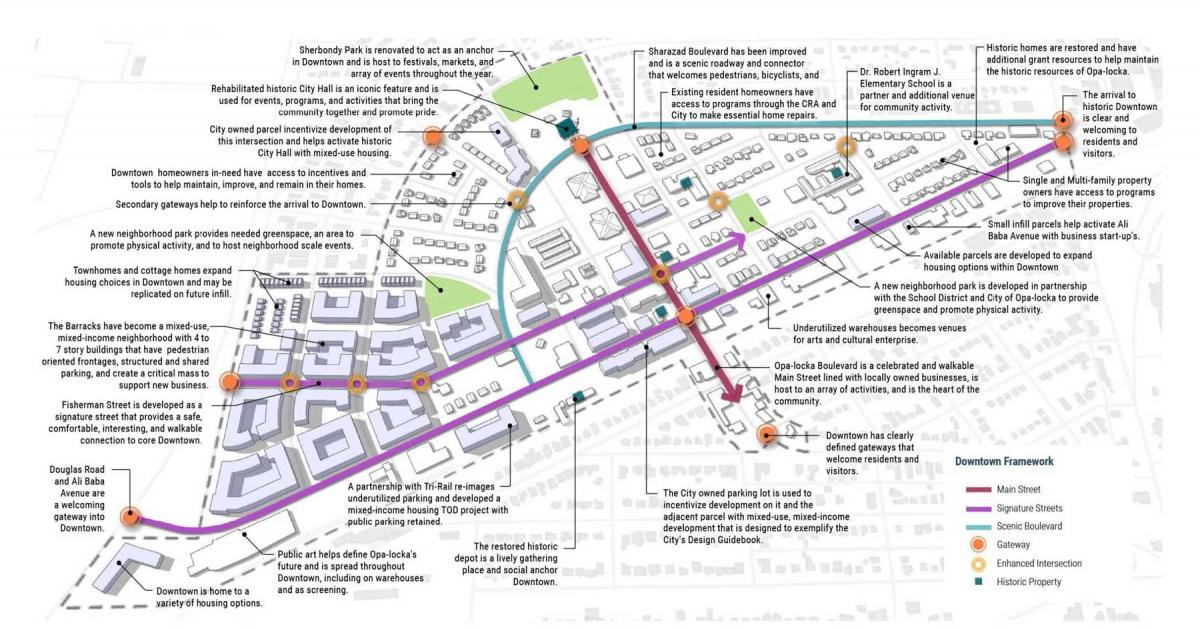 Opa-Locka's inland geography has long been a barrier to investment, but that position now signals a safer location in a time of climate change. The city also benefits from a highly connected network of urban blocks. At 160 acres, the downtown has the potential to be a dense, walkable, urban neighborhood—connected to an existing commuter rail station. 
Downtown is largely desolate now, which also means that abundant underutilized land is available, especially around the old Navy barracks, which add little to the city's character and walkability, according to the planning team. The downtown revitalization is linked to the barracks redevelopment, which would bring population density to support roughly 95,000 square feet of new retail on Opa-Locka Boulevard. Strategies to ensure existing residents share in the growth include "a strong focus on funding, training, and similar support for minority entrepreneurs to ensure emerging business opportunities are connected to the Opa-Locka community." Some existing industrial buildings are being converted to flex space for new business startups, entertainment venues, and other uses.
"We have a vision folks believe in and the strategies to make it happen," according to Corion DeLaine, Community Redevelopment Agency Manager. "We are empowered to make sure that the residents, the business owners, and the property owners get our absolute best in terms of moving the community forward."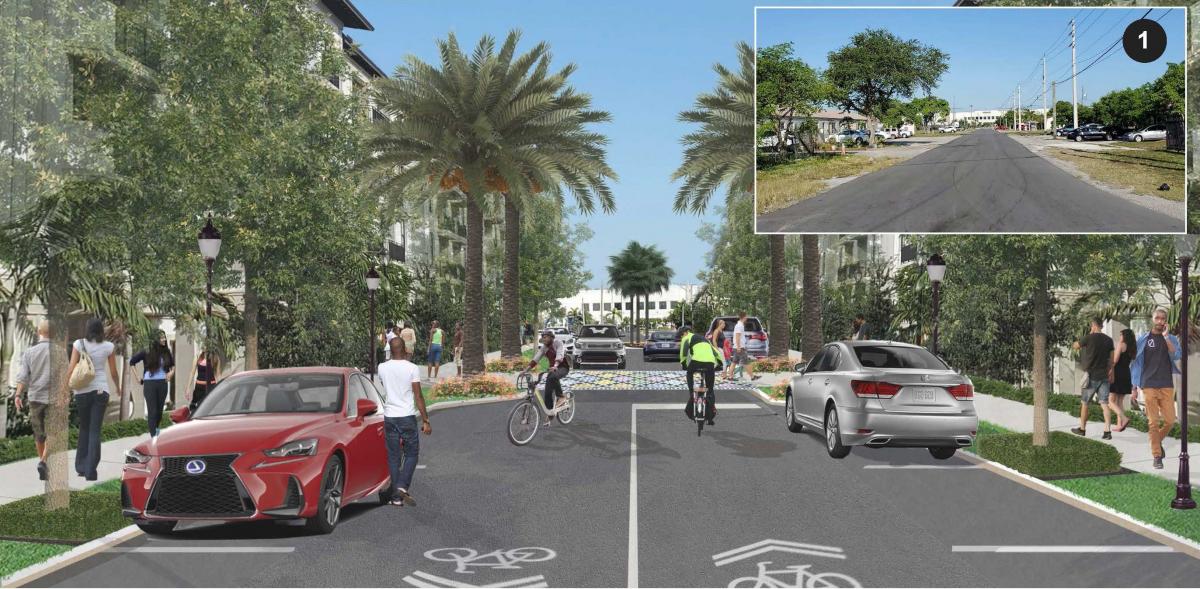 Planners draw on new urban principles, especially related to the public realm. "The overall plan includes roughly 65 acres of improved pedestrian friendly right of way and a funding strategy to line all new and many existing streets with shade trees to provide badly needed shade and make the goal of a walkable downtown achievable." Also, two neighborhood parks are proposed. 
According to Stantec Urban Places:
The plan focused on creating the "walkable density" necessary to support retail, arts, and culture, and other activities which bring neighborhood streets and Opa-Locka Boulevard (the main street) to life. The result is a vision of three-to-five-story, mixed-use, buildings with active ground floors. To that, narrow-lot cottage housing is added. 
Walkable density supports a diverse mix of activities essential for daily living within a five-minute walk, including a newly walkable connection from Opa-Locka Boulevard to the Tri-Rail commuter rail station.
The plan demonstrates the power of integrating design and implementation by creating a robust program for training and funding local-disadvantaged entrepreneurs to open distinctive new businesses that animate Opa-Locka Boulevard.
New parks and public spaces range from small neighborhood play areas to a lively square in front of City Hall.
Since the plan was formally adopted, three significant redevelopment projects are seeking approvals with the city, the firm reports. All are mixed-use, including the replacement of a nondescript single-story commercial building with a five-story structure, and the redevelopment of a city owned parcel along Opa-Locka Boulevard.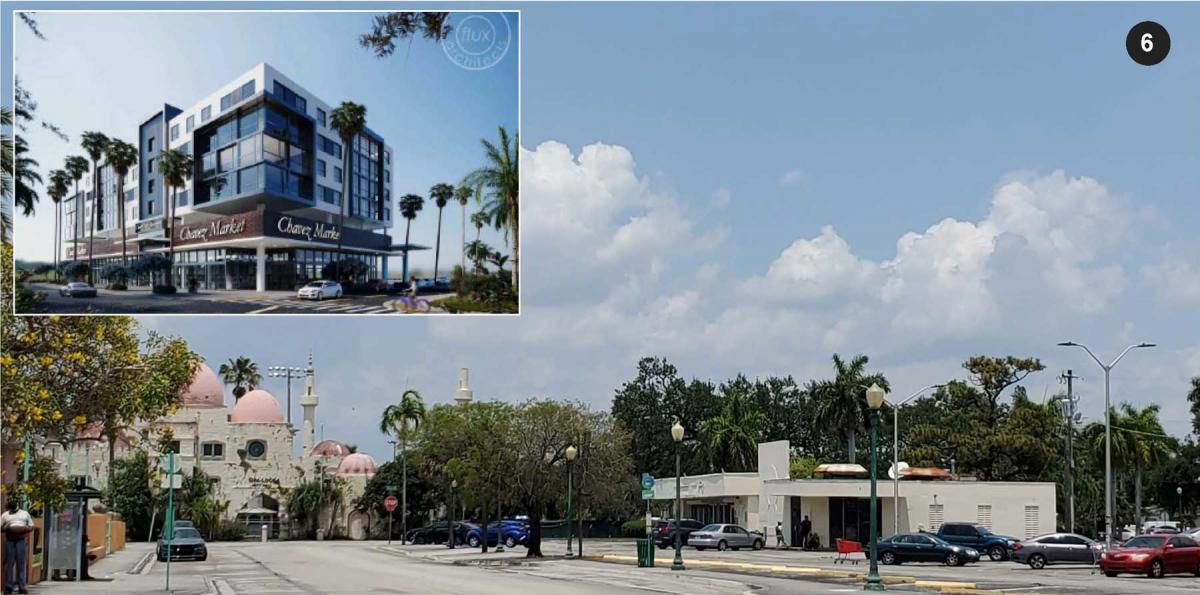 "This plan demonstrates how a new urbanist vision, matched with the right affordable housing, small business support, 'common ground' and similar equity and inclusion initiatives together with effective funding strategies can unlock substantive change—and bring new hope—to an impoverished community of color," Stantec Urban Places says.