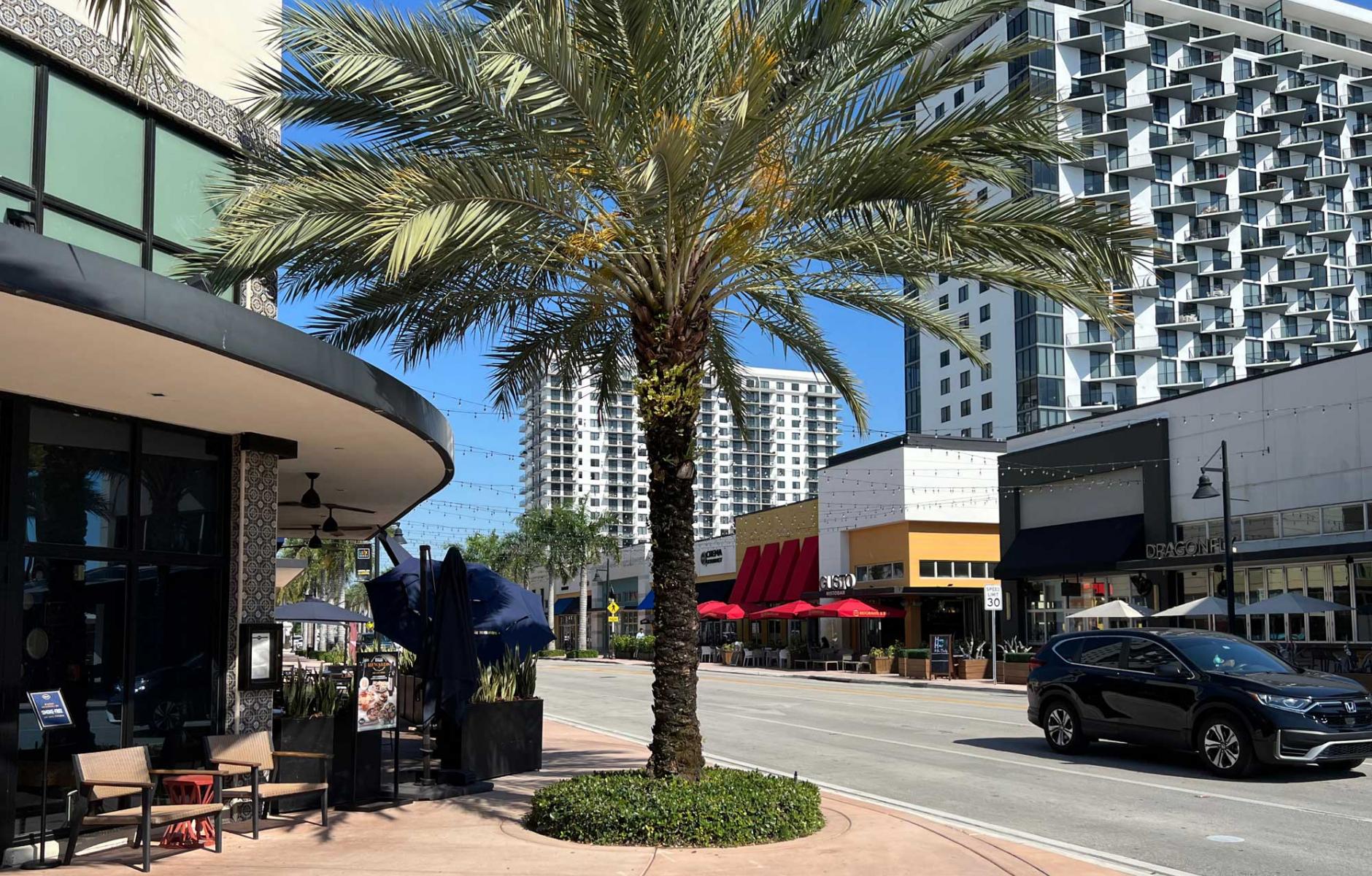 Downtown Doral in Doral, Florida, where an office park has been converted to a mixed-use downtown with residential, retail, and civic spaces, in addition to offices. Source: DPZ CoDesign
Why vacant offices are post-pandemic opportunities
Cities and states offer incentives for developers to convert offices to living spaces, which could have a profound impact on downtowns, employment districts, and office parks.
Near the beginning of the pandemic, when downtowns across America resembled eerily well-maintained ghost towns, a Public Square article speculated on what would happen if many workers never returned to the office.
"When we emerge from this pandemic, it would not be surprising if employees increasingly work remotely from home whenever and wherever possible. … A shift to at-home/remote office work might have a profound impact on leasable office space throughout the nation," said architect and urban designer Laurence Qamar. 

That turned out to be prophetic. At the time, many Americans were just getting acquainted with Zoom and other such platforms, and no one knew that the pandemic would last well beyond two years. Nearly three years later, it is clear that office vacancies are a long-term trend—and the shift toward at-home work is real. 
According to Forbes, the world's office buildings are now less than 50 percent occupied. "Depending on where you're standing and what day of the week it is, daily occupancy in the world's office buildings ranges from about 20 percent to 70 percent. That's low when you stack it against pre-pandemic averages, which were consistently closer to 80 percent."
That's worrisome for downtowns, office parks, and suburban town centers. Office buildings comprise a significant portion of revenues for building owners and contribute to the tax base, and the workers in those buildings support restaurants, retail, and entertainment venues. 
Qamar offered another way to look at the seismic shift. "Office buildings could transform into renovated housing as a solution to housing shortages. Households and business activity could increasingly mix as office workers work from home and in neighborhood-based shared workplaces. Central business districts, industrial districts, and outlying neighborhoods may become much less segregated and dispersed, much as they were prior to the 1890-1920s industrial revolution when neighborhood-based businesses were as prevalent as downtown offices."
The trend could help to transform suburban office parks, which are segregated as single-use environments, he opined. Such a change could reduce commutes and greenhouse gas emissions. "Of course, the financial loss for office real estate could be significant, but perhaps there is a silver lining if office buildings were increasingly converted into residential apartments," he argued in the spring of 2020.
But there's a rub that has become more widely recognized. Converting empty office space to housing—especially in modern buildings with large floor plates—is very difficult and costly. "Colleagues with greater knowledge of office building construction informed me that the building types and their mechanical systems might not be easily retrofitted for residential," says Qamar. 
On the one hand, we have enormous quantities of unused office space. On the other hand, many metropolitan regions have a housing shortage. The conversion difficulty is a dilemma. In order to bridge the gap, jurisdictions are coming up with creative solutions. Cities like Washington, DC, and Portland, Oregon, have programs to incentivize office to residential conversions. 
Portland's program eliminates development fees for developers who make these conversions, according to a recent article in the Portland Business Journal. "Portland office building owners are struggling with high vacancy rates in the office market and open to drawing tenants with rent breaks. But whether the city's incentives will be enough to get landlords to jump into full-on residential conversions remains to be seen," the publication reports.
In California, lawmakers have created a statewide incentive program for office-to-residential conversions, according to CoStar News. "Roughly 55 applications have been filed for roughly $105 million in grants for the conversion of offices, commercial space, or business parks into affordable and market rate housing," according to a spokesperson with the California Department of Housing and Community Development. That's a little over a quarter of the $400 million that the state approved to promote such conversions. "The program is being watched across the US, as other governments look to convert office space into housing to combat a worsening national housing crises," OnStar reports.
Jeff Speck, in the 10th Anniversary Edition of Walkable City, identifies another opportunity. When office buildings are underutilized, they also have largely empty parking lots. As an example, Speck cities Des Moines, where many of the city's surface parking lots are now vacant around the clock as a result of lower office occupancy. "Single use parking is always wasteful; unused parking, during a housing crisis, is inexcusable. Give the unlikelihood that Des Moines offices will ever reach full capacity again, it makes sense to start converting blocks of parking to housing, which will find more than ample overnight parking in adjacent empty blocks. The same goes for most midsized cities," Speck says.
As Covid 19 appears to be winding down, it is time to take stock of what is likely one of its long-lasting effects on real estate. "We should follow this trend more as new urbanists," says Qamar. "Reimagining downtown central business districts and mono-functional office parks as more mixed-use, 24-hour places would be a great step for cities and suburbs."