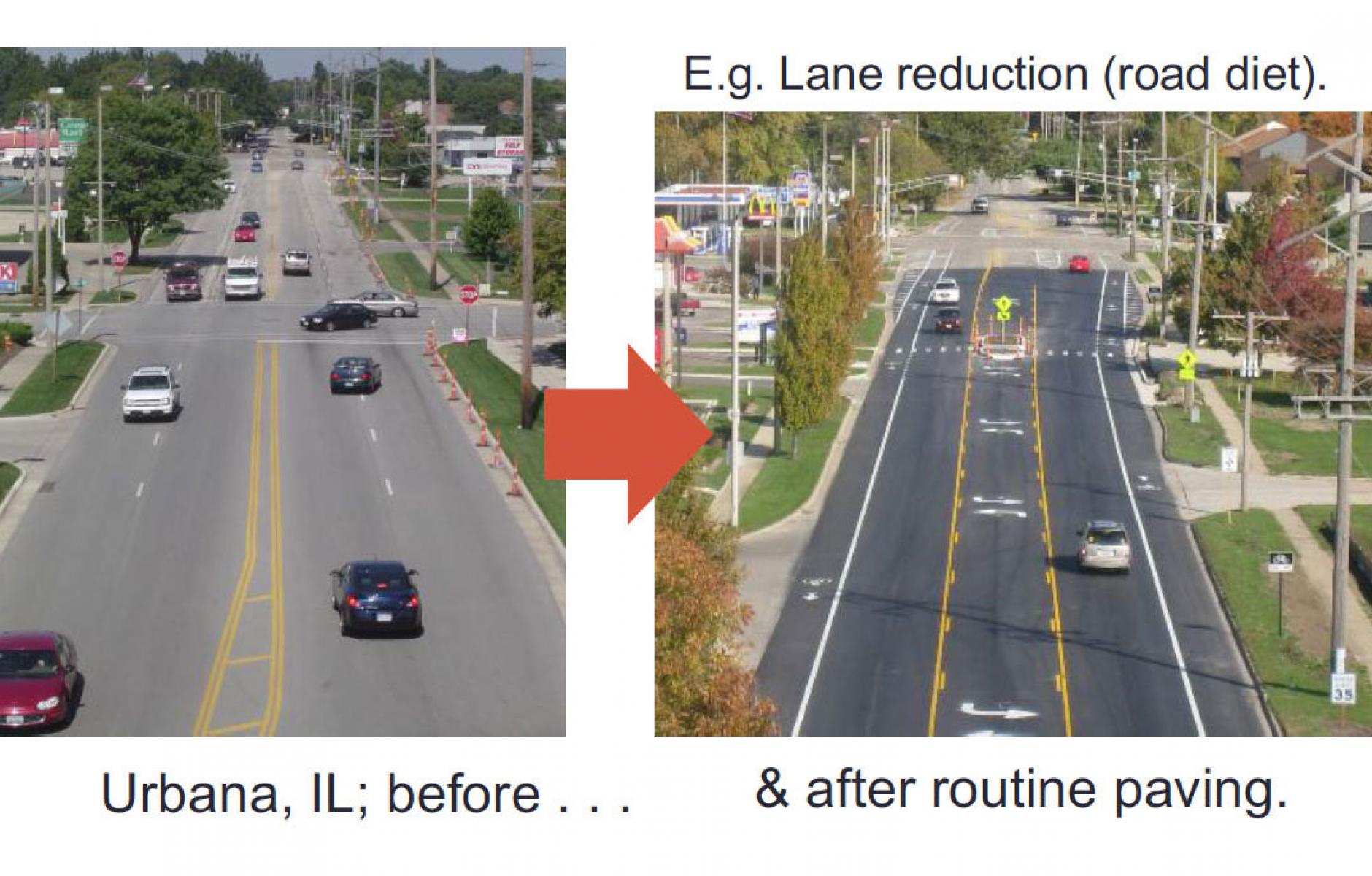 Urbana, Illinois, road diet: Much can be accomplished primarily using paint. Source: Mark Fenton
Healing small cities through land use and transportation
On the Park Bench experts reveal how to overcome barriers to healthy, thriving cities in America's heartland.
"We don't know how. It costs too much. It won't work here."
These three objections are raised by public officials when confronted with the need to reform land use and transportation, according to Mark Fenton, who presented on CNU's On the Park Bench webinar Healing Small Cities.
Fenton and co-presenter Rebekah Kik report how small cities (10,000 to 100,000 in size) are overcoming built environment challenges to boost health, the economy, the environment, and equity. Leaders and residents "are realizing that the benefits occur not just on the economy, and the environment, but also on public health," Fenton says.
A growing segment of Americans want to live in small cities, says Fenton, a national health, transportation, and planning expert. Cities of this size offer advantages of urban place, without the traffic congestion and high housing costs of many of the largest metropolises.
But small cities also need healing from decades of land-use and transportation mistakes that discouraged investment and promoted flight to the suburbs. The three objections can be answered if planners are prepared, Fenton says. There's a library of resources available for cities to make changes; return on investment justifies costs; and pilot programs prove that projects do work in all kinds of cities, he says. Also, costs can be reduced to very little by reconfiguring streets with paint on a normal repaving schedule, he adds.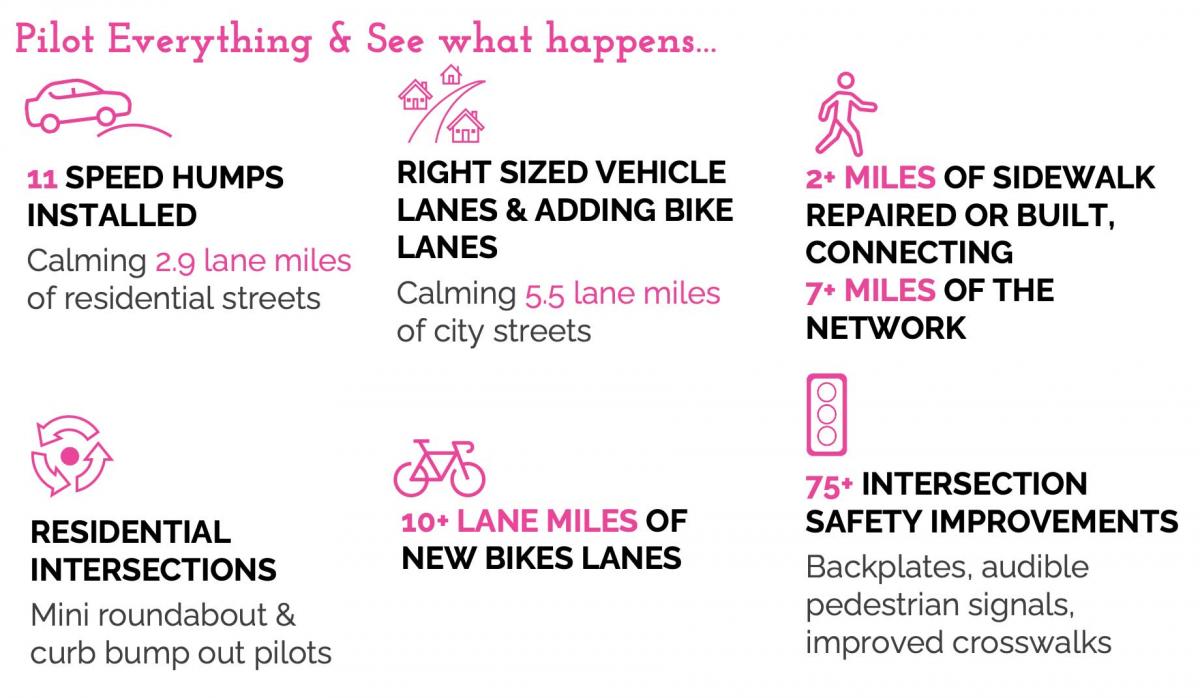 Kik, who is the assistant city manager in the City of Kalamazoo, also touts pilot projects. Demonstrations show the economic advantages of a wide range of street projects, as shown in the slide above. And Kalamazoo pilots far more than that. "Think about piloting composting, home gardening, all kinds of sustainability projects that you would like to bring into community," she says. 
She advocates merging land-use and transportation through a master plan, a complete streets policy, and a street design manual. The master plan sets the philosophy for community development, the complete streets policy is the roadmap, and the street design manual establishes the procedures, she says. "I call it the secret sauce, and it has got to happen with your land use and transportation," Kik explains. "It really will have a profound impact. When you know what your street is going to end up looking like, it is like your town changes overnight."
Zoning reform is difficult, but can be done incrementally. Kik suggests framing it in terms of repair. "We suburbanized our most disinvested neighborhoods" by increasing required lot width, she explains. After 2019 reforms, "We went from 60 percent of our residential zoning nonconforming, to 1 percent of our lots being unbuildable." That change has been a "game changer" in terms of enabling nonprofit builders to begin working in the city. The city went from zero development of residential lots over a 10-year period to 48 units, including single-family homes, duplexes, and accessory dwellings, she says. Kalamazoo is reforming its zoning incrementally. "You will not get it done if you don't get your zoning right."
Fenton describes working on three scales simultaneously: The "macro scale" of land use, the "mezzo-scale" of the street network, and the "micro-scale" of placemaking, a way of thinking that echoes the three scales of the Charter of the New Urbanism. See the webinar, which took place Tuesday, February 21: