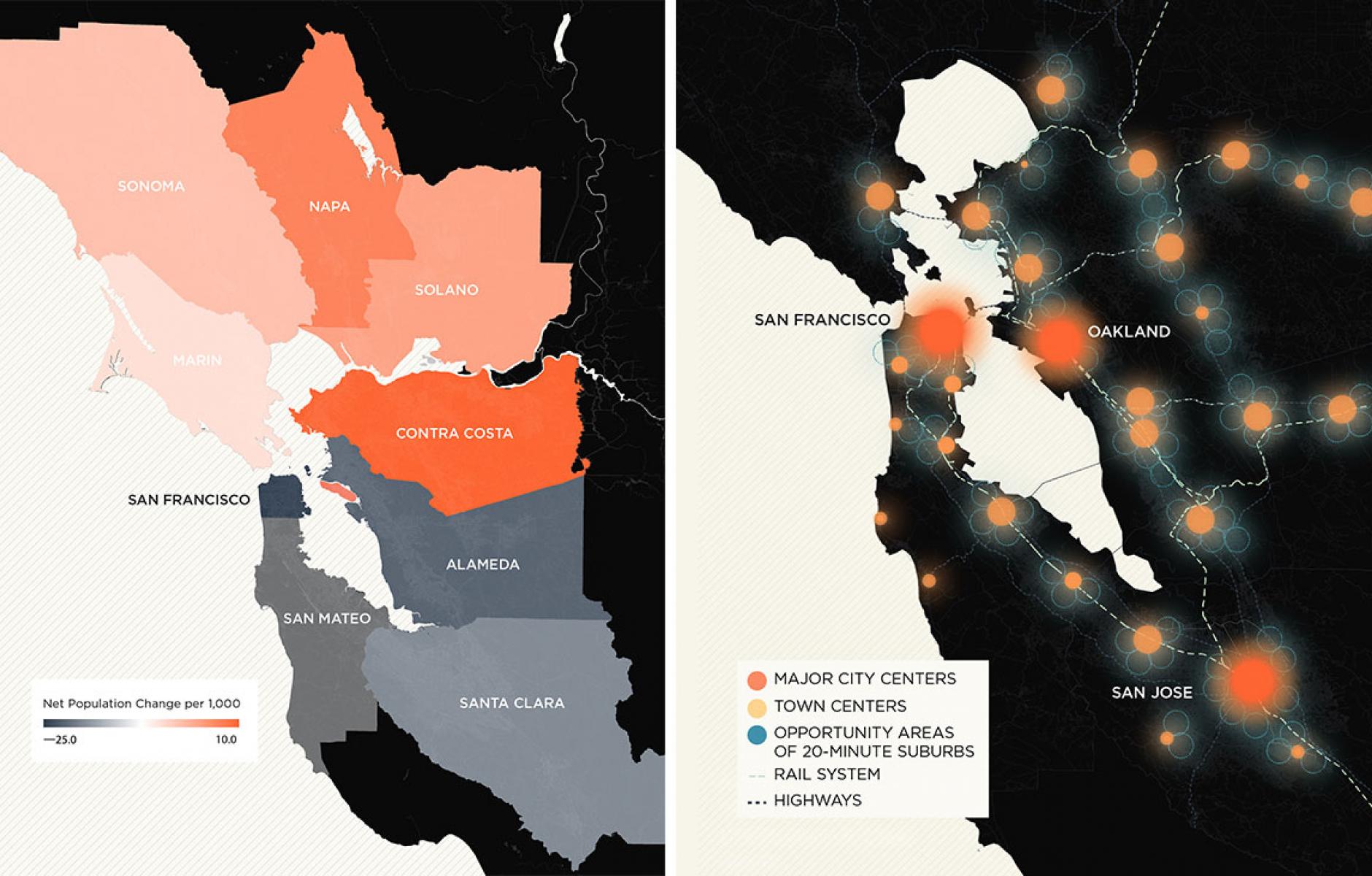 Bay Area cities and suburbs, at left, and organized as 20-minute suburbs, at right. Map by SOM.
Analysis proposes '20-minute suburb'
An analysis by SOM argues that the suburbs are urbanizing as a result of shifting markets and people moving out of cities in the Bay Area of California. The firm examined what it called the "20-minute suburb," based on the 15-minute city idea, to show how suburbs could transform around town centers connected to smaller nodes. 
The idea is that suburbs are less dense than cities, and would need larger catchment areas to include all of the things that are needed for daily and weekly living. "We say 20 minutes because that's where we need enough households to support the range of choices we like to have," says Ellen Lou, principal of city design practice at SOM's San Francisco office. The analysis grew out of Lou's observations during the pandemic, as reported in Planning Magazine. 
"Neighborhood retail became more vibrant as stay-at-home office workers patronized local establishments. Walking and cycling grew more prevalent during lockdowns, spawning a national boom in bike purchases and outdoor activity. During the later months, local coffee shops and even coworking spots became crowded with workers who wanted to get out of the house but not return downtown."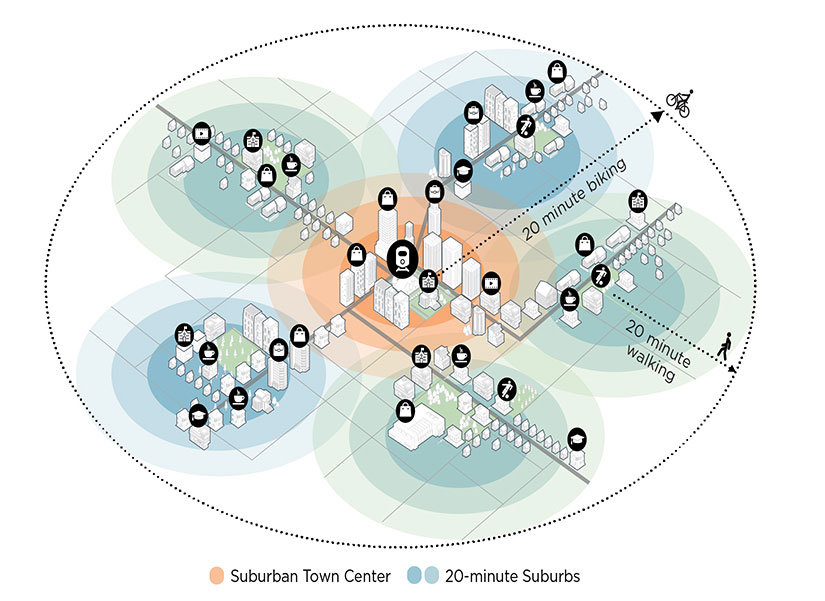 Lou, and her study co-author, Joo Cho, also with SOM, are right that the 15-minute city concept can be applied to suburbs. They describe the changes that would be needed to make that happen: "The concept argues that densification through a combination of zoning reform, transportation investment, and strategic commercial and residential expansion centered around existing transit could create more livable, walkable, and human-focused suburban neighborhoods, which could in turn promote greater housing affordability and sustainability."
These recommendations are very similar to what Andres Duany and I write in our recent essay, Planning the 15-minute City. My critique is that I don't think expanding the walking and biking sheds to 20-minutes is necessary in the suburbs. The 15-minute bicycle shed already large enough, potentially encompassing more than 20 square miles. The suburbs need spatial discipline, and keeping the catchments tighter will help them to plan for that. 
Also, in order to plan for diversity, we need to keep the 5-minute walk at the individual neighborhood level. Without that discipline, we could get monocultures and segregation. Duany and I wrote: "The 5-minute walk remains important but requires the 15-minute city comprised of several neighborhoods nested together, coalescing at a scale that is able to meet all of people's daily and weekly needs."