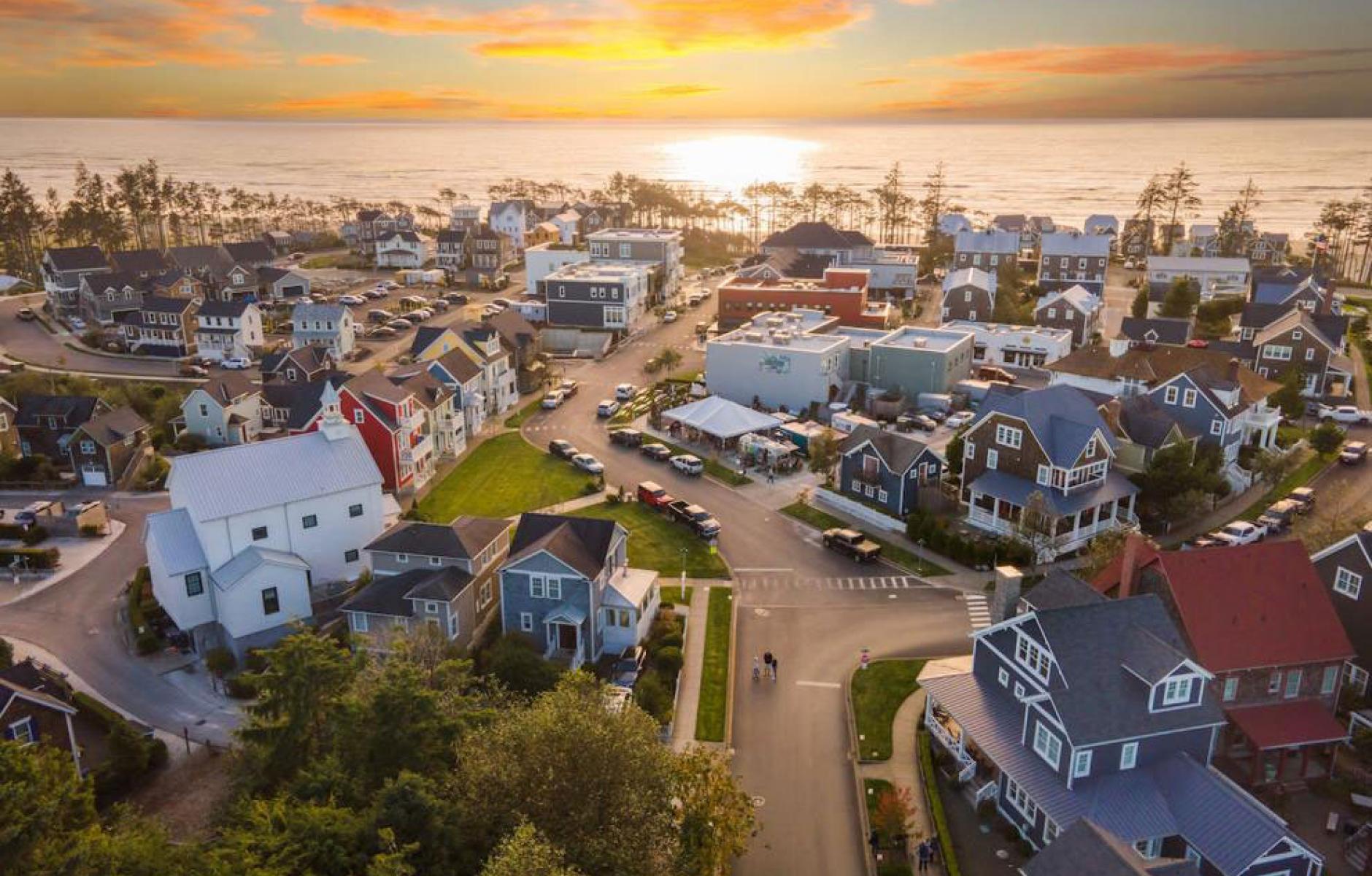 Seabrook, Washington. Source: Seabrook
Washington beach town based on Northwest vernacular
Seabrook, Washington, is the first full-scale beach town built according to the principles of New Urbanism on the West Coast. Founded in 2004, Seabrook is sited on a bluff that offers tremendous ocean views and protects against sea level rise. 
Seabrook was planned by Laurence Qamar on 88 acres, and he has worked with founder Casey Rolloff and his director of town planning and design, Stephen Poulakos, to modify and expand the plan over the years (Qamar, principal town planner and designer, also designed 30 houses, wrote the form-based code, and consulted on other designs at Seabrook). The town now has nearly 500 homes, 18 parks, a public school, a town hall, and an active mixed-use center. Including future growth, Seabrook totals more than 580 acres, says Qamar.
Seabrook's urban core recently won an an Urban Guild Award. The Urban Guild wrote: "This 14-acre urban core is part of a purpose-built hilltop resort town located along the Pacific Ocean. Both its primary main street, Market Street, and the secondary urban blocks are perpendicularly oriented to telescope inward, drawing water views deep into town while reinforcing the sense of place. Prominent civic structures like the community's town hall and large market building work in concert with nearby 'Founder Lot' homes, whose architectural features create iconographic vista terminations, deflected vistas and other architectural way-finding features that lead one to and from the urban core with ease."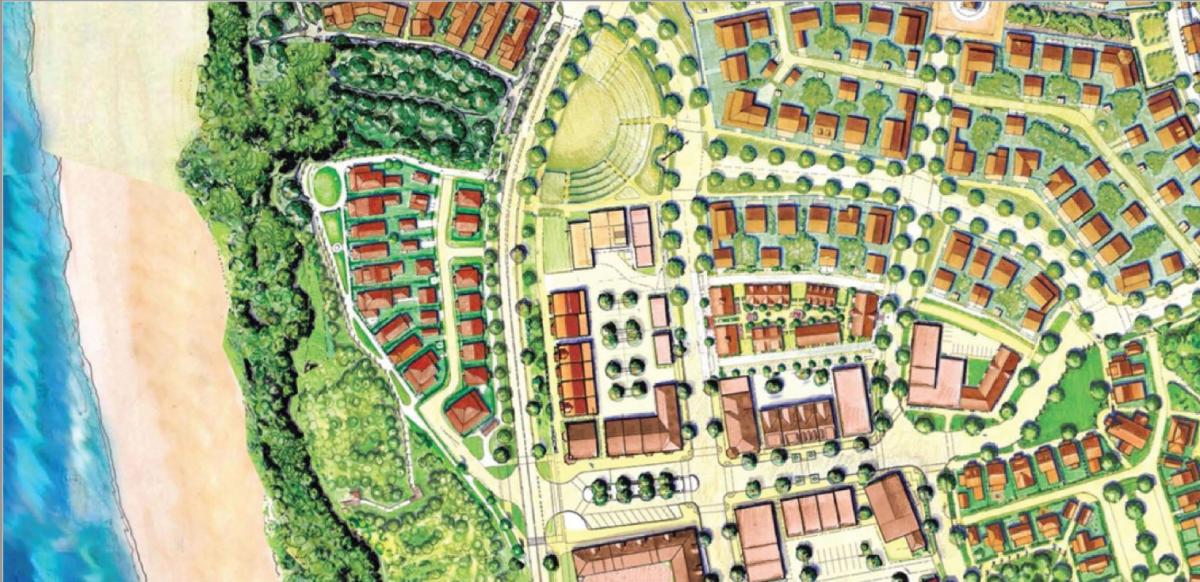 The town center has 10 eateries including a bake shop, wine bar, ice cream shop, and restaurants. About a dozen shops include a food store, a book seller, home and outdoor equipment stores, and various other retailers. 
In an article for New Urban News 18 years ago, Qamar told me that Seabrook "has the potential to do something similar for the Washington Coast that Seaside did for the Florida Panhandle." Qamar explained: The Washington Coast is economically depressed — like the Panhandle of 20 years ago — and overlooked as a locale for beach towns and second-home resorts. He hoped for Seabrook to change the image of the Washington Coast and set an example for a new urban pattern of growth.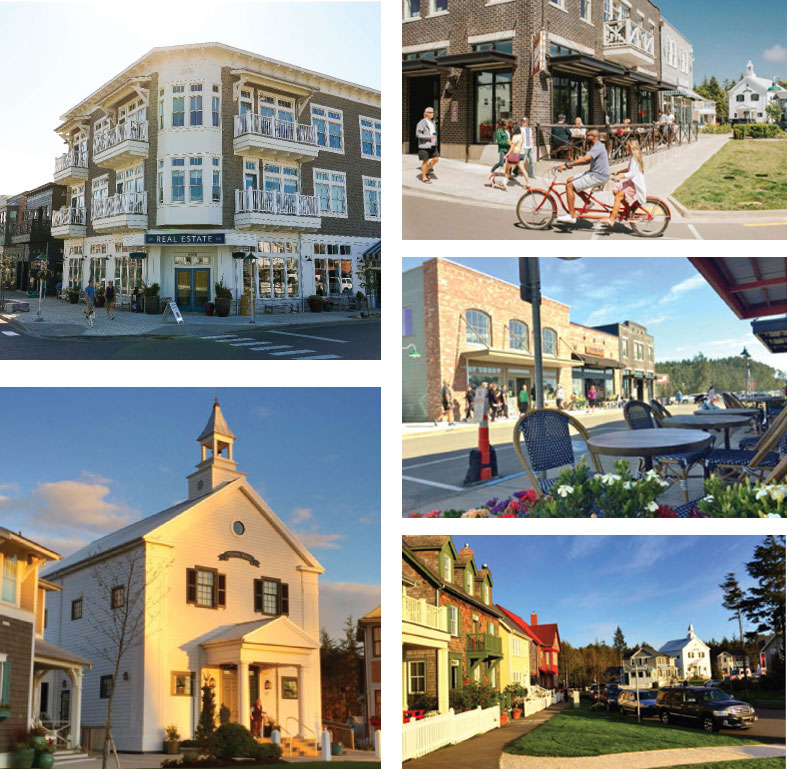 Based on the recent award and images, Seabrook has achieved many of its early objectives. Although Seaside was in some ways an inspiration, the character of Seabrook is far different from the iconic Florida resort. Seabrook's layout and architecture are based on the Pacific Northwest vernacular style.