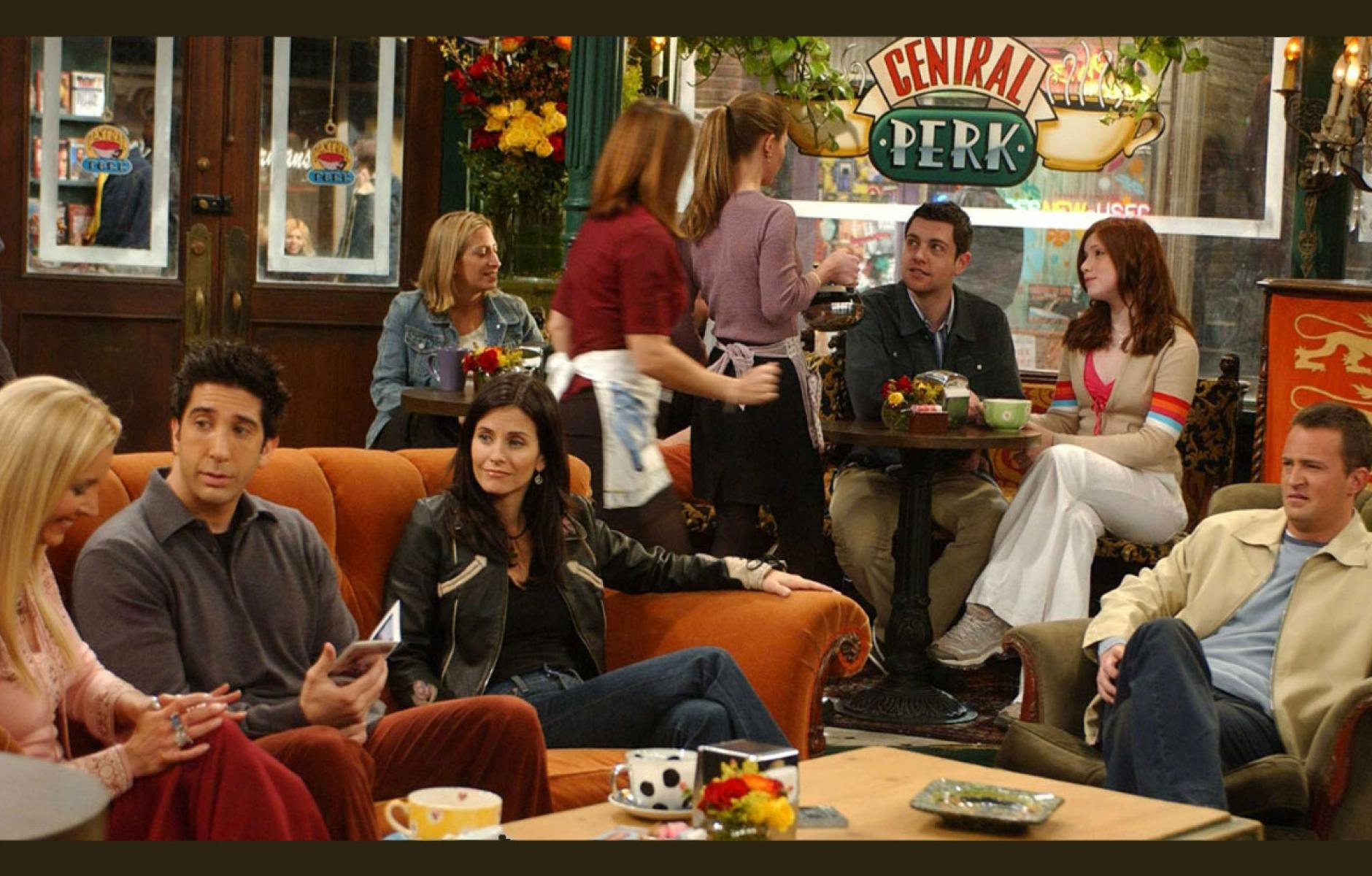 The cast of Friends hanging out at a neighborhood cafe in the 1990s.
The third place coffeehouse faces a serious challenge
The rapid rise of kiosk coffee sellers poses a threat to the business model behind the ultimate American third place—the cafe. Communities and nonprofits may have to take a larger role.
I'm worried about our third places.
To those unfamiliar, third places are those venues, other than home and work, where people head for conversation, connection and belonging. Every culture (and subculture) has its own version. Well-known (albeit fictional) ones in ours include Fell's Point Diner (Diner), Cheers (Cheers), Central Perk (Friends), Cafe Nervosa (Frazier), My-T-Sharp Barbershop (Coming to America) and Calvin's Barbershop (Barbershop franchise), among many others.
Largely through the rapid expansion and near-ubiquity of Starbucks Coffee, the coffeehouse has established itself in recent decades as North America's preeminent third place, with a business model in which high margins on the coffee and espresso-based beverages effectively cross-subsidize the social function.  
Its success might lead some to take such gathering places for granted. For the last five years or so, however, I've noticed a looming threat on the horizon. And especially amidst the pandemic, it has been approaching ever closer.
It's what I call the "utilitarian caffeine dispenser," or UCD, which casts aside the social function and focuses primarily if not solely on the high-margin transaction.
The rise of the UCD
The phenomenon is not exactly new. Drive-through java huts, for instance, have long been ubiquitous across the Pacific Northwest, employing a wide variety of marketing gimmicks to capture the attention of passing motorists.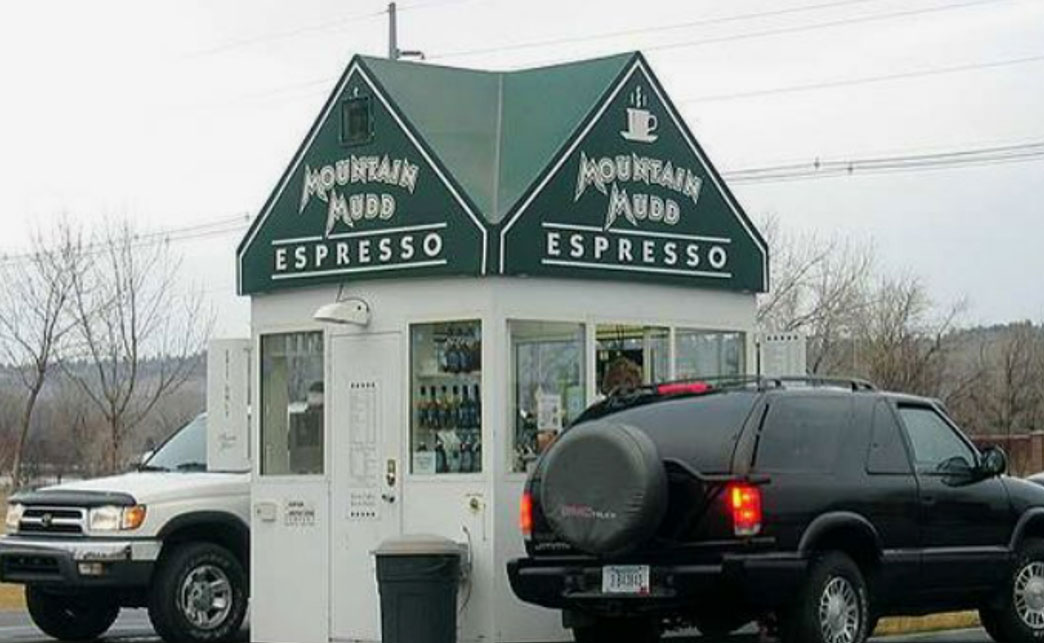 These serve as the model for one of today's fastest-growing UCD's. Founded in the logging town of Grants Pass, Oregon in 1992, Dutch Bros. Coffee now numbers more than 600 kiosks across 14 states, making it the third-largest coffee chain in the U.S. (after Starbucks and Dunkin'). Buoyed by a 2021 IPO, it is opening 100+ new locations per year and sees the potential for as many as 4,000 nationwide.
A Dutch Bros. has no indoor seating: it is just a tiny shack with a window (or two), and maybe a couple of outdoor tables where one can linger over their drink amidst the car exhaust of the drive-through queue. And as for food, well, that's pretty much limited to packaged muffin tops.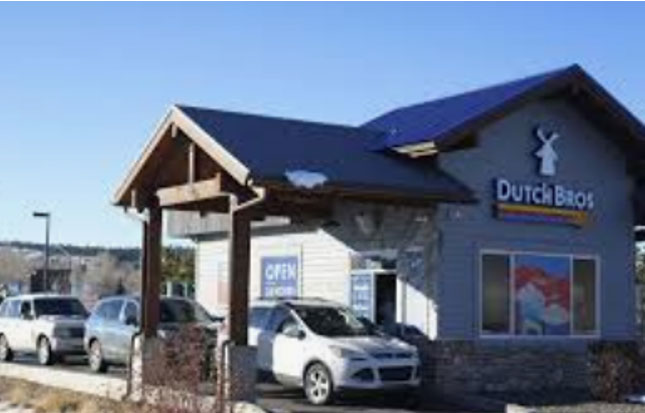 It is far from the only UCD that has been aggressively expanding. In the western states, there's also The Human Bean, Black Rock Coffee Bar and Ziggi's Coffee. In the Great Plains, Scooter's Coffee. In New England, Aroma Joe's.
Meanwhile, Starbucks, which helped to popularize the third place concept in the US and initially resisted drive-thru service as too down-market, now features lanes across more than 33 percent of its North American footprint and plans to incorporate them into 90 percent of its new locations, including an increasing number of drive-thru-only sites.
At the same time, Caribou Coffee has introduced a 550 to 600 sf "Caribou Cabin" prototype, with just drive-up windows and no interior, while Dunkin', which already offers drive-thru convenience across more than two thirds of its US stores, has started to roll out a similarly stripped-down format.
Such rapid expansion of drive-thru formats preceded the pandemic but was no doubt accelerated by it, with chains and franchises uncertain of the length of time for which indoor seating would be off-limits, capacity-restricted and/or voluntarily avoided.
The UCD in cities
For the most part, these drive-thru's have been materializing along suburban and exurban arterials or on the peripheries of smaller downtowns, but other versions of the model have been increasingly making their way into cities as well.
Most notably, Starbucks itself has been fast-tracking pre-pandemic plans to open smaller, more efficient pickup-only locations in dense urban settings like Manhattan, while touting how, in its new co-branded concept with Amazon Go, "convenience improves the human connection in the classic third place."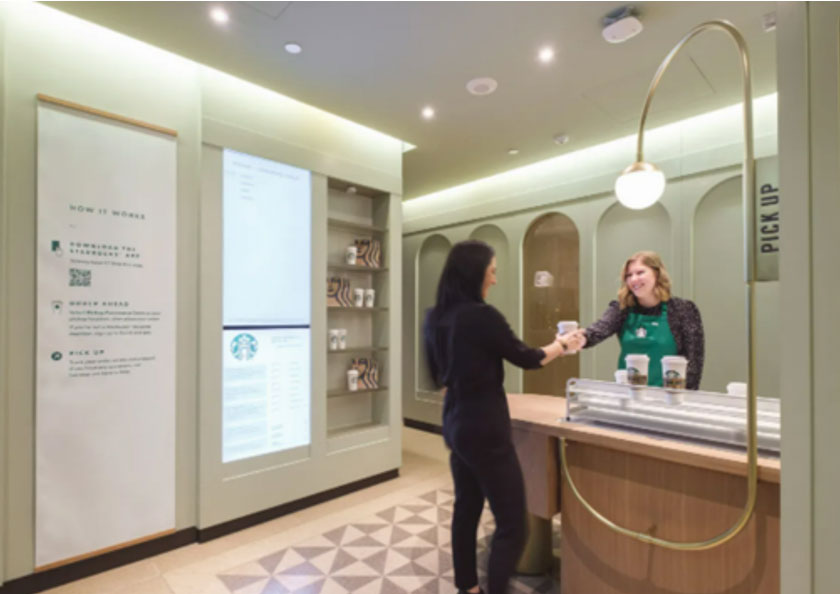 Meanwhile, there's a reason Dunkin' chose the tagline, "Running on Dunkin'." Its seating areas have never been designed to encourage lingering or function as community living rooms(s).
And then there's Blank Street Coffee. Fueled by venture capital, it has rapidly expanded from a Brooklyn beachhead in summer 2020 to 40 locations across New York City, a number that will surely be outdated by the time you read this, seeing as its founders are clearly intent on world domination, with imminent rollouts planned for Boston, Washington, D.C., and London.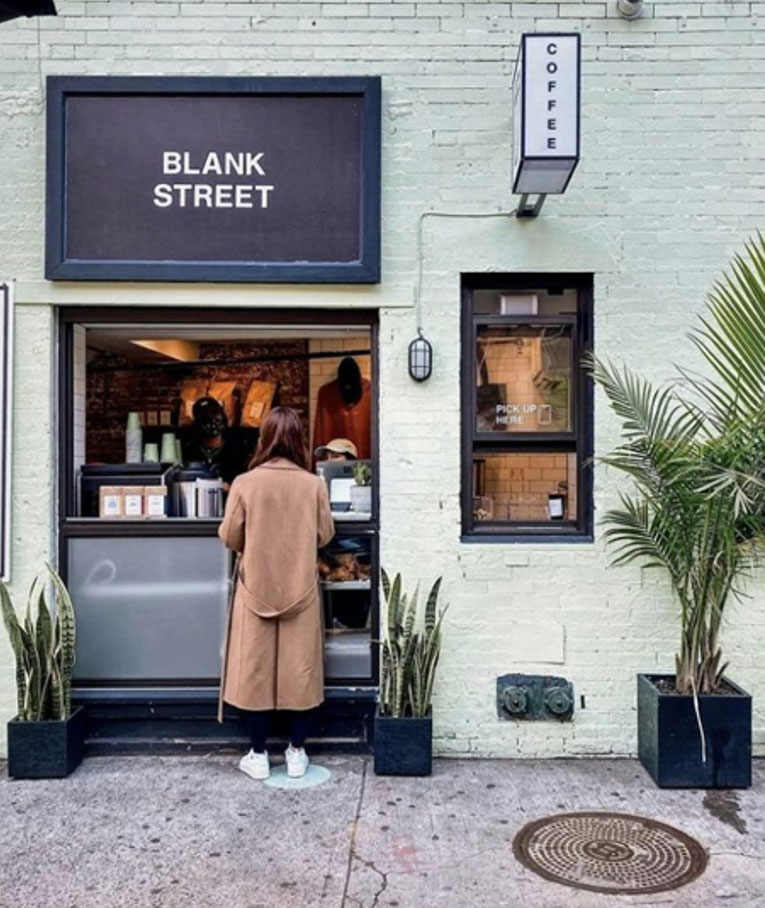 Many of those 40 locations take the form of freestanding carts and kiosks, while others occupy tiny storefronts no longer than 350 square feet. The business model is to maximize "throughput" of grab-and-go customers -- to get them in and out, as quickly and efficiently as possible. This is not a coffeehouse in any true sense of the word.
Of course, coffee has always lent itself to grab-and-go, with a sizeable share of its customer base looking simply for a jolt of energy to boost productivity or just to stay awake. Even before the pandemic accelerated the trend, takeaway and drive-thru accounted for 80% of the transactions at Starbucks' company-owned US locations.
Indeed, as someone who's tried but often failed to hold a conversation amidst the Grand Central Station-like din and bustle of the typical Manhattan Starbucks, I can understand the company's strategy to offload some of that nervous energy onto these new pick-up locations. It's the difference between a coffee "bar" and a coffee "house."
And from the perception of unit economics, I get it. Slinging espresso shots is a labor-intensive proposition, and the market for such workers is particularly tight these days, with labor costs rising and unionization efforts strengthening. Combine that with the unforgiving rents in so many of our urban cores, and you can see how the cost pressures can start to become too much, especially when the future of office buildings and foot traffic in such settings remains unclear.
The UCD offers a way around much of this. And now, the precedent just set by California's new FAST Recovery Act, which establishes a government-appointed council to regulate wages for fast food workers, could have the unintended consequence of hastening its rise and the third place's decline, with operators preferring the former's smaller workforce and lower labor expense.  
The UCD's hidden costs
However, as with so many other trends in food and beverage these days, the industry seems in danger of overcorrecting. 
After all, there is a reason that the third place model has worked. Just as the revival of independent booksellers in the last decade-plus reflects continuing demand for the OG experience, there are a lot of coffee drinkers who still consume the product (perhaps, only) in such spaces.
Despite soaring sales of home coffee machines in the pandemic's first year, Placer.ai reported that foot traffic to coffee shops had essentially returned to pre-pandemic levels by April 2021.  
Of course, one cannot presume such enlightened self-interest from all operators, nor should businesses be expected to pick up the tab. And even those that might ideally want to create or maintain such a space – less well-capitalized independents in high-rent urban settings, for example – might not have the luxury. 
We should realize, however, that the rise of the UCD does incur a cost, if not for proprietors than the communities in which they operate. 
The intangibles that third places offer – familiarity, belonging, connection – are very difficult to monetize on their own. And to the extent that remote/hybrid work endures, this role will become even more critical. Urban theorists Richard Florida and David Milder have underscored their importance in the "central connectivity districts" that, they expect, will supplant traditional central business districts in such a post-COVID world.
Indeed, they have long been part of the package that sells the urban lifestyle. According to a 2021 Gensler survey, city residents ranked "restaurants, cafes and social values" as the single most important ingredient of a great business district.
Cafes, however, need to generate high margins on something else in order to make the numbers work. That's where the java comes in. But the demand for caffeine is finite, and every additional cup of joe or espresso-based beverage purchased at a drive-through kiosk or pickup-only location is one less sold at coffeehouses, underwriting their social and cultural functions.
Possible solutions
Might the public sector help with some kind of incentive to encourage the continuing availability of such spaces? A radical notion, perhaps, but as we have (re)learned these last two years, the aforementioned intangibles are absolutely critical for individual and societal wellbeing. One can argue that they are a kind of infrastructure, as essential as public utilities.
There's precedent for something like this. Working with the National Park Service, the State of Washington launched a $730,000 "Third Places Fund" in 2021, which provided grants of up to $75,000 for the acquisition and/or rehabilitation of historic properties that house such spaces in communities of 50,000 people or less.  
Similarly, the Northern Border Regional Commission, a Federal-State partnership, established the $1 million "Northeast Heritage Economy Grant Program" in 2020 to support the creation or enhancement of third places as part of historic rehabilitation projects in the rural counties of New York, Vermont, New Hampshire, and Maine.

Meanwhile, in the UK, the central government launched a 150 million pound "Community Ownership Fund" providing matching grants to communities that want to buy, renovate, and operate local assets at risk of permanent closure, including local pubs and shops.  
Taxpayer support for such spaces raises some potentially thorny questions, though. 
There's the matter of determining what exactly constitutes a third place. After all, a coffeehouse is just one type. Do other forms qualify? Who makes that call, and on what grounds? How can connection and community be systematically proven or measured? 
There's also the risk of a kind of moral hazard: habituating operators to avail themselves of public largesse when they would have been prepared to make the same investment on their own.   
An alternative to public-sector subsidy is the "community-owned business" (or COB) model, whereby the third place functions of coffeehouses can be preserved or established with the help of capital from local sources, like co-operatives, non-profits, social enterprises as well as crowdfunding platforms.  
For example, the New Deal Café is an award-winning coffeehouse, eatery, bar, live-music venue, art gallery and "community living room" in the DC suburb of Greenbelt, Maryland, that has been owned by a nonprofit member cooperative since its 1995 opening. (Like many such businesses, it has been able to rely heavily on donations from local patrons amidst the challenges of the pandemic). 
Meanwhile, Citizens Café, a New York City-based, Australian-style café/eatery chain-let, is looking to raise $5 million to fuel its national expansion by selling equity shares to its loyal customers for as little as $100 on the crowdfunding platform, Republic. 
Even if not extending direct financial support, the public sector can still play a critical role in the creation or protection of such spaces. 
Before the UK government initiated the Community Ownership Fund, it allowed communities to enact a "Community Right to Bid" and nominate endangered local pubs as "Assets of Community Value," thus delaying their sale for six months while local residents try to secure funding for an offer. 
As of 2022, there were already some 180 "community-owned pubs" across the country, with building acquisition and renovation costs covered through share offerings and fundraising events as well as grants and loans from non-profits like the Plunkett Foundation.  
Such efforts, it is important to note, are more likely to be successful in rural settings, where land prices tend to be considerably lower, and competing bids, fewer. Also, limited capital and capacity can present challenges in impoverished neighborhoods. Indeed, Plunkett Foundation research indicates that only 15 percent of the U.K.'s community-owned pubs are located in urban areas. 
In response, municipalities can entitle local resident coalitions to a "right-of-first-refusal" and government-funded independent valuations prior to sale, while Business Improvement Districts and other nonprofits can take a lead role in convening major stakeholders and coordinating technical assistance.  
I could continue—there are other possible solutions—but here's the bottom line: with the rise of the UCD, the future for third place coffeehouses suddenly feels less certain, and the public and nonprofit sectors may need to act more intentionally to ensure their continued contributions to the health and vitality of communities.