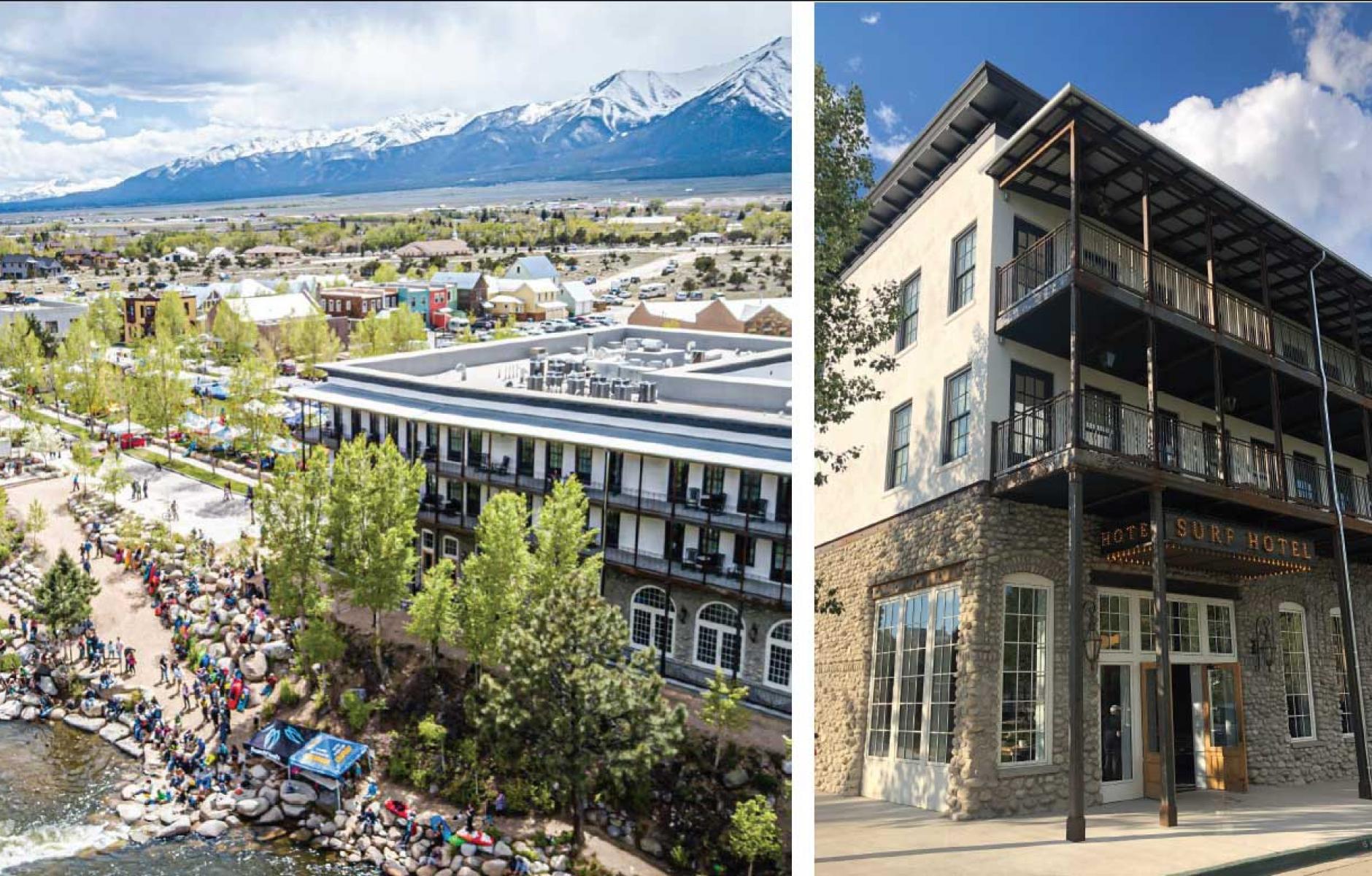 The Surf Hotel in South Main—source: The Urban Guild
South Main gets the recognition it deserves
The unique Colorado mountain community has had its difficulties, including an attack from an online magazine, but the latest recognition highlights how much the designers and developers have gotten right.
The Urban Guild announced its 2022 design awards, including one for Excellence to the Surf Hotel in South Main, Bueva Vista, Colorado, designed by Craft Design Studio.
I first reported on South Main in Buena Vista, Colorado, 18 years ago—when a young brother and sister duo set out to build a whitewater rafting community in a remote mountain town. The 40-acre neighborhood, planned by Dover, Kohl & Partners, was centered on a park at the Arkansas River designed for whitewater adventurers.
The project was financed and built incrementally, and the pace of development slowed down even more during the Great Recession of 2008. The Selbys, Katie and Jed, constructed one small building at a time, and soon South Main was a hit with locals and a destination for outsiders.
"As someone who has lived here for some time, I'm just in awe at all of it," former county commissioner Dennis Giese said in 2016. "I just stopped by the Buena Vista Roastery coffee shop, and I looked up and down Main Street and there were people everywhere. Young people, young families. And that's what South Main has brought." The town regularly draws streams of people for rafting—but also cultural events like concerts at an outdoor stage. 
And yet the development has endured some outside criticism. One writer from LA stumbled on South Main during a trip through the mountains and complained that the traditional look of the neighborhood is "cartoonish," and "freakish," in a piece that asked the loaded question: "Why Is New Urbanism So Gosh Darn Creepy?" Alissa Walker got a lot of hits for her Gizmodo article, but the take is not remotely fair or on target. Imagine seeing a community like South Main, a labor of love, the epitome of a "happy place," and being so disturbed by it.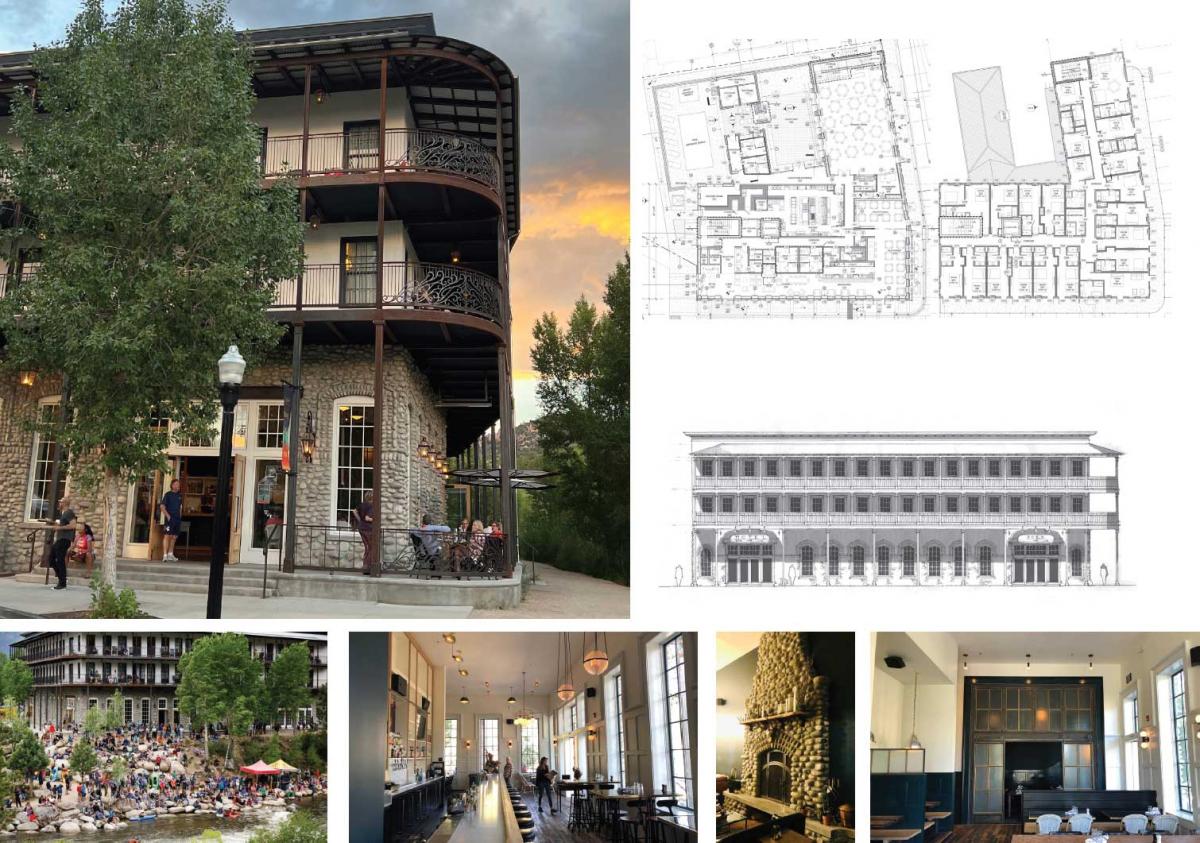 No matter—South Main has won plaudits from credible sources, including a Charter Award from CNU in 2016 for the entire neighborhood, selected by a jury that was chaired by the late, great planner Hank Dittmar. Now the Surf Hotel in South Main has been recognized for excellence by the 2022 Urban Guild Awards, whose jury included many notable urbanists. 
As the Urban Guild explains: The Surf Hotel anchors the South Main neighborhood in Buena Vista, Colorado, and is a stone's throw from the Arkansas River, the most popular whitewater rafting river in the United States. The architecture aspires to be rooted in its place, authentic, and ultimately timeless. Utilizing traditional design principles, local materials, artistic/craftsman expression, as well as some borrowed inspiration. While squarely rooted in the Mountains of Colorado, the double steel gallery and intricate masonry details give a nod to architectural inspiration from New Orleans.
This year's jury commented: "An addition to a growing town, the Colorado hotel brings a new scale of building with materials and detailing of the region, providing a civic focus as a backdrop for the shared activities of the community."
I had high hopes for South Main when I first heard about it. Over the years, I have seen the development exceed expectations. It is a unique contribution to New Urbanism. As for the surf hotel—I love it.
The Urban Guild jury comprised Elizabeth Plater-Zyberk, Michael Diamant, Lauren Kelly, Kevin Klinkenberg, Eric Osth, and Frank Starkey.