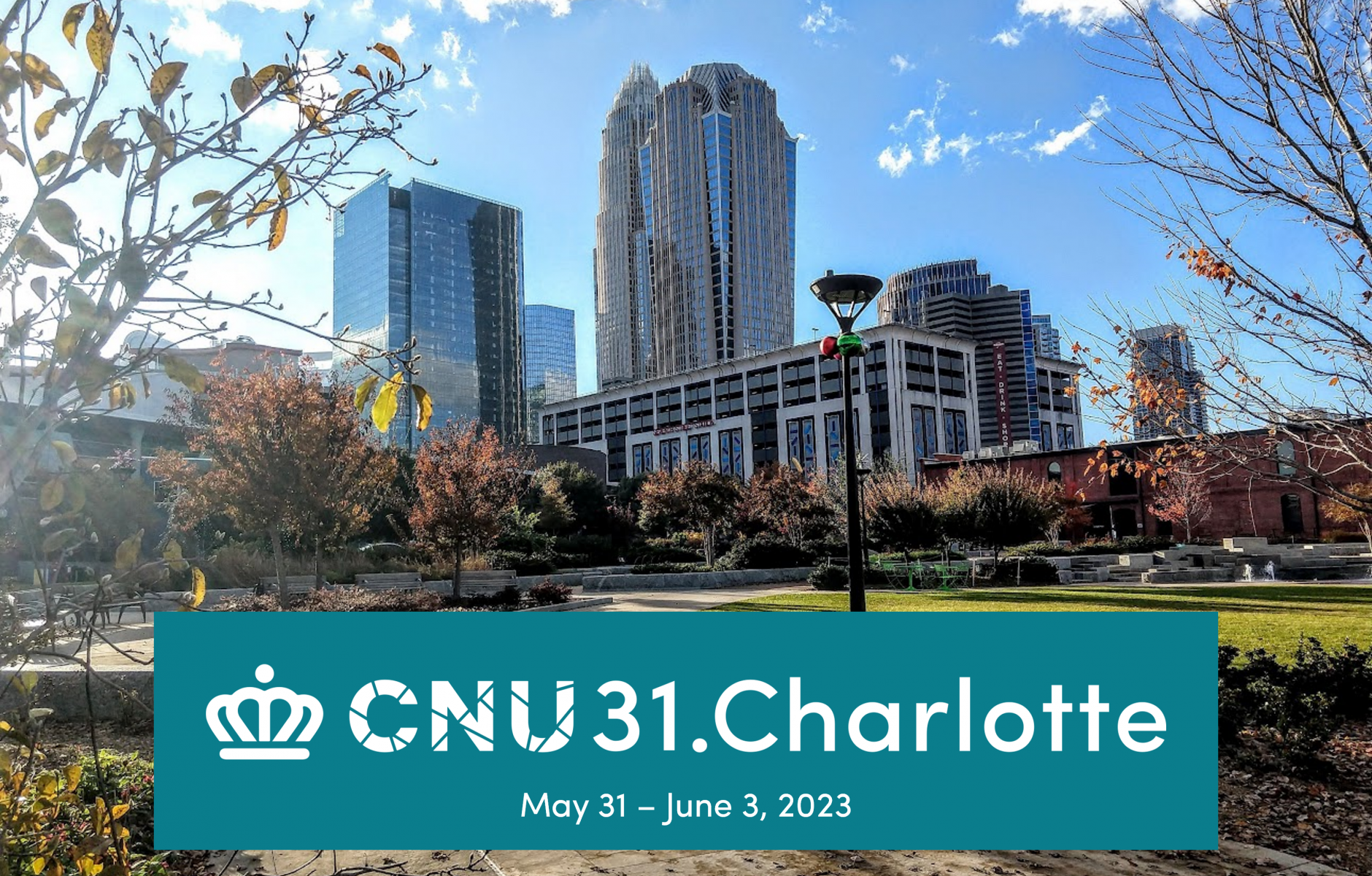 Charlotte, NC
We're building something new at CNU 31
Coming to Charlotte? Expect many new kinds of sessions, experiences, and events at CNU 31. Here's a brief rundown.
If you've been involved with CNU for a few years, you've likely heard the phrase "putting the Congress back in the Congress." While this phrase means something different to everyone—the shift away from a generic placemaking conference towards a meaningful multidisciplinary gathering of folks who want to change the world is something our members have been asking for. It's now central to our planning efforts. 
This summer, a small group of board members, staff, and stakeholders participated in a "Congress rethink" strategy session. We identified what aspects of the Congress make it unique among other conferences, what elements have been missing in recent years, and how we can develop the types of sessions we want to see. 
Ultimately, this is going to be a multi-year process—starting in Charlotte. So, what can you expect at CNU 31? How will it be different than previous Congresses?
A unified focus. Starting in Charlotte, all Congresses will have a big picture, unifying idea—the Congress Focus—that will influence all the content. Each focus will tie to language from the Charter and intersect with issues that are being addressed by our Local Host region or city. This year, our focus will be the Corridor.
New session types, no traditional panels. There have been multiple attempts made by Congress planners to invent or revise our session types to bring more interaction, more learning, and more discussion into the program. But we also always end up with a whole slate of panel presentations that have four speakers, four powerpoints, and very limited time for interaction. This year, we have removed the panel as an option, instead adding unique opportunities for attendees to learn, work, and experience together. 
An updated call for ideas. To get the content we want this year, we are doing more than one targeted call for ideas—asking for concepts, what attendees will learn, how we have push the practice of New Urbanism forward, while tying back to the focus. You can now submit ideas for three of the session types (meetings, classes, and short format) on this form. We will separately call for ideas for the Main Stage, below. 
The Main Stage. We are going to start each day at the Congress with the shared experience of the Main Stage—a TED-inspired set up that will feature two highly curated 20-minute presentations followed by a professionally moderated discussion. We will be seeking Main Stage speakers through a separate call, issued in early December. 
Workshops that deliver solutions. Working together, across disciplines, to creatively solve problems is central to who we are as a movement. At CNU 31, we will be hosting 1-2 workshops that will be centered on an issue related to the focus. To be successful, the workshops will require some prep work by attendees who want to participate (don't worry, you can just watch, too) and will be preceded in the program by a roundtable discussion to provide varying perspectives on the issue. By the time they are over, workshops will have arrived at a set of conclusions that will help advance our practice of New Urbanism. 
Sharing experiences outside of sessions. While I know you love to sit in the lobby and hallways to catch up, or hit the happy hours to network—not everyone knows someone when they come to the Congress, nor do they feel comfortable starting up a conversation during a happy hour. This year, we are providing more opportunities for getting to know your fellow attendees and experience things together that can spark conversation and make networking a little less daunting for new attendees. We are providing daily opportunities for walking tours (free of charge!), yoga in the park, breakfast, and (yes) happy hours with emcees. 
Renewed focus on Saturday programming. CNU 31 will kick off with an opening party Wednesday evening, May 31. Thursday, Friday, and Saturday will then provide full days of Congress programming—wrapping up after a final keynote speaker and closing reception on Saturday evening. Plan your travel accordingly!
Strong Towns National Gathering. On Wednesday, Strong Towns will be hosting their first national gathering at our Congress venue (the Westin) with speakers and panels all day. If you register for both events, you will get a discount (to be announced). 
Excited? So are we! And the good news is, you only have six short months to wait until you can join us to learn, work, and experience together—at CNU 31. In the meantime, submit a session idea, book your travel, and let us know if you have any ideas for workshops. Questions? Reach out to cnuinfo@cnu.org. 
See you in Charlotte!