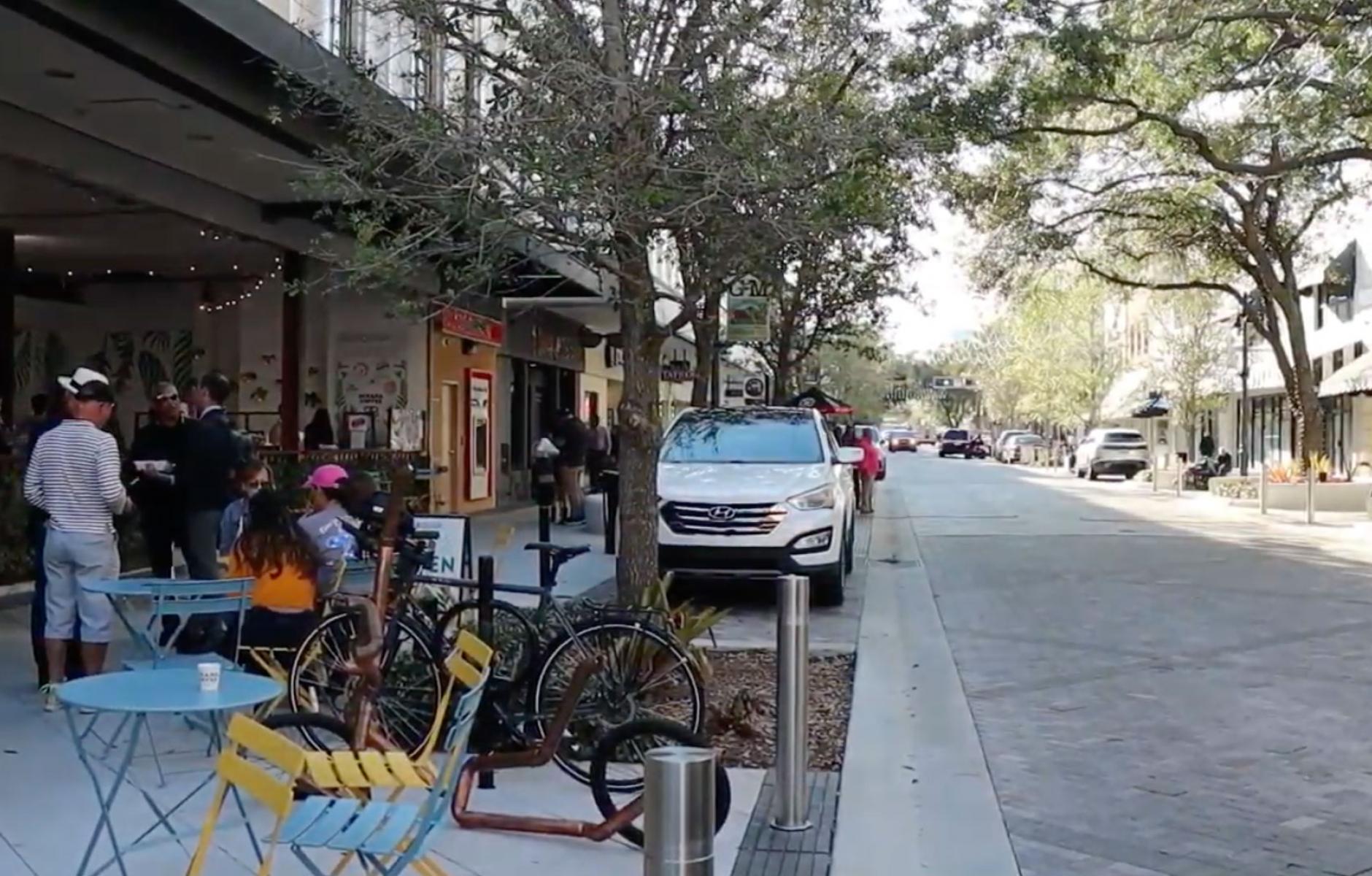 Clematis Street makeover. Video screen shot.
Portrait of a successful 'flex street'
Will street designers and public officials take notice of shared, flexible Clematis Street in downtown West Palm Beach, which contributes to both transportation and placemaking?
On weekends, bollards go up and Clematis Street in West Palm Beach, Florida, becomes car-free. During the week, cars move slowly through the seven-block downtown corridor, sharing the curbless street with pedestrians. 
Clematis Street makes a bold statement at the center of West Palm Beach, signaling to visitors and residents alike that the city has its own unique identity. It also supports the downtown as a social gathering place for the city. Depending on time of week, it puts automobile traffic on equal footing with pedestrians—or it prevents cars on specific blocks, creating plaza-like spaces that allow for events. Meanwhile, other streets in the city function in a typical way, and cross-streets allow through-traffic. 
This is not the only downtown street designed for flexible use, while also allowing for the transportation access and economic benefits of automobiles—but such thoroughfares are highly unusual. Three thousand miles away in Lancaster, California, much-praised Lancaster BLVD is designed for flexible use, but Clematis Street adds the twist of retractable bollards that instantly transform particular blocks, even individual parking spaces.
While I don't hear traffic engineers and public works officials attacking the new Clematis Street, it also hasn't been copied or even discussed much elsewhere, that I am aware. Successful street transformations that go against typical design theories are often praised—but they tend to be ignored as models. Clematis may seem radical, and in some ways it is, but in another sense it restores a balance between pedestrians and vehicles that existed prior to automobile-dominated design of the middle 20th Century. To that is added a touch of current technology and the creative use of pavement and outdoor furniture for placemaking purposes.
There is more to report, but first—here's a video of the Clematis Street redesign that was made in 2020. Because construction was still underway at the time, the video is a combination of video footage and animation. (The real footage looks even better and more lively than what the designers presented, which is telling).
Now the new design of Clematis Street has been fully functioning for two years. The street redesign has contributed to a thriving downtown. According to The Palm Beach Post in May of this year:
In plenty of downtowns across the U.S., it can feel to a passer-by that there's no there there — just a strip of nondescript storefronts and chain stores indistinguishable from anywhere else. That's why potential visitors pass by.
Not so in West Palm Beach, where, a century after Model-T's packed the popular Clematis Street commercial hub, the charm and vibrancy of the downtown has revived. Thanks to the hard work of the city and its merchants, Clematis is as pleasant to linger and explore as ever, with its yacht-filed waterfront, pier and Great Lawn, murals and sculptures, and broad sidewalks filled with overflow tables of bistros and pubs.
The transformation came with an $18.8 million price tag. That's not cheap, but for a project that transforms the physical downtown and contributes to the sense of place and economy of the city, it's not outrageous either. Highway projects, by comparison, typically cost a lot more. 
Planners discovered one very inexpensive upgrade that has made a big difference in the function of Clematis Street. "In the first pilot phase we spec'd click-and-drop retractable bollards in the crosswalks at the intersections, so each block could be completely closed to traffic Friday nights, weekends, and during festivals," notes planner Victor Dover, in an email among urbanists. The inspiration was Rue St Jean in Quebec, which is rapidly and radically reconfigured each night at twilight, he notes.
"It gets better. Landscape architect Jonathan Haigh (with Kimley-Horn) figured out the upgrade from fixed bollards to retractable ones was just $300. So, in subsequent blocks we used these along parking spaces, too; now any given parking space can be converted to outdoor dining, seating or cart vending in about 2 minutes flat. It happens regularly." 
Retractable bollards allow for an adaptable street where sections are easily closed to automobile traffic for special events, and the flexible curbside management combines café seating, on-street parking, bike parking, and ride-hailing pickup and drop off. All of this contributes to a city's strong placemaking program designed to draw residents and visitors downtown.
The curbless design has raised fears over the potential of pedestrian accidents. Those fears have not been substantiated. One coffee shop owner, early on, said he witnessed three "near misses" between cars and pedestrians in a brief period of time. But cars coming close to pedestrians at 5-10 miles per hour are much different from such occurrences at 30-40 mph. Some will continue to allude to "accidents waiting to happen," although the safety of the new Clematis Street has been demonstrated over its three years of operation. It may be counterintuitive for some people to see the mixing of cars and people in a shared space, but there is a wealth of data that this concept is very safe at slow speeds. The aforementioned Lancaster BLVD saw a dramatic reduction in collisions and injury crashes.
"It just might take some getting used to," engineer Kevin Volbrecht told The Palm Beach Post.
Clematis Street is a traditional main street in this city of 117,000 people. One could argue that it already had decent "bones"—why spend the money for the makeover now? The street had gone through many changes over the years, and recently had benefited from a new passenger rail station in 2018. Meanwhile, a new urban town center about six blocks away, City Place, offers an urban alternative. Clematis needed to up its game.
As the planners told CNU, "the street's outdated design, narrow sidewalks, and lack of shade had been dampening the success of retail, restaurant, and commercial tenants. All these elements made walking difficult, limited the expansion of outdoor dining, and constrained access for those in wheelchairs. The desire of the community to transform this beloved main street to reflect current needs and values is a testament to their appreciation for history and placemaking."
Clematis Street serves as a model for the success of a flexible, shared, downtown street. The questions remains, will traffic engineers and public officials take notice?