Norfolk downtown and waterfront
City seeks quality of life in the face of flood risk
A levee, with promenade, would connect Norfolk's citizens to the waterfront and protect against rising seas. The city is developing a comprehensive vision for how to "thrive" with climate change.
Of all of US coastal cities, the climate change issues faced by Norfolk, Virginia, are among the most challenging. Norfolk faces the double whammy of sea level rise and land that is sinking at a rate of about a half a foot per century. 
It's a very low-lying city, and one of the most vulnerable in the US. "Two feet is considered to be a hill," says architect Ray Gindroz, a long-time urban design consultant working with the city.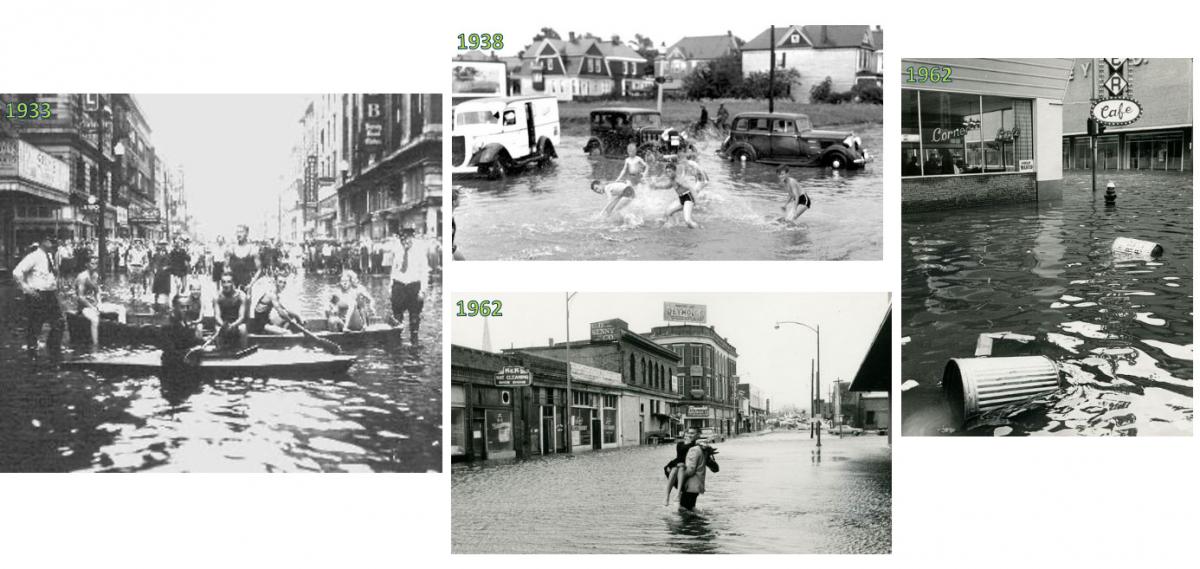 Many people think of climate change as mostly an environmental problem, or an infrastructure problem, perhaps an issue related to lifestyle—but it also is a very real urban design challenge, and that is especially true in Norfolk.
Urban planners may think of climate change in terms of long-term migration from vulnerable places to lower-risk communities. The latter are known as "receiver places," and that migration is real. Throughout history, people have moved away from trouble. And yet, rising seas notwithstanding, Norfolk is determined to be a city with a long and prosperous future. 
Gindroz, who may have the longest continuous relationship of any urban designer with a specific city in the US—starting in the 1980s—is working alongside Work Program Architects (WPA), now the chief urban design consultant for Norfolk. WPA is representing the city in design sessions with the Army Corps of Engineers, which has allocated $550 million to build a 13-foot seawall around the city—with 30 percent local matching funds (Norfolk is still identifying sources, including the state of Virginia).
Protector and amenity
A single word could have considerable impact on Norfolk's future. Calling the proposed construction a levee, rather than a seawall, means that it can serve as both a protector and amenity, notes Mel Price of WPA.
"The number one goal of the citizens in creating a downtown plan is to better connect the people to a working waterfront," she says. "That's why we can't build a 13-foot concrete wall here. The design sessions have helped the Corps to pivot and consider an alternative to a wall."

A levee could include a promenade and trees, improving connections of people to the waterfront. Although cost considerations dictate that some of the structure be a wall, the city's preference is to have relatively more sections of levee. Also, raising the height of a thoroughfare in at least one location would make it serve as a levee.
The levee strategy is especially important at key points where the public tends to, or could, access the waterfront, such as along Waterside Drive downtown. One option would be to close the half-mile-long, six-lane, high-speed thoroughfare, and turn it into public space. "That will give more room for a levee," Price says.
The idea is to provide both protection and an amenity for citizens who want to get close to water. "We are going section by section, holding design sessions, providing sketches and alternatives," says Price. The sessions are closed to the public and have not gotten a lot of media attention—as important as they are to the city's future. The Army Corps wants the city to support the proposal when the plans are released, she says. 
The design process between the Army Corps and Norfolk illustrates the job of a city in this situation. On its own, the Corps will simply build a wall. The city's goal is to make the infrastructure fit into the urban fabric and serve long-term planning goals. After all, it will likely last for generations—maybe lifetimes. Urban designers are critical to making the infrastructure align with multiple interests of the city.
Multiple climate issues
Regarding climate change, Norfolk planners have more to contend with than a seawall. Other big topics include protecting vulnerable communities, concentrating development into safer areas, providing tree canopies, reducing heat island effects, and more. Water comes from many sources, beyond the tides and storms of the sea. These include: the sky, the water table, runoff from impervious surfaces, and streams. Many of these sources need to be managed inland.
Some of the most threatened parts of the city include those around downtown, such as the Ghent and the Freemason neighborhoods. For many decades after World War II, downtown "was kind of a wasteland," Gindroz says. The city spent a lot of time and resources bringing it and nearby neighborhoods back, and now citizens—no matter where they live in the city—say downtown is the top area to protect. 
Adjacent to downtown is St. Paul's Boulevard, a wide arterial road with fast-moving traffic that separates public housing developments to the east. These areas have had little investment—but a federal Choice Neighborhoods project is funded to redevelop the housing projects as neighborhoods, while retaining the current public housing residents.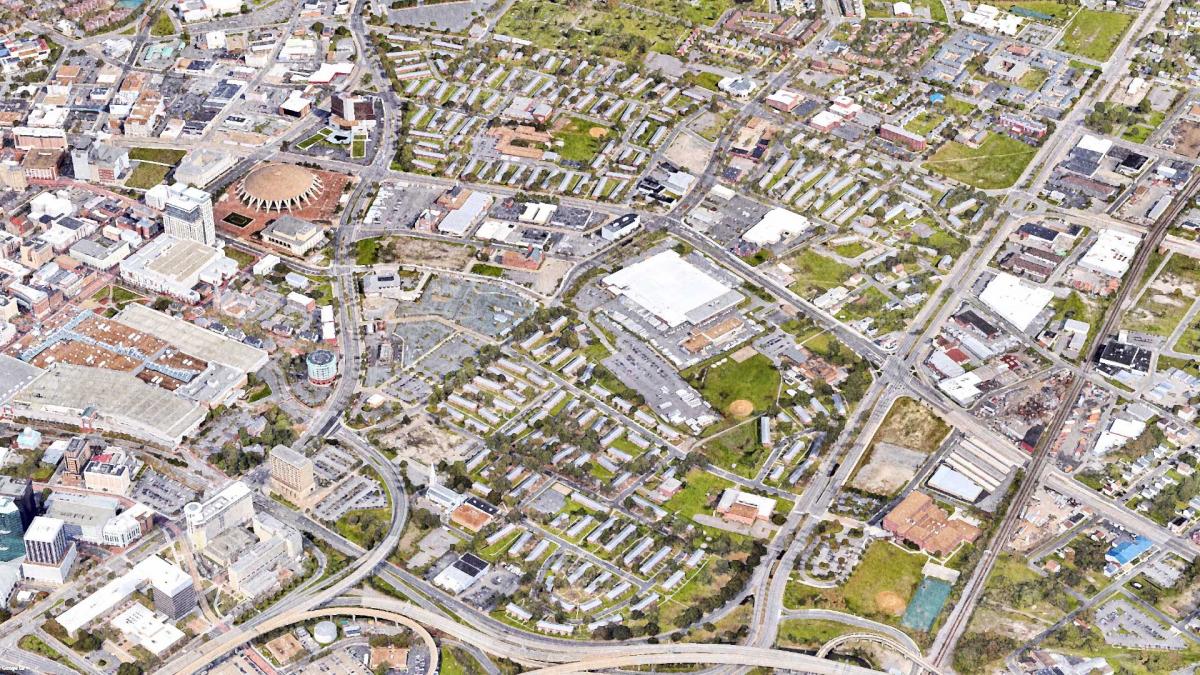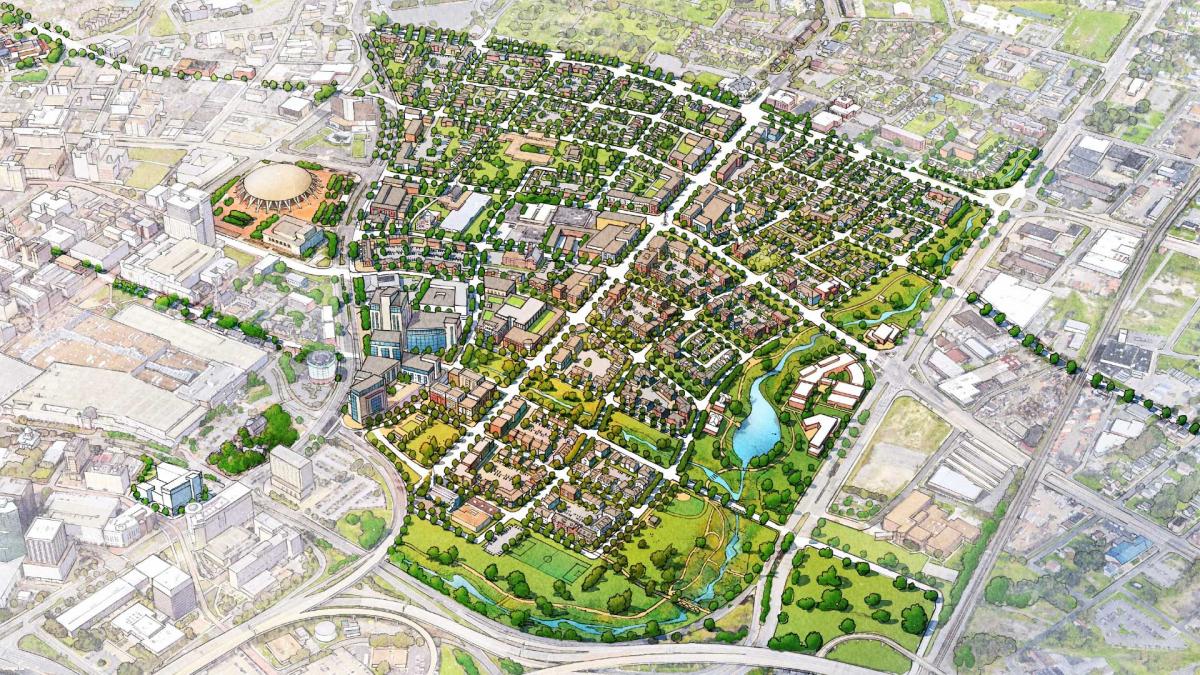 The Broad Creek public housing redevelopment, a successful HOPE VI project about a mile from downtown, is a model, Gindroz says. Overall, the Choice Neighborhoods area involves three public housing projects. The plan is to start with one, but the intention is to redevelop all three. WPA teamed with Gindroz on the plan, and other new urbanists—including UDA and Torti Gallas—have also contributed to the design. In addition to dealing with flooding, the plan will address heat islands and tree canopies—in addition to architecture and public spaces that will make it all look more attractive and indistinguishable from other neighborhoods in the city.
The city initiated a process with architect David Waggonner of New Orleans, called a "Dutch dialog." Experts from the Netherlands, where the people have been keeping the sea at bay for centuries, help to find solutions for Norfolk.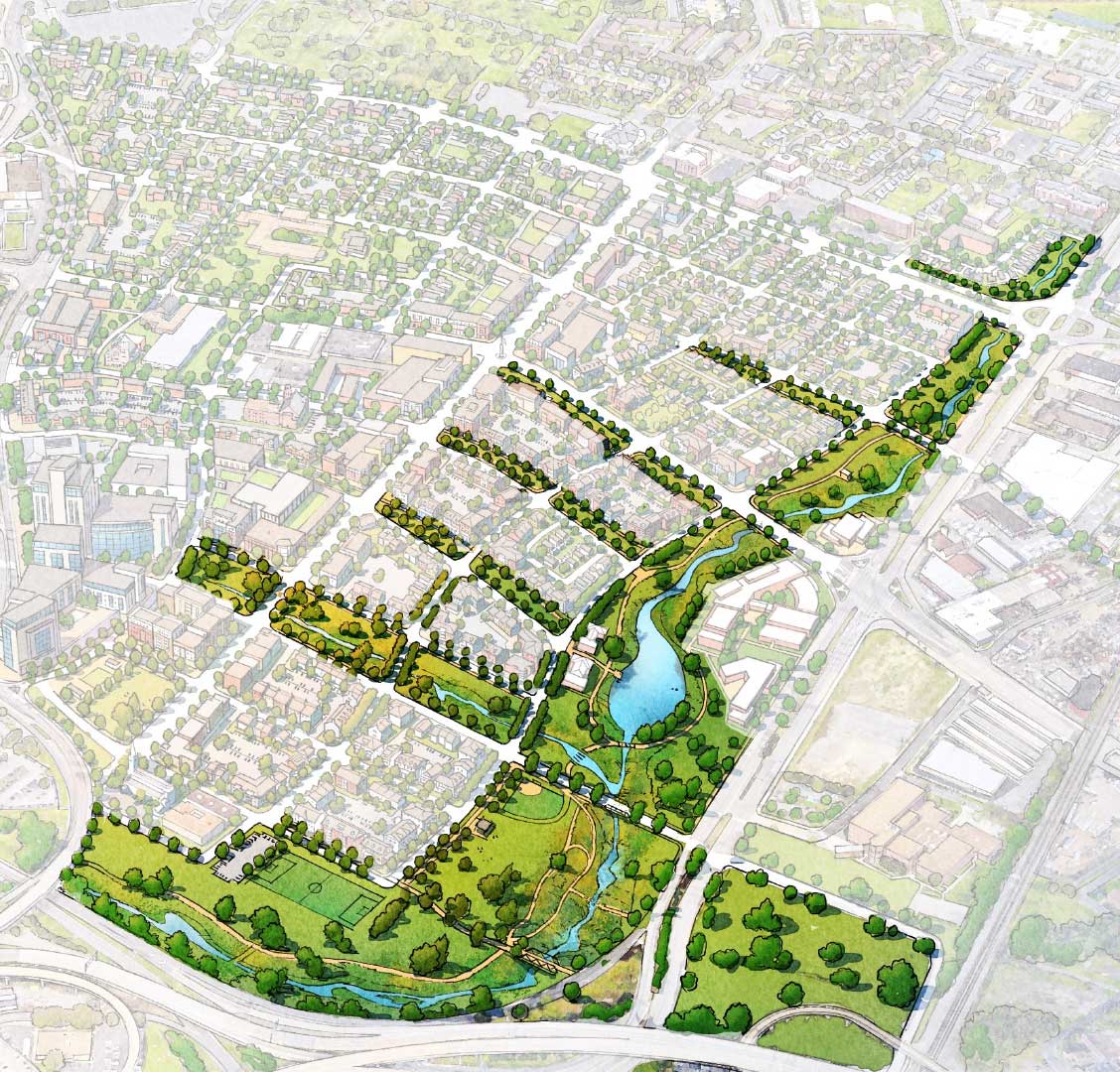 The Newton Creek corridor, adjacent to the flood-prone public housing areas, was identified as critical for stormwater management, Gindroz says. The idea is to create a water park, in effect, with three tiers: The lowest levels would have water all of the time; intermediate would have water some of the time; and the upper levels would be expected to never be flooded. 
Vision 2100
A few years ago, city planners put together a Vision 2100 plan, organizing the city into four color-coded areas for adaptation to climate change: 
Red Areas, "Consisting of the Downtown Waterfront; neighborhoods adjacent to Naval Base Norfolk; ports and shipyards; and universities and medical facilities—these areas contain highly valued assets but are faced with high levels of flood risk." These areas will be protected with infrastructure, and also will receive density. 
Yellow Areas "have fewer key community assets but a higher risk of flooding." Norfolk plans to invest in infrastructure for resilience, "educate the public about the flooding risk, and develop programs, such as transferable development rights, to help property owners recoup economic value lost to sea-level rise."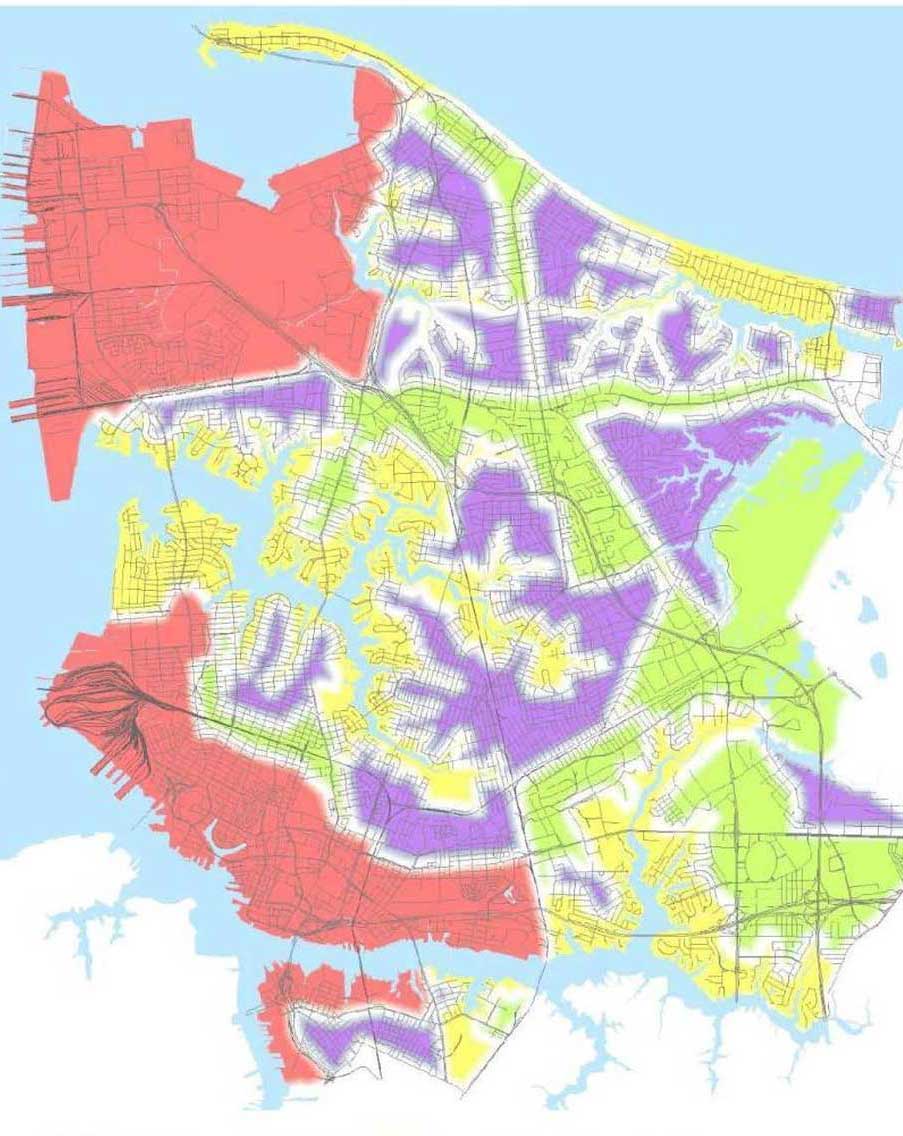 Green Areas "have both high-value existing uses (such as hospitals), and underdeveloped parcels (such as a parking lots), which occupy zones of the city at relatively lower risk from sea-level rise and recurrent flooding." The city will promote redevelopment into transit-oriented, urban centers "that will be reasonably safer from flood risk" to accommodate projected increases in population. 
Purple Areas "cover stable neighborhoods that are at relatively lower risk of flooding from sea-level rise and that could benefit from additional incremental investments in connections to city economic centers. Here, the city hopes to make investments that enhance neighborhood attractiveness while maintaining affordability."
The green parts of the city could be called "receiver areas," and that's where suburban retrofit meets planning for climate change. One of the largest such sections is the site of the former Military Circle Mall, which went into foreclosure and lost all of its anchor tenants in the middle of the last decade. The site is ripe for high-density, mixed-use redevelopment. 
The city has acquired much of the property and put out an RPF for redevelopment, and there have been several responses. One of the intriguing proposals is by entertainer Pharrell Williams and architect David Adjaye, who designed the African American museum in Washington, DC. Military Circle is the highest and safest part of the city, and it could be transformed over time to a high-density urban place. The plan resolves three converging grids, on a triangle site, Gindroz says. 
Norfolk is at the heart of what is called the Tidewater area, for good reason—the city is not on the ocean, but a tidal extension of the lower Chesapeake Bay. It includes the largest naval base in the world.
When the city was looking for a motto, "living with water" was first proposed, but that was considered too negative. They chose "thriving with water," which highlights the approach of turning every challenge into something that is positive. The city wants to "make sure whatever is done improves the quality of life—sometimes as an amenity, sometimes as a catalyst for other things happening," Gindroz says.