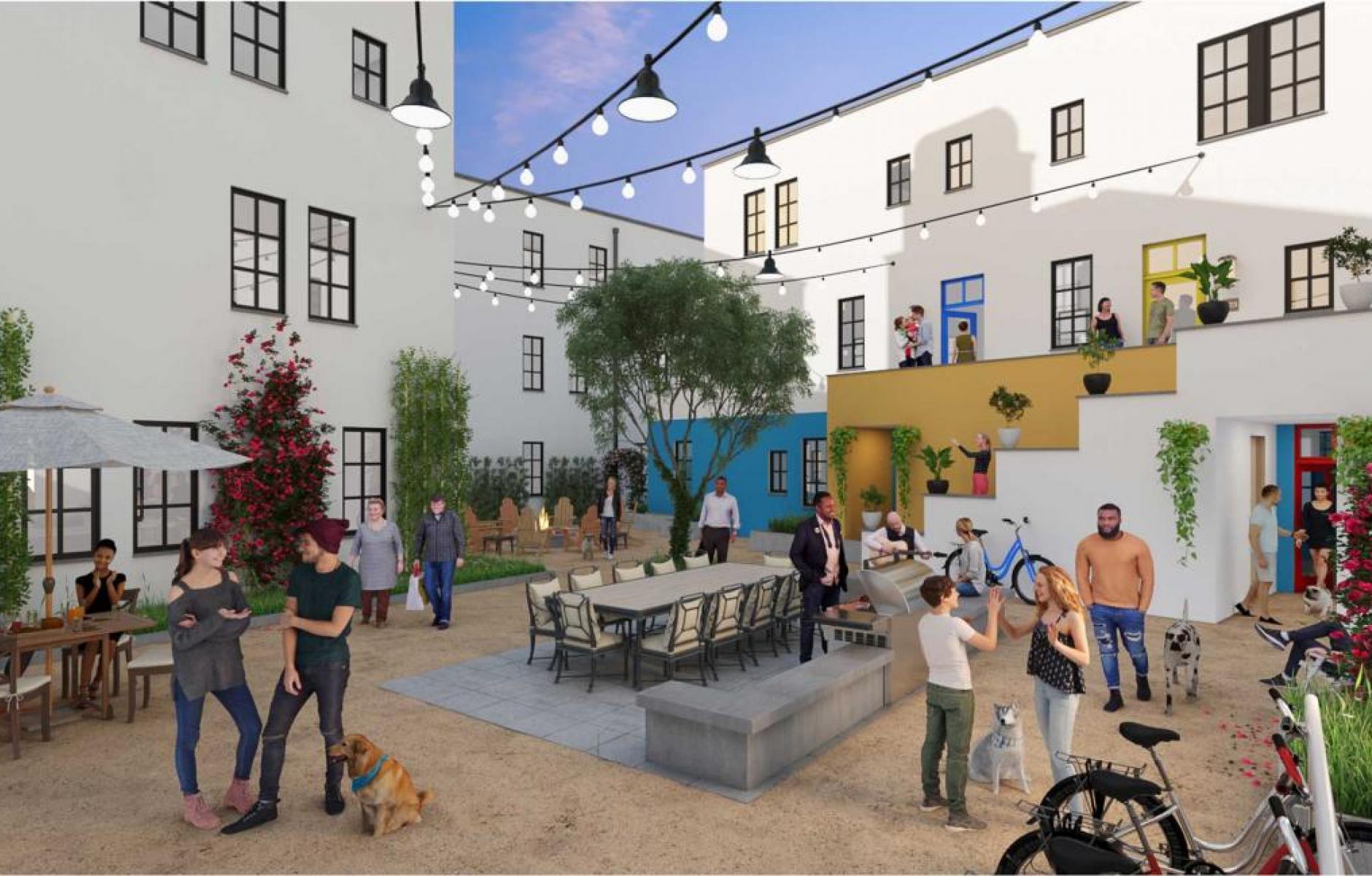 Rendering of courtyard in Culdesac Tempe. Source: Opticos Design
'Car-free' development substantially built
A video of construction shows the public spaces taking shape at the innovative Culdesac Tempe, in Arizona. Designer: "Car-free is the future of New Urbanism."
The Culdesac "car-free" development in Tempe, Arizona, is one of the most anticipated new urban projects in the US, getting nationwide media attention. The unique 15-acre design of Culdesac Tempe, by Opticos Design, won a CNU award in 2021. The development will provide 636 low-rise living spaces, with 48,000 square feet of commercial space, in a configuration where no cars will be permitted beyond of a small parking lot in the mixed-use commercial area.
The removal of cars allows for a porous, fine-grain urban pattern with a network of narrow, shaded, pedestrian-only paseos, intimate courtyards, and a central plaza activated by restaurants, a small grocery, a co-working space, and a coffee shop.
The tech-savvy developer, Culdesac, is using this project as a model and test for their concept, which they plan to roll out in other cities. Culdesac Tempe broke ground at the end of 2019, and appears to be a little behind schedule. It was expected to be completed by the end of 2021—perhaps set back by labor and materials shortages in the pandemic.  
Dan Parolek of Opticos Design sent me a video of construction at Culdesac Tempe this week. Here is what he said: 
"I thought you would enjoy seeing the progress video of Culdesac. The three mixed use buildings are mostly constructed (we designed the triangular shaped building with the courtyard in these videos), the coffee shop, market, bike shop, and restaurant tenants have leases signed, and the first couple of residential courtyard blocks are fully framed with stucco. It is wonderful to start feeling the spaces we had intended including the main plaza space, the primary paseo, and the inner-block courtyards. The first phase leased up in a matter of minutes and there are nearly 11,000 interested residents the last I checked. I think car-free is the future of New Urbanism!!"
See how the actual construction lines up with the early designs, shown in the following plans and renderings: